Introduction to Data science, Applications & Advantages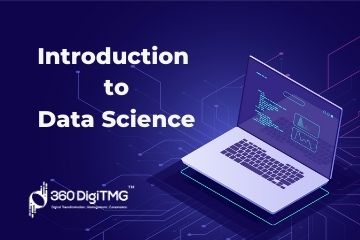 Introduction to Data Science
There is a high need for individuals in this industry who can mine data and produce critical business insights and strategies. Data Science and Machine Learning are becoming indispensable for all industries across domains.
Data Science:
The lifecycle shown below can help define data science. Mathematical and statistical understanding, domain knowledge competence, and fundamental computer abilities are important prerequisites.
By putting into practise the aforementioned phases, including Business Understanding, Data Acquisition and Understanding, Exploratory Data Analysis/Cleaning the Data, Model Building, Model Evaluation, and Deployment, Data Science is utilised to solve difficulties with Big Data. In order to implement the necessary business decisions from sentiment analysis or predictive analysis from the data that was collected, a Data Scientist collects data from primary data sources (survey, experiment, etc.) or secondary data sources (like RDBMS, CRM, FRM, SCM, HCM, SQL Databases, etc.).
Want to learn more about data science? Enroll in the Best Data Science courses in Chennai to do so.
Learn the core concepts of Data Science Course video on YouTube:
Applications of Data Science:
Are you looking to become a Data Scientist? Go through 360DigiTMG's PG Diploma in Data Science and Artificial Intelligence!.
One of the most important applications of Data Science is in the field of E-commerce to identify consumers, recommending products, analyzing reviews.

In Manufacturing to predict potential problems, monitoring systems, Automating manufacturing units, Maintenance scheduling, Anomaly detection.

In Banking for fraudulent case detection.

In Finance for customer segmentation, strategic decision making Algorithm trading, risk analytics.

In Healthcare for medical image analysis, drug discovery, Bioinformatics, Virtual Assistant.

In Transport for self-driving cars, enhanced driving experience, car monitoring system, enhancing the safety of passengers.
Become a Data Scientist with 360DigiTMG Data Science course in Hyderabad Get trained by the alumni from IIT, IIM, and ISB.
Skills Essential to Be a Data Scientist
Analytics, programming, and domain expertise are required skills which should be acquired for one to establish a successful career in this field:
Knowledge of Machine Learning algorithms
Knowledge of Python, R

Experience in SQL

Ability to work with NoSQL, Hadoop, spark

Have a grip on multiple analytical functions
Advantages of Data Science:
It is on high demand

Less number of people available with the necessary skillset for abundant job opportunities available in market

Highly-paid and versatile field

Data can be processed and analyzed to draw business insights.
Also, check this Data Science Institute in Bangalore to start a career in Data Science.
What is meant by Machine Learning?
Machine learning is the application of algorithms to gather data, draw inferences from it, and then use it to predict future trends. Machine learning uses predictive and statistical analysis that may be used to create patterns.
These days' e-commerce websites use machine learning algorithms in their advertising and promotions to draw clients in. Example Swiggy targets customers who make frequent food orders, analyses time patterns, and releases a combination offer to a targeted client within a certain time frame with a limited validity, perhaps pressuring the customer to place an order. Another excellent example is Gmail, which remembers our email patterns and suggests possible words for us to enter.
For a specialist in Machine Learning:
The following skill-set helps to kick start your career as a Machine Learning expert:
In-depth knowledge of programming

Knowledge of Basics of probability and statistics

Data modeling and evaluation skills
Data Science vs. Machine Learning:
Machine learning is a discipline of data science that focuses on supervised and unsupervised algorithms that take into account the relationships between variables' causes and effects. Unsupervised algorithms include pattern-finding methods including clustering, association rules, recommendation systems, and text mining principles. Supervised algorithms include regression techniques, classification techniques, and forecasting on time series data.
While Data Science is appropriate for pre-processing for exploratory data analysis, Machine Learning handles algorithms and statistical processes appropriate for numerous domains. It focuses mostly on decision-making and the execution of crucial business initiatives. Therefore, it is crucial for a data scientist to comprehend visual representations rather than simply using software tools.
In the present market, demand for data science and machine learning is high. You can obtain a niche job in this industry if you possess the relevant skill sets and practical expertise.
Data Science vs. Machine Learning:
Easily identifies trends and patterns

Continuous improvement is possible

No human intervention needed

Handling multi-dimensional and multivariate data.
Applications of Machine learning:
Automatic language Translation

Medical Diagnosis

Stock market trading

Online fraud detection

Virtual personal assistant

Email spam and malware filtering

Self-driving cars

Product recommendations

Traffic predictions

Speech recognition

Image recognition.
Data Science Placement Success Story
Data Science Training Institutes in Other Locations
Agra
,
Ahmedabad
,
Amritsar
,
Anand
,
Anantapur
,
Bangalore
,
Bhopal
,
Bhubaneswar
,
Chengalpattu
,
Chennai
,
Cochin
,
Dehradun
,
Malaysia
,
Dombivli
,
Durgapur
,
Ernakulam
,
Erode
,
Gandhinagar
,
Ghaziabad
,
Gorakhpur
,
Gwalior
,
Hebbal
,
Hyderabad
,
Jabalpur
,
Jalandhar
,
Jammu
,
Jamshedpur
,
Jodhpur
,
Khammam
,
Kolhapur
,
Kothrud
,
Ludhiana
,
Madurai
,
Meerut
,
Mohali
,
Moradabad
,
Noida
,
Pimpri
,
Pondicherry
,
Pune
,
Rajkot
,
Ranchi
,
Rohtak
,
Roorkee
,
Rourkela
,
Shimla
,
Shimoga
,
Siliguri
,
Srinagar
,
Thane
,
Thiruvananthapuram
,
Tiruchchirappalli
,
Trichur
,
Udaipur
,
Yelahanka
,
Andhra Pradesh
,
Anna Nagar
,
Bhilai
,
Borivali
,
Calicut
,
Chandigarh
,
Chromepet
,
Coimbatore
,
Dilsukhnagar
,
ECIL
,
Faridabad
,
Greater Warangal
,
Guduvanchery
,
Guntur
,
Gurgaon
,
Guwahati
,
Hoodi
,
Indore
,
Jaipur
,
Kalaburagi
,
Kanpur
,
Kharadi
,
Kochi
,
Kolkata
,
Kompally
,
Lucknow
,
Mangalore
,
Mumbai
,
Mysore
,
Nagpur
,
Nashik
,
Navi Mumbai
,
Patna
,
Porur
,
Raipur
,
Salem
,
Surat
,
Thoraipakkam
,
Trichy
,
Uppal
,
Vadodara
,
Varanasi
,
Vijayawada
,
Vizag
,
Tirunelveli
,
Aurangabad
Data Analyst Courses in Other Locations
ECIL
,
Jaipur
,
Pune
,
Gurgaon
,
Salem
,
Surat
,
Agra
,
Ahmedabad
,
Amritsar
,
Anand
,
Anantapur
,
Andhra Pradesh
,
Anna Nagar
,
Aurangabad
,
Bhilai
,
Bhopal
,
Bhubaneswar
,
Borivali
,
Calicut
,
Cochin
,
Chengalpattu
,
Dehradun
,
Dombivli
,
Durgapur
,
Ernakulam
,
Erode
,
Gandhinagar
,
Ghaziabad
,
Gorakhpur
,
Guduvanchery
,
Gwalior
,
Hebbal
,
Hoodi
,
Indore
,
Jabalpur
,
Jaipur
,
Jalandhar
,
Jammu
,
Jamshedpur
,
Jodhpur
,
Kanpur
,
Khammam
,
Kochi
,
Kolhapur
,
Kolkata
,
Kothrud
,
Ludhiana
,
Madurai
,
Mangalore
,
Meerut
,
Mohali
,
Moradabad
,
Pimpri
,
Pondicherry
,
Porur
,
Rajkot
,
Ranchi
,
Rohtak
,
Roorkee
,
Rourkela
,
Shimla
,
Shimoga
,
Siliguri
,
Srinagar
,
Thoraipakkam
,
Tiruchirappalli
,
Tirunelveli
,
Trichur
,
Trichy
,
Udaipur
,
Vijayawada
,
Vizag
,
Warangal
,
Chennai
,
Coimbatore
,
Delhi
,
Dilsukhnagar
,
Hyderabad
,
Kalyan
,
Nagpur
,
Noida
,
Thane
,
Thiruvananthapuram
,
Uppal
,
Kompally
,
Bangalore
,
Chandigarh
,
Chromepet
,
Faridabad
,
Guntur
,
Guwahati
,
Kharadi
,
Lucknow
,
Mumbai
,
Mysore
,
Nashik
,
Navi Mumbai
,
Patna
,
Pune
,
Raipur
,
Vadodara
,
Varanasi
,
Yelahanka
Navigate to Address
360DigiTMG - Data Science Course, Data Scientist Course Training in Chennai
D.No: C1, No.3, 3rd Floor, State Highway 49A, 330, Rajiv Gandhi Salai, NJK Avenue, Thoraipakkam, Tamil Nadu 600097
1800-212-654-321