Data Scientist Salary in Malaysia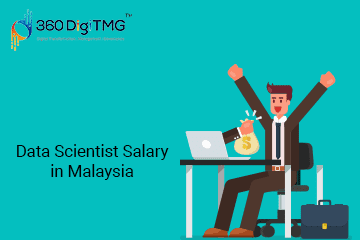 Data Science is Becoming Popular
The world is evolving at an incredible rate, and the smartest brains are always thinking of fresh, cutting-edge approaches to guide the future. It may be claimed that the 21st century is the period when technological growth has actually achieved its peak in terms of speed of development since it is advancing at a never-before-seen rate.
In terms of technological progress, the past several years have been particularly ground-breaking. The primary cause of this is because people are now more aware of technology breakthroughs than ever before. Therefore, they are indirectly influencing the technological advancements that will shape our planet.
The internet is the primary driver of this rise in technical literacy. The ability to communicate information and decrease awareness gaps between individuals throughout the world has been made possible by the internet. More than we like to acknowledge, the internet has and is still changing how we live.
Today, it is impossible for us to imagine life without the internet. Our lives now are very different from how they were only a few years ago thanks to the internet. Today, the internet is a part of everything we do. The internet is everywhere, and we have significantly grown to rely on it for everything from purchasing clothing to ordering our monthly shopping.
Learn the core concepts of Data Science Course video on Youtube:
As a result, data is becoming an increasingly important part of the internet as it becomes more widely used. Data use increases when we use the internet more frequently. Every little transaction produces some data. Thus, we are able to estimate the tremendous volume of data that is produced every day on every other portal that makes use of the internet.
Data has evolved into the driving force behind every industry. The internet is the sole means to automate nearly all major services and sectors in order to improve their services. It follows that every activity carried out online creates and consumes data. Therefore, it is evident that the industries as we currently know them will cease to exist without data.
Now, the data that is exchanged and processed every day varies from kind to type and is not consistent. Most consumers are not concerned about this kind of data. However, in the proper hands, these data may be an informational treasure that entirely elevates a company to the next level. Data science is precisely what this is.
Data science is the study of various processing techniques and methodologies that may be used to analyse the provided data sets in order to extract pertinent information from them and make critical business choices.
As a result, it is obvious that a Data Scientist differs greatly from a typical programmer and needs far greater expertise and in-depth understanding of Mathematics, particularly Statistics.
Boom for Data Scientists
We have seen that Data Science as a subject has gained popularity mainly due to the rise of the internet, but the opportunities are not bound to them, but there are many companies in every industry that are looking for people with the right talent to be appointed as a data scientist with a quite reasonable paycheck.
Now the question arises is why is there a boom in the market for data scientist jobs. The answer is simple, Data Science is the key to the growth and success of modern businesses. Day by day we are growing more internet-dependent, so much so that all our basic demands are taken care of through the means of the internet.
Now this means that every purchase made and every feedback given by the consumer is available at the fingertips of the seller in terms of data. So the major companies and enterprises are simply putting these data to good use.
Data Scientists are mainly hired to operate on this data and process them in any desired way to get the important information that is hidden in them regarding consumer behavior and formulate the future business plans accordingly.
So it has become clear that the job of a Data Scientist is very vital in the modern industry and as a result, the companies are paying heavy salaries to get the best Data Scientist for themselves. Click here to learn Data Scientist Course Malaysia
Data Science Opportunities in Malaysia
The internet has taken over the entire world, as we indicated at the very beginning of this essay, and Malaysia is no different. To create more and more competent workers who can provide their individual organisations an advantage in this cutthroat market, almost all developed and emerging countries have started include Data Science as a core topic.
Since this subject is still relatively young, there are plenty of possibilities to seize any promising employment prospects. Malaysia is taking steps to improve the opportunities for professional data scientists, much like the rest of the globe.
If you possess the necessary skills, you can land a job with one of the many global corporations situated in Malaysia that are seeking professional data scientists. Currently, there are more chances than there are people with data science abilities, which is due to the exponential growth of the trend of becoming a data scientist.
Although there are not many different organisations seeking for data scientists, there are many job prospects since the large corporations require a data scientist for each of their divisions, or more ideally, a team of data scientists to serve as their business consultants. Therefore, if you're considering working as a data scientist in Malaysia, doing so will be a wise career move.
Salary of Data Scientist in Malaysia
A Data Scientist is a difficult profession and requires intense hard work to strengthen your portfolio. So if you are just starting as a newbie then the average salary that you can expect as a Data Scientist in Malaysia is around RM5000 to RM8000.
This is just as a starter and the payment grows exponentially as you strengthen up your portfolio as a Data Scientist. The salary rises in tandem with your job experience as a Data Scientist. If you can gather enough experience in Data mining then you will be able to negotiate pretty high amounts of salary with the officials and the career opportunities are abundant.
Data Science is a hot trend right now so the competition between talented and skilled individuals is very high. But if you can provide good performance, then your pay grade will shoot over RM10000 in no time at all. Most of the Data Scientists in Malaysia are either local or from Japan and India. This is the case since these two nations offer the most skilled Data Scientists.
Conclusion
In the majority of Malaysian businesses, there are open positions for data scientists. Therefore, if you have the necessary training, experience, and willingness to work hard, you should be able to get a respectable Data Scientist position in Malaysia with a competitive salary.
Data Science Placement Success Story
Data Science Training Institutes in Other Locations
Agra
,
Ahmedabad
,
Amritsar
,
Anand
,
Anantapur
,
Bangalore
,
Bhopal
,
Bhubaneswar
,
Chengalpattu
,
Chennai
,
Cochin
,
Dehradun
,
Malaysia
,
Dombivli
,
Durgapur
,
Ernakulam
,
Erode
,
Gandhinagar
,
Ghaziabad
,
Gorakhpur
,
Gwalior
,
Hebbal
,
Hyderabad
,
Jabalpur
,
Jalandhar
,
Jammu
,
Jamshedpur
,
Jodhpur
,
Khammam
,
Kolhapur
,
Kothrud
,
Ludhiana
,
Madurai
,
Meerut
,
Mohali
,
Moradabad
,
Noida
,
Pimpri
,
Pondicherry
,
Pune
,
Rajkot
,
Ranchi
,
Rohtak
,
Roorkee
,
Rourkela
,
Shimla
,
Shimoga
,
Siliguri
,
Srinagar
,
Thane
,
Thiruvananthapuram
,
Tiruchchirappalli
,
Trichur
,
Udaipur
,
Yelahanka
,
Andhra Pradesh
,
Anna Nagar
,
Bhilai
,
Borivali
,
Calicut
,
Chandigarh
,
Chromepet
,
Coimbatore
,
Dilsukhnagar
,
ECIL
,
Faridabad
,
Greater Warangal
,
Guduvanchery
,
Guntur
,
Gurgaon
,
Guwahati
,
Hoodi
,
Indore
,
Jaipur
,
Kalaburagi
,
Kanpur
,
Kharadi
,
Kochi
,
Kolkata
,
Kompally
,
Lucknow
,
Mangalore
,
Mumbai
,
Mysore
,
Nagpur
,
Nashik
,
Navi Mumbai
,
Patna
,
Porur
,
Raipur
,
Salem
,
Surat
,
Thoraipakkam
,
Trichy
,
Uppal
,
Vadodara
,
Varanasi
,
Vijayawada
,
Visakhapatnam
,
Tirunelveli
,
Aurangabad
Data Analyst Courses in Other Locations
ECIL
,
Jaipur
,
Pune
,
Gurgaon
,
Salem
,
Surat
,
Agra
,
Ahmedabad
,
Amritsar
,
Anand
,
Anantapur
,
Andhra Pradesh
,
Anna Nagar
,
Aurangabad
,
Bhilai
,
Bhopal
,
Bhubaneswar
,
Borivali
,
Calicut
,
Cochin
,
Chengalpattu
,
Dehradun
,
Dombivli
,
Durgapur
,
Ernakulam
,
Erode
,
Gandhinagar
,
Ghaziabad
,
Gorakhpur
,
Guduvanchery
,
Gwalior
,
Hebbal
,
Hoodi
,
Indore
,
Jabalpur
,
Jaipur
,
Jalandhar
,
Jammu
,
Jamshedpur
,
Jodhpur
,
Kanpur
,
Khammam
,
Kochi
,
Kolhapur
,
Kolkata
,
Kothrud
,
Ludhiana
,
Madurai
,
Mangalore
,
Meerut
,
Mohali
,
Moradabad
,
Pimpri
,
Pondicherry
,
Porur
,
Rajkot
,
Ranchi
,
Rohtak
,
Roorkee
,
Rourkela
,
Shimla
,
Shimoga
,
Siliguri
,
Srinagar
,
Thoraipakkam
,
Tiruchirappalli
,
Tirunelveli
,
Trichur
,
Trichy
,
Udaipur
,
Vijayawada
,
Vizag
,
Warangal
,
Chennai
,
Coimbatore
,
Delhi
,
Dilsukhnagar
,
Hyderabad
,
Kalyan
,
Nagpur
,
Noida
,
Thane
,
Thiruvananthapuram
,
Uppal
,
Kompally
,
Bangalore
,
Chandigarh
,
Chromepet
,
Faridabad
,
Guntur
,
Guwahati
,
Kharadi
,
Lucknow
,
Mumbai
,
Mysore
,
Nashik
,
Navi Mumbai
,
Patna
,
Pune
,
Raipur
,
Vadodara
,
Varanasi
,
Yelahanka
Navigate to Address
360DigiTMG - Data Science, IR 4.0, AI, Machine Learning Training in Malaysia
Level 16, 1 Sentral, Jalan Stesen Sentral 5, Kuala Lumpur Sentral, 50470 Kuala Lumpur, Wilayah Persekutuan Kuala Lumpur, Malaysia
+60 19-383 1378