Future Scope of Data Science (2030)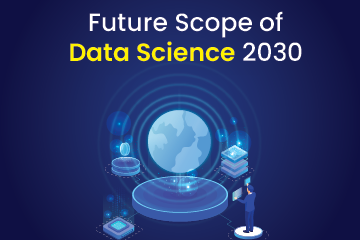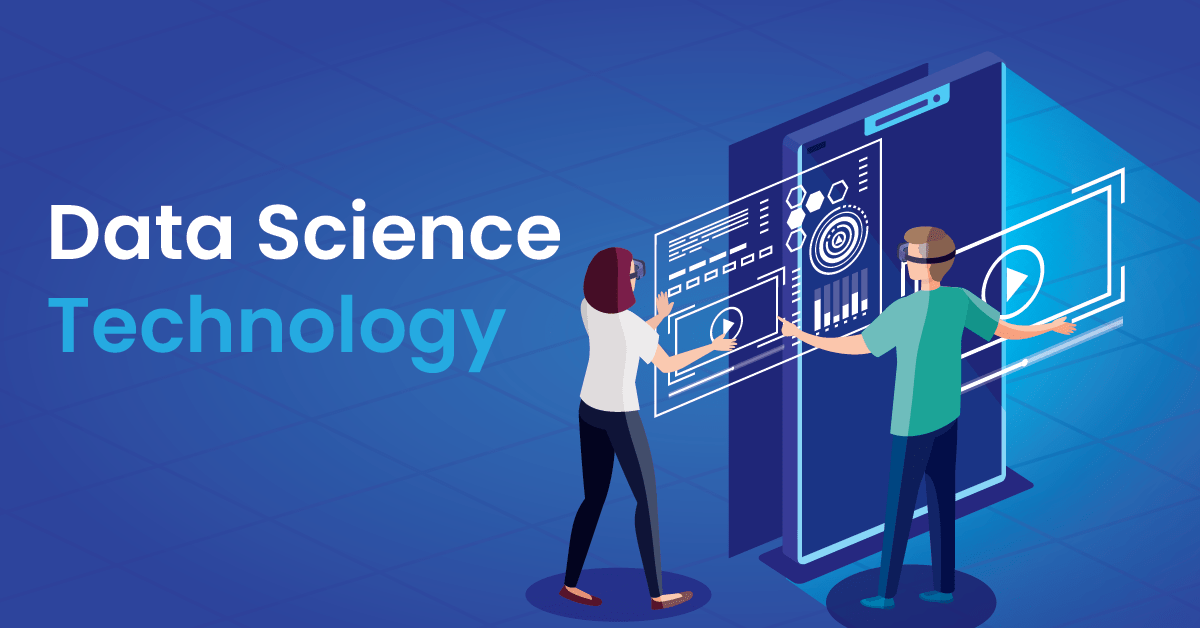 Today's world runs with the use of technology. Technology has successfully integrated itself into every possible field. Along with technology, advances in Computer Science have also created a positive impact. Data science is a field that integrates technology, mathematics, computer science, Statistics, etc. The need for data scientists is extremely high because of what they offer to a company. Their insights are extremely crucial for the decision-making process and this is important for the smooth functioning of the company. This also enables companies to improve their overall performance.
The surge in the demand for data scientists itself proves their importance in today's world. This is because of the increased use of Big Data. As the world slowly realized the importance of Big Data, it also realized how important data science is. Especially, over the last few decades, data scientists have become one of the most prominent occupations in the world.
It's safe to say that the future lies in data science. The world awaits to witness what data science has to offer more.
Become a Data Scientist with 360DigiTMG Data Science course in Hyderabad Get trained by the alumni from IIT, IIM, and ISB.
What is Data Science?
It is an intricate process of collection, storage, segregation, and analysis of data. This ensures that the data is put to good use. This will allow companies to make data-driven decisions that will promise improvements and enhancements in the overall performance of the company. Many students with STEM disciplines look forward to pursuing data science because of its high demand. In Glassdoor's list of top 50 jobs in the United States of America, data scientists obtained a number 2 position in 2021. Data Scientists have been holding prominent positions in that list since 2016. These stats prove that data science will continue to influence today's world and the future for a long time.
Learn the core concepts of Data Science Course video on YouTube:
Contribution to the future
Artificial Intelligence is a technological breakthrough that was possible because of data science. This also includes Deep Learning and the Internet of Things. The impact of data science has increased drastically over the years due to technological advancements and developments. The importance of data gathering and collection has been understood and it is important because it allows companies to make decisions based on the insights derived from the data that is available. So far data science has been a fundamental part of any business at every stage. There is now an indispensable and irreplaceable need for data scientists in every business firm.
Also, check this Data Science Institute in Bangalore to start a career in Data Science.
Data Science technology is rapidly increasing and advancing. This allows data scientists to provide better and more meaningful data insights. The role of data science is going to grow and impact various other factors. As the data becomes larger and more complex, data scientists will need to use more powerful tools and bring out insights accordingly. The future of data scientists appears to be successful as there will most definitely be an improvement in the tools used for data analysis. As mentioned earlier, improvements in data analysis tools will improve the performance of data scientists as well. Overall, data science is an amazing career option now and in the future because of the importance of data science in today's world.
The true potential of analytics has been realized and all across the globe, organizations are keen to hire data scientists and improve their overall performance and decision-making process. This high demand will only increase tremendously in the future.
The Covid-19 pandemic has caused an increase in data generation and this caused an increase in the demand for data scientists. Resorting to online mode is the main reason behind this. Today, everything is preferred to be done online as it's easy to access and hassle-free. The current surge in online platforms, online transactions, and students preferring online modes of education are all the reasons for the increase in the demand for data scientists in India.
Are you looking to become a Data Scientist? Go through 360DigiTMG's PG Diploma in Data Science and Artificial Intelligence!.
Future Scope of Data Science
The inability of companies to handle massive amounts of data all by themselves proves the need for a data scientist. This dependency will only increase in the future due to an increase in the availability of data and the company's needs. A data scientist can ensure everything functions properly by analyzing the data with scrutiny. Without data scientists, companies would have struggled to understand and store the required data for analysis and it is safe to say that the dependency will have to increase in the future as well.
Looking forward to becoming a Data Scientist? Check out the Data Science Certification and get certified today.
Some rules have been passed in this decade which ensure data protection and co-dependency of companies and their data scientists. It is important for companies and their data scientists to work together as a team to ensure their data is protected and not exposed to exploitation. As the need for data scientists increases, more such rules will come into play even in the future.
It is important to note that data science is an ever-growing and everlasting field. It keeps evolving for the betterment of the world and we can expect solid, tremendous changes and advancements in this field in the future.
Want to learn more about data science? Enroll in the Best Data Science courses in Chennai to do so.
Career Options in Data Science
People who are adept in data science can opt for various jobs like:
Business Intelligence Developer
Data Architect
Applications Architect
Infrastructure Architect
Enterprise Architect
Data Analyst
Data Scientist
Data Engineer
Machine Learning Scientist
Machine Learning Engineer
Statistician
Earn yourself a promising career in data science by enrolling in the Data Science Classes in Pune offered by 360DigiTMG.
Conclusion
There is a constant need for analytical professionals who are able to provide insights and improve the performance of the company. Data science professionals are needed and valued by almost every sector. This increased need for data science professionals over the years has proven that data science experts are an asset for every company and functioning without them is an unimaginable reality. The dependency and need will only increase in the future.
Data Science Placement Success Story
Data Science Training Institutes in Other Locations
Agra, Ahmedabad, Amritsar, Anand, Anantapur, Bangalore, Bhopal, Bhubaneswar, Chengalpattu, Chennai, Cochin, Dehradun, Malaysia, Dombivli, Durgapur, Ernakulam, Erode, Gandhinagar, Ghaziabad, Gorakhpur, Gwalior, Hebbal, Hyderabad, Jabalpur, Jalandhar, Jammu, Jamshedpur, Jodhpur, Khammam, Kolhapur, Kothrud, Ludhiana, Madurai, Meerut, Mohali, Moradabad, Noida, Pimpri, Pondicherry, Pune, Rajkot, Ranchi, Rohtak, Roorkee, Rourkela, Shimla, Shimoga, Siliguri, Srinagar, Thane, Thiruvananthapuram, Tiruchchirappalli, Trichur, Udaipur, Yelahanka, Andhra Pradesh, Anna Nagar, Bhilai, Borivali, Calicut, Chandigarh, Chromepet, Coimbatore, Dilsukhnagar, ECIL, Faridabad, Greater Warangal, Guduvanchery, Guntur, Gurgaon, Guwahati, Hoodi, Indore, Jaipur, Kalaburagi, Kanpur, Kharadi, Kochi, Kolkata, Kompally, Lucknow, Mangalore, Mumbai, Mysore, Nagpur, Nashik, Navi Mumbai, Patna, Porur, Raipur, Salem, Surat, Thoraipakkam, Trichy, Uppal, Vadodara, Varanasi, Vijayawada, Visakhapatnam, Tirunelveli, Aurangabad
Data Analyst Courses in Other Locations
ECIL, Jaipur, Pune, Gurgaon, Salem, Surat, Agra, Ahmedabad, Amritsar, Anand, Anantapur, Andhra Pradesh, Anna Nagar, Aurangabad, Bhilai, Bhopal, Bhubaneswar, Borivali, Calicut, Cochin, Chengalpattu , Dehradun, Dombivli, Durgapur, Ernakulam, Erode, Gandhinagar, Ghaziabad, Gorakhpur, Guduvanchery, Gwalior, Hebbal, Hoodi , Indore, Jabalpur, Jaipur, Jalandhar, Jammu, Jamshedpur, Jodhpur, Kanpur, Khammam, Kochi, Kolhapur, Kolkata, Kothrud, Ludhiana, Madurai, Mangalore, Meerut, Mohali, Moradabad, Pimpri, Pondicherry, Porur, Rajkot, Ranchi, Rohtak, Roorkee, Rourkela, Shimla, Shimoga, Siliguri, Srinagar, Thoraipakkam , Tiruchirappalli, Tirunelveli, Trichur, Trichy, Udaipur, Vijayawada, Vizag, Warangal, Chennai, Coimbatore, Delhi, Dilsukhnagar, Hyderabad, Kalyan, Nagpur, Noida, Thane, Thiruvananthapuram, Uppal, Kompally, Bangalore, Chandigarh, Chromepet, Faridabad, Guntur, Guwahati, Kharadi, Lucknow, Mumbai, Mysore, Nashik, Navi Mumbai, Patna, Pune, Raipur, Vadodara, Varanasi, Yelahanka
Navigate to Address
360DigiTMG - Data Analytics, Data Science Course Training in Chennai
D.No: C1, No.3, 3rd Floor, State Highway 49A, 330, Rajiv Gandhi Salai, NJK Avenue, Thoraipakkam, Tamil Nadu 600097
1800-212-654-321