How Do I Get High-Paying Data Scientist Jobs?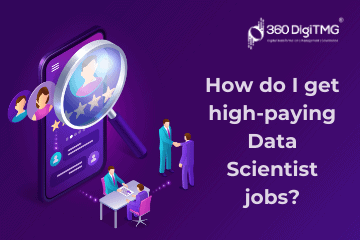 Image from Pixabay
Primer
Professionals with experience in a variety of abilities, including data collection, handling, storage, analysis, and structure, are needed in the field of data science. Insights derived from the data are used to inform decisions. Our daily activities, such as our social media feeds, online transactions, the music we listen to, the television we watch, and online movie suggestions, all heavily rely on data science.
For numerous years, there has been a demand for data scientist jobs. Data scientist positions are among the highest-paid positions in the IT sector. The typical data scientist makes $ 113,436 per year. Demand for employment in data is increasing as it grows every day.
Learn the core concepts of Data Science Course video on Youtube:
Requisite skills for a data scientist
We should be aware of the required abilities that are crucial to building a data scientist's basis in any sector of data science.
Understanding of data
Understanding of algorithms and logic
Understanding of programming
Understanding of Statistics
Understanding of business domain
Click here to explore 360DigiTMG.
Data science job roles
Data science workers are in high demand across all career sectors, not only within the IT sector.
Data scientist

Working as a data scientist is both gratifying and intriguing. They work with unstructured data and use machine learning to analyse it using a variety of techniques, including clustering, classification, and regression. They gather insights to create the data necessary for making choices and resolving business issues.

Responsibilities of a Data Scientist

To make useful insights, they gathered organized and unorganized data.
For the growth of organizations, they identify useful solutions with analytical skills, machine learning, and deep learning.
To solve complex problems, they follow a data-driven approach.
By cleaning and validating data, they enhance the efficiency and accuracy of data.
For understandable communication with organizations' stakeholders, they use data visualization.

Image Source

Data scientist salary range

The salary of a Data Scientist is ₹698,412 per annum. The salary for an entry-level professional is ₹500,000 per annum. Early-level data scientist salary is ₹610,811 with experience of 1-4 years. Median salary with more experience of 5-9 years can rise to an average of ₹1,004,082.

Data engineers

The person who develops the software infrastructure for a data scientist is a data engineer. They ought to be well-versed in a variety of technologies, including SQL, MapReduce, Hadoop, and big data. Data wrangling is the majority of what data engineers perform, which will be helpful to software programmers.

Responsibilities

Cleaning and consolidating the data, collected from different sources
Develop software for data transformation, data extraction, and data loading using AWS, SQL, and big data
Using statistical techniques and machine learning algorithms, they build data pipelines
To enhance data efficiency and quality, develop innovative ways
Maintaining data architecture, testing data, and developing software.
Skills required for data engineers
Strong skills manage unorganized datasets in analytics
Programming skills in languages like Python, Java, C++, Ruby, etc.
Experience in relational databases and knowledge of database software like SQL.

Image Source

Data engineer's salary range

The salary of a Data engineer in India is Rs.8,56,643 LPA. But it depends on company size, location, education qualification, work experience, and job position. Big companies like Amazon, Netflix, IBM, Spotify, etc., give high pays to their data engineers. The more you have previous work experience, the more you have market value.

Early level data engineers with 1-4 years have an average salary of Rs.7,37,257 LPA. For mid-level with experience of 5-9 years, have an average salary of Rs.1,218,983 LPA.

Data analyst

The data must be analysed by the data analyst. Data analysts gather, evaluate, and use statistical data to provide insightful conclusions. Languages for programming, such as SAS, R, and Python, are needed for this procedure. Companies require data analysts in numerous industries, including IT, healthcare, automotive, finance, insurance, etc., in order to operate profitably and successfully.

Responsibilities of aData Analysts

Through data mining and data analysis, they gather valuable patterns and identify correlations.
They work with customer-centric algorithms to modify them according to customer demand.
Solve business problems by data mapping from different sources and tracing them.
Under customer's, preferences create customized models for customer tastes and customer-centric market strategies.
By developing statistical analysis, analyze and conduct consumer data research.

Image Source

Data analyst salary range

Data analyst of early-level with experience of 1-4 years has an average salary of Rs.3,96,128. Middle-level data analysts with 5-9 years of experience have an average salary of Rs.6,03,120 based on the location of working for place and organization. Data analysts who have experience of 10-19 years can earn an average salary of Rs.9,00,000. Click here to learn Data Science Course
Factors affecting data scientist salary
Location
Experience
Skills
Company
Data scientist salary by location

Data scientist salary depends on the location. Mumbai offers the highest pay scale than Bangalore and New Delhi. However, Bangalore has more opportunities for startups and is considered the tech industry hub in India.

Data scientist salary by experience

Data scientists have different salary packages according to their job level and number of years of experience.

Data scientist Salary by Skills

For having high pay rates, you must have mastered several skills. Not only your master's degree or data science course in Bangalore will help. You should have command of different programming languages, using different software, analytical skills, etc.

Data scientist salary by the company

Reputable companies in the market offer high pay scales to their data scientists. They also have a reputation for an annual increase in salaries by 15%.
Conclusion
The demand for opportunities in the field of data science is now high. Businesses are seeing a rise in the volume of data, which is driving up demand for data professionals. It also included an increase in their pay. Your ability to advance in your career and earn more money, however, mostly depends on your abilities, experience, and how quickly you develop into a valuable asset to the organisation.
You earned a 15% wage increase every year. As you get more job experience and develop more talents, your salary will grow. Since you had some prior experience or were a newcomer, this will always be a motivating aspect for you.
Click here to learn Data Science Course, Data Science Course in Hyderabad, Data Science Course in Bangalore
Data Science Placement Success Story
Data Science Training Institutes in Other Locations
Agra
,
Ahmedabad
,
Amritsar
,
Anand
,
Anantapur
,
Bangalore
,
Bhopal
,
Bhubaneswar
,
Chengalpattu
,
Chennai
,
Cochin
,
Dehradun
,
Malaysia
,
Dombivli
,
Durgapur
,
Ernakulam
,
Erode
,
Gandhinagar
,
Ghaziabad
,
Gorakhpur
,
Gwalior
,
Hebbal
,
Hyderabad
,
Jabalpur
,
Jalandhar
,
Jammu
,
Jamshedpur
,
Jodhpur
,
Khammam
,
Kolhapur
,
Kothrud
,
Ludhiana
,
Madurai
,
Meerut
,
Mohali
,
Moradabad
,
Noida
,
Pimpri
,
Pondicherry
,
Pune
,
Rajkot
,
Ranchi
,
Rohtak
,
Roorkee
,
Rourkela
,
Shimla
,
Shimoga
,
Siliguri
,
Srinagar
,
Thane
,
Thiruvananthapuram
,
Tiruchchirappalli
,
Trichur
,
Udaipur
,
Yelahanka
,
Andhra Pradesh
,
Anna Nagar
,
Bhilai
,
Borivali
,
Calicut
,
Chandigarh
,
Chromepet
,
Coimbatore
,
Dilsukhnagar
,
ECIL
,
Faridabad
,
Greater Warangal
,
Guduvanchery
,
Guntur
,
Gurgaon
,
Guwahati
,
Hoodi
,
Indore
,
Jaipur
,
Kalaburagi
,
Kanpur
,
Kharadi
,
Kochi
,
Kolkata
,
Kompally
,
Lucknow
,
Mangalore
,
Mumbai
,
Mysore
,
Nagpur
,
Nashik
,
Navi Mumbai
,
Patna
,
Porur
,
Raipur
,
Salem
,
Surat
,
Thoraipakkam
,
Trichy
,
Uppal
,
Vadodara
,
Varanasi
,
Vijayawada
,
Vizag
,
Tirunelveli
,
Aurangabad
Data Analyst Courses in Other Locations
ECIL, Jaipur, Pune, Gurgaon, Salem, Surat, Agra, Ahmedabad, Amritsar, Anand, Anantapur, Andhra Pradesh, Anna Nagar, Aurangabad, Bhilai, Bhopal, Bhubaneswar, Borivali, Calicut, Cochin, Chengalpattu , Dehradun, Dombivli, Durgapur, Ernakulam, Erode, Gandhinagar, Ghaziabad, Gorakhpur, Guduvanchery, Gwalior, Hebbal, Hoodi , Indore, Jabalpur, Jaipur, Jalandhar, Jammu, Jamshedpur, Jodhpur, Kanpur, Khammam, Kochi, Kolhapur, Kolkata, Kothrud, Ludhiana, Madurai, Mangalore, Meerut, Mohali, Moradabad, Pimpri, Pondicherry, Porur, Rajkot, Ranchi, Rohtak, Roorkee, Rourkela, Shimla, Shimoga, Siliguri, Srinagar, Thoraipakkam , Tiruchirappalli, Tirunelveli, Trichur, Trichy, Udaipur, Vijayawada, Vizag, Warangal, Chennai, Coimbatore, Delhi, Dilsukhnagar, Hyderabad, Kalyan, Nagpur, Noida, Thane, Thiruvananthapuram, Uppal, Kompally, Bangalore, Chandigarh, Chromepet, Faridabad, Guntur, Guwahati, Kharadi, Lucknow, Mumbai, Mysore, Nashik, Navi Mumbai, Patna, Pune, Raipur, Vadodara, Varanasi, Yelahanka
Navigate to Address
360DigiTMG - Data Science, Data Scientist Course Training in Bangalore
No 23, 2nd Floor, 9th Main Rd, 22nd Cross Rd, 7th Sector, HSR Layout, Bengaluru, Karnataka 560102
1800-212-654-321