Start Learning Data Science by Own and Get a Lucrative Job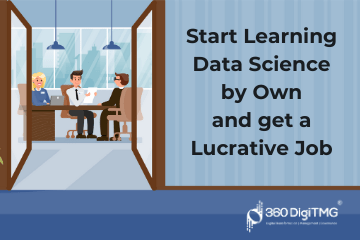 Starting On:
28000 - 4400 -700The data science world is simultaneously exciting, profitable, and changing. Because of this, a sizable number of people aspire to work in the data science sector. Data scientists are becoming more and more necessary as new technologies are created and implemented quickly.
Therefore, it is a better time than ever to become a data scientist, get a rewarding job, and start a career. The work market for data scientists is bright, and there are several options. A data scientist can benefit from a remote work environment, and there is occasionally the opportunity for self-employment as well.
Also, check this Data Science Institute in Bangalore to start a career in Data Science.
Why Data Science a Lucrative Field:
Everyday a massive amount of data is being created and companies need to do research because they need client for their business. Businesses need data scientists to analyze and manage data and help them to make true decision.
As technology updating as people look for specialized person in every field, so there is a specific jobs profile require for skilled people. In data science industry continuously looking for especially skilled persons that's why it is lucrative field.
Is it Necessary to Earn a Data Science Degree?
Learn the core concepts of Data Science Course video on YouTube:
Data science may be learned by anybody, but it does need time and effort. You must become an excellent programmer, understand SQL, grasp a few other technological tools, possess a strong foundation in statistics and probability, and ideally also possess industry, domain, or business knowledge. Good communication skills are needed for another crucial ability. Due to their relative rarity, those who have invested the time, effort, and expertise will continue to be respected.
Looking forward to becoming a Data Scientist? Check out the Data Science Course and get certified today.
Can I Acquire Data Scientist skills on my Own?
However, traditional universities and educational institutions produce thousands of data scientists every year, but they could not fulfill the industry demand. Some people have an intention to change their career, but they don't have a chance to go back to college or university life.
Data science is a vastly-growing and vast field. If you have passion you can acquire data science skills by own and get a wonderful job. You can take benefit from a huge number of available resources, blog posts, online articles, wiki pages, and free books.
However, landing a high paying job without any credentials is very hard to accomplish. Well-established and known businesses pays well but they require a degree in maths, computer science, physics, economics, etc.
You might be better than many candidates, but if you lack a degree, it is hard to get a foot in the door and prove your value later.
Let's dive in deep and see how a newbie can learn data science on their own.
Earn yourself a promising career in data science by enrolling in the Data Science Classes in Pune offered by 360DigiTMG.
Taking Data Science Courses Online

The easiest method to study is through online or virtual courses. You may readily access the professors' information and resources by taking online courses. The best data scientists in the world teach the majority of online courses. These courses include a comprehensive curriculum and organisation.

Reading Books and Other Online Resources

There are a huge number of books published about data science. You can get benefits and knowledge through books. Many of them are available online. So, you can get easy access to e-books and audiobooks. In fact, you can start learning the basics of data science from books and then jump into the fields.

Getting a Practical Experience

You can't study data science by just reading books and attending lectures because it is a very practical profession. Get some practical experience under your belt. You may take part in several contests like Kaggle, Driven data, and Machine Hack to gain some real-world experience. There are several data science projects and contests available on this trustworthy site.

Additionally, they assist you in creating a GitHub profile to display your expertise. You may build a solid portfolio and acquire practical skills by taking this route. Feedback is a different aspect that you might acquire from the top experts in the area.

Experience through Internships

You have to start someplace if you want to get somewhere, yet most employers are sceptical about newly acquired talents. It's challenging to find work as a new graduate. Look for internship opportunities at any firm in this position to get your foot in the door. Your company must extend an employment offer to you as a result of your diligence and talents during the training phase.

The closest thing to a genuine employment experience you can receive while learning is an internship. Professional data scientists can teach you about their duties and the daily tasks they must do.

No matter how hard you try, you might never be able to generate a positive outcome without experience. The ideal course of action for you would be to land a job with a business that will teach you and include you on a team working on one of these projects. You will have the chance to learn from others and acquire knowledge and skills that would be otherwise difficult for most individuals to acquire through self-learning.

Look For Online Internships/Freelance Work

Once you have a bit more data science expertise, you may start looking for online internships or freelancing work. This will improve your learning while also improving the appearance of your resume when you decide to subsequently hunt for a full-time employment.

Learn from peers

It's amazing how much you can learn from working with others. To get a job in data science industry, teamwork plays an important role. Here are some ideas to get inspiration from fellows

Search and make bond with people who want meetups
Connect and message those people who are socially active and write posts about data science
Data Science Conquer the Future
Do you believe that data science will rule the future? Or does it help businesses more? Yes, you are correct. By using data science, you can make wise decisions.
Data scientists can quickly analyse large amounts of provided data. They aid in putting you in a stronger position than your rivals. You may do it on your own and participate in competition.
Want to learn more about data science? Enroll in the Best Data Science courses in Chennai to do so.
Summing it up:
Data science is a fast-growing industry that provides exciting opportunities for professionals. Increasing demand for data scientists makes this field lucrative and professionals opt for this profession to the job market.
Thus, learn data scientist skills and get your shares from the industry.
Data Science Placement Success Story
Data Science Training Institutes in Other Locations
Agra
,
Ahmedabad
,
Amritsar
,
Anand
,
Anantapur
,
Bangalore
,
Bhopal
,
Bhubaneswar
,
Chengalpattu
,
Chennai
,
Cochin
,
Dehradun
,
Malaysia
,
Dombivli
,
Durgapur
,
Ernakulam
,
Erode
,
Gandhinagar
,
Ghaziabad
,
Gorakhpur
,
Gwalior
,
Hebbal
,
Hyderabad
,
Jabalpur
,
Jalandhar
,
Jammu
,
Jamshedpur
,
Jodhpur
,
Khammam
,
Kolhapur
,
Kothrud
,
Ludhiana
,
Madurai
,
Meerut
,
Mohali
,
Moradabad
,
Noida
,
Pimpri
,
Pondicherry
,
Pune
,
Rajkot
,
Ranchi
,
Rohtak
,
Roorkee
,
Rourkela
,
Shimla
,
Shimoga
,
Siliguri
,
Srinagar
,
Thane
,
Thiruvananthapuram
,
Tiruchchirappalli
,
Trichur
,
Udaipur
,
Yelahanka
,
Andhra Pradesh
,
Anna Nagar
,
Bhilai
,
Borivali
,
Calicut
,
Chandigarh
,
Chromepet
,
Coimbatore
,
Dilsukhnagar
,
ECIL
,
Faridabad
,
Greater Warangal
,
Guduvanchery
,
Guntur
,
Gurgaon
,
Guwahati
,
Hoodi
,
Indore
,
Jaipur
,
Kalaburagi
,
Kanpur
,
Kharadi
,
Kochi
,
Kolkata
,
Kompally
,
Lucknow
,
Mangalore
,
Mumbai
,
Mysore
,
Nagpur
,
Nashik
,
Navi Mumbai
,
Patna
,
Porur
,
Raipur
,
Salem
,
Surat
,
Thoraipakkam
,
Trichy
,
Uppal
,
Vadodara
,
Varanasi
,
Vijayawada
,
Vizag
,
Tirunelveli
,
Aurangabad
Data Analyst Courses in Other Locations
ECIL
,
Jaipur
,
Pune
,
Gurgaon
,
Salem
,
Surat
,
Agra
,
Ahmedabad
,
Amritsar
,
Anand
,
Anantapur
,
Andhra Pradesh
,
Anna Nagar
,
Aurangabad
,
Bhilai
,
Bhopal
,
Bhubaneswar
,
Borivali
,
Calicut
,
Cochin
,
Chengalpattu
,
Dehradun
,
Dombivli
,
Durgapur
,
Ernakulam
,
Erode
,
Gandhinagar
,
Ghaziabad
,
Gorakhpur
,
Guduvanchery
,
Gwalior
,
Hebbal
,
Hoodi
,
Indore
,
Jabalpur
,
Jaipur
,
Jalandhar
,
Jammu
,
Jamshedpur
,
Jodhpur
,
Kanpur
,
Khammam
,
Kochi
,
Kolhapur
,
Kolkata
,
Kothrud
,
Ludhiana
,
Madurai
,
Mangalore
,
Meerut
,
Mohali
,
Moradabad
,
Pimpri
,
Pondicherry
,
Porur
,
Rajkot
,
Ranchi
,
Rohtak
,
Roorkee
,
Rourkela
,
Shimla
,
Shimoga
,
Siliguri
,
Srinagar
,
Thoraipakkam
,
Tiruchirappalli
,
Tirunelveli
,
Trichur
,
Trichy
,
Udaipur
,
Vijayawada
,
Vizag
,
Warangal
,
Chennai
,
Coimbatore
,
Delhi
,
Dilsukhnagar
,
Hyderabad
,
Kalyan
,
Nagpur
,
Noida
,
Thane
,
Thiruvananthapuram
,
Uppal
,
Kompally
,
Bangalore
,
Chandigarh
,
Chromepet
,
Faridabad
,
Guntur
,
Guwahati
,
Kharadi
,
Lucknow
,
Mumbai
,
Mysore
,
Nashik
,
Navi Mumbai
,
Patna
,
Pune
,
Raipur
,
Vadodara
,
Varanasi
,
Yelahanka
Navigate to Address
360DigiTMG - Data Science Course, Data Scientist Course Training in Chennai
D.No: C1, No.3, 3rd Floor, State Highway 49A, 330, Rajiv Gandhi Salai, NJK Avenue, Thoraipakkam, Tamil Nadu 600097
1800-212-654-321