Home / Blog / Data Science / Strategies to Choose Data Science Course to Help You Choose Best Career Path in 2022
Strategies to Choose Data Science Course to Help You Choose Best Career Path in 2022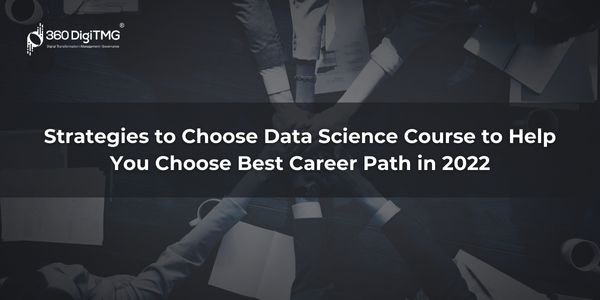 Data technology has substantially improved over time. Currently, it serves as the foundation of many companies in many different industries. Many people want to work as data scientists, but it's important to weigh the benefits and drawbacks of the field. Many professionals enrol in data science courses to sharpen their problem-solving abilities and remain up to date on industry advances.
The information paints a rather realistic image, and the constant news coverage just adds to the sense of expectation. Everywhere you go, there are fresh studies highlighting the tremendous need for skilled data scientists. But what really qualifies as a successful foray into data science? Herein lies the value of training programmes in helping people develop the skills, expertise, and practical knowledge required to succeed in their field.
Reasons to choose the Training Courses:
This is where training courses may help, acting as a bridge for potential data scientists to transition from any other industry. Many of these training organizations have recently popped up, claiming that their numerous flagship courses will turn you become a data scientist. But the issue still stands: Do these training programs genuinely help students land data science jobs, or are they just too good to be true? What should a student look for when making such a crucial decision during the transition?
The following are the areas that students should carefully consider while choosing a training institute:
How old are these institutions?
The instructors for the course
The administrators of the institution
Alumni reviews and feedback
How many graduates underwent the promised change
The pay they are receiving following the change
Are you looking to become a Data Scientist? Go through 360DigiTMG's PG Diploma in Data Science and Artificial Intelligence!.
Learn the core concepts of Data Science Course video on YouTube:
Why study a Data Science Course?
As a data scientist, you help analyse the massive volumes of data that modern civilization produces. Unfortunately, a significant lack of data scientists is adversely restricting various businesses. As a result, industries including business, healthcare, energy, intelligence, government, security, and logistics are in need of individuals like you. Additionally, since data science has so many uses, you might find employment in a sector that appeals to you.
Data is causing changes in all professions. Without any expertise of data science, it will be extremely difficult to become a management, radiologist, or marketing in five years.
In the public sector, private sector, and academic institutions, there is a great need for qualified data scientists. People may register in some of the top data science courses to learn the knowledge and sophisticated skills necessary to deal with practical issues.
These specialised courses offer a solid foundation in the data science foundations, which will greatly help you in developing a career.
Strategies for Picking the Best Data Science Course:
Organizations must be ready to upskill employees in a disruptively uncertain world caused by the rapid growth of technology and unforeseen events. Therefore, through their training programs, these training institutes significantly contribute to preparing candidates for the workplace. You should be aware of a few tactics before enrolling in data science courses that will aid your job search.
Industry-ready Recent Curriculum:A data scientist is knowledgeable in computer science, machine learning, statistics, and programming languages like Python. In general, getting in touch with people in your field to learn more about the subject and data science courses is a good idea. In addition, people with prior data science experience can assist you in selecting a data science program that is more relevant for you and may be based on market trends.
Practical Sessions:A person cannot start career as a data scientist without having a practical understanding of the principles, even though theoretical knowledge of the field is necessary to understand the fundamental ideas. A quality data science training program will give students the practical knowledge required to solve real-world challenges. Depending on your preferences, you can select from a selection of offline and online courses.
Experience of a Mentor or Trainer:To gain the necessary understanding of the sector, evaluating your mentor's or trainer's experience beforehand is essential. Select a course that has instructors that are highly qualified professionals in the field. Be sure to do your homework.
Placement Evaluations:When you sign up for a study program at a reputed university, one of the most crucial hopes is that a respectable organization will employ you. As a result, not all businesses fulfill their commitments. Before enrolling in a program or institute, finish your homework.
Alumni Feedback:Because they have the most in-depth knowledge, former students at an institution are the best resource for learning more about a course and its procedures. Ask them about their research's placement history, mentor experience, course details, curriculum application ratio, and learning approach if you contact them. Ask about prospects in the field of data science to investigate employment options if you are not satisfied with the institute's placement.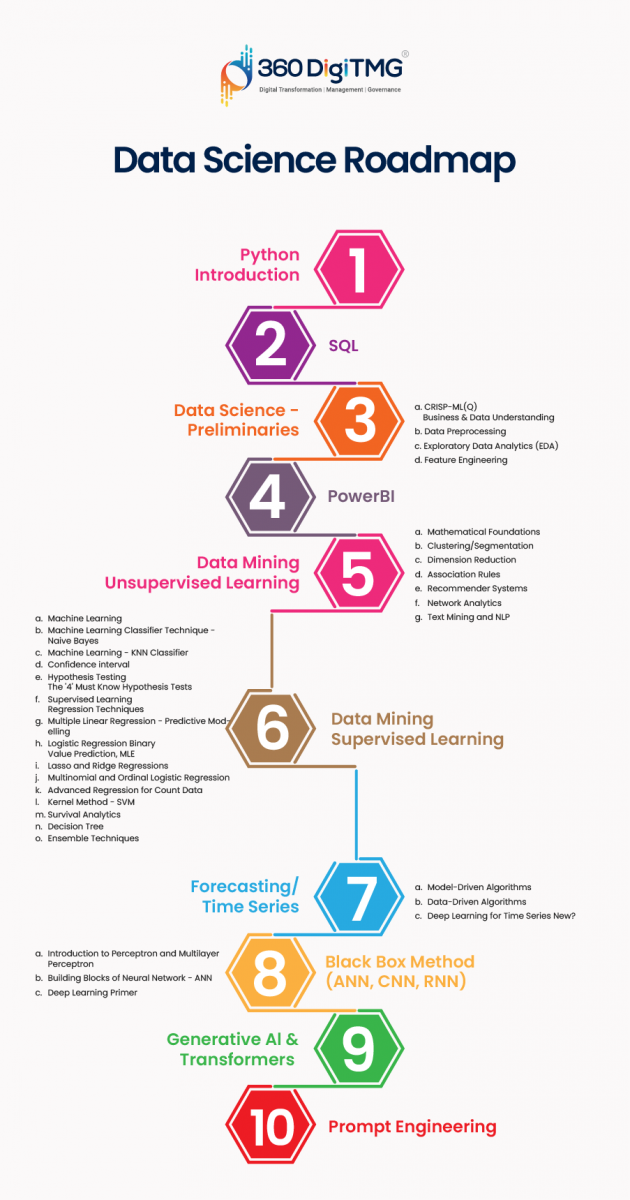 Want to learn more about data science? Enroll in the Best Data Science courses in Chennai to do so.
Prerequisites for a Data Science Career:
Modern technology underpins the highly technical field of data science. The following are some specialised technology and concepts that a data scientist should be familiar with: For a data scientist, machine learning expertise is just as important as understanding statistics and the principles of data organisation.
Data modelling: Mathematical models may be used to data-driven projections and to speed up computations. Additionally, modelling is crucial to machine learning; as a result, selecting the best approach to solve issues and understanding model training would be necessary.
Statistics: Anyone who wants to utilise data to understand more about the world and achieve their goals must first get familiar with the basics of statistics.
Programming: Learning programming languages like Python and R is a necessity for anybody looking to work in the data science field. Python is one of the most popular options due to its ease of learning and ability to support a number of data science and machine learning tools. Good data science courses will also impart programming abilities, among other things.
The duties of a data science specialist include, among other things, managing databases, building them, and extracting useful data from them.
Earn yourself a promising career in data science by enrolling in the Data Science Classes in Pune offered by 360DigiTMG.
Selecting Data Science course:
1. Outline your Career Objectives:
Before deciding which online course is ideal for your needs, define your goals. Self-analysis is crucial. Pose a few questions to yourself, such as:
⦁ Ask yourself a few questions, such as:
⦁ Are you looking for a lower-level or higher-level position?
⦁ Are you looking for a job or a promotion, or do you currently have a job?
⦁ What skills must you develop to achieve your job goals?
The data science discipline covers many topics, including machine learning, cybersecurity, and artificial intelligence. Decide on your core area of interest first.
2. Research Work Necessities:
Many employers in the field of data science require several abilities that are specific to that work. Therefore, many data science positions need various skills tailored to that particular work. Problem-solving, Communication, Machine learning, Databases, Teamwork, Big data frameworks, Creativity, Coding, and Data visualization are a few technical talents you could encounter in data science. Visit various job sites, look for open positions, and try to find job descriptions. You will get knowledge of the additional abilities employers look for in your field.
3. Assess Your Skillset:
You must access your skillet after looking over the market's skill requirements. Next, analyze the information you need to learn. Do you need to start with the fundamentals since you're a novice, or have you wanted to advance? If you are an entry level to data science, you should concentrate on a beginner-level course. After the course, you will have to complete online assignments, and the online instructor will move quickly. Thus, at least one must have a basic understanding of the subject.
Looking forward to becoming a Data Scientist? Check out the Data Science Course and get certified today.
Wrapping up:
To acquire the core skills and information that a data scientist needs, aspiring professionals are focusing on data science training. The 360digiTMG training program's graduates will be equipped to either take on data engineering careers or advance in their existing roles. You will benefit from tailored mentorship, expert project evaluation, and strong support from all of our departments, regardless of the programme you choose. You'll work on practical projects and build a strong body of work. Additionally, you will develop a fantastic professional network and become a part of a lively community of data aficionados.
Data Science Placement Success Story
Data Science Training Institutes in Other Locations
Agra, Ahmedabad, Amritsar, Anand, Anantapur, Bangalore, Bhopal, Bhubaneswar, Chengalpattu, Chennai, Cochin, Dehradun, Malaysia, Dombivli, Durgapur, Ernakulam, Erode, Gandhinagar, Ghaziabad, Gorakhpur, Gwalior, Hebbal, Hyderabad, Jabalpur, Jalandhar, Jammu, Jamshedpur, Jodhpur, Khammam, Kolhapur, Kothrud, Ludhiana, Madurai, Meerut, Mohali, Moradabad, Noida, Pimpri, Pondicherry, Pune, Rajkot, Ranchi, Rohtak, Roorkee, Rourkela, Shimla, Shimoga, Siliguri, Srinagar, Thane, Thiruvananthapuram, Tiruchchirappalli, Trichur, Udaipur, Yelahanka, Andhra Pradesh, Anna Nagar, Bhilai, Borivali, Calicut, Chandigarh, Chromepet, Coimbatore, Dilsukhnagar, ECIL, Faridabad, Greater Warangal, Guduvanchery, Guntur, Gurgaon, Guwahati, Hoodi, Indore, Jaipur, Kalaburagi, Kanpur, Kharadi, Kochi, Kolkata, Kompally, Lucknow, Mangalore, Mumbai, Mysore, Nagpur, Nashik, Navi Mumbai, Patna, Porur, Raipur, Salem, Surat, Thoraipakkam, Trichy, Uppal, Vadodara, Varanasi, Vijayawada, Visakhapatnam, Tirunelveli, Aurangabad
Data Analyst Courses in Other Locations
ECIL, Jaipur, Pune, Gurgaon, Salem, Surat, Agra, Ahmedabad, Amritsar, Anand, Anantapur, Andhra Pradesh, Anna Nagar, Aurangabad, Bhilai, Bhopal, Bhubaneswar, Borivali, Calicut, Cochin, Chengalpattu , Dehradun, Dombivli, Durgapur, Ernakulam, Erode, Gandhinagar, Ghaziabad, Gorakhpur, Guduvanchery, Gwalior, Hebbal, Hoodi , Indore, Jabalpur, Jaipur, Jalandhar, Jammu, Jamshedpur, Jodhpur, Kanpur, Khammam, Kochi, Kolhapur, Kolkata, Kothrud, Ludhiana, Madurai, Mangalore, Meerut, Mohali, Moradabad, Pimpri, Pondicherry, Porur, Rajkot, Ranchi, Rohtak, Roorkee, Rourkela, Shimla, Shimoga, Siliguri, Srinagar, Thoraipakkam , Tiruchirappalli, Tirunelveli, Trichur, Trichy, Udaipur, Vijayawada, Vizag, Warangal, Chennai, Coimbatore, Delhi, Dilsukhnagar, Hyderabad, Kalyan, Nagpur, Noida, Thane, Thiruvananthapuram, Uppal, Kompally, Bangalore, Chandigarh, Chromepet, Faridabad, Guntur, Guwahati, Kharadi, Lucknow, Mumbai, Mysore, Nashik, Navi Mumbai, Patna, Pune, Raipur, Vadodara, Varanasi, Yelahanka
Navigate to Address
360DigiTMG - Data Science, Data Scientist Course Training in Bangalore
No 23, 2nd Floor, 9th Main Rd, 22nd Cross Rd, 7th Sector, HSR Layout, Bengaluru, Karnataka 560102
1800-212-654-321