Home / Blog / Data Science / Top 7 Useful Facts On The Future Scope Of Data Science That Everything You Need To Know
Top 7 Useful Facts On The Future Scope Of Data Science That Everything You Need To Know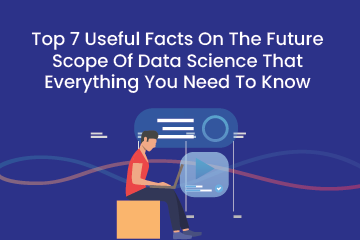 The world is changing following the most recent trends, and data scientists are one such trend in the contemporary world. It is one of the most desired employment for today's youngsters. Every company, from large corporations to small startups, needs a data scientist to properly use the enormous amount of data it produces and saves. Data science has a wide range of present and future applications.
Data Science is a hot topic in technology right now, and for a good reason—it represents a significant advancement in the capabilities of computers to learn. Because of the rapid advancement of technology and the production of enormous volumes of data, or "Big Data," there is an increased demand for data scientists.
What is Data Science?
In 2008, when businesses realized they needed data consultants with experience in organizing and analyzing vast amounts of data, the term "data science" was first coined. The precise definition of data science is the ability to interpret and handle data to extract quality from it.
Data scientists are experts in linked question identification, information extraction from data sources, information stacking, outcome conversion into solutions, and interacting with the findings to advance the business.
Also, check this Data Science Institute in Bangalore to start a career in Data Science.
General Advantages of Data Science
Data-driven decisions can be seen as wise decisions in the modern world. Additionally, data science plays a significant part in assisting individuals in making quicker and better judgments. Finally, data scientists provide a method to assess and enhance the performance of the business as a whole.
Identification of the target has always been more complex. Every product and service must target the right demographics to maximize the benefit or sales of a business's goods or services.
As a result, using analytics and the easily accessible data obtained from various sources, it is simple to identify and further limit the target audience group for the services or products. By doing this, businesses may better cater their services to specific demographics and infographics and boost their revenue.
Huge amounts of data are available, and we can identify potential risk situations using predictive analysis with these data. Then, we can recommend a course of action to lower the risk and provide other strategies for achieving our goals. Only data science technologies allow us to evaluate massive amounts of data and gain insightful knowledge quickly.
Learn the core concepts of Data Science Course video on YouTube:
Career Scope for Data Scientists
When it comes to job opportunities, data science has several. By 2026, economists project that there will be over 11 million job openings nationwide. In fact, since 2019, there has been a 46% increase in hiring in the field of data science. Despite this, by the end of August 2020, there were about 93,000 open Data Science vacancies in India. Therefore, there is no question about the potential of data science. Furthermore, you can find various jobs that can help you advance your data science career if you have data science knowledge. There are numerous job options available in this field in addition to the data scientist role, including:
Data Analyst: Data analysts work with their teams to produce insights and business goals while also using data analysis tools to analyze data.
⦁ Data Engineer: The objective of a data engineer is to provide an organized, uniform data flow that enables data-driven models such as machine learning models and data analysis.
⦁ Machine Learning Engineer: As an engineer in machine learning, you will build models and algorithms that allow machines to work autonomously.
⦁ Business Analyst: Business analysts help businesses improve their procedures, products, services, and software using data analysis.
⦁ Data Architect: A data architect is a professional who creates the data strategy for the company, which includes data security, data quality standards, and data flow within the organization.
⦁ Data Administrator: The administration, management, coordination, and operation of the database management system are the responsibilities of a database administrator (DBA).
⦁ Data Manager: A Data Manager evaluates the needs of the business or research organization for data and uses coding skills to maintain databases safe.
⦁ Marketing Analyst: A marketing analyst researches to understand what customers want and need and to evaluate the effectiveness of a company's marketing and commercial strategy.
The term "data science" is quite imprecise. It includes several academic disciplines. The area of data science has grown, and the roles inside it have changed. We are getting closer to examining the world of data science with a more imaginative perspective due to the expansion of activities throughout the data science life cycle. So, if you want to start a solid career in data science, understand the subject.
Become a Data Scientist with 360DigiTMG Data Science course in Hyderabad Get trained by the alumni from IIT, IIM, and ISB.
How can you Become a Data Scientist?
There are various methods to become a data scientist. Starting in a different role, like a data analyst, and then moving up as you get expertise takes the most time. But it is quicker and simpler to start as a prominent data analyst before honing your talents to become a data scientist.
Think of a situation where you must use a collection of Python-written tools. Enrolling in an online Python course is the initial step to help you develop useful Python abilities. Then, study any additional programming language that is frequently employed in data science after that./p>
A second, more costly option is to enroll in a reputable institution to earn a Master's or MSC in data science. Sadly, this is not a surefire strategy, and graduate school is expensive. On Quora, though, you can look up other queries to determine the scope of a data science course.
The ideal option is to enroll in a 360digiTMG data science course, which is also the most economical. A data science online course from 360digiTMG gives you plenty of time to practice and allows you to work on hands-on, real-world projects. We also provide classes offline, including a data science course, in our learning center.
Future Trends in Data Science
⦁ Data science is the foundation upon which machine learning and artificial intelligence are constructed. Therefore, the foundation (Data Science) of automation (robots, chatbots, virtual assistants, etc.) will likely increase the employability of qualified workers.
⦁ According to a report by IBM, data science positions would probably increase by 30%. In 2021, the expected number of job openings for Data Science was 2,720,000. Additionally, the US Bureau of Labor Statistics predicts that by 2026, it will have generated 11 million new employment.
⦁ Every business seeks to maximize earnings. Every industry has understood that it needs Data Scientists to play with data to optimize its business profitability because data is the key component of data science. The need for careers in data science is due to this.
⦁ Additionally, there are many different types of enterprises in this digital era. Organizations that manage these varied classifications handle zettabytes (a billion Terabytes) of data. This data will continue to grow enormously over the coming years, increasing the demand for data science professionals.
Career Advancement:
Today's best occupations are data scientists, analysts, engineers, and business analysts.
Data also provides many opportunities for data scientists in all significant public and private sectors.
Are you looking to become a Data Scientist? Go through 360DigiTMG's PG Diploma in Data Science and Artificial Intelligence!.
Future Scope of Data Science
The data science workforce in India is used to modern science and technology. We are at the forefront of Information Technology and healthcare and have a significant presence across numerous industries. These industries rely on data science to help them make smarter decisions based on information about consumer preferences and to promote goods to the right target market. Let's look at a few things that indicate data science's future and provide solid arguments for why it is essential for today's business requirements.
⦁ The Field of Data Science is Ever-changing.
Career fields without room for advancement run the danger of becoming stagnant. It suggests that the relevant fields must constantly alter and evolve for chances to appear and grow in the sector. Data science is a large field of study that is expanding, which means there will be plenty of opportunities in the future. In addition, data science is anticipated to become increasingly specialized as employment functions get more specialized. Our daily interactions with data will only increase with time. Additionally, the amount of data generated globally will grow exponentially.
⦁ Health care, Transport, and E-commerce Sectors:
The healthcare industry has a significant need for data scientists because they generate a lot of data every day. Professional applicants can only handle a small amount of data. In addition, hospitals are required to maintain records of a variety of data, including the medical histories of patients, expenditures, and personnel.
A data scientist is needed in the transportation industry to examine the information gathered by ticketing, asset management, fare collection, and passenger counting systems. Data scientists who evaluate the data and produce personalized recommendation lists for giving users outstanding outcomes are the only reason the e-commerce sector is flourishing.
⦁ Insurance and Banking - risk Assessment and Fraud Detection:
Banks, particularly for loans and insurance firms, gather customer profiles, past applications and expenditures, and many other aspects of personal information. If used appropriately, this data can reduce fraud and be used, among other things, to assess loan risk.
In this case, data science is essential since it expedites the process and separates parties at low and high risk. Using these projections, bankers can choose loan applicants with ease. Similarly, insurance companies can guard against financial fraud.
The automobile industry is now trying to commercialize driverless automobiles. However, a few businesses have only tested the technology, which is continuously being improved and evaluated.
Data science, ML, and AI all have significant roles to play in this future endeavor. However, this kind of experiment can only be successful if all the information about where things are, what they are made up of, and how they are made available to technology.
Currently, there is an opportunity in the auto industry as it uses data to power loyalty programs, vehicle servicing, customer experience with tech support, and many other things.
⦁ Virtual and Augmented Reality:
It is one of the more fascinating premises in the future of data science. As a result, VR and data science are closely related, especially in the game industry. VR technology needs data and analysis to create a setting that faithfully mimics real life while also enabling you to function, at least somewhat, inside the virtual world.
These technologies will be dependent on AI and ML. Data science has limitless potential to advance in this emerging profession as this technology becomes more commercially viable than it is at the moment.
There are contrasts between machine learning and data science, much as there are differences between the subjects of artificial intelligence and data science, which are related but very different.
⦁ Updated Data Privacy Regulations:
Member nations of the European Union adopted the (GDPR) General Data Protection Regulation in May 2018. To store data appropriately and responsibly, businesses and data scientists will become dependent on one another due to this. As consumers become more aware of data breaches and their negative effects, they become more wary and alert about sharing their data with companies and giving up some of their power. Therefore, shortly, we will protect some degree of data privacy thanks to the GDPR.
⦁ Industry of Airline and Cybersecurity:
The airline industry uses data science to analyze flight paths and routes. Airlines turned to data science to predict and assess any anticipated delays to flight timings, drive consumer loyalty programs, and save operating costs while increasing profitability and occupancy rates. You can use the outcomes of the data science algorithms to make decisions about anything from the stops between destinations to the planes to acquire the highest return on investment.
Online purchases and Internet usage are rising, and so are fraudulent activities. Businesses are implementing Data Science tools to stop losses and identify fraudulent acts. It provides a systematic approach to identifying malicious attacks on digital infrastructure. Additionally, it uses machine learning technology to recognize data trends and develop powerful algorithms for data security. Data scientists assist in managing massive volumes of data and determining the most effective solutions. It will open more than 5,000 new jobs in the future, increasing the demand for data scientists.
Looking forward to becoming a Data Scientist? Check out the Data Science Course and get certified today.
Conclusion
The demand for data scientists is expanding as more businesses move to ML, big data, and AI. In addition, by facilitating safe online fund transfers, improving the quality of online shopping, and many other things, data science has made everyday life easier for people.
The scope of data science doesn't stop here; it has significantly contributed to medical research. For example, the analytics and requisition were beneficial for drug development, remote monitoring, genomics, and medical image analysis.
Additionally, 360digiTMG's carefully curated Data Science Training course will help you become proficient in statistics, data wrangling, exploratory data analysis, and machine learning algorithms, including K-Means Clustering, decision trees, random forests, and naive Bayes. This course is available to anybody interested in learning more about data science. In addition to learning about Deep Learning, you'll also learn about Time Series and Text Mining techniques. New classes for this course are about to begin!
Data Science Placement Success Story
Data Science Training Institutes in Other Locations
Agra, Ahmedabad, Amritsar, Anand, Anantapur, Bangalore, Bhopal, Bhubaneswar, Chengalpattu, Chennai, Cochin, Dehradun, Malaysia, Dombivli, Durgapur, Ernakulam, Erode, Gandhinagar, Ghaziabad, Gorakhpur, Gwalior, Hebbal, Hyderabad, Jabalpur, Jalandhar, Jammu, Jamshedpur, Jodhpur, Khammam, Kolhapur, Kothrud, Ludhiana, Madurai, Meerut, Mohali, Moradabad, Noida, Pimpri, Pondicherry, Pune, Rajkot, Ranchi, Rohtak, Roorkee, Rourkela, Shimla, Shimoga, Siliguri, Srinagar, Thane, Thiruvananthapuram, Tiruchchirappalli, Trichur, Udaipur, Yelahanka, Andhra Pradesh, Anna Nagar, Bhilai, Borivali, Calicut, Chandigarh, Chromepet, Coimbatore, Dilsukhnagar, ECIL, Faridabad, Greater Warangal, Guduvanchery, Guntur, Gurgaon, Guwahati, Hoodi, Indore, Jaipur, Kalaburagi, Kanpur, Kharadi, Kochi, Kolkata, Kompally, Lucknow, Mangalore, Mumbai, Mysore, Nagpur, Nashik, Navi Mumbai, Patna, Porur, Raipur, Salem, Surat, Thoraipakkam, Trichy, Uppal, Vadodara, Varanasi, Vijayawada, Visakhapatnam, Tirunelveli, Aurangabad
Data Analyst Courses in Other Locations
ECIL, Jaipur, Pune, Gurgaon, Salem, Surat, Agra, Ahmedabad, Amritsar, Anand, Anantapur, Andhra Pradesh, Anna Nagar, Aurangabad, Bhilai, Bhopal, Bhubaneswar, Borivali, Calicut, Cochin, Chengalpattu , Dehradun, Dombivli, Durgapur, Ernakulam, Erode, Gandhinagar, Ghaziabad, Gorakhpur, Guduvanchery, Gwalior, Hebbal, Hoodi , Indore, Jabalpur, Jaipur, Jalandhar, Jammu, Jamshedpur, Jodhpur, Kanpur, Khammam, Kochi, Kolhapur, Kolkata, Kothrud, Ludhiana, Madurai, Mangalore, Meerut, Mohali, Moradabad, Pimpri, Pondicherry, Porur, Rajkot, Ranchi, Rohtak, Roorkee, Rourkela, Shimla, Shimoga, Siliguri, Srinagar, Thoraipakkam , Tiruchirappalli, Tirunelveli, Trichur, Trichy, Udaipur, Vijayawada, Vizag, Warangal, Chennai, Coimbatore, Delhi, Dilsukhnagar, Hyderabad, Kalyan, Nagpur, Noida, Thane, Thiruvananthapuram, Uppal, Kompally, Bangalore, Chandigarh, Chromepet, Faridabad, Guntur, Guwahati, Kharadi, Lucknow, Mumbai, Mysore, Nashik, Navi Mumbai, Patna, Pune, Raipur, Vadodara, Varanasi, Yelahanka
Navigate to Address
360DigiTMG - Data Science, IR 4.0, AI, Machine Learning Training in Malaysia
Level 16, 1 Sentral, Jalan Stesen Sentral 5, Kuala Lumpur Sentral, 50470 Kuala Lumpur, Wilayah Persekutuan Kuala Lumpur, Malaysia
+60 19-383 1378