Home / Blog / Data Science / What Does A Data Scientist Do? Find An Answer To Know Everything You Need To Know
What Does A Data Scientist Do? Find An Answer To Know Everything You Need To Know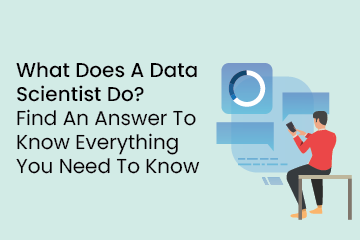 A data scientist uses the information to comprehend, explain, and aid businesses' decision-making. By becoming a data scientist, you may be on the cutting edge of new technological developments, which is intellectually satisfying and analytically fulfilling. As big data becomes more crucial to businesses' choices, data scientists are becoming more prevalent and in demand.
Who Is A Data Scientist?
An analytics expert known as a "data scientist" is responsible for gathering, analyzing, and interpreting data to support organizational decision-making. A mathematician, physicist, statistician, or computer programmer are just a few of the traditional and technical vocations from which the data scientist role draws. It combines scientific ideas with sophisticated analytics methods like machine learning and predictive modeling.
Data scientists frequently work with large amounts of data as part of data science initiatives to develop and test hypotheses and draw conclusions. And they have to analyze consumer and market trends, financial risks, cybersecurity threats, stock trades, equipment maintenance requirements, and medical conditions.
Data scientists often mine data in firms to find information that may be utilized to forecast consumer behavior, find new revenue opportunities, spot fraudulent transactions and fulfill other company needs. Additionally, they perform essential analytical work for healthcare organizations, educational institutions, governmental bodies, sports teams, and different organizations.
Learn the core concepts of Data Science Course video on Youtube:
A Successful Data Scientist Will Have The Following Characteristics
Data scientists need certain personality traits and soft skills, such as intellectual curiosity, critical thinking, healthy skepticism, good intuition, problem-solving skills, and creativity. Collaboration skills with others are also essential. Data scientists regularly collaborate with different business teams and typically work on a data science team with data engineers, lower-level data analysts, and others.
Many organizations demand that their data scientists have excellent communication skills and the capability to deliver and interpret data findings for corporate executives, managers, and employees. They also require managerial skills and business acumen to help an organization's data-driven decision-making processes move forward.
How Data Science Benefits Businesses And Why It Is Important
Data science is essential for organizations because it enables them to derive valuable insights and take appropriate action to realize their objectives, develop, and stay competitive in the market, as was indicated in the previous section. Companies need data scientists because of the value they can deliver. In addition, they support businesses in making wiser judgments.
Businesses can use data science to find new or recurring patterns, comprehend long-term trends, and illustrate correlations between two objects. A company can maximize earnings, boost sales, and avoid suffering big losses by looking into and identifying these trends. In addition to detecting fraud, data science can forecast and avert issues and unpleasant events in the future and shield enterprises from loss. Businesses can now develop precise fraud detection models using data science techniques to assist stop fraud from happening.
Data science can also help get client input, come up with fresh concepts for new products and services, and find solutions to issues that customers may be experiencing. As a result, it may satisfy client wants and boost revenue.
A company can identify possible gaps by examining patterns and recurring trends, which spurs creativity, original solutions, and higher levels of client satisfaction. In addition, every firm needs a data science plan to grow since it may use customized advertising to attract new clients.
In essence, businesses utilize information about your browsing habits to learn more about you and determine which of their goods and services interest you. They can demonstrate and suggest goods and services that are suited to you and your interests once they have these insights at their disposal.
Standard Job Titles For Data Scientists
These are some of the most frequently found roles in data science careers.
⦁ Data Scientists: Create algorithms and prediction models, and execute specialized analysis using techniques for data modeling.
⦁ Data Analysts: manipulate substantial data sets and utilize them to spot trends and draw inferences that will help them make intelligent business decisions.
⦁ Data Engineers: Transfer data to data warehouses once it has been cleaned, collected, and organized from various sources.
experts in business intelligence: Recognize patterns in data sets
⦁ Data Architects: Data architects are responsible for designing, developing, and managing an organization's data architecture.
Although they are frequently confused, data scientists and data analysts have very distinct tasks. Data scientists create methods for modeling data, whereas data analysts look at data sets to find trends and draw inferences. The function of a data scientist is frequently thought of as more senior than a data analyst due to this divergence and the more technical nature of data science; yet, both positions may be reachable with comparable educational backgrounds.
Data Scientists' Responsibilities and Roles
Data scientists in enterprises are in charge of data science applications. In addition to gathering data, they may be responsible for improving customer service, marketing campaigns, and overall business decisions. Depending on the requirements of particular applications, they analyze quantitative and qualitative data collection.
You might also request them to investigate data without being assigned a business issue to resolve. In that case, a data scientist must be knowledgeable about the data and the business to ask the right questions, conduct the necessary analyses, and inform business executives about possible adjustments to a company's operations, products, or services.
The following responsibilities are among a data scientist's fundamental duties:
⦁ Using various forms of analytics tools to find patterns, trends, and linkages in data sets; collecting and preparing pertinent data for use in analytics applications;
⦁ Constructing mathematical and predictive models to be applied to the data sets; and
⦁ They provide dashboards, reports, and data visualizations to present their findings.
The role of data scientists in many businesses also includes defining and promoting best practices for data gathering, preparation, and analysis. Additionally, some data scientists create AI systems for use internally or by clients, such as conversational AI systems, robots that AI controls, and other autonomous equipment, including vital parts for self-driving automobiles.
What Does a Data Scientist Actually Do?
The tasks will be greatly influenced by the size and industry of the organization.
A data scientist could be the single person in charge of all the data processing in a smaller business. In contrast, a data scientist working for a larger company will probably be a part of a larger team and have more specialized responsibilities.
⦁ Finding The Problem At Hand by Asking The Right Questions:
Asking the correct questions is the initial step in the data science process, some of which include:
⦁ What happened?
⦁ Why did that take place?
⦁ What sort of data do I need to gather?
⦁ What will transpire later?
⦁ What aims does the company have?
⦁ What are the present difficulties?
⦁ What can you do immediately?
This initial stage aims to fully comprehend the issue at hand and identify the pertinent concerns that must be addressed. This first stage is essential for the rest of the procedure and for collecting information that will aid problem-solving.
⦁ Getting In Touch With A Variety Of Stakeholders:
As you work to understand the issues, even meetings will center around data. It brings us to another unusual aspect of a data scientist's day: interacting with people who are not data experts. It would appear to be a trivial aspect of a data scientist's day, but the opposite is true because, in the end, your goal is to solve problems rather than develop models.
Even though data scientists work with figures and data, it's important to remember that motivation is a necessity for business. Understanding the big picture from a department's perspective is essential. The capacity to comprehend the rationale underlying demand and to assist others in learning the effects of their choices are both critical.
An employee in the corporate sector spends much of their time attending meetings and answering emails. The importance of communication skills for a data scientist may even be greater. When you are communicating and writing with them, you need to listen to their problems rather than looking at them from the perspective of a data scientist. You also need to communicate the science underlying the data in a way that a layperson can understand.
⦁ Data Exploration and Modeling:
Exploring data entails evaluating it thoroughly to acquire deeper knowledge, focusing on the facts vital for resolving initial queries, spotting trends, and deriving valuable insights. Data scientists can then make significant recommendations using their new understandings.
To illustrate blatant trends and connections in the data, this step in the data science process entails using statistical techniques and data visualization tools to produce diagrams, charts, and graphs.
Data scientists use algorithms, machine learning, machine learning, and artificial intelligence approaches to build, assess, deploy, and monitor a machine learning predictive model for the data.
⦁ Depending On Their Career Stage:
⦁ Entry-level Data Scientists:
They are typically given simple data science assignments and frequently receive support from more experienced data scientists. The team is tasked with acquiring business intelligence and given a deadline for gathering it.
Data collection and cleansing will be the first steps for new personnel in the data science process. They will then perform rudimentary data analysis and create summaries of their findings in reports. Junior data scientists frequently check in with teams once a week to ensure they are on track with their work and to answer any queries or issues.
⦁ Mid-Level Data Scientists:
Mid-level data scientists typically have more specialized tasks and have three to five years of experience. Their work frequently involves more sophisticated data science approaches, such as deep learning, statistical modeling, and predictive modeling. Instead of being given particular problems to address, they can perform exploratory data analysis to discover hidden patterns in datasets and determine how these valuable insights could influence their company's business strategy.
⦁ Senior Data Scientists:
Senior data scientists are well-versed in both technology and corporate strategy. There are many ways in which companies make use of their extensive knowledge of the industry.
You could be given the position of lead data scientist if you want to stay in a technical job. You will be responsible for establishing the company's data science function's goal and the legal and technical frameworks that will support it.
⦁ Depending On Company Size:
⦁ At Startups:
Smaller, less hierarchical teams typically make up startups. It could imply a variety of things for your work as a data scientist. If you work as a data scientist for a startup, you can be the only data scientist, or you might be a member of a small tech team. As a result, you might work alone rather than as a data science team member. Instead of working with other data scientists, data scientists at startups frequently work collaboratively with other company employees.
⦁ In Mid-sized Companies:
Compared to startups, mid-sized businesses frequently have a more hierarchical organization. It implies that a data scientist will often be a member of a data team that includes both entry-level and senior positions. For example, suppose you're a data scientist in a mid-sized company. In that case, you'll likely be allocated to a department like marketing, advertising, or competitor research because more senior team members frequently delegate responsibilities to junior team members.
⦁ At Large Companies:
Generally speaking, a company's data scientists will be more specialized the bigger it is. There are more options for employment growth and specialization as there is more structure.
⦁ Maintaining the Changes:
If you opt to work as a data scientist, you will spend a significant portion of your day working with data and interacting with others. You'll spend the remainder of the day learning about data science. Every day, new data scientists solve problems and publish their findings. Therefore, a data scientist spends most of the day reading blogs, newsletters, and discussion forums. Data scientists may interact online or attend conferences with other data scientists. And occasionally, they might be the ones to impart new knowledge.
You want to save time as a data scientist creating something from scratch. You want to know whether someone else can solve a problem better. The only way you'll be able to do that is if you adapt to change.
Getting Started With 360digiTMG As A Data Scientist
With the help of 360digiTMG's Data Science certification course Program, you'll be able to master a variety of techniques and tools, including advanced analytics, Matplotlib, Excel analytics functions, Zookeeper, Kafka interfaces, hypothesis testing, clustering, decision trees, linear and logistic regression, Hadoop, Spark, PROC SQL, SAS macros, Hadoop, and Hadoop. In addition, you will learn data mining, data management, and exploration using high-quality online learning materials, simulation exams, and a community that professionals supervise. You will also complete many projects that apply to the industry to gain practical experience.
We have the perfect guide for you if you're interested in becoming an expert in data science. The Data Science Career Guide offers you a personalized road map to becoming a successful Data Science expert. It provides insights into the hottest technology, the best organizations hiring, and the skills necessary to launch your career in the booming field of data science.
Data Science Placement Success Story
Data Science Training Institutes in Other Locations
Agra, Ahmedabad, Amritsar, Anand, Anantapur, Bangalore, Bhopal, Bhubaneswar, Chengalpattu, Chennai, Cochin, Dehradun, Malaysia, Dombivli, Durgapur, Ernakulam, Erode, Gandhinagar, Ghaziabad, Gorakhpur, Gwalior, Hebbal, Hyderabad, Jabalpur, Jalandhar, Jammu, Jamshedpur, Jodhpur, Khammam, Kolhapur, Kothrud, Ludhiana, Madurai, Meerut, Mohali, Moradabad, Noida, Pimpri, Pondicherry, Pune, Rajkot, Ranchi, Rohtak, Roorkee, Rourkela, Shimla, Shimoga, Siliguri, Srinagar, Thane, Thiruvananthapuram, Tiruchchirappalli, Trichur, Udaipur, Yelahanka, Andhra Pradesh, Anna Nagar, Bhilai, Borivali, Calicut, Chandigarh, Chromepet, Coimbatore, Dilsukhnagar, ECIL, Faridabad, Greater Warangal, Guduvanchery, Guntur, Gurgaon, Guwahati, Hoodi, Indore, Jaipur, Kalaburagi, Kanpur, Kharadi, Kochi, Kolkata, Kompally, Lucknow, Mangalore, Mumbai, Mysore, Nagpur, Nashik, Navi Mumbai, Patna, Porur, Raipur, Salem, Surat, Thoraipakkam, Trichy, Uppal, Vadodara, Varanasi, Vijayawada, Visakhapatnam, Tirunelveli, Aurangabad
Data Analyst Courses in Other Locations
ECIL, Jaipur, Pune, Gurgaon, Salem, Surat, Agra, Ahmedabad, Amritsar, Anand, Anantapur, Andhra Pradesh, Anna Nagar, Aurangabad, Bhilai, Bhopal, Bhubaneswar, Borivali, Calicut, Cochin, Chengalpattu , Dehradun, Dombivli, Durgapur, Ernakulam, Erode, Gandhinagar, Ghaziabad, Gorakhpur, Guduvanchery, Gwalior, Hebbal, Hoodi , Indore, Jabalpur, Jaipur, Jalandhar, Jammu, Jamshedpur, Jodhpur, Kanpur, Khammam, Kochi, Kolhapur, Kolkata, Kothrud, Ludhiana, Madurai, Mangalore, Meerut, Mohali, Moradabad, Pimpri, Pondicherry, Porur, Rajkot, Ranchi, Rohtak, Roorkee, Rourkela, Shimla, Shimoga, Siliguri, Srinagar, Thoraipakkam , Tiruchirappalli, Tirunelveli, Trichur, Trichy, Udaipur, Vijayawada, Vizag, Warangal, Chennai, Coimbatore, Delhi, Dilsukhnagar, Hyderabad, Kalyan, Nagpur, Noida, Thane, Thiruvananthapuram, Uppal, Kompally, Bangalore, Chandigarh, Chromepet, Faridabad, Guntur, Guwahati, Kharadi, Lucknow, Mumbai, Mysore, Nashik, Navi Mumbai, Patna, Pune, Raipur, Vadodara, Varanasi, Yelahanka
Navigate to Address
360DigiTMG - Data Science Course, Data Scientist Course Training in Chennai
D.No: C1, No.3, 3rd Floor, State Highway 49A, 330, Rajiv Gandhi Salai, NJK Avenue, Thoraipakkam, Tamil Nadu 600097
1800-212-654-321