7 Reasons Why Malaysian People Like Data Science Courses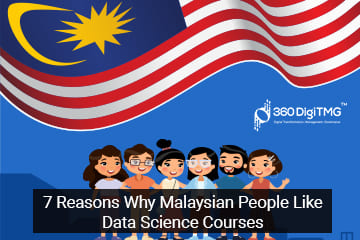 Major business choices may be made with raw data in data science courses because of the way they are constructed. In data science, raw data is gathered utilising approaches from mathematics, analytics, statistics, and machine learning. Sophia, a human-robot that uses artificial intelligence, is another project in data science. The importance of studying data science has increased with the rise of automation and equipment. Everywhere in the world, people are aware of the importance of data science and the courses that surround it. Similarly, Malaysians are likewise drawn to data science programmes. The variety of professional paths accessible in data science makes it popular as well. The need for data scientists has increased as a result. Data science may provide a commercial organisation or company with a much-needed boost if handled appropriately.
World-Class Universities

Also, check this Data Science Institute in Bangalore to start a career in Data Science.

Many prestigious universities in Malaysia offer a rewarding educational experience and a comfortable studying atmosphere. Malaysia is becoming one of the most popular locations for Data Science courses as a result. APU, IIUM, Heriot-Watt University, MMU, and other top universities in Malaysia include these.

Thee courses include B.Sc. (Hons) in CS (Computer Science), MBIA (Master in Business Intelligence and Analytics), Master of Data Science, Statistical program for Data Science UG, Bachelor of CS (Computer Science).
It is well known for developing soft skills in students so that they can communicate and present their ideas efficiently.
It also encourages students to build creative and innovative ideas.

Looking forward to becoming a Data Scientist? Check out the Data Science Course and get certified today.

Structure of the Course

Every student in Malaysian institutions realises the worth and significance of the course because of the way it is structured. Students' minds are developed in such a way that they become open-minded and discover themselves in a dynamic setting.

In the initial stages of this course, students are taught the basic mathematical concepts like statistics and analytics, R programming or Python and SQL.
Then, later on, they teach the advanced courses of the earlier one.
Applications and practical use are also given importance.
Job opportunities are enormous.
Many universities are industry-led, so you get proper management and soft skills with technical knowledge.
The structure of the course is such that it encourages startups and innovation.

Employment Opportunities

After their undergraduate and graduate programmes are over, the universities are renowned for their placement rates. They prepare the pupils to find employment. The universities provide the applicants with the skills that are in demand and necessary in the market by utilising the notion of supply and demand. After applying your knowledge in the field and putting it into practise, you will become an expert.

To automate the hard and difficult tasks, Data Science has a considerable role to play.
Most of the candidates get employment in under six months.
Experienced professionals in Data Science are needed for jobs.

Excellent Career Options Available in Data Science

Learn the core concepts of Data Science Course video on YouTube:

Data science is used in all aspects of life, from result analysis to making important corporate decisions. Big Data Analysts, Data Scientists, and Data Engineers are a few of the professional opportunities in data science. It has become inevitable to use data to inform choices due to the global shortage of skilled and seasoned experts. Due to this, both established businesses and startups are experiencing an increase in demand for data scientists.

You can explore all the career options, study about them, and then choose one for you.
Major three careers available in Data Science are Data Analyst, Data Scientist, and Data Engineer.
Data Analyst's main job is to analyze the company or industrial data and make use of the data to make decisions for the development of the company. The required skills are SQL, data cleaning, programming statistics, probability, and communication skills.
Data Scientists generally build models using Machine Learning to make precise decisions for the future predictions of the company based on recorded data. They find regular patterns or trends happening in the company and use their ideas in it.

Earn yourself a promising career in data science by enrolling in the Data Science Classes in Pune offered by 360DigiTMG.

Increase in Automation

Nowadays, it's necessary and becoming more and more popular to use machines instead of people for everything. Machines are advantageous for business organisations because they never go hungry, don't require vacations, are never fatigued, and are consistently accurate and exact. Even at 3 am, the machines still produce accurate readings. Therefore, it is undeniable that everything is becoming more mechanised. It has a significant impact on data science, which has broadened the field of data science.

Artificial Intelligence is given birth by Data Science which can even replace most of the human jobs existing today.
They can be used for tasks that are tiring and difficult for a human being to do.
Sophia is a human-robot which is developed by a Hong-Kong company whose name is Hanson Robotics.
Machine Learning has also helped in developing many machines.

Advancement in Technologies

The effects of technology progress are both positive and negative. It has made the job simpler, saves a lot of time, boosts output, streamlines communication, and even contributes to better health care. With the development of technology, Data Science has also advanced, which has driven us to innovate and evolve alongside society.

With the advancement in technology, new gates for research and jobs have opened up and Data Science is one of them.
Data Scientists are employed to do research analysis and predict future patterns based on regarded data.
There is a growth in job opportunities every year due to new researches and inventories.

Want to learn more about data science? Enroll in the Best Data Science courses in Chennai to do so.

Development of Soft Skills

Whatever job you choose, you will require good communication and soft skills. Universities that provide data science courses place equal emphasis on technical, practical, and soft skills. Soft skills are character traits and interpersonal abilities that determine how well you communicate with people and offer your views.

Good soft skills give you an edge over others in this extremely competitive world.
It is the milestone for success and progression.
It is the major skill needed to deal with your clients or customers.
It is the demand by recruiters to hire candidates with sound communication skills.
Includes teamwork, management skills, adaptability, and creativity.
Improves leadership qualities which help to invite new clients.
In the approaching years, there is potential for significant breakthroughs in the field of data science. It might be said that it is one of the finest employment opportunities offered in the twenty-first century. Additionally, employers and big businesses are demanding a lot more data scientists and analysts. Developing both technical and communication abilities at the same time may be quite beneficial for landing a decent job in the data science industry.
Data Science Placement Success Story
Data Science Training Institutes in Other Locations
Agra
,
Ahmedabad
,
Amritsar
,
Anand
,
Anantapur
,
Bangalore
,
Bhopal
,
Bhubaneswar
,
Chengalpattu
,
Chennai
,
Cochin
,
Dehradun
,
Malaysia
,
Dombivli
,
Durgapur
,
Ernakulam
,
Erode
,
Gandhinagar
,
Ghaziabad
,
Gorakhpur
,
Gwalior
,
Hebbal
,
Hyderabad
,
Jabalpur
,
Jalandhar
,
Jammu
,
Jamshedpur
,
Jodhpur
,
Khammam
,
Kolhapur
,
Kothrud
,
Ludhiana
,
Madurai
,
Meerut
,
Mohali
,
Moradabad
,
Noida
,
Pimpri
,
Pondicherry
,
Pune
,
Rajkot
,
Ranchi
,
Rohtak
,
Roorkee
,
Rourkela
,
Shimla
,
Shimoga
,
Siliguri
,
Srinagar
,
Thane
,
Thiruvananthapuram
,
Tiruchchirappalli
,
Trichur
,
Udaipur
,
Yelahanka
,
Andhra Pradesh
,
Anna Nagar
,
Bhilai
,
Borivali
,
Calicut
,
Chandigarh
,
Chromepet
,
Coimbatore
,
Dilsukhnagar
,
ECIL
,
Faridabad
,
Greater Warangal
,
Guduvanchery
,
Guntur
,
Gurgaon
,
Guwahati
,
Hoodi
,
Indore
,
Jaipur
,
Kalaburagi
,
Kanpur
,
Kharadi
,
Kochi
,
Kolkata
,
Kompally
,
Lucknow
,
Mangalore
,
Mumbai
,
Mysore
,
Nagpur
,
Nashik
,
Navi Mumbai
,
Patna
,
Porur
,
Raipur
,
Salem
,
Surat
,
Thoraipakkam
,
Trichy
,
Uppal
,
Vadodara
,
Varanasi
,
Vijayawada
,
Vizag
,
Tirunelveli
,
Aurangabad
Data Analyst Courses in Other Locations
ECIL
,
Jaipur
,
Pune
,
Gurgaon
,
Salem
,
Surat
,
Agra
,
Ahmedabad
,
Amritsar
,
Anand
,
Anantapur
,
Andhra Pradesh
,
Anna Nagar
,
Aurangabad
,
Bhilai
,
Bhopal
,
Bhubaneswar
,
Borivali
,
Calicut
,
Cochin
,
Chengalpattu
,
Dehradun
,
Dombivli
,
Durgapur
,
Ernakulam
,
Erode
,
Gandhinagar
,
Ghaziabad
,
Gorakhpur
,
Guduvanchery
,
Gwalior
,
Hebbal
,
Hoodi
,
Indore
,
Jabalpur
,
Jaipur
,
Jalandhar
,
Jammu
,
Jamshedpur
,
Jodhpur
,
Kanpur
,
Khammam
,
Kochi
,
Kolhapur
,
Kolkata
,
Kothrud
,
Ludhiana
,
Madurai
,
Mangalore
,
Meerut
,
Mohali
,
Moradabad
,
Pimpri
,
Pondicherry
,
Porur
,
Rajkot
,
Ranchi
,
Rohtak
,
Roorkee
,
Rourkela
,
Shimla
,
Shimoga
,
Siliguri
,
Srinagar
,
Thoraipakkam
,
Tiruchirappalli
,
Tirunelveli
,
Trichur
,
Trichy
,
Udaipur
,
Vijayawada
,
Vizag
,
Warangal
,
Chennai
,
Coimbatore
,
Delhi
,
Dilsukhnagar
,
Hyderabad
,
Kalyan
,
Nagpur
,
Noida
,
Thane
,
Thiruvananthapuram
,
Uppal
,
Kompally
,
Bangalore
,
Chandigarh
,
Chromepet
,
Faridabad
,
Guntur
,
Guwahati
,
Kharadi
,
Lucknow
,
Mumbai
,
Mysore
,
Nashik
,
Navi Mumbai
,
Patna
,
Pune
,
Raipur
,
Vadodara
,
Varanasi
,
Yelahanka
Navigate to Address
360DigiTMG - Data Science, IR 4.0, AI, Machine Learning Training in Malaysia
Level 16, 1 Sentral, Jalan Stesen Sentral 5, Kuala Lumpur Sentral, 50470 Kuala Lumpur, Wilayah Persekutuan Kuala Lumpur, Malaysia
+60 19-383 1378