15 Reasons Why Data Science Online Training is in Demand in Malaysia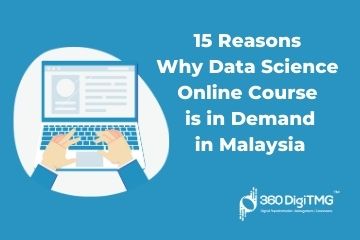 Want to learn more about data science? Enroll in the Best Data Science courses in Chennai to do so.
What is Data Science?
To comprehend and analyse real-world occurrences, the field of data science was created to bring together statistics, machine learning, data analysis, and related methodologies. Information science, computer science, mathematics, and statistics are just a few of the disciplines that data science uses techniques, procedures, and ideas from.
Who are Data Scientists?
Earn yourself a promising career in data science by enrolling in the Data Science Classes in Pune offered by 360DigiTMG.
Data Scientists are professionals who are responsible for the collection, analysis, and also for the interpretation of extremely gigantic amounts of data and information. The role of Data Scientists is completely an offshoot of many traditional mathematical roles which include a Scientist, Statistician, Mathematician, and computer professional. The job profile requires the use and application of analytics technologies which include predictive modeling and Machine Learning.
The majority of data scientists who are now employed in the field have graduate degrees in computer science, mathematics, and statistics. The experience that data scientists have acquired over their careers may be compared to a large horizon that extends its domain to areas like information management, data mining, and data visualisation. These Data Scientists frequently have prior training and expertise in data warehousing, cloud computing, and infrastructure architecture.
Learn the core concepts of Data Science Course video on YouTube:
Looking forward to becoming a Data Scientist? Check out the Data Science Course and get certified today.
Role of Data Scientists:
Some of the advantages of working with big data and using the concept of Data Science in the day-to-day activities of the business organizations in the modern world are as follows:
Mitigating the Risk of Fraud

: The required data and information for all of the contemporary facts that appear to be sticking out in a certain way have been taught to scientists. They are in charge of creating the appropriate big data approaches as well as the statistics, pathways, and networks. Data scientists created these items specifically to anticipate fraud propensity models, utilising them to provide alerts that can ensure prompt reactions in the event that some unexpected data or information is noticed.

Delivering the Relevant Product

: One of the major advantages of the application of Data Science in daily business activities is that the organizations and enterprises are able to find out where and when their products have the opportunity of achieving maximum sales, thereby earning maximum profits or turnovers. This valuable information is extremely helpful for the purpose of delivering the right products at the perfect time and can also assist the business firms in developing new products to meet the latest needs of their customers.

Personalized Customer Experience

: The capacity of the marketing and sales teams to intimately comprehend their separate audiences is the most popular and in-vogue advantage of modern corporate organisations' application of data science. The businesses may then provide their consumers with the finest experiences possible thanks to the invaluable knowledge and information that the data scientists have collected.
Also, check this Data Science Institute in Bangalore to start a career in Data Science.
Reasons Why Data Science Online Training is in Demand in Malaysia:
Career Growth

: Obtaining a Data Science certification from a recognised organisation is a crucial first step for anybody wishing to launch their professional careers. A credential from an advanced and well-regarded Data Science school or institution may help people develop in their jobs, even if they already have expertise in the field.

Freedom, Flexibility, and Options

: Several industries leverage the power of big data ranging from finance to healthcare and from entertainment to retail. Thus, this is a particular field in which professionals are likely to have a lot of options and there is no room for boredom in this line of work.

Structured Education Program

: Some people make the decision to work on their abilities by only reading blogs and suggestions from websites about data science or by viewing freely accessible online videos. No matter how high the quality of all these materials may be, people still require an organised education programme in order to study Data Science correctly and successfully.

Learning About the Popular Tools Involved with Data Science

: Some of the renowned Data Science tools that can easily complement the job of amateur or junior Data Scientists are HDFS, Hadoop, Apache HBase, R, Scala, Python and many more.

Solving Business Problems Through Theoretical Concepts

: Professionals can only learn how to apply theoretical principles to current business challenges through quality professional education.

Latest Industry Trends

: Enrolling in any particular Data Science course will enable all the interested individuals with being updated about all the latest trends of both the domestic and international markets.

Showcasing Expertise

: On-the-job training has occasionally been seen to be able to demonstrate a person's proficiency in particular industries. A professional accreditation from a reputable university can likewise do the same thing in other circumstances. If they have both, the candidates may become unstoppable.

Dedication and Commitment

: The companies who hire such professionals to work for them appreciate and recognize the fact that taking part in a professional or educational program and the task of getting certified is quite challenging.

Exposure

: The opportunity for exposure, both professionally and personally, increases significantly for all of these young and aspiring Data Scientists when they are employed by the top MNCs in the globe.

Recreating Professionals

: The field of Data Science seems like a really big deal, but in reality, any individual with some basic mathematical and programming skills will be able to learn and understand such courses without much trouble.

Data-Driven World

: Today, everything in the world—including the accounting, business, science, education, healthcare, engineering, technology, government, and energy sectors, to name just a few—is centred on data.

Job Opportunities

: Machine Learning, Data Science, and Analytics are now considered as some of the hottest and best career paths in terms of salary and the associated perks.

Personal Importance

: The abilities that people acquire when taking Data Science courses, whether online or at a reputable internal income institution, are very useful in day-to-day operations.

Side Income

: With great knowledge and skills, there is an opportunity for ample side income for amateur Data Scientists.

The Future

: Data science and data analytics are in high demand right now since it is an undeniable reality that data is the future of the planet. Thus, in the years to come, there will also be a greater need for data scientists and analysts. Therefore, for the respective students and professionals who want to be more successful in their professional endeavours, a degree or educational or professional certification in data science might open new possibilities.
These are a few of the explanations for why Malaysians enjoy Data Science courses. Students have a great selection of this thriving professional path to choose from.
Data Science Placement Success Story
Data Science Training Institutes in Other Locations
Agra
,
Ahmedabad
,
Amritsar
,
Anand
,
Anantapur
,
Bangalore
,
Bhopal
,
Bhubaneswar
,
Chengalpattu
,
Chennai
,
Cochin
,
Dehradun
,
Malaysia
,
Dombivli
,
Durgapur
,
Ernakulam
,
Erode
,
Gandhinagar
,
Ghaziabad
,
Gorakhpur
,
Gwalior
,
Hebbal
,
Hyderabad
,
Jabalpur
,
Jalandhar
,
Jammu
,
Jamshedpur
,
Jodhpur
,
Khammam
,
Kolhapur
,
Kothrud
,
Ludhiana
,
Madurai
,
Meerut
,
Mohali
,
Moradabad
,
Noida
,
Pimpri
,
Pondicherry
,
Pune
,
Rajkot
,
Ranchi
,
Rohtak
,
Roorkee
,
Rourkela
,
Shimla
,
Shimoga
,
Siliguri
,
Srinagar
,
Thane
,
Thiruvananthapuram
,
Tiruchchirappalli
,
Trichur
,
Udaipur
,
Yelahanka
,
Andhra Pradesh
,
Anna Nagar
,
Bhilai
,
Borivali
,
Calicut
,
Chandigarh
,
Chromepet
,
Coimbatore
,
Dilsukhnagar
,
ECIL
,
Faridabad
,
Greater Warangal
,
Guduvanchery
,
Guntur
,
Gurgaon
,
Guwahati
,
Hoodi
,
Indore
,
Jaipur
,
Kalaburagi
,
Kanpur
,
Kharadi
,
Kochi
,
Kolkata
,
Kompally
,
Lucknow
,
Mangalore
,
Mumbai
,
Mysore
,
Nagpur
,
Nashik
,
Navi Mumbai
,
Patna
,
Porur
,
Raipur
,
Salem
,
Surat
,
Thoraipakkam
,
Trichy
,
Uppal
,
Vadodara
,
Varanasi
,
Vijayawada
,
Vizag
,
Tirunelveli
,
Aurangabad
Data Analyst Courses in Other Locations
ECIL
,
Jaipur
,
Pune
,
Gurgaon
,
Salem
,
Surat
,
Agra
,
Ahmedabad
,
Amritsar
,
Anand
,
Anantapur
,
Andhra Pradesh
,
Anna Nagar
,
Aurangabad
,
Bhilai
,
Bhopal
,
Bhubaneswar
,
Borivali
,
Calicut
,
Cochin
,
Chengalpattu
,
Dehradun
,
Dombivli
,
Durgapur
,
Ernakulam
,
Erode
,
Gandhinagar
,
Ghaziabad
,
Gorakhpur
,
Guduvanchery
,
Gwalior
,
Hebbal
,
Hoodi
,
Indore
,
Jabalpur
,
Jaipur
,
Jalandhar
,
Jammu
,
Jamshedpur
,
Jodhpur
,
Kanpur
,
Khammam
,
Kochi
,
Kolhapur
,
Kolkata
,
Kothrud
,
Ludhiana
,
Madurai
,
Mangalore
,
Meerut
,
Mohali
,
Moradabad
,
Pimpri
,
Pondicherry
,
Porur
,
Rajkot
,
Ranchi
,
Rohtak
,
Roorkee
,
Rourkela
,
Shimla
,
Shimoga
,
Siliguri
,
Srinagar
,
Thoraipakkam
,
Tiruchirappalli
,
Tirunelveli
,
Trichur
,
Trichy
,
Udaipur
,
Vijayawada
,
Vizag
,
Warangal
,
Chennai
,
Coimbatore
,
Delhi
,
Dilsukhnagar
,
Hyderabad
,
Kalyan
,
Nagpur
,
Noida
,
Thane
,
Thiruvananthapuram
,
Uppal
,
Kompally
,
Bangalore
,
Chandigarh
,
Chromepet
,
Faridabad
,
Guntur
,
Guwahati
,
Kharadi
,
Lucknow
,
Mumbai
,
Mysore
,
Nashik
,
Navi Mumbai
,
Patna
,
Pune
,
Raipur
,
Vadodara
,
Varanasi
,
Yelahanka
Navigate to Address
360DigiTMG - Data Science, IR 4.0, AI, Machine Learning Training in Malaysia
Level 16, 1 Sentral, Jalan Stesen Sentral 5, Kuala Lumpur Sentral, 50470 Kuala Lumpur, Wilayah Persekutuan Kuala Lumpur, Malaysia
+60 19-383 1378