Application for AI and ML in Defense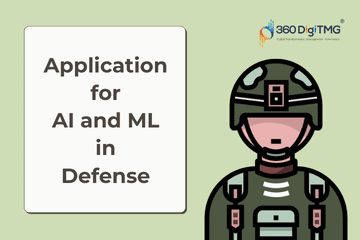 The national defence capabilities of the country always come to mind while thinking about defence. National security increasingly becoming a crucial component of daily living. National defence and citizen well-being have been intertwined since the time of kings and warriors. Every person lives a better life when they are confident in their safety. A nation's economy may benefit from defence by creating more employment. Military camps have existed for as long as people have been able to organise themselves into a stable civilization as city-states or as nations, therefore the jobs here aren't only for the regular troops. We are discussing the huge legionnaire camps of Rome, the great camps of the European knights in the Middle Ages, or Napoleon's infamous invasion of Italy during the conflicts with the other major European countries during the French Revolution. Considering how crucial logistics are to defence, they are typically handled by the troops who are camped. However, fighting is a delicate business, and things may quickly shift. By offering the locals of that area a larger client base for their goods, these camps can also assist boost the local economy.
Military camps still exist in the modern day, but now they as expected are more in line with modern standards. This is where the first application of Artificial Intelligence and Machine Learning comes into the picture. But before that, it is important to understand what exactly is meant by Artificial Intelligence and Machine Learning. The concept of Artificial Intelligence i.e. a machine being able to replicate human-like behavior has been around for a very long time. But in today's day and age, these machines are closer to reality than ever before. Of course, AI, as it is described in movies and TV shows, is not the reality of our times and it won't be for a long time, but there are many intelligent AI-driven machines out there, that provide a real-time and faster solution to the problems faced by humans in today's day and age. Machine Learning has considered a vital subset of data science and data science in itself is a subset of artificial intelligence. With the introduction out of the way, let us discuss the application of these techniques within the scope of defense analytics
Optimizing Logistics
Warfare and a nation's broader defence strategy both heavily rely on logistics. Since hungry soldiers are never good for the morale of the army, a lot of time and attention is put into making sure that the logistical supply lines are maintained both during times of war and generally. In the military, logistics appropriately refers to both the movement of soldiers and the transfer of food and other supplies. Clausewitz, a well-known Austrian general of the Napoleonic era, once observed that the most crucial aspect of military logistics is "fight at the right place and the right time." Napoleon's Grande Armie was defeated in Russia as well due to poor logistical management. The US Army is one of the forerunners in the military's broad use of artificial intelligence. They have been collaborating with IBM to create artificial intelligence platforms that will aid in supply chain optimisation. America, which is the world's military hegemon, has a higher need for the use of AI and ML, hence they have been concentrating on building the programmes to support their military endeavours.
Learn the core concepts of Data Science Course video on Youtube:
Warfare Platform and Cybersecurity
Recently there has been a spike in the development of automated weapons systems that can be used without any human inputs. These systems are integrated with Army, Navy, airborne as well space platforms. These systems, due to the lack of human involvement, are far more efficient. It also improved the communication between various systems and also reduce the overall maintenance requirements. Artificial Intelligence also enables these systems to carry out faster and more synchronous attacks at a speed much higher than human inputs would allow
These systems and other military systems can however also be very vulnerable to cyber attacks, which can lead to potential leaks of classified information and military codes. Not only does this affect the machines, but it also puts the life of the troops in danger. However, systems equipped with AI can autonomously protect networks, computers, programs, and data from any kind of unauthorized access. In addition, AI-enabled web security systems can record the pattern of cyber attacks and develop counter-attack tools to tackle them.
Target Recognition
In challenging combat conditions, AI approaches are being developed to improve target identification precision. By examining reports, papers, news feeds, and other unstructured material, these tools enable military forces to develop a thorough awareness of possible action regions. Furthermore, AI in target identification systems enhances these systems' capacity to locate their targets.
The capabilities of AI-enabled target recognition systems include assessments of mission approaches, probability-based forecasts of enemy behaviour, aggregation of weather and environmental conditions, anticipation and flagging of potential supply line bottlenecks or vulnerabilities. From the collected data, machine learning is also utilised to learn, track, and find targets.
For instance, the Synthetic-Aperture Radar (SAR) pictures are used in DARPA's Target Recognition and Adaption in Contested Environments (TRACE) programme to automatically find and identify targets.
Battlefield Robotics
Battlefields are always dangerous. There is an element of unpredictability. That is just the nature of war. On the field, medics have always been a critical element of warfare. But that adds an element of risk for the medics as well. One of the key applications of AI is robotics. Using battlefield robots as a replacement or even as a support for medics can reduce the element of risks faced by the medics. These robots can be used for evacuation activities and remote surgical systems on the battlefield.
IEDs are another very dangerous weapon that is often deployed on the battlefield. Robots can be used as scouts for identification of IED presence and they can also be used to defuse these IEDs, thus reducing the potential risk for the soldiers of bomb-defusing squads.
Another application of robotics can come in the way of the identification of enemy locations. Camouflage is often a major hindrance in modern warfare. As enemies resort to more guerrilla tactics, it is very difficult to identify the soldiers from the elements they conceal themselves in. This poses another major risk for the soldiers.
Surveillance
In today's world, surveillance plays a significant role in both defence and conflict. Humans used to be the first line of scouts in the past, but borders and defence are now less rigid. Armies no longer stand in columns and engage in frontal combat. Due to the fact that border patrolling is the most significant duty of any army or military establishment in the home nation, it becomes more necessary. Additionally, there is always a chance that undesirable people, things, or things like guns, money, or narcotics will cross the boundaries. Drones are becoming increasingly significant in this situation. Drones are unmanned aircraft that carry out surveillance and ahead scouting for military uses. These drones can scan a considerably wider area than people can, and they can also find any leaks in the barriers along the boundaries' protective fortifications. They can also be utilised to comprehend and identify adversary movement patterns in and close to border areas. By doing this, the nation's boundaries will be significantly more secure, strengthening its defensive position.
Conclusion
With the advancement of Machine Learning and Artificial Intelligence, it has become an integral part of any defensive installation for the military. This advancement allows for faster processing of the huge volume of data that is being generated, in a very efficient manner. This also allows for improved combat systems, with enhanced computing ability and decision-making capabilities. AI and ML techniques are now considered an integral part of the defense.
Data Science Placement Success Story
Artificial Intelligence Training Institutes in Other Locations
Ahmedabad, Bangalore, Chengalpattu, Chennai, Hyderabad, Kothrud, Noida, Pune, Thane, Thiruvananthapuram, Tiruchchirappalli, Yelahanka, Andhra Pradesh, Anna Nagar, Bhilai, Calicut, Chandigarh, Chromepet, Coimbatore, Dilsukhnagar, ECIL, Faridabad, Greater Warangal, Guduvanchery, Guntur, Gurgaon, Guwahati, Indore, Jaipur, Kalaburagi, Kanpur, Kharadi, Kochi, Kolkata, Kompally, Lucknow, Mangalore, Mumbai, Mysore, Nagpur, Nashik, Navi Mumbai, Patna, Porur, Raipur, Salem, Surat, Thoraipakkam, Trichy, Uppal, Vadodara, Varanasi, Vijayawada, Vizag, Tirunelveli, Aurangabad
Data Science Training Institutes in Other Locations
Agra, Ahmedabad, Amritsar, Anand, Anantapur, Bangalore, Bhopal, Bhubaneswar, Chengalpattu, Chennai, Cochin, Dehradun, Malaysia, Dombivli, Durgapur, Ernakulam, Erode, Gandhinagar, Ghaziabad, Gorakhpur, Gwalior, Hebbal, Hyderabad, Jabalpur, Jalandhar, Jammu, Jamshedpur, Jodhpur, Khammam, Kolhapur, Kothrud, Ludhiana, Madurai, Meerut, Mohali, Moradabad, Noida, Pimpri, Pondicherry, Pune, Rajkot, Ranchi, Rohtak, Roorkee, Rourkela, Shimla, Shimoga, Siliguri, Srinagar, Thane, Thiruvananthapuram, Tiruchchirappalli, Trichur, Udaipur, Yelahanka, Andhra Pradesh, Anna Nagar, Bhilai, Borivali, Calicut, Chandigarh, Chromepet, Coimbatore, Dilsukhnagar, ECIL, Faridabad, Greater Warangal, Guduvanchery, Guntur, Gurgaon, Guwahati, Hoodi, Indore, Jaipur, Kalaburagi, Kanpur, Kharadi, Kochi, Kolkata, Kompally, Lucknow, Mangalore, Mumbai, Mysore, Nagpur, Nashik, Navi Mumbai, Patna, Porur, Raipur, Salem, Surat, Thoraipakkam, Trichy, Uppal, Vadodara, Varanasi, Vijayawada, Visakhapatnam, Tirunelveli, Aurangabad
Data Analyst Courses in Other Locations
ECIL, Jaipur, Pune, Gurgaon, Salem, Surat, Agra, Ahmedabad, Amritsar, Anand, Anantapur, Andhra Pradesh, Anna Nagar, Aurangabad, Bhilai, Bhopal, Bhubaneswar, Borivali, Calicut, Cochin, Chengalpattu , Dehradun, Dombivli, Durgapur, Ernakulam, Erode, Gandhinagar, Ghaziabad, Gorakhpur, Guduvanchery, Gwalior, Hebbal, Hoodi , Indore, Jabalpur, Jaipur, Jalandhar, Jammu, Jamshedpur, Jodhpur, Kanpur, Khammam, Kochi, Kolhapur, Kolkata, Kothrud, Ludhiana, Madurai, Mangalore, Meerut, Mohali, Moradabad, Pimpri, Pondicherry, Porur, Rajkot, Ranchi, Rohtak, Roorkee, Rourkela, Shimla, Shimoga, Siliguri, Srinagar, Thoraipakkam , Tiruchirappalli, Tirunelveli, Trichur, Trichy, Udaipur, Vijayawada, Vizag, Warangal, Chennai, Coimbatore, Delhi, Dilsukhnagar, Hyderabad, Kalyan, Nagpur, Noida, Thane, Thiruvananthapuram, Uppal, Kompally, Bangalore, Chandigarh, Chromepet, Faridabad, Guntur, Guwahati, Kharadi, Lucknow, Mumbai, Mysore, Nashik, Navi Mumbai, Patna, Pune, Raipur, Vadodara, Varanasi, Yelahanka
Navigate to Address
360DigiTMG - Data Science, IR 4.0, AI, Machine Learning Training in Malaysia
Level 16, 1 Sentral, Jalan Stesen Sentral 5, Kuala Lumpur Sentral, 50470 Kuala Lumpur, Wilayah Persekutuan Kuala Lumpur, Malaysia
+60 19-383 1378