Are Data Science Courses Easy or Hard?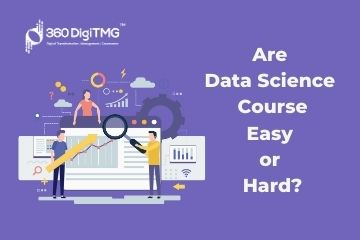 Making significant business judgements with raw data is referred to as data science. Many individuals hold the false belief that learning data science is simple, but the reality is very different. You are mistaken if you believe that learning Data Science requires merely viewing videos. It takes a lot of practise and effort. Jobs in data science have a lot of potential and are in high demand. After learning programming and segmentation techniques, many people begin their careers but don't put in enough practise. Even when instructed to debug their own programmes, some of the pupils struggle to do so. They watch the courses, do their homework, and believe they have improved greatly in data science. It takes a lot of time, commitment, and work to learn. You also need practical Tool expertise. Learning Data Science is challenging, but if you really put your mind to it and put in the necessary work, you can advance in the programme. While taking Data Science courses, there are several considerations that should be made.
Become a Data Scientist with 360DigiTMG Data Science course in Hyderabad Get trained by the alumni from IIT, IIM, and ISB.
Get Knowledge About What Skills are Needed
For the Data Science sector, there are numerous essential skills that must be had. You ought to be able to use the instruments of the profession. Students who embark on this career without sufficient data science knowledge will eventually run into issues and challenges. To study a particular topic, a person must have the necessary background knowledge. Examine the course curriculum first. You should be well aware of your educational goals and objectives. SQL database queries, R or Python programming, and statistics based on mathematical ideas are required.
Statistics are needed to understand distributions among companies. These are needed to make business decisions like if we are facing a loss, we should invest more in that product or less.
Machine Learning can also help you a lot while doing work related to the machines.
You should also have communication and data visualization skills.
Having a background in Software engineering can benefit you a lot when you are interviewing for a small company.
The companies which are data-driven make most of their major business decision making use of data.
You should have knowledge of probability and statistics. It is used for making estimates. It can also help in finding relationships between different data.
Data Wrangling is a process where data is prepared for its further analysis. When you finally get your skills done, there are a lot of advantages also in Data Science jobs. They have high salaries, better working conditions, job security, and better benefits. Sometimes they are also provided with flexible work hours. It is also a job that people respect.
Are you looking to become a Data Scientist? Go through 360DigiTMG's PG Diploma in Data Science and Artificial Intelligence!.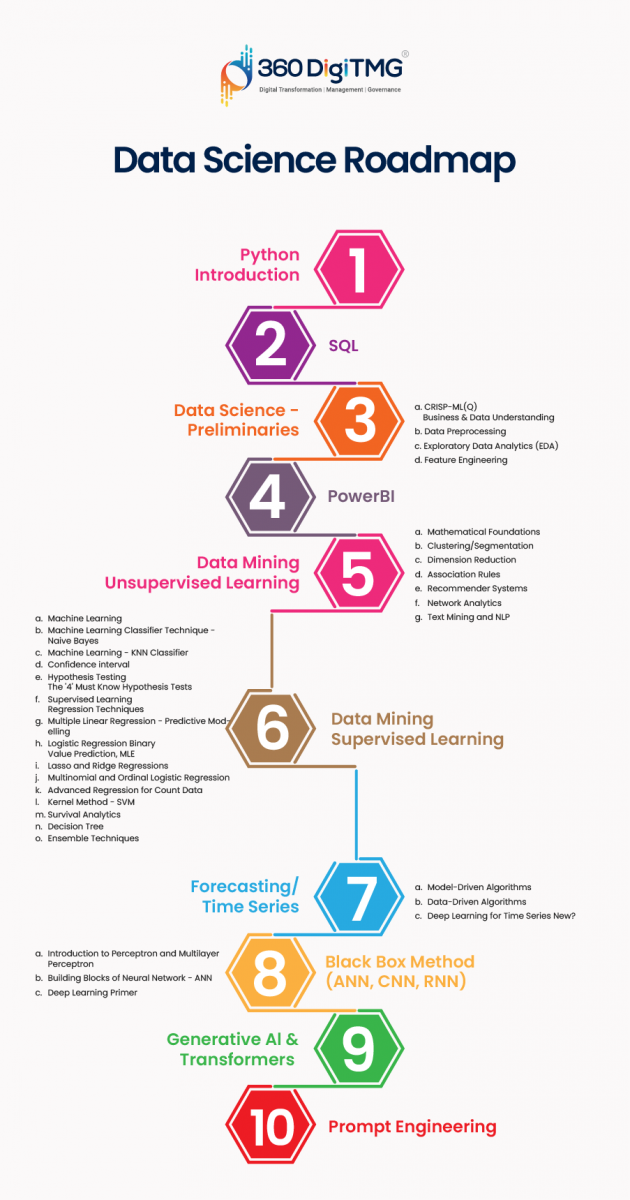 Practice is Important
Every function in data science requires a person with a particular set of capabilities and abilities. After learning everything there is to know about it, you should merely concentrate on honing your abilities. You can stay quick, energetic, and effective in the field by practising. Many issues that cannot be resolved by merely gathering knowledge can also be resolved by it.
Have a business understanding and practice different situations in which you have to make major decisions for a business or a deal.
You should be an expert in data handling and analyzing because that's the basic need in Data Science jobs.
First, you should have expertise on the subject matter, for example, programming, database, and other skills.
Computing skills and knowledge of statistics are needed. It needs to be in practice to be available for the future.
Skills like business management also help a lot while making big decisions.
You should possess all the skills about how to deal with a particular situation.
Learning Data Science is an investment in the long term as its demand is going to increase in the future.
Learn the core concepts of Data Science Course video on YouTube:
Focus on Basic and Simple Tasks
Data Science is a challenging subject, there is no doubt about it, but it is also crucial to have great fundamental skills so you can progress through your course with ease. You ought to be comfortable with the fundamentals of programming and data structures. For programming, Python is favoured, while SQL is preferable for data structures. Data scientists must choose and arrange data sets. Although deep learning is beneficial, the fundamentals should not be overlooked. Everyone who works in data science must complete certain stupid but necessary chores. You must communicate with the company frequently and enhance the analytics of the data you have gathered.
Data Scientists analyze the recorded data of the companies and make future predictions.
Actions are taken based on trends and patterns in the data.
Become well-versed with Python and SQL.
They have to determine correct data sets and variables.
You need to have both technical and practical knowledge.
Software skills and statistics are some of the basic tasks responsible for debugging the programs and logging output via source codes.
Build good communication skills and propagate your ideas to the team and company.
The basic skills include data collection, data visualization, discovering and understanding the data, data cleaning, data formatting, running other data analytics projects, and many more.
Want to learn more about data science? Enroll in the Best Data Science courses in Chennai to do so.
Understand Your Job
Make an effort to comprehend what you do. To be the ideal candidate for your work, you should be constantly developing yourself. The need for data science professionals such as data scientists and analysts is rising as technology advances on a daily basis. A Data Scientist has the duty to ensure that every member of the team is well informed on the organization's analytics product. You must be aware of the processes that are currently taking place at work and their underlying causes.
Always keep improving your skills in Data Science.
Improving helps you to keep pace with a growing society.
Coding and communication skills are some of the areas where you can improve yourself.
Getting statistical models to learn about different industrial benchmarks for KPI can help to also develop yourself further.
Understand what we are learning about and why.
Be ready for every change happening now and then.
With the advancement in technology, new gates for research and jobs have opened up and Data Science is one of them.
There is a shortage of skilled Data Science professionals and that's why there are fewer amounts of employment, but the demand is huge.
Earn yourself a promising career in data science by enrolling in the Data Science Classes in Pune offered by 360DigiTMG.
Conclusion
There are many work prospects in the large field of data science. All you have to do is practise and get ready. Additionally useful for corporate needs. Customers receive a better tailored experience and pertinent items as a result. It can be readily accomplished if you put in the time and effort. The only thing left to do is gather information and go to work. You may attempt a lot of different things in this business after you have the necessary training and expertise. There is always room for development, so if you so want, you may lead the way and excel in your job.
Data Science Placement Success Story
Data Science Training Institutes in Other Locations
Agra
,
Ahmedabad
,
Amritsar
,
Anand
,
Anantapur
,
Bangalore
,
Bhopal
,
Bhubaneswar
,
Chengalpattu
,
Chennai
,
Cochin
,
Dehradun
,
Malaysia
,
Dombivli
,
Durgapur
,
Ernakulam
,
Erode
,
Gandhinagar
,
Ghaziabad
,
Gorakhpur
,
Gwalior
,
Hebbal
,
Hyderabad
,
Jabalpur
,
Jalandhar
,
Jammu
,
Jamshedpur
,
Jodhpur
,
Khammam
,
Kolhapur
,
Kothrud
,
Ludhiana
,
Madurai
,
Meerut
,
Mohali
,
Moradabad
,
Noida
,
Pimpri
,
Pondicherry
,
Pune
,
Rajkot
,
Ranchi
,
Rohtak
,
Roorkee
,
Rourkela
,
Shimla
,
Shimoga
,
Siliguri
,
Srinagar
,
Thane
,
Thiruvananthapuram
,
Tiruchchirappalli
,
Trichur
,
Udaipur
,
Yelahanka
,
Andhra Pradesh
,
Anna Nagar
,
Bhilai
,
Borivali
,
Calicut
,
Chandigarh
,
Chromepet
,
Coimbatore
,
Dilsukhnagar
,
ECIL
,
Faridabad
,
Greater Warangal
,
Guduvanchery
,
Guntur
,
Gurgaon
,
Guwahati
,
Hoodi
,
Indore
,
Jaipur
,
Kalaburagi
,
Kanpur
,
Kharadi
,
Kochi
,
Kolkata
,
Kompally
,
Lucknow
,
Mangalore
,
Mumbai
,
Mysore
,
Nagpur
,
Nashik
,
Navi Mumbai
,
Patna
,
Porur
,
Raipur
,
Salem
,
Surat
,
Thoraipakkam
,
Trichy
,
Uppal
,
Vadodara
,
Varanasi
,
Vijayawada
,
Vizag
,
Tirunelveli
,
Aurangabad
Data Analyst Courses in Other Locations
ECIL
,
Jaipur
,
Pune
,
Gurgaon
,
Salem
,
Surat
,
Agra
,
Ahmedabad
,
Amritsar
,
Anand
,
Anantapur
,
Andhra Pradesh
,
Anna Nagar
,
Aurangabad
,
Bhilai
,
Bhopal
,
Bhubaneswar
,
Borivali
,
Calicut
,
Cochin
,
Chengalpattu
,
Dehradun
,
Dombivli
,
Durgapur
,
Ernakulam
,
Erode
,
Gandhinagar
,
Ghaziabad
,
Gorakhpur
,
Guduvanchery
,
Gwalior
,
Hebbal
,
Hoodi
,
Indore
,
Jabalpur
,
Jaipur
,
Jalandhar
,
Jammu
,
Jamshedpur
,
Jodhpur
,
Kanpur
,
Khammam
,
Kochi
,
Kolhapur
,
Kolkata
,
Kothrud
,
Ludhiana
,
Madurai
,
Mangalore
,
Meerut
,
Mohali
,
Moradabad
,
Pimpri
,
Pondicherry
,
Porur
,
Rajkot
,
Ranchi
,
Rohtak
,
Roorkee
,
Rourkela
,
Shimla
,
Shimoga
,
Siliguri
,
Srinagar
,
Thoraipakkam
,
Tiruchirappalli
,
Tirunelveli
,
Trichur
,
Trichy
,
Udaipur
,
Vijayawada
,
Vizag
,
Warangal
,
Chennai
,
Coimbatore
,
Delhi
,
Dilsukhnagar
,
Hyderabad
,
Kalyan
,
Nagpur
,
Noida
,
Thane
,
Thiruvananthapuram
,
Uppal
,
Kompally
,
Bangalore
,
Chandigarh
,
Chromepet
,
Faridabad
,
Guntur
,
Guwahati
,
Kharadi
,
Lucknow
,
Mumbai
,
Mysore
,
Nashik
,
Navi Mumbai
,
Patna
,
Pune
,
Raipur
,
Vadodara
,
Varanasi
,
Yelahanka
Navigate to Address
360DigiTMG - Data Analytics, Data Science Course Training Hyderabad
2-56/2/19, 3rd floor, Vijaya Towers, near Meridian School, Ayyappa Society Rd, Madhapur, Hyderabad, Telangana 500081
099899 94319