Data Science Course Eligibility in Hyderabad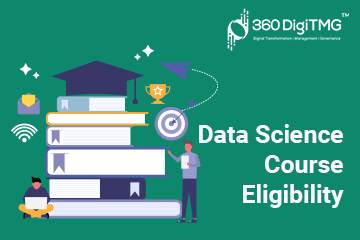 The hub of data science is Hyderabad. Hyderabad has made significant contributions to the growth and dissemination of the data science field during the last few years. One of the numerous causes is the work done in this area by EdTech firms that provide professional data science training that is job-oriented. A premier EdTech professional training organisation, 360DigiTMG has developed experience in developing talent in the fields of data science and artificial intelligence. In addition to instruction, they provide certificates that are widely recognised through to partnerships with IBM, City & Guilds (UK), and UTM (Malaysia). Data science training is offered by 360DigiTMG in Hyderabad's Madhapur neighbourhood. For those seeking data science training in the Madhapur and Durgam Cheruvu areas, the travel time is only 20 minutes, while the travel time to Kukatpally is only 12 minutes.
Hey, but what qualifications do you need to take the data science course? This is a really wise precaution to consider before making a choice. The majority of applicants decide to enrol in a programme based on criteria like the least expensive online data science degree or employment in the field that are assured. One should at the very least carefully consider the course syllabus for data science before jumping in.
Want to learn more about data science? Enroll in the Best Data Science courses in Chennai to do so.
The idea that everyone may enter the area of data science has been heavily advertised and pushed. This is accurate, however a potential data scientist has to be aware of the requirements. Due to the fancy-sounding terminology like technology, algorithm, machine learning, etc., candidates frequently have their own interpretation of eligibility in mind, which prevents them from conducting an objective examination. Instead of becoming lost in language, one should go deeper and comprehend more.
The easiest approach to judge one's eligibility is to first make a list of one's goals. Why would someone ever consider becoming a data scientist? After finding the answer to that query, one may search for more extensive topics of coverage to master data science foundations. The element of coverage could take into account things like time availability, the needed financial commitment, educational background, professional job experience, and course work. Let's assess each of these elements separately.
Become a Data Scientist with 360DigiTMG Data Science course in Hyderabad Get trained by the alumni from IIT, IIM, and ISB.
Time:
One can get into the data science field given that one is determined to commit and dedicate time every day for learning the data science fundamentals. Having said that, one also needs to decide whether one should do a full-time program through a university or one can go for short professional data science coaching. Time is of the essence and crucial for one's success. One can succeed through any mode depending on their convenience. However, in the past success stories have majorly emerged through professional training institutions as universities across the globe have just started offering the data science courses.
Investment:
Because we are a price-sensitive market, we are drawn to anything that sounds like a bargain or the lowest price. A candidate for data science shouldn't fall for such tricks. It is important to guarantee the calibre of the education received. Therefore, depending on the amount of money that may be used to master data science, one can choose between short-term and long-term courses. In general, professional training schools prove to be fairly affordable, but one must pick very carefully.
Educational Background:
There is an interesting trend that has emerged. There is more and more demand for talent from social science and liberal arts backgrounds other than applied science and engineering. So right from liberal arts to engineering sciences, there is the place for everyone.
Looking forward to becoming a Data Scientist? Check out the Data Science Course and get certified today.
Professional Work Experience:
Learn the core concepts of Data Science Course video on YouTube:
The area of data science places a great priority on prior job experience. It is handled as subject-matter knowledge. Because they have a deep awareness of the social sector and the data produced in it, even NGO activists may become data scientists. Therefore, these aspirants provide profound insights thanks to their domain experience and add a lot of value because they also understand the methods used in such illegal operations when we create AI solutions to stop human trafficking. This is only one example. The use of data for visualisation has the potential to be completely disrupted by aspirants with backgrounds in the fine arts. They can make it more interesting and simpler to understand so that important judgements may be made. Additionally, experts from the technology and other areas contribute their knowledge to create fresh data-driven solutions.
Course work:
Are you looking to become a Data Scientist? Go through 360DigiTMG's PG Diploma in Data Science and Artificial Intelligence!.
Data Science is at the cross-section of statistics, mathematics, business, and computer science. Many aspirants freeze at the idea of statistics, mathematics, and coding. But not to worry. The level of concepts covered under statistics and mathematics is very basic and fundamental. Even aspirants from social science and liberal arts background can easily pick up the concepts. As far as coding is concerned, it is done using simple English language in open source tools such as R and Python. These are very user-friendly tools and extremely easy to learn. All the concepts taught work on these fundamental pillars
To summarize, the only eligibility to learn data science is a strong will, dedication, hard work, and lots of practice. That is the recipe to become a practical data scientist.
Data Science Placement Success Story
Data Science Training Institutes in Other Locations
Agra
,
Ahmedabad
,
Amritsar
,
Anand
,
Anantapur
,
Bangalore
,
Bhopal
,
Bhubaneswar
,
Chengalpattu
,
Chennai
,
Cochin
,
Dehradun
,
Malaysia
,
Dombivli
,
Durgapur
,
Ernakulam
,
Erode
,
Gandhinagar
,
Ghaziabad
,
Gorakhpur
,
Gwalior
,
Hebbal
,
Hyderabad
,
Jabalpur
,
Jalandhar
,
Jammu
,
Jamshedpur
,
Jodhpur
,
Khammam
,
Kolhapur
,
Kothrud
,
Ludhiana
,
Madurai
,
Meerut
,
Mohali
,
Moradabad
,
Noida
,
Pimpri
,
Pondicherry
,
Pune
,
Rajkot
,
Ranchi
,
Rohtak
,
Roorkee
,
Rourkela
,
Shimla
,
Shimoga
,
Siliguri
,
Srinagar
,
Thane
,
Thiruvananthapuram
,
Tiruchchirappalli
,
Trichur
,
Udaipur
,
Yelahanka
,
Andhra Pradesh
,
Anna Nagar
,
Bhilai
,
Borivali
,
Calicut
,
Chandigarh
,
Chromepet
,
Coimbatore
,
Dilsukhnagar
,
ECIL
,
Faridabad
,
Greater Warangal
,
Guduvanchery
,
Guntur
,
Gurgaon
,
Guwahati
,
Hoodi
,
Indore
,
Jaipur
,
Kalaburagi
,
Kanpur
,
Kharadi
,
Kochi
,
Kolkata
,
Kompally
,
Lucknow
,
Mangalore
,
Mumbai
,
Mysore
,
Nagpur
,
Nashik
,
Navi Mumbai
,
Patna
,
Porur
,
Raipur
,
Salem
,
Surat
,
Thoraipakkam
,
Trichy
,
Uppal
,
Vadodara
,
Varanasi
,
Vijayawada
,
Vizag
,
Tirunelveli
,
Aurangabad
Data Analyst Courses in Other Locations
ECIL
,
Jaipur
,
Pune
,
Gurgaon
,
Salem
,
Surat
,
Agra
,
Ahmedabad
,
Amritsar
,
Anand
,
Anantapur
,
Andhra Pradesh
,
Anna Nagar
,
Aurangabad
,
Bhilai
,
Bhopal
,
Bhubaneswar
,
Borivali
,
Calicut
,
Cochin
,
Chengalpattu
,
Dehradun
,
Dombivli
,
Durgapur
,
Ernakulam
,
Erode
,
Gandhinagar
,
Ghaziabad
,
Gorakhpur
,
Guduvanchery
,
Gwalior
,
Hebbal
,
Hoodi
,
Indore
,
Jabalpur
,
Jaipur
,
Jalandhar
,
Jammu
,
Jamshedpur
,
Jodhpur
,
Kanpur
,
Khammam
,
Kochi
,
Kolhapur
,
Kolkata
,
Kothrud
,
Ludhiana
,
Madurai
,
Mangalore
,
Meerut
,
Mohali
,
Moradabad
,
Pimpri
,
Pondicherry
,
Porur
,
Rajkot
,
Ranchi
,
Rohtak
,
Roorkee
,
Rourkela
,
Shimla
,
Shimoga
,
Siliguri
,
Srinagar
,
Thoraipakkam
,
Tiruchirappalli
,
Tirunelveli
,
Trichur
,
Trichy
,
Udaipur
,
Vijayawada
,
Vizag
,
Warangal
,
Chennai
,
Coimbatore
,
Delhi
,
Dilsukhnagar
,
Hyderabad
,
Kalyan
,
Nagpur
,
Noida
,
Thane
,
Thiruvananthapuram
,
Uppal
,
Kompally
,
Bangalore
,
Chandigarh
,
Chromepet
,
Faridabad
,
Guntur
,
Guwahati
,
Kharadi
,
Lucknow
,
Mumbai
,
Mysore
,
Nashik
,
Navi Mumbai
,
Patna
,
Pune
,
Raipur
,
Vadodara
,
Varanasi
,
Yelahanka
Navigate to Address
360DigiTMG - Data Analytics, Data Science Course Training Hyderabad
2-56/2/19, 3rd floor, Vijaya towers, near Meridian school, Ayyappa Society Rd, Madhapur, Hyderabad, Telangana 500081