Data Science and Its Benefits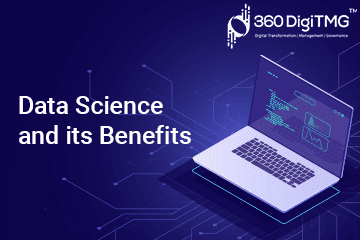 Also, check this Data Science Institute in Bangalore to start a career in Data Science.
What comes first to your mind when you come across the term "Data Science"?
Technically speaking, the process of creating different ways for capturing, storing, analysing, or retrieving insightful information/data is combined in the study of data. It combines a number of techniques, resources, and machine learning ideas. Thus, data science is the art of analysing data to uncover relevant insights and patterns.
Looking forward to becoming a Data Scientist? Check out the Data Science Course and get certified today.
Data:
Technology has evolved into a great tool for improving our world throughout the years. Data is expanding rapidly as technology advances. Both organised and unstructured data have proliferated tremendously since the advent of the internet and social media. According to estimates, 3 quintillion bytes of data are generated every single day and are moving more quickly.
What is Structured Data?
Structured data refers to conventional data that is well-organized into rows and columns and simple to store and find using relational databases.
Earn yourself a promising career in data science by enrolling in the Data Science Classes in Pune offered by 360DigiTMG.
What is the Unstructured Data?
The data with no proper predefined format to it be able to collect, format, and analyze easily is called Unstructured data. The social media, audio, and video data come under Unstructured data.
Why do we need Data Science?
The revelation that a team of worldwide astronomers had taken the first photo of a black hole from the Messier 87 galaxy, which is located 53.49 million light-years from Earth, stunned the whole globe in April 2019. The quantity of data that the telescopes collected in order to assemble and analyse the image, however, is even more astounding than the image itself. According to the facts, a significant quantity of data—about 5 PB (PetaBytes)—was gathered from various sources and stored on helium-filled hard drives, which are renowned for their great performance. As a result, data science ideas and techniques were used to process the data. Data science may be used in our everyday routines, such as choosing an employee based on the company's past hiring trends or selecting an advertising strategy that would boost sales based on client purchasing patterns and other variables. With regard to the present coronavirus pandemic, data scientists have made it feasible for us to regularly obtain information on the number of active cases and cured cases, which is then neatly categorised. Data science is therefore necessary as long as there is data.
Learn the core concepts of Data Science Course video on YouTube:
What is the scope of Data Science?
Considering the importance of data science in today's digital environment, it is clear that there is a significant demand for data scientists. In the modern world, data analytics is used in practically every business. There is a massive flood of data in the connected and social media world nowadays. Each day, 2.5 quadrillion bits of data are produced. The rate at which data is created might double or perhaps triple as a result of developments in artificial intelligence and the web of things. The need for data specialists is undoubtedly tremendous due to the enormous quantity of data being created and the innumerable industries that data science may be applied to.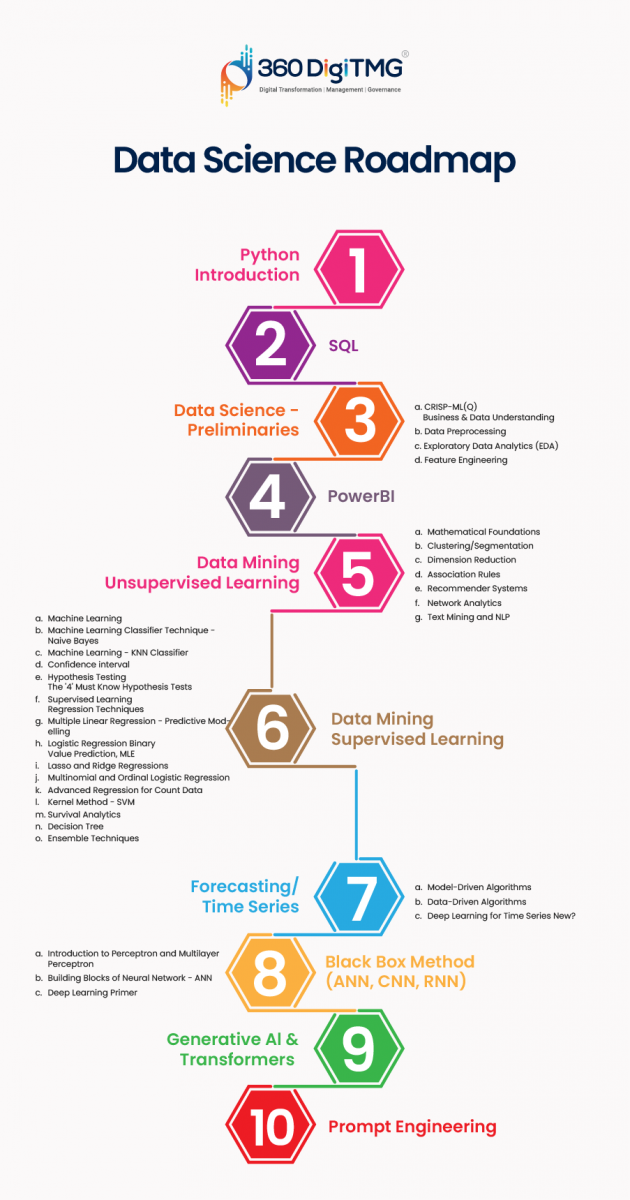 Data Science Workflow or Lifecycle:
Business understanding and defining proper goals and objectives
Data collection and requirement gathering - Feature Engineering
Exploratory Data Analysis and Visualisations
Preprocessing of data or Data Preparation
Model and performance evaluation
Drawing proper insights
Image Source: Microsoft
Want to learn more about data science? Enroll in the Best Data Science courses in Chennai to do so.
What are the benefits of Data Science to an organization and as a career?
Benefits of having a Data Scientist in an organization:
Allowing Management to take better business decisions based on the data.
Defining better goals by directing actions based on data trends.
A Data Scientist helps improve the quality of data collected as he/she is a data expert.
Helps in improving the relevance of the company's product in the market with proper analysis of the current market and customer purchase trends.
It helps in hiring a smooth and less tiring process for the organization.
It can help in the expansion of business by analyzing the customer trends and usage of a product.
It can help in finding potential clients.
It helps in analyzing customer sentiments regarding the company's products.
It helps with better financial risk management and risk analysis.
Here is the article on How to Make Your Profile on LinkedIn
Benefits of Data Science as a Career:
The Data Science career is in high demand and there is an abundance of opportunities in the field. It is said that India is the second largest in recruiting people with Data Science skills after the USA.
The compensation is decent as it is a career in demand. The national average salary of a Data Scientist in India is around ₹9,81,154 per annum and in the US is $1,13,309 per annum according to Glassdoor.
As the applications of Data Science are versatile as it is being used by E-Commerce companies, Medical and Pharma industries, Web-based businesses, Financial and Banking sector, Consulting companies, to give some examples. So, a person can make a career in their area of interest or in a sector where he/she has prior experience.
Data Science is a secure career choice. The need for Data Scientists exists as long as data exists. Here is the article on How to Make Successful Data Science Career.
There is a better chance of working with big brands like Amazon, Uber, Apple, and Netflix. The recommendation Engines used by Netflix and Amazon are the best in their sectors.
Data Science Placement Success Story
Data Science Training Institutes in Other Locations
Agra
,
Ahmedabad
,
Amritsar
,
Anand
,
Anantapur
,
Bangalore
,
Bhopal
,
Bhubaneswar
,
Chengalpattu
,
Chennai
,
Cochin
,
Dehradun
,
Malaysia
,
Dombivli
,
Durgapur
,
Ernakulam
,
Erode
,
Gandhinagar
,
Ghaziabad
,
Gorakhpur
,
Gwalior
,
Hebbal
,
Hyderabad
,
Jabalpur
,
Jalandhar
,
Jammu
,
Jamshedpur
,
Jodhpur
,
Khammam
,
Kolhapur
,
Kothrud
,
Ludhiana
,
Madurai
,
Meerut
,
Mohali
,
Moradabad
,
Noida
,
Pimpri
,
Pondicherry
,
Pune
,
Rajkot
,
Ranchi
,
Rohtak
,
Roorkee
,
Rourkela
,
Shimla
,
Shimoga
,
Siliguri
,
Srinagar
,
Thane
,
Thiruvananthapuram
,
Tiruchchirappalli
,
Trichur
,
Udaipur
,
Yelahanka
,
Andhra Pradesh
,
Anna Nagar
,
Bhilai
,
Borivali
,
Calicut
,
Chandigarh
,
Chromepet
,
Coimbatore
,
Dilsukhnagar
,
ECIL
,
Faridabad
,
Greater Warangal
,
Guduvanchery
,
Guntur
,
Gurgaon
,
Guwahati
,
Hoodi
,
Indore
,
Jaipur
,
Kalaburagi
,
Kanpur
,
Kharadi
,
Kochi
,
Kolkata
,
Kompally
,
Lucknow
,
Mangalore
,
Mumbai
,
Mysore
,
Nagpur
,
Nashik
,
Navi Mumbai
,
Patna
,
Porur
,
Raipur
,
Salem
,
Surat
,
Thoraipakkam
,
Trichy
,
Uppal
,
Vadodara
,
Varanasi
,
Vijayawada
,
Vizag
,
Tirunelveli
,
Aurangabad
Data Analyst Courses in Other Locations
ECIL
,
Jaipur
,
Pune
,
Gurgaon
,
Salem
,
Surat
,
Agra
,
Ahmedabad
,
Amritsar
,
Anand
,
Anantapur
,
Andhra Pradesh
,
Anna Nagar
,
Aurangabad
,
Bhilai
,
Bhopal
,
Bhubaneswar
,
Borivali
,
Calicut
,
Cochin
,
Chengalpattu
,
Dehradun
,
Dombivli
,
Durgapur
,
Ernakulam
,
Erode
,
Gandhinagar
,
Ghaziabad
,
Gorakhpur
,
Guduvanchery
,
Gwalior
,
Hebbal
,
Hoodi
,
Indore
,
Jabalpur
,
Jaipur
,
Jalandhar
,
Jammu
,
Jamshedpur
,
Jodhpur
,
Kanpur
,
Khammam
,
Kochi
,
Kolhapur
,
Kolkata
,
Kothrud
,
Ludhiana
,
Madurai
,
Mangalore
,
Meerut
,
Mohali
,
Moradabad
,
Pimpri
,
Pondicherry
,
Porur
,
Rajkot
,
Ranchi
,
Rohtak
,
Roorkee
,
Rourkela
,
Shimla
,
Shimoga
,
Siliguri
,
Srinagar
,
Thoraipakkam
,
Tiruchirappalli
,
Tirunelveli
,
Trichur
,
Trichy
,
Udaipur
,
Vijayawada
,
Vizag
,
Warangal
,
Chennai
,
Coimbatore
,
Delhi
,
Dilsukhnagar
,
Hyderabad
,
Kalyan
,
Nagpur
,
Noida
,
Thane
,
Thiruvananthapuram
,
Uppal
,
Kompally
,
Bangalore
,
Chandigarh
,
Chromepet
,
Faridabad
,
Guntur
,
Guwahati
,
Kharadi
,
Lucknow
,
Mumbai
,
Mysore
,
Nashik
,
Navi Mumbai
,
Patna
,
Pune
,
Raipur
,
Vadodara
,
Varanasi
,
Yelahanka
Navigate to Address
360DigiTMG - Data Science Course, Data Scientist Course Training in Chennai
D.No: C1, No.3, 3rd Floor, State Highway 49A, 330, Rajiv Gandhi Salai, NJK Avenue, Thoraipakkam, Tamil Nadu 600097
1800-212-654-321