Do You Know How to Make a Successful Data Science Career?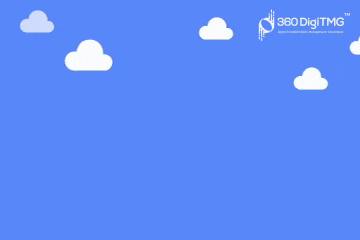 What is 'Data Science'?
The most routine activities are now managed online since we are living in the Internet age. We receive a tsunami of data from many sources as a result of our internet activity. The size and volume of this data are growing dramatically by the day. This leads to the requirement to store this enormous amount of data. Many businesses recognised this as a tremendous potential and concentrated their research efforts on developing better and more effective methods of data storage. The most significant invention as a result of this was cloud computing. Users were able to store terabytes of data at a low cost because to cloud computing. By 2010, many businesses had moved to the cloud, solving the data problem.
Also, check this Data Science Institute in Bangalore to start a career in Data Science.
Then businesses made the decision to use the saved data to generate insightful conclusions and make business decisions. It made sense to analyse the large amount of data that was sitting idle in cheap storage places in order to produce knowledge that may guide business choices.
As a result, "data science" emerged, opening up a variety of opportunities to analyse this data using statistical techniques and draw conclusions to promote top-line development. Data science is regarded as the foundation and the future of artificial intelligence, and with the rate of upcoming technical advancements, AI systems will significantly alter the global economy. Data science has therefore developed from a whimsical whim to a significant instrument that is propelling the world towards an automated future.
Looking forward to becoming a Data Scientist? Check out the Data Science Course and get certified today.
Learn the core concepts of Data Science Course video on YouTube:
As a result, there are many job possibilities in the field of data science. But first, we must understand what data science is in detail.
Simply put, data science is the application of a variety of scientific approaches and procedures to uncover hidden patterns in unstructured data. Important decisions are made using these trends and patterns. Data science may begin to sound like statistics at this stage, but it's not the same thing. Statistics only provide an objective picture of a company's past and present state and are primarily used for performance review and analysis, whereas data science not only provides us with enough information about the firm's current state but also with enough data to simulate future conditions and predict various business outcomes. Data science may save businesses money by foreseeing bad consequences before they happen. Any business may use it to keep one step ahead of the competition.
Today, data science is a crucial component of the majority of enterprises. Businesses examine customer buying behaviours to determine their preferences for particular products. They then improve their products by adding new features that satisfy client needs. They have also made investments in recommendation systems that provide interested clients appropriate adverts.
Text, pictures, and audio make up the unstructured data that is produced by the Internet. Big Data is another name for this. Analysis of this data requires somebody with a solid background in statistics and programming, which is challenging.
Every data scientist has a difficulty when it comes to analysing vast amounts of organised and unstructured data.
The majority of firms now use data science to inform important choices. The demand for data scientists is therefore far greater than the supply. Data scientists are being hired by every company every day. With more and more students enrolling in data science courses daily, data science is becoming a profitable employment option. In this highly competitive day, it is challenging to flourish in a data science job and it is not an easy topic to grasp.
Earn yourself a promising career in data science by enrolling in the Data Science Classes in Pune offered by 360DigiTMG.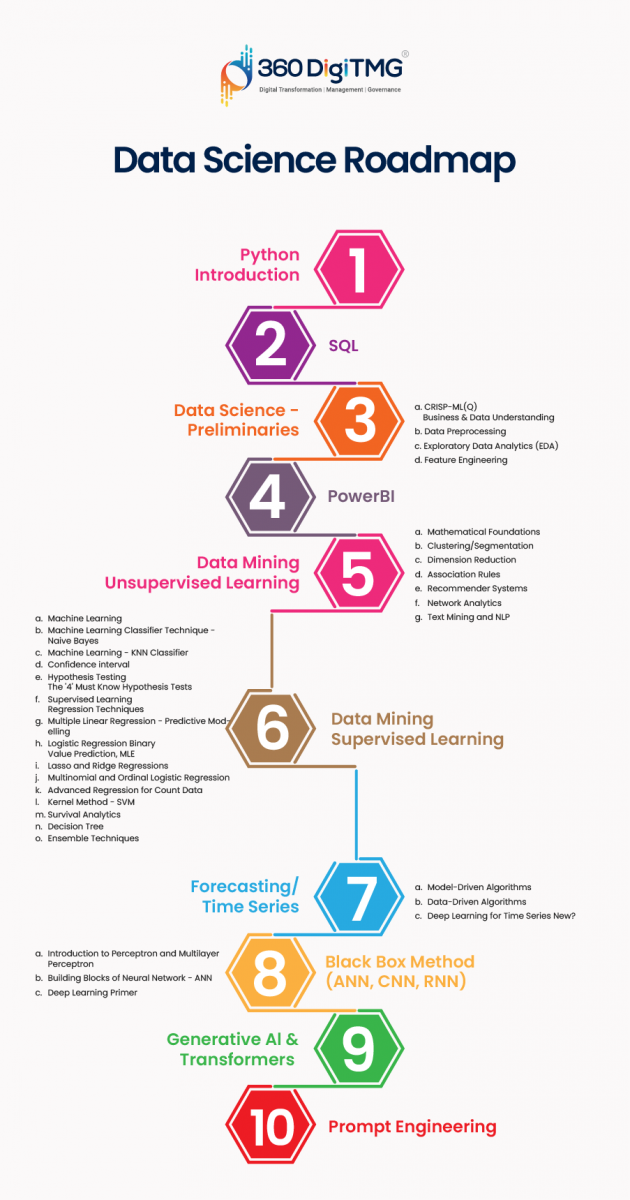 How to succeed in a Data Science Career?
Data science is an interesting yet complex subject and one needs to be familiar with various concepts and technologies therein. This is an arduous task. Hard work, dedication, and application is the key to perfection. Given below are useful hints for a glorious career in data science.
Be dedicated to the Course:

To succeed in any subject—not just data science—it takes tremendous attention and effort. If someone chooses to enrol in a data science course, they must properly understand all the theoretical ideas. Excellence in data science can only be ensured via careful examination and updating of the fundamental ideas. Data science is quite difficult and demands extensive practise and work. Numerous free courses are offered online and may be accessed with just a click. The fundamentals of data science may be learned by enrolling in these free courses. Also available online are several webinars from throughout the world.

Selecting an appropriate role in Data Science:

There is a wide spectrum of jobs available in the data science field like data analyst, data engineer, business analyst, data visualization expert, machine learning expert, data miner, etc. Selecting a role must be done in accordance with the academic background and coding skills that the student possesses. It is better to research all the positions in data science and then choose the best role for yourself.

Establish a Peer Network:

After deciding on a suitable job, it would be wise for a student to network with his fellow students. He had two options: attend a course and create a peer group with other students, or connect to a peer group on social media. Students can clarify their doubts and discuss technical issues in the peer group. A peer network has a lot of information exchange going on.

Specializing in the most Comfortable Coding Language:

Data Science is a vast subject and is employed in various countries. A plethora of coding languages and statistical tools are available in the market. It is natural for any student to get overwhelmed by this bumper shower of software. However, the good news is -there is no need to dabble in multiple languages as it degrades the quality of learning. Students should shortlist the most popular programming languages and specialize in the language that they are at ease with. You can program in any language in data science.

Actively search for the Correct Resource Material:

It is essential to have access to the greatest data science study materials accessible and to comprehend the ideas covered in it. Senior data scientists must create the course content, which must be current and industry-specific. The greatest study materials usually provide information on industry best practises.It is imperative to gain access to the best study material on data science available and master the concepts mentioned therein. The course curriculum needs to be developed by senior data scientists and must be industry-specific and up-to-date. The good study material also contains the knowledge of best practices in the industry.

Always deliberate on the Practical Applications of a Concept:

While learning a course, there is a high probability of becoming too enwrapped in the theory, so much so that the practical aspects are ignored completely. However, it is very important to apprehend the practical applications of a concept. This will help the student on the job. It is advisable to choose a course that offers live project exposure.

Expand your Network:

Studying the current subject matter should be the student's first focus. Attending seminars and networking with industry leaders and experts, however, is also beneficial. The student may eventually join a data scientist fraternity or a body association for professionals in the field. This broadens the student's knowledge range and allows him to brush up on his understanding of the most recent market developments.
Want to learn more about data science? Enroll in the Best Data Science courses in Chennai to do so.
Data Science Placement Success Story
Data Science Training Institutes in Other Locations
Agra
,
Ahmedabad
,
Amritsar
,
Anand
,
Anantapur
,
Bangalore
,
Bhopal
,
Bhubaneswar
,
Chengalpattu
,
Chennai
,
Cochin
,
Dehradun
,
Malaysia
,
Dombivli
,
Durgapur
,
Ernakulam
,
Erode
,
Gandhinagar
,
Ghaziabad
,
Gorakhpur
,
Gwalior
,
Hebbal
,
Hyderabad
,
Jabalpur
,
Jalandhar
,
Jammu
,
Jamshedpur
,
Jodhpur
,
Khammam
,
Kolhapur
,
Kothrud
,
Ludhiana
,
Madurai
,
Meerut
,
Mohali
,
Moradabad
,
Noida
,
Pimpri
,
Pondicherry
,
Pune
,
Rajkot
,
Ranchi
,
Rohtak
,
Roorkee
,
Rourkela
,
Shimla
,
Shimoga
,
Siliguri
,
Srinagar
,
Thane
,
Thiruvananthapuram
,
Tiruchchirappalli
,
Trichur
,
Udaipur
,
Yelahanka
,
Andhra Pradesh
,
Anna Nagar
,
Bhilai
,
Borivali
,
Calicut
,
Chandigarh
,
Chromepet
,
Coimbatore
,
Dilsukhnagar
,
ECIL
,
Faridabad
,
Greater Warangal
,
Guduvanchery
,
Guntur
,
Gurgaon
,
Guwahati
,
Hoodi
,
Indore
,
Jaipur
,
Kalaburagi
,
Kanpur
,
Kharadi
,
Kochi
,
Kolkata
,
Kompally
,
Lucknow
,
Mangalore
,
Mumbai
,
Mysore
,
Nagpur
,
Nashik
,
Navi Mumbai
,
Patna
,
Porur
,
Raipur
,
Salem
,
Surat
,
Thoraipakkam
,
Trichy
,
Uppal
,
Vadodara
,
Varanasi
,
Vijayawada
,
Vizag
,
Tirunelveli
,
Aurangabad
Data Analyst Courses in Other Locations
ECIL
,
Jaipur
,
Pune
,
Gurgaon
,
Salem
,
Surat
,
Agra
,
Ahmedabad
,
Amritsar
,
Anand
,
Anantapur
,
Andhra Pradesh
,
Anna Nagar
,
Aurangabad
,
Bhilai
,
Bhopal
,
Bhubaneswar
,
Borivali
,
Calicut
,
Cochin
,
Chengalpattu
,
Dehradun
,
Dombivli
,
Durgapur
,
Ernakulam
,
Erode
,
Gandhinagar
,
Ghaziabad
,
Gorakhpur
,
Guduvanchery
,
Gwalior
,
Hebbal
,
Hoodi
,
Indore
,
Jabalpur
,
Jaipur
,
Jalandhar
,
Jammu
,
Jamshedpur
,
Jodhpur
,
Kanpur
,
Khammam
,
Kochi
,
Kolhapur
,
Kolkata
,
Kothrud
,
Ludhiana
,
Madurai
,
Mangalore
,
Meerut
,
Mohali
,
Moradabad
,
Pimpri
,
Pondicherry
,
Porur
,
Rajkot
,
Ranchi
,
Rohtak
,
Roorkee
,
Rourkela
,
Shimla
,
Shimoga
,
Siliguri
,
Srinagar
,
Thoraipakkam
,
Tiruchirappalli
,
Tirunelveli
,
Trichur
,
Trichy
,
Udaipur
,
Vijayawada
,
Vizag
,
Warangal
,
Chennai
,
Coimbatore
,
Delhi
,
Dilsukhnagar
,
Hyderabad
,
Kalyan
,
Nagpur
,
Noida
,
Thane
,
Thiruvananthapuram
,
Uppal
,
Kompally
,
Bangalore
,
Chandigarh
,
Chromepet
,
Faridabad
,
Guntur
,
Guwahati
,
Kharadi
,
Lucknow
,
Mumbai
,
Mysore
,
Nashik
,
Navi Mumbai
,
Patna
,
Pune
,
Raipur
,
Vadodara
,
Varanasi
,
Yelahanka
Navigate to Address
360DigiTMG - Data Analytics, Data Science Course Training Hyderabad
2-56/2/19, 3rd floor, Vijaya Towers, near Meridian School, Ayyappa Society Rd, Madhapur, Hyderabad, Telangana 500081
099899 94319