Home / Blog / Data Science / Data Scientist vs. Machine Learning Ops Engineer: What Is The Difference Between Them?
Data Scientist vs. Machine Learning Ops Engineer: What Is The Difference Between Them?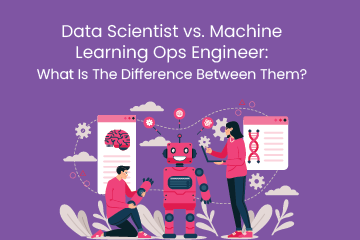 Companies worldwide have traditionally collected and analyzed consumer data to improve customer service and financial results. However, we can collect enormous amounts of data in today's digital environment, necessitating non-conventional software and data processing techniques. The phrase "MLOps" is very recent in the data industry. Companies previously restricted their hiring efforts to data scientists and machine learning experts. These people might create prediction models that aid businesses in automating processes and making crucial choices.
IT teams have had some challenges implementing machine learning technologies in the workplace. One necessity is designing a framework that would enable the models to be scaled up and delivered safely simultaneously. As a result, there must be closer collaboration between the operational and development teams. DevOps is already a word for the fusion of these two fields today. However, despite its popularity, DevOps requires specialist technologies to support Machine Learning. To meet these expectations and improve the performance of intelligent systems, professionals have been considering MLOps (Machine Learning Operations).
Learn the core concepts of Data Science Course video on YouTube:
360DigiTMG offers the Best Deep Learning Course in Pune to start a career in Machine Learning. Enroll now!
What Exactly is a Data Scientist?
A professional with expertise in interpretation and data analysis is known as a data scientist. They assist firms in making better decisions and running more efficiently by utilizing their data science expertise. Data scientists frequently come from computer science, statistics, and mathematics backgrounds. To look for trends or patterns, they evaluate huge data sets using this knowledge. Data scientists may also create brand-new techniques to gather and store data.
Being a data scientist might be analytically fulfilling and intellectually demanding, and it can put you at an innovation of new technological developments. Moreover, as big data becomes more crucial to businesses' choices, data scientists are becoming more prevalent and in demand. Data scientists have to decide what questions their team should ask, and then they should work out how to use data to respond to those queries. In addition, they frequently create predictive models for forecasting and theorizing.
What Exactly is an MLOps Engineer?
In essence, MLOps is not about the research that went into creating or designing the algorithm but rather how it works. An MLOps engineer is a specialist who works on the performance of this algorithm. A specialty area called "Machine Learning Ops" is responsible for an algorithm's operational aspects. The usual perception of MLOps is that of a data science team member, not a distinct entity. One can typically refer those working in MLOps to MLOps engineers, and a software engineer will frequently shift into this position.
The typical activities of an MLOps engineer include researching the fundamental ideas underlying the machine learning algorithm and comprehending how frequently the model needs to be trained, tested, and deployed. The experts in MLOps are also required to focus on the establishment or efficiency of code repositories in addition to automating the entire operation.
Machine Learning Course is a promising career option. Enroll in Top Institutes for Machine Learning in Chennai offered by 360DigiTMG to become a successful.
What Do Data Scientists Actually Do?
Data scientists are now essential resources in practically all enterprises, having emerged in the last ten years. These experts possess a wide range of skills, are data-driven and possess top proficiency in technical knowledge. They can create sophisticated quantitative algorithms that organize and synthesize vast amounts of data used to answer questions and guide strategy in their organization. Moreover, one can combine it with the leadership and communication skills needed to provide concrete results to numerous stakeholders throughout a company or organization.
Data scientists must be interested, goal-oriented, and exceptionally knowledgeable about their sector to communicate highly technical results to their non-technical colleagues. They also require to have excellent communication skills. In addition, they have programming skills with a focus on data warehousing, mining, and modeling, as well as a solid quantitative background in statistics and linear algebra, which they can utilize to create and analyze algorithms.
Additionally, they must be proficient in using various important technological tools and software, including R, Python, Apache Hadoop, MapReduce, Apache Spark, NoSQL databases, Cloud computing, D3, Apache Pig, Tableau, iPython notebooks, GitHub, etc.
What Do MLOps Engineer Actually do?
Ensuring that ML engineers can scale the machine learning models across the entire enterprise is the responsibility of the MLOps Engineer. In addition, they are in charge of constructing and keeping up the infrastructure needed for this scaling. Additionally, they guarantee that data scientists can utilize these models without worrying about how they were created or kept up-to-date.
A person who creates, constructs, and manages large-scale machine learning systems is known as an MLOps Engineer.
They monitor the systems' performance and manage the infrastructure that underpins the models and algorithms that drive the company's goods.
Figuring out how to make their performance better.
Investigating problems as they occur.
To learn more about Machine Learning the best place is 360DigiTMG, with multiple awards in its name 360DigiTMG is the Best place to start your Machine Learning Classes in Hyderabad. Enroll now!
They must be able to debug any faults or bugs that may arise and monitor your models' performance. An MLOps Engineer may also be tasked with updating the training data or changing model parameters to increase your model's accuracy.
Education Requirements for Becoming a Data Scientist:
Depending on the position, organization, and industry, different data science experts have different educational requirements. For example, a bachelor's degree in computer science or data science often requires a closely related discipline for data scientists. However, a master's degree in data science is preferable to a closely related topic in many jobs in this industry.
A bachelor's degree is typically required for data analysts and data engineers. A master's degree generally is necessary to work as a data scientist or computer and information research scientist. Some data science experts have a range of educational backgrounds. An individual might obtain a bachelor's degree in computer science and pass a data science course training, for instance. Or, they could finish a bachelor's degree in another subject before obtaining a master's in data science.
Generally, as people obtain higher degree levels, their professional options and wages rise. Additionally, candidates for jobs with a graduate degree will stand out from those with only a bachelor's.
Education Requirements for Becoming an MLOps Engineer:
Engineers who work with MLOps must have a diverse set of skills. They must be familiar with data science and machine learning methods and have some knowledge of software development. Most job postings for MLOps engineers state that they favor applicants with a quantitative degree in one of the disciplines: computer science, engineering, computational statistics, data science, or mathematics. However, most businesses are aware that MLOps is a profession that is continually evolving and that the most important attribute a candidate can have is the capacity to learn new technologies. In addition, one can easily learn software development and data science concepts without a degree. Therefore, companies are open to hiring people who need more credentials but can perform the job.
Data Science and MLOps have certain similarities:
MLOps is a specialized field, and while data science is vast, they have a lot in common regarding deployment and operation. Here are some examples of the parallels.
MLOps and data science both demand a profound grasp of the business. It entails figuring out the issue and developing a remedy.
Python and SQL proficiency is a need for anyone working in the fields of data science and MLOps.
Both professions demand that practitioners have a solid understanding of the concepts of training and assessment.
Git and GitHub experience are anticipated by a data scientist and an MLOps developer.
A person must thoroughly understand their company's data and be ready to find more data by knowing where to go for it, as a core necessity in data science and MLOps.
Become a Machine Learning expert with a single program. Go through 360DigiTMG's Machine Learning and AI Courses in Bangalore Enroll today!
Data Science and MLOps have different applications:
The method used to develop or implement an algorithm is where data science and MLOps diverge. Focusing on the operation and business application is the best method to understand the distinction. Here are some of the distinctions between these two booming industries.
Data science deals with something other than the operational side because it is a research- oriented field.
Working with production-ready code and having strong coding skills are essential components of MLOps.
A master's degree in data science is required of a data scientist.
It typically requires an undergraduate or bachelor's degree in software engineering for an MLOps engineer.
A data scientist must know how machine learning algorithms function in practice and concentrate on developing and selecting the best algorithms.
DevOps tools like Docker and cloud platforms like Amazon Web Services (AWS), Google Cloud, and others are necessary for the MLOps role.
Collaboration and Communication between ML Engineers and Data Scientists:
Strong cross-profile collaboration is essential for a data science team to succeed. Data scientists and machine learning engineers regularly communicate during model construction, deployment, and post- deployment monitoring and optimization. These two profiles should ideally work together on the same team and answer to the same management. Collaboration is simpler in such an environment, promoting strong collegiality and mutual learning.
However, the collaboration should be more robust when data scientists and machine learning engineers are members of distinct teams and answer to different leadership. Data scientists and machine learning engineers must rely on team productivity and project management technologies like Slack, Teams, JIRA, Asana, etc., in these corporate settings where they have less direct interaction. Utilizing these collaboration tools is truly a blessing and saves the team time and effort for many repeated and typical use cases. However, the transactional nature of relying on systems with tickets or tasks as their fundamental building blocks does not foster a sense of team cohesion and collaboration. It is a typical complaint among data science teams that rely heavily on such technologies.
Get enrolled in www.360digiTMG.com to understand Data Science and MLOps Engineer clearly.
Data Science Placement Success Story
Interview Questions and Answers
Data Science Placement Success Story
Data Science Training Institutes in Other Locations
Agra, Ahmedabad, Amritsar, Anand, Anantapur, Bangalore, Bhopal, Bhubaneswar, Chengalpattu, Chennai, Cochin, Dehradun, Malaysia, Dombivli, Durgapur, Ernakulam, Erode, Gandhinagar, Ghaziabad, Gorakhpur, Gwalior, Hebbal, Hyderabad, Jabalpur, Jalandhar, Jammu, Jamshedpur, Jodhpur, Khammam, Kolhapur, Kothrud, Ludhiana, Madurai, Meerut, Mohali, Moradabad, Noida, Pimpri, Pondicherry, Pune, Rajkot, Ranchi, Rohtak, Roorkee, Rourkela, Shimla, Shimoga, Siliguri, Srinagar, Thane, Thiruvananthapuram, Tiruchchirappalli, Trichur, Udaipur, Yelahanka, Andhra Pradesh, Anna Nagar, Bhilai, Borivali, Calicut, Chandigarh, Chromepet, Coimbatore, Dilsukhnagar, ECIL, Faridabad, Greater Warangal, Guduvanchery, Guntur, Gurgaon, Guwahati, Hoodi, Indore, Jaipur, Kalaburagi, Kanpur, Kharadi, Kochi, Kolkata, Kompally, Lucknow, Mangalore, Mumbai, Mysore, Nagpur, Nashik, Navi Mumbai, Patna, Porur, Raipur, Salem, Surat, Thoraipakkam, Trichy, Uppal, Vadodara, Varanasi, Vijayawada, Visakhapatnam, Tirunelveli, Aurangabad
Data Analyst Courses in Other Locations
ECIL, Jaipur, Pune, Gurgaon, Salem, Surat, Agra, Ahmedabad, Amritsar, Anand, Anantapur, Andhra Pradesh, Anna Nagar, Aurangabad, Bhilai, Bhopal, Bhubaneswar, Borivali, Calicut, Cochin, Chengalpattu , Dehradun, Dombivli, Durgapur, Ernakulam, Erode, Gandhinagar, Ghaziabad, Gorakhpur, Guduvanchery, Gwalior, Hebbal, Hoodi , Indore, Jabalpur, Jaipur, Jalandhar, Jammu, Jamshedpur, Jodhpur, Kanpur, Khammam, Kochi, Kolhapur, Kolkata, Kothrud, Ludhiana, Madurai, Mangalore, Meerut, Mohali, Moradabad, Pimpri, Pondicherry, Porur, Rajkot, Ranchi, Rohtak, Roorkee, Rourkela, Shimla, Shimoga, Siliguri, Srinagar, Thoraipakkam , Tiruchirappalli, Tirunelveli, Trichur, Trichy, Udaipur, Vijayawada, Vizag, Warangal, Chennai, Coimbatore, Delhi, Dilsukhnagar, Hyderabad, Kalyan, Nagpur, Noida, Thane, Thiruvananthapuram, Uppal, Kompally, Bangalore, Chandigarh, Chromepet, Faridabad, Guntur, Guwahati, Kharadi, Lucknow, Mumbai, Mysore, Nashik, Navi Mumbai, Patna, Pune, Raipur, Vadodara, Varanasi, Yelahanka
Navigate to Address
360DigiTMG - Data Analytics, Data Science Course Training in Chennai
D.No: C1, No.3, 3rd Floor, State Highway 49A, 330, Rajiv Gandhi Salai, NJK Avenue, Thoraipakkam, Tamil Nadu 600097
1800-212-654-321