5 Pillars of Emotional Intelligence Skills for a Data Science Career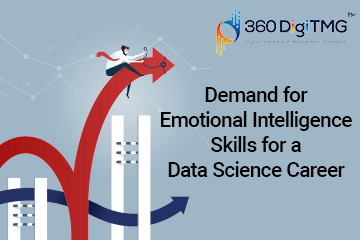 Data Science
Data Science and data analytics are currently one of the most important analytical and technical topics. Many people tend to wonder what data science is and how it is affecting society. The answers might be rather lengthy and complex, but in a nutshell, data science is the study of data and the relevant conclusions that can be drawn from it. The organisation uses these insights to make decisions that are successful.
The volume of data generated daily from numerous sources in our digital age is enormous. This data may include solutions to several issues that a firm is trying to tackle, so allowing it to sit on cheap storage is unacceptable.
Want to learn more about data science? Enroll in the Best Data Science courses in Chennai to do so.
As a result, the IT industry has developed Data Science tools and methodologies that are used to simplify data. These procedures turn unstructured data into a form that is easier to comprehend. The information thusly gathered may take the shape of text, images, or videos. In order to make the data more understandable, the algorithms transform it into several representations. Data visualisation technologies are used to graphically represent the results. Better business decisions may be made using the outcomes of data visualisation.
Unstructured material on the internet so conceals many inquiries' answers. In order to solve business choices and increase efficiency and profitability, the data scientist must find these hidden patterns
Who is a Data Scientist?
Are you looking to become a Data Scientist? Go through 360DigiTMG's PG Diploma in Data Science and Artificial Intelligence!.
Data scientists, as the name suggests, are the professionals who handle large amounts of data, clean them, simplify and visualize them, and then communicate the results to the top management. In general, the analytics work has many steps and at every step, different skills are required. A data scientist is the one who is well equipped with knowledge in various fields and subjects like mathematics, statistics, computer programming, and financial management.
However, now with large organizations taking data science seriously, the demand for data scientists is also increasing by the day. This is the reason why Data Science is currently regarded as one of the most in-demand jobs.
With the increasing demand for data scientists, one thing has become quite clear. Other than serious technical skills, the organizations are also looking for soft skills and emotional intelligence. The reason is that the data scientists work in a team so it is important to make sure that every member of the team works cohesively. The data scientists need to interact with the customer (client) to elicit requirements and to explain technical details of the solutions. They also need to motivate their team members to complete projects within the constraints of time and budget.
Emotional Intelligence and Data Scientists
Although technical abilities are prioritised, emotional intelligence is as important for being a competent data scientist and team player. The decision-makers, clients, end users, and team members must all be taken into account for a data scientist to be effective. A data scientist should be sensitive enough to perceive the needs and feelings of the customer. Senior management and clients could approach the project in a non-technical manner.
They could merely be considering a project's commercial potential. They might not give a technical element any thought. As a data scientist, you must be sensitive enough to recognise that you are imparting technical knowledge to a non-technical audience.
Data scientists need to be sensitive enough to recognise that they are imparting technical knowledge to a non-technical audience. The data scientist must thus polish his customer and senior management presentations and communications.
Data scientists must intentionally develop emotional intelligence and receive soft skills training. Simple technical expertise and knowledge are insufficient. For data scientists to work well in a group and inside an organisation, emotional intelligence is a must.
Become a Data Scientist with 360DigiTMG Data Science course in Hyderabad Get trained by the alumni from IIT, IIM, and ISB.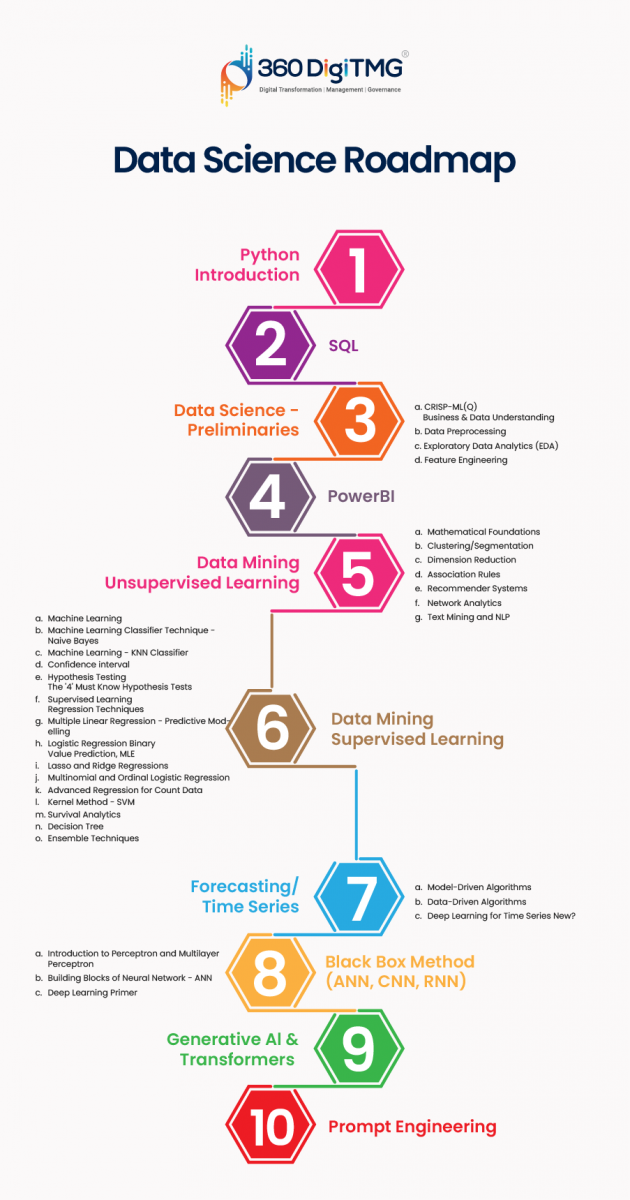 What is Emotional Intelligence?
With a generation that is guided and controlled by technology in every field possible, things have become too automated and mechanical. Having too much technological influence can make the work robotic and decision-making becomes repetitive and devoid of emotional clarity.
Learn the core concepts of Data Science Course video on YouTube:
However, emotions are something innate in a human being and thus it is highly important to keep your emotions in control as you accomplish the tasks of the day.
Emotional intelligence is all about discovering inner emotional strength and respecting the inner strength of your colleagues. It is a journey of self-improvement as you try and understand how your emotions can affect your decisions and behavior in the workplace. Today being emotional is seen as a weakness. That is unacceptable. A human being is a bundle of emotions. Being emotional is natural. Exhibiting excess emotion like say anger is undesirable. Emotional Intelligence has two perspectives - understanding self and others. When you can adapt your emotional response according to the situation in your office you are said to be exhibiting emotional intelligence.
Looking forward to becoming a Data Scientist? Check out the Data Science Course and get certified today.
Need for Emotional Intelligence
Many individuals believe that showing your emotions at work is inappropriate or unprofessional. That is untrue, though, as the absence of emotions turns a person into a machine that can only carry out actions without conscious thinking or reasoning. Emotions like love, kindness, and forgiving can genuinely improve workplace interpersonal interactions. These good feelings encourage stronger bonds and team spirit. Strong emotional intelligence abilities allow a person to be more adaptable and have excellent job mobility.
Team leaders must have a rich wellspring of emotional intelligence. They must empathise with their team members and manage their complaints delicately. To inspire their team members, they require strong negotiating and persuading abilities. When team leaders and members both display high levels of emotional intelligence while working, a win-win situation results.
Pillars of Emotional Intelligence
When it comes to emotional intelligence, five different components define what emotional smartness is and also simplify how EQ can be enhanced. Those five pillars are:
1 Self-Regulation: A person becomes more emotionally intelligent when they frequently keep their emotions in check. Self-control leads to self-awareness, which in turn fosters emotional maturity in a person.
2 Self-Awareness: Why and when you are behaving in a certain way is something that you should consciously monitor. This will help you understand your weaknesses and strengths.
3 Empathy: Empathy and compassion should be present in your behaviour if you wish to connect with others and create clear, healthy relationships..
4 Motivation: Higher emotional intelligence means higher motivation. This is because emotional intelligence allows you to see an optimistic viewpoint in every situation and that makes you more resilient.
5 Social Skills: It is crucial to respect people and be considerate of their sentiments since doing so will not only help you become a better person but will also facilitate the development of stronger relationships. You must have a greater emotional quotient to do this.
Improving Emotional Intelligence
It's critical to continue developing emotional intelligence if you want to function well in the workplace or any other professional situation. It needs work and ongoing progress, just like any other kind of intellect. Although many factors, such as lessons learnt in childhood, in school, or through life experience, have an impact on emotional intelligence, there are certain things you can do to improve your emotional intelligence.
Perspective:

Try to ask others about their opinion of you when you are thrown in an emotionally-critical situation. This is the best way to know what others perceive of you and how it is different from your own opinion about yourself.

Reflect:

To assess your emotional tendencies and how you include others in those behaviours, self-awareness is crucial. Therefore, make it a point to consider your own feelings so that you can become emotionally capable.

Observe:

Another thing that you need to keep in mind is to check the emotions that you feel in every situation. Try to observe and pay attention to those emotions you are feeling to make yourself more adept at emotional intelligence adaptability.

Empathy:

To comprehend why someone does something, try your best to be empathic. The greatest method to comprehend how people are feeling and why they are acting a specific way is to do this.

Take Criticism Positively:

One of the major things that many people tend to forget is the fact that taking criticism the right way is very critical. Try to learn from what others are telling you about your behavior and make the changes accordingly.

Practice:

You cannot become an expert in emotional intelligence in a matter of weeks or months. It requires a lot of patience, perseverance, and years of practise.
Data Science Placement Success Story
Data Science Training Institutes in Other Locations
Agra
,
Ahmedabad
,
Amritsar
,
Anand
,
Anantapur
,
Bangalore
,
Bhopal
,
Bhubaneswar
,
Chengalpattu
,
Chennai
,
Cochin
,
Dehradun
,
Malaysia
,
Dombivli
,
Durgapur
,
Ernakulam
,
Erode
,
Gandhinagar
,
Ghaziabad
,
Gorakhpur
,
Gwalior
,
Hebbal
,
Hyderabad
,
Jabalpur
,
Jalandhar
,
Jammu
,
Jamshedpur
,
Jodhpur
,
Khammam
,
Kolhapur
,
Kothrud
,
Ludhiana
,
Madurai
,
Meerut
,
Mohali
,
Moradabad
,
Noida
,
Pimpri
,
Pondicherry
,
Pune
,
Rajkot
,
Ranchi
,
Rohtak
,
Roorkee
,
Rourkela
,
Shimla
,
Shimoga
,
Siliguri
,
Srinagar
,
Thane
,
Thiruvananthapuram
,
Tiruchchirappalli
,
Trichur
,
Udaipur
,
Yelahanka
,
Andhra Pradesh
,
Anna Nagar
,
Bhilai
,
Borivali
,
Calicut
,
Chandigarh
,
Chromepet
,
Coimbatore
,
Dilsukhnagar
,
ECIL
,
Faridabad
,
Greater Warangal
,
Guduvanchery
,
Guntur
,
Gurgaon
,
Guwahati
,
Hoodi
,
Indore
,
Jaipur
,
Kalaburagi
,
Kanpur
,
Kharadi
,
Kochi
,
Kolkata
,
Kompally
,
Lucknow
,
Mangalore
,
Mumbai
,
Mysore
,
Nagpur
,
Nashik
,
Navi Mumbai
,
Patna
,
Porur
,
Raipur
,
Salem
,
Surat
,
Thoraipakkam
,
Trichy
,
Uppal
,
Vadodara
,
Varanasi
,
Vijayawada
,
Vizag
,
Tirunelveli
,
Aurangabad
Data Analyst Courses in Other Locations
ECIL
,
Jaipur
,
Pune
,
Gurgaon
,
Salem
,
Surat
,
Agra
,
Ahmedabad
,
Amritsar
,
Anand
,
Anantapur
,
Andhra Pradesh
,
Anna Nagar
,
Aurangabad
,
Bhilai
,
Bhopal
,
Bhubaneswar
,
Borivali
,
Calicut
,
Cochin
,
Chengalpattu
,
Dehradun
,
Dombivli
,
Durgapur
,
Ernakulam
,
Erode
,
Gandhinagar
,
Ghaziabad
,
Gorakhpur
,
Guduvanchery
,
Gwalior
,
Hebbal
,
Hoodi
,
Indore
,
Jabalpur
,
Jaipur
,
Jalandhar
,
Jammu
,
Jamshedpur
,
Jodhpur
,
Kanpur
,
Khammam
,
Kochi
,
Kolhapur
,
Kolkata
,
Kothrud
,
Ludhiana
,
Madurai
,
Mangalore
,
Meerut
,
Mohali
,
Moradabad
,
Pimpri
,
Pondicherry
,
Porur
,
Rajkot
,
Ranchi
,
Rohtak
,
Roorkee
,
Rourkela
,
Shimla
,
Shimoga
,
Siliguri
,
Srinagar
,
Thoraipakkam
,
Tiruchirappalli
,
Tirunelveli
,
Trichur
,
Trichy
,
Udaipur
,
Vijayawada
,
Vizag
,
Warangal
,
Chennai
,
Coimbatore
,
Delhi
,
Dilsukhnagar
,
Hyderabad
,
Kalyan
,
Nagpur
,
Noida
,
Thane
,
Thiruvananthapuram
,
Uppal
,
Kompally
,
Bangalore
,
Chandigarh
,
Chromepet
,
Faridabad
,
Guntur
,
Guwahati
,
Kharadi
,
Lucknow
,
Mumbai
,
Mysore
,
Nashik
,
Navi Mumbai
,
Patna
,
Pune
,
Raipur
,
Vadodara
,
Varanasi
,
Yelahanka
Navigate to Address
360DigiTMG - Data Science, IR 4.0, AI, Machine Learning Training in Malaysia
Level 16, 1 Sentral, Jalan Stesen Sentral 5, Kuala Lumpur Sentral, 50470 Kuala Lumpur, Wilayah Persekutuan Kuala Lumpur, Malaysia
+60 19-383 1378