Home / Blog / Data Science / 5 Things To Consider: Do You Really Need A Data Scientist Certification To Become A Data Scientist?
5 Things To Consider: Do You Really Need A Data Scientist Certification To Become A Data Scientist?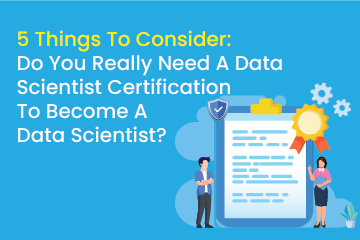 Big data is becoming more and more popular among businesses of all kinds. As a result, data scientists who use tools to develop the procedures and algorithms that enable data analysts to understand all that data are in great demand. Therefore, obtaining a data science certification is a good idea if you want to work in data science or become a data scientist. A certification (or certificate) will give you the expertise and abilities required to be successful as a data scientist.
When selecting a data science certificate program, consider costs, content, course length, and other aspects. Consider your goals and educational requirements as you think about your skills. If getting a job after graduation is your goal, you should prioritize programs that provide extensive career assistance services. Look for a certificate program that will pair you with a data science mentor who can respond to technical inquiries and accelerate the development of your abilities if you learn best with one-on-one instruction.
What is a Data Scientist?
It's worth spending some time on the specifics of this career path before we respond to why you should become a data scientist. Data scientists should possess relevant experience across a variety of fields simultaneously. They are a combination of computer scientists, mathematicians, and business strategists. Because of their complicated skill set, data scientists must continually have one foot in the information technology industry and another firmly planted in the business world. One of the best career choices is becoming a data scientist because of how in-demand this knowledge is.
Because data science is primarily focused on deep knowledge discovery through data exploration and inference, a skilled data scientist must possess both the statistical understanding and computing skills necessary for tackling challenging challenges. This field uses mathematical and algorithmic techniques to tackle some of the most analytically difficult business problems. It then uses enormous volumes of raw data to unearth the hidden knowledge that lies under the surface.
The core of the data science discipline, which can frequently be solitary and silent, is developing strong decision-making abilities and detailed, frequently minutia-driven analysis. However, data scientists must also be extremely good communicators in written and visual formats. So it is because they will frequently be required to present their findings and analyses to superiors, team members, and other firm stakeholders who may or may need help understanding sophisticated statistical jargon. When communicating their findings, data scientists must do so thoroughly and understandably, including how they came to their conclusions and what needs to be done in light of what they have learned. Often a challenging task.
Data scientists may be extracting data from the database, getting the data ready for various analyses, developing and testing a statistical model, or producing reports with clear data visualizations on any given day.
What is a Data Science Certification?
Even though they appear to be identical, certifications and certificates are different. Completing a training program or educational course is attested through certificates, such as IBM's Data Science Professional Certificate. A standardized exam must be taken and passed to earn a certification, such as those offered by DASCA, which are credential programs recognized worldwide.
Contrary to data analysts, who interpret already-existing data, data scientists develop new methods and frameworks for collecting and organizing data for analysts. As a result, learning diverse skills like Python and SQL, data analysis, data visualization, and the capacity to create machine learning models is made possible through data science credentials.
Learn the core concepts of Data Science Course video on Youtube:
Do you Really Require a Data Science Certification? 5 Things to Consider:
Being proficient in various technical and non-technical abilities is necessary to succeed as a data scientist. Some of these talents are essential, while others are nice and will make your job easier. Depending on your employment role, you may need to possess varying skill-specific expertise.
Should I pursue a data science certification? It's the most perplexing query that every aspirant data scientist must eventually answer. And then there are other queries like, "Will it strengthen my resume or aid in getting me a job?"
Undoubtedly, obtaining a data science certification has certain benefits. However, there is a caveat: thanks to the data science boom, these courses have been enormous uptake, making them common or broad. Nonetheless, it indicates your enthusiasm and love for the topic.
Is Earning a Certificate in Data Science Valuable?

While a data science certificate won't guarantee employment, it will assist you in acquiring the practical experience and professional portfolio required to be considered for a data science position. The top data science certification programs will instruct technical skills via project-based learning, allowing you to create an impressive portfolio emphasizing practical data science scenarios.

Using data science in any business context may be the primary focus of a practical professional certification. You must exhibit strong technical proficiency to be hired in the field, but that's not all. Furthermore, you need to show that you can identify a business issue, frame it as a data science question, and apply data storytelling to have an actual impact on the organization. Data science certifications that are worthwhile will educate you on the hard and soft skills required to be job-ready.

What Steps Should you take to Become a Data Scientist?

Formal education is typically required to become a data scientist. Here are some ideas to consider.

Earn a degree in data science:

Although it's not always necessary, employers typically prefer to see academic qualifications to guarantee you have the know-how to handle a data science position. To get an advantage in the profession, consider pursuing a relevant bachelor's degree in computer science, data science, or statistics.

Possess a bachelor's degree already?

Think about earning a master's degree in data science. You can hone your understanding of statistics, machine learning, algorithms, modeling, and forecasting at a master's degree program, and you could even be able to carry out your own research on a subject you're passionate about. There are several online master's programs in data science.

Hone relevant skills:

If you could improve some of your hard data skills, consider participating in an online course or a relevant boot camp. Below are some of the abilities you should possess.

Programming languages:

To go through, analyze, and handle massive amounts of data, data scientists may anticipate spending a lot of time using programming languages. For data science, standard programming languages include:

Data visualization:

An essential skill for a data scientist is the ability to design graphs and charts. You should be ready to complete the work if you are familiar with the following tools:

Machine learning and deep learning:

Using machine learning and deep learning in your data science job means constantly increasing the quality of the data you collect and being able to predict the outcomes of future datasets. You can learn the fundamentals of machine learning by enrolling in a course.

Big data:

Some companies would want to know that you have experience working with this information. Hadoop and Apache Spark are two examples of software frameworks that are used to process large data.

Communication:

Even the most bright data scientists will only be able to effect change if they can convey their results effectively. For data scientists, it's common to look for the ability to communicate concepts and findings orally and in writing.

Find an entry-level position in data analytics:

Although there are several ways to become a data scientist, getting a job in a field-related entry-level position can be a great beginning point. For example, consider careers as a data analyst, business intelligence analyst, statistician, data engineer, or similar job. From there, as your knowledge, skills, and abilities grow, you can grow to becoming a scientist.

Get ready for data science interviews:

After working with data analytics for a few years, you may feel ready to transition to data science. When you land an interview, be prepared with answers to the anticipated inquiries.

You may confront technical and behavioral questions because data scientist employment might be highly technical. Prepare yourself for both and practice answering out loud. You can make yourself seem assured and competent to interviewers by preparing examples from your prior employment or academic experiences.

Is a Certification Required to get a Data Science Job?

Whether certification is required to work in data science may be on your mind. A poll found that within six months after receiving their certificate, 75% of Google Career Certificate graduates in the US reported an improvement in their career trajectory, such as a new job, promotion, or raise.

A professional certificate will only help you find your dream job if you're searching for a credential to add to your resume. However, you require the expertise frequently acquired through passing a certification program.

Data scientists must be proficient in machine learning, mathematics, programming, statistical analysis, computing, and data analysis. Additionally, they are more likely to get employed if they are familiar with the resources that data scientists regularly utilize, such as libraries.

You can study these abilities thoroughly and logically with the use of certificates. You'll be asked questions during job interviews to gauge your skills and ability to articulate how you would solve problems or create predictive analytics models.

A Quick Summary of Data Science Certification Programs:

Different types of data science certifications are available. Some require physical presence, while others demand an online connection. Let's examine the various forms.

MOOCs: Most people are undoubtedly familiar with MOOCs, or Massive Open Online Courses, which include Andrew Ng's Machine Learning as part of their Data Science education. You can start these MOOCs at any time and your own pace. These classes are open to everyone without a formal admissions process. The main issue with these courses is that they can become very expensive if you want the certificate. The universities that typically teach the courses are Harvard, Stanford, and others.
Classroom courses: These courses follow the same format as those found in a school or university. If you join a group of aspirants, you will receive instruction according to a pre-designed curriculum. As homework, you will receive assignments, and if you have questions, raise your hand. However, if you skip a few lessons, you can find yourself in a difficult situation because these will only be explicitly repeated for you. COVID-19 makes these courses available online as live classes.
Online courses: These courses are offered online, as the name suggests. These are pre-recorded videos that have been curriculum-aligned. The films are available anytime, and in any order you like. But here, you won't be able to get your questions answered in real-time.
Hybrid courses: You can find the finest of both worlds in hybrid courses. Hybrid courses combine classroom instruction with online learning. You will receive all the self-paced materials at the beginning of the course. Additionally, a few classroom sessions will be available for you to clear up any remaining questions.

How Do I Pick a Certificate Program in Data Science?

It is simple to locate a data science program that grants certificates. There are dozens of results from a fast Google search. However, choosing whether the certificate is worthwhile in your time and money is the difficult part.

Let's make this procedure simpler. Here are five important factors to think about while considering a data science certification:

The program's content.
The cost of the program.
Essential qualifications or prerequisites.
The requirement for a time commitment.
Feedback and reviews from previous students.

Remember that once you learn the skills businesses want, data science degrees are only worth the paper they're printed on. Therefore, the first bullet item is the most crucial. Just consider the content!
Careers in Data Science:
You will have various job options once you have mastered these talents. Use these data science interview questions to practice for a job interview.
Data Scientist: Data scientists optimize and enhance product development to produce data-driven business solutions and analytics. They improve customer experiences, revenue generation, ad targeting, and other procedures through predictive modeling. Additionally, data scientists work with numerous functional teams to implement models and monitor results.
Data Engineer: Data engineers put together large, sophisticated data sets. Then they construct and implement the necessary infrastructure for the best data extraction, transformation, and loading, after deciding which internal process adjustments to make. They furthermore create analytics programs that work with the data pipeline.
Data Architect: By researching the structural requirements of new software and applications, data architects develop database solutions. Then, they migrate data from old systems to new ones and install and configure information systems.
Data analyst: Data analysts maintain databases and collect data from primary or secondary sources. They interpret the information, perform statistical analyses of the findings, and create data-gathering methods and other solutions to assist management in setting priorities for business and information needs.
Ge Started with 360digiTMG:
Earning a data science certificate can assist you in developing the technical knowledge and essential skills one needs to establish a career in data science. Additionally, a data science certificate will provide tangible evidence of your value to a data science team and authenticate your talents in the eyes of hiring managers and recruiters.
Give an end to your thinking and enroll right away in 360digiTMG Data Science Certification to master your skills and fulfill your dream career.
Click here to learn Data Science Certification Course, Data Science Course in Hyderabad, Data Science Course in Bangalore
Data Science Placement Success Story
Data Science Placement Success Story
Data Science Training Institutes in Other Locations
Agra, Ahmedabad, Amritsar, Anand, Anantapur, Bangalore, Bhopal, Bhubaneswar, Chengalpattu, Chennai, Cochin, Dehradun, Malaysia, Dombivli, Durgapur, Ernakulam, Erode, Gandhinagar, Ghaziabad, Gorakhpur, Gwalior, Hebbal, Hyderabad, Jabalpur, Jalandhar, Jammu, Jamshedpur, Jodhpur, Khammam, Kolhapur, Kothrud, Ludhiana, Madurai, Meerut, Mohali, Moradabad, Noida, Pimpri, Pondicherry, Pune, Rajkot, Ranchi, Rohtak, Roorkee, Rourkela, Shimla, Shimoga, Siliguri, Srinagar, Thane, Thiruvananthapuram, Tiruchchirappalli, Trichur, Udaipur, Yelahanka, Andhra Pradesh, Anna Nagar, Bhilai, Borivali, Calicut, Chandigarh, Chromepet, Coimbatore, Dilsukhnagar, ECIL, Faridabad, Greater Warangal, Guduvanchery, Guntur, Gurgaon, Guwahati, Hoodi, Indore, Jaipur, Kalaburagi, Kanpur, Kharadi, Kochi, Kolkata, Kompally, Lucknow, Mangalore, Mumbai, Mysore, Nagpur, Nashik, Navi Mumbai, Patna, Porur, Raipur, Salem, Surat, Thoraipakkam, Trichy, Uppal, Vadodara, Varanasi, Vijayawada, Visakhapatnam, Tirunelveli, Aurangabad
Data Analyst Courses in Other Locations
ECIL, Jaipur, Pune, Gurgaon, Salem, Surat, Agra, Ahmedabad, Amritsar, Anand, Anantapur, Andhra Pradesh, Anna Nagar, Aurangabad, Bhilai, Bhopal, Bhubaneswar, Borivali, Calicut, Cochin, Chengalpattu , Dehradun, Dombivli, Durgapur, Ernakulam, Erode, Gandhinagar, Ghaziabad, Gorakhpur, Guduvanchery, Gwalior, Hebbal, Hoodi , Indore, Jabalpur, Jaipur, Jalandhar, Jammu, Jamshedpur, Jodhpur, Kanpur, Khammam, Kochi, Kolhapur, Kolkata, Kothrud, Ludhiana, Madurai, Mangalore, Meerut, Mohali, Moradabad, Pimpri, Pondicherry, Porur, Rajkot, Ranchi, Rohtak, Roorkee, Rourkela, Shimla, Shimoga, Siliguri, Srinagar, Thoraipakkam , Tiruchirappalli, Tirunelveli, Trichur, Trichy, Udaipur, Vijayawada, Vizag, Warangal, Chennai, Coimbatore, Delhi, Dilsukhnagar, Hyderabad, Kalyan, Nagpur, Noida, Thane, Thiruvananthapuram, Uppal, Kompally, Bangalore, Chandigarh, Chromepet, Faridabad, Guntur, Guwahati, Kharadi, Lucknow, Mumbai, Mysore, Nashik, Navi Mumbai, Patna, Pune, Raipur, Vadodara, Varanasi, Yelahanka
Navigate to Address
360DigiTMG - Data Analytics, Data Science Course Training in Chennai
D.No: C1, No.3, 3rd Floor, State Highway 49A, 330, Rajiv Gandhi Salai, NJK Avenue, Thoraipakkam, Tamil Nadu 600097
1800-212-654-321