Guide On Data Scientist Salary - How Much Do Data Scientists Make?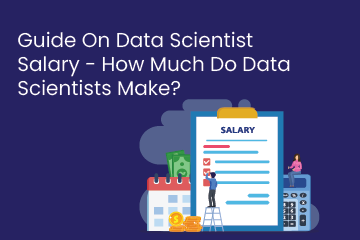 Our attention has been turning more and more toward data on a worldwide scale over the past ten years, which has fueled the development of the data science industry. Although it is crucial to remember that data scientists' salaries vary depending on their expertise, where they work, and the industry they operate in, demand for and salaries associated with the highly sought-after data scientist vocation continues to be strong.
This data scientist salary guide will assist you in comprehending how a data scientist's income is impacted by experience, location, and industry. It will also provide some advice on how to increase your earning potential.
Data science is a discipline that combines programming prowess, subject-matter expertise, and knowledge of mathematics and statistics to derive the practical insights from data. For example, artificial intelligence (AI) systems are made by applying machine learning algorithms to text, numbers, images, videos, music, and other types of data to produce tasks that would typically need human intelligence. As a result, these technologies generate insights that analysts and business users can use to create practical commercial value.
The initial stage of the data science pipeline workflow involves gathering data, occasionally extracting it, and entering it into the system. The maintenance stage includes data warehousing, data cleansing, processing, staging, and architecture.
Then, one of the foundations of data science is data processing. When it comes to the analysis and processing of data, data scientists and engineers are distinct from one another. Data mining, categorization and clustering, modeling, and summarising information gleaned from the data are all processes that result in valuable data.
Who is a Data Scientist?
Data scientists locate, gather, and assess large-scale data sets. Given that insight from data analysis influence today's business decisions, it is clear how crucial data scientists are to any company. Therefore, training in computer science, mathematics, and statistics is frequently necessary for jobs in data science. More than only modeling and processing structured and unstructured data, data scientists also convert the outcomes into practical solutions for stakeholders.
In addition to having a thorough understanding of concepts like big data, machine learning, data mining, deep learning, and data warehousing, data scientists are very versed in math and statistics. Additionally, they are experts in programming and statistical tools. Data processing and analysis are just the beginning of a data scientist's responsibilities.
Because data science tasks vary from organization to organization, business analysis, and data science responsibilities sometimes overlap. Expert data scientists often have years of experience and deep industry knowledge. Because of how they engage with various stakeholders and support crucial business choices, data scientists are among the highest-paid workers on the market.
Learn the core concepts of Data Science Course video on Youtube:
Salary for Data Scientists Around the World:
The title "The Sexiest Job of the 21st Century" was given to data science by Harvard Business Review (HBR) ten years ago. They continued by pointing out that several industries were experiencing a scarcity of data scientists, which indicated that demand for these individuals would rise. Additionally, even at smaller businesses and startups, data scientist pay would be quite competitive, according to HBR.
The industry has changed in the last ten years. The amount of data organizations produce has grown exponentially, increasing the need for various specialists in the area. Data engineers, machine learning engineers, and analysts all have specific roles.
Many individuals have questioned if data science is still a career worth pursuing and whether the field will continue to pay as well in 2023 due to this change. In addition, the rise in competitiveness in data science has also raised some concerns since some individuals feel that the market has reached a saturation point.
Salary for Data Science: Based on Experience:
Because there is a strong correlation between years of experience and greater earnings, young IT workers are especially drawn to professions in data. This part will look at how experience affects data scientists' compensation. First, look at the starting pay for data scientists and the senior data scientists' pay.
The typical monthly salary for a data scientist is $7,111.
The starting salary for a data scientist is $84,418 per year.
Intermediate-Level Data Scientist Salary:
Data scientists with between one and four years of experience are considered intermediate-level. Every time the subject of a data scientist's wage is brought up, the salaries of this group—which comprises the majority of data scientists—can be used as a benchmark. These data scientists often have experience working on complicated and crucial data science projects and are on their path to becoming senior data scientists. The average yearly salary for a data scientist at the intermediate level is $115,729.
Senior Data Scientist Salary:
A highly qualified data scientist with executive roles or decades of experience makes much more money. For example, the yearly pay of a senior data scientist is $138,061.
Entry-Level Data Scientist Salary:

Let's look at the starting pay for data scientists or the starting pay for junior data scientists. Data scientists are no different from any other profession in that they begin at the beginning. Entry-level data scientists are typically those who have just graduated from college, are changing careers, or are new to the industry altogether. The median wage for the field is affected by the data scientist's entry-level salary, so it is essential to discuss this as well.
Salary for Data Scientists by Country:
Let's start by comparing the salaries of data scientists in various nations. Because salaries can differ greatly based on the function, company, and individual, they might be challenging to depict effectively. Salary ranges can be wide even within a single nation; therefore, data may only sometimes be accurate. However, if you're searching for data scientist employment, we've cited our sources and advise looking at various openings in your area. All salaries are paid in local money.
United States:

In the United States, a data scientist makes, on average, $102,988 a year in base pay. It is about double the yearly average for the country, which is $55,640. Software engineers average salary is $90,388 annually, and computer scientists are paid $95,136.

Let's categorize this by state.

The average pay for data scientists in California is $119,329. It is 16% more than the national average. This sum rises to $121,960 in New York.

In San Francisco, data scientists earn $115,996 annually compared to $100,312 in New Jersey.

United Kingdom:

In the UK, data scientists are paid much more than similarly qualified workers in other disciplines. The average salary for a data scientist in the UK is £50,362.

Web developers in the nation make £37,126 per year in base pay, whereas software engineers make £49,089 per year.

With an average yearly salary of £59,346, London, the UK, is the highest-paying city in the world. Following closely behind are Cambridge, with a basic wage of £54,915, and Edinburgh, where data scientists are compensated with a salary of £58,558.

India:

India has never had a greater need for data scientists. According to Analytics Insights, India will command 32% of the global big data market and produce USD 20 billion by 2026.

In India, employers like Google, Deloitte, TCS, and EY are always looking to hire data scientists.

Data scientists in this country make an average base salary of $12,88,691, albeit this figure varies by organization and level of seniority. According to Indeed, senior data scientists can make up to $17.30524 per year.

Canada:

The average compensation for data scientists is roughly $103,623 per year, which is 25% more than the average salary for all workers. With a basic salary of $134,302, Toronto is the best-paying city in Canada for data scientists.

The next highest-paying cities for data scientists are Mississauga ($127,349) and Vancouver ($102,198).

Australia:

The average base pay for data scientists in Australia is $121,801 per year, which is relatively high. However, Australia is one of the greatest countries in the world to work as a data scientist because this is nearly double the annual average salary of $68,298 in the country.

In contrast, web developers make $101,203 annually, computer scientists make $89,228 annually, and software engineers are paid $103,944.

Sydney data scientists make $134,201 annually, while Melbourne data scientists make $133,715.

Germany:

Data scientists make over €64,000 annually in Germany, more than the €44,074 national average. Data scientists earn more than other technical specialists, such as computer scientists, who make €37,227, and software engineers, who get €60,000 per year.

Berlin's data scientists get an average salary of €97,496 annually, which is quite well paid. In Hamburg, they make about €70,287, and in Munich, about €67,662.

Singapore:

Data scientists are one of the top five sought-after hiring positions in Singapore, according to the Robert Half Salary Guide. Since many of the largest tech companies in the world have operations there, data specialists in the nation are well compensated.

Data scientists in Singapore make an average base salary of SGD 72,000, which is higher than the SGD 56,160 national average.
Salary for Data Scientists Based on Skills:
You'll need more than a Master's degree and knowledge of the languages and technologies required to manage data to land a job paying this highly. Here are a few more AIM tidbits:
R knowledge is the most important and in-demand expertise, followed by Python knowledge. Python salary in India is anticipated to be in the range of 10.2 lacks INR annually.
A data analyst's salary increases by 26% when they are knowledgeable about big data and data science as opposed to when they are knowledgeable about one.
While SPSS specialists are compensated in the region of INR 7.3 lakhs per year, SAS users are paid between INR 9.1 and 10.8 lakhs annually.
As you grow in the field, machine learning salaries in India might reach 16 lakhs INR, starting around 3.5 lakhs INR. Among the most popular programming languages for machine learning is Python, and Python programmers in India are paid among the highest incomes in the world.
Knowledge of artificial intelligence can help you enhance your career more generally. The artificial intelligence compensation in India is not less than 5–6 lakhs INR if you are a beginner in this industry.
Salary for Data Scientists Based on Job Title:
It's vital to remember that not all data scientists have the same title, despite the phrase "data scientist" being a good catch-all to define a specific sort of profession. Instead, the wide range of job titles (and the duties that go along with them) typically (though only sometimes) reflects a data scientist's area of expertise.
To provide you a general idea of how much various salaries typically vary, we have highlighted compensation expectations for a few distinct data science job titles in this section. But, again, for consistency's sake, all information is based on US average incomes and comes from Payscale.
Director of Analytics: An analytics director typically makes $130K annually. Data analysis, strategic planning, personnel management, big data analytics, and business intelligence are essential competencies for this position.
Machine Learning Engineer: Engineers in machine learning make an average of $112K annually. Machine learning, deep learning, NLP, Python, and computer vision are essential.
Data Architect (big data): Big data architects make, on average, $125K annually. Some of the main competencies you'll need for this position are SQL, data modeling, business intelligence, database architecture, and database warehousing.
Data Engineer: Data engineers make $93K on average. SQL, Extract, Transform, and Load (ETL), Data Analytics, Apache Spark, and Python are essential abilities.
Business Intelligence Developer: A BI developer makes an average income of $83K. Among the essential competencies are business intelligence tools, Extract, Transform, Load (ETL), Tableau, SQL, and SQL Server.
Web Analyst: A web analyst makes $69K annually on average. Web analysts are skilled in MS Excel, SQL, Google Analytics, and web analytics, as well as data analytics.
Research Scientist: On average, research scientists make $84,000. Product development, data analytics, and biotech experience are essential qualifications for this position (or similar, relating to your field of expertise).
How Much Salary Can a Data Scientist Make?
What are data scientists paid? Data Science has a wide range of uses, and as big data concepts and technology are adopted quickly, more companies urgently need qualified Data Science experts. While some businesses use data to gain insights, others use huge amounts of data directly to carry out daily tasks or support their services (or applications). In addition, businesses of all stripes need to use data as a vital decision-making tool. As a result, all types of enterprises require data science specialists.
Data scientists can significantly improve a position. However, there is fierce competition for these positions, and it might be challenging to find just one person competent in carrying out all the tasks required of a data scientist. As a result, companies are willing to pay highly competent and experienced data scientists. Thus, a data science job's salary is comparatively higher than any other job.
Wrap-up:
This article looked at the typical pay that data scientists might anticipate earning based on several variables. Of course, variations exist depending on factors including experience level, job title, industry, and location, as expected. But even at the basic level, data scientists may anticipate making a decent life, and those with a lot of expertise can make up to $200K or even more.
While strengthening your skills and competencies is likely the single biggest element in determining a good wage, it can also be the beginning of an exciting data analytics adventure that leads you along a rewarding and well-paying professional path.
Try out 360digiTMG and enroll in a course to learn more about some of the methods you'll need to succeed as a data scientist.
Click here to learn Data Science Course, Data Science Course in Hyderabad, Data Science Course in Bangalore
Data Science Placement Success Story
Data Science Training Institutes in Other Locations
Agra, Ahmedabad, Amritsar, Anand, Anantapur, Bangalore, Bhopal, Bhubaneswar, Chengalpattu, Chennai, Cochin, Dehradun, Malaysia, Dombivli, Durgapur, Ernakulam, Erode, Gandhinagar, Ghaziabad, Gorakhpur, Gwalior, Hebbal, Hyderabad, Jabalpur, Jalandhar, Jammu, Jamshedpur, Jodhpur, Khammam, Kolhapur, Kothrud, Ludhiana, Madurai, Meerut, Mohali, Moradabad, Noida, Pimpri, Pondicherry, Pune, Rajkot, Ranchi, Rohtak, Roorkee, Rourkela, Shimla, Shimoga, Siliguri, Srinagar, Thane, Thiruvananthapuram, Tiruchchirappalli, Trichur, Udaipur, Yelahanka, Andhra Pradesh, Anna Nagar, Bhilai, Borivali, Calicut, Chandigarh, Chromepet, Coimbatore, Dilsukhnagar, ECIL, Faridabad, Greater Warangal, Guduvanchery, Guntur, Gurgaon, Guwahati, Hoodi, Indore, Jaipur, Kalaburagi, Kanpur, Kharadi, Kochi, Kolkata, Kompally, Lucknow, Mangalore, Mumbai, Mysore, Nagpur, Nashik, Navi Mumbai, Patna, Porur, Raipur, Salem, Surat, Thoraipakkam, Trichy, Uppal, Vadodara, Varanasi, Vijayawada, Visakhapatnam, Tirunelveli, Aurangabad
Data Analyst Courses in Other Locations
ECIL, Jaipur, Pune, Gurgaon, Salem, Surat, Agra, Ahmedabad, Amritsar, Anand, Anantapur, Andhra Pradesh, Anna Nagar, Aurangabad, Bhilai, Bhopal, Bhubaneswar, Borivali, Calicut, Cochin, Chengalpattu , Dehradun, Dombivli, Durgapur, Ernakulam, Erode, Gandhinagar, Ghaziabad, Gorakhpur, Guduvanchery, Gwalior, Hebbal, Hoodi , Indore, Jabalpur, Jaipur, Jalandhar, Jammu, Jamshedpur, Jodhpur, Kanpur, Khammam, Kochi, Kolhapur, Kolkata, Kothrud, Ludhiana, Madurai, Mangalore, Meerut, Mohali, Moradabad, Pimpri, Pondicherry, Porur, Rajkot, Ranchi, Rohtak, Roorkee, Rourkela, Shimla, Shimoga, Siliguri, Srinagar, Thoraipakkam , Tiruchirappalli, Tirunelveli, Trichur, Trichy, Udaipur, Vijayawada, Vizag, Warangal, Chennai, Coimbatore, Delhi, Dilsukhnagar, Hyderabad, Kalyan, Nagpur, Noida, Thane, Thiruvananthapuram, Uppal, Kompally, Bangalore, Chandigarh, Chromepet, Faridabad, Guntur, Guwahati, Kharadi, Lucknow, Mumbai, Mysore, Nashik, Navi Mumbai, Patna, Pune, Raipur, Vadodara, Varanasi, Yelahanka
Navigate to Address
360DigiTMG - Data Analytics, Data Science Course Training in Chennai
D.No: C1, No.3, 3rd Floor, State Highway 49A, 330, Rajiv Gandhi Salai, NJK Avenue, Thoraipakkam, Tamil Nadu 600097
1800-212-654-321