How to Start a Career in Data Science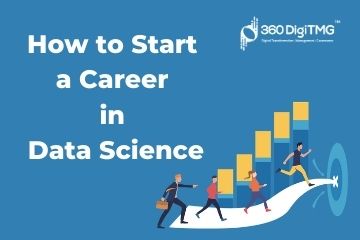 Data science evaluates the data, makes calculations, and examines the results, as the name already indicates. Skilled specialists are needed for this. To do this, you'll need to have knowledge of things like programming, statics, data visualisation, data backgrounding, machine learning, linear algebra, mathematics, software engineering, etc.
Want to learn more about data science? Enroll in the Best Data Science courses in Chennai to do so.
The Demand of Data Scientists
You and we are part of a world in which much data is published in a single day. In such a case, there is a demand for a large number of data scientists, who can streamline the data with their skills.
From banks to e-commerce companies, the pharmaceutical industry, and many other industries, data is used daily to start a business. In such a situation, the growing demand for professionals in this field is not surprising. Therefore, we can say that in the coming year, the data scientist has become an attractive professional option.
These days, India has the highest need for data scientists behind the United States. All kinds of businesses, both domestic and international, are ready to hire their services. Because of the rise of social networking platforms, these experts are now more well-known. According to the most recent International Data Corporation report, by 2027, there may be a roughly 50% rise in the need for workers with big data expertise.
In fact, data gathered through IoT, gadgets, sensors, biometric monitors, computers, etc. has grown to be quite beneficial for businesses worldwide these days. While research institutions and IT businesses may benefit greatly from this data, these businesses can strengthen their sales approach by generating forecasts.
Earn yourself a promising career in data science by enrolling in the Data Science Classes in Pune offered by 360DigiTMG.
Right now the use of such data is not very much, as there are not many trend people in this area as per the need of the market. Let me tell you that even though there is a shortage of jobs in all sectors in the country, the demand for data science professionals has increased by 400%. Not only this, but there are also similar signs from the Talent Supply Index. In terms of earnings, this career option is also left behind by CA and Engineers.
Learn the core concepts of Data Science Course video on YouTube:
Importance of Data Scientist
Simply said, data scientists mostly play with data. They assist businesses in expanding their operations by using their extensive data knowledge. During this period, he uses mathematics, statistics, and programming to demonstrate his data management abilities.
While employed by a corporation, a data scientist is required to fully comprehend every part of the business and assist in assisting the organisation in understanding things through the essential data. As a result, he offers the organisation the chance to comprehend things through data under his job profile. He portrays a data scientist in several jobs inside the business.
Since the IT revolution, there has been a significant rise in the need for data in the corporate sector. The assistance of data scientists is used in the social media era to increase client penetration. Because of its success, the demand graph is stronger.
Looking forward to becoming a Data Scientist? Check out the Data Science Course and get certified today.
Way to Become a Data Scientist
To make it a great choice of career, it is important that you become an expert in maths. Math is needed when you move towards understanding the data with data. A data scientist also has to keep information about technology and machines. Therefore, develop a deep understanding of Maths as well as Computer Science, Electrical Engineering, Applied Science, Mechanical Engineering.
Deep Understanding of Strategy
A data scientist has to be extremely knowledgeable about both data and business. He must offer information based on this. Consequently, as a result of this, those with MBAs have begun to acquire relevance.
Top Courses in Data Science Field
To pursue a career for data science in India, you can get a master's degree in the field of data science by obtaining a Bachelor's degree in Computer Science, Maths, Physics, IT, or any other like-minded area from a recognized college/university. Many institutes give admission to these courses through entrance exams. For your convenience, the details of various courses related to the field of data science are being offered in this blog:
Pick Your Course
Engage in the course you are taking. Take the course, the assigned readings, and all class discussions. For instance, you can follow Andrew Ng machine learning if you wish to work as a machine-learning engineer. You must now attentively adhere to all of the course content offered. This also refers to the course assignment, which is just as crucial as watching videos. You will have a greater understanding of the landscape only if you take the entire course.
Selecting the Right Tool
There are over a dozen tools available for data science but which is good for you. My suggestion would be to understand the industry or business you choose. However, this is early days for you to decide which tool you are going to opt for. Because different industries have different purposes. Secondly, you will also need to know what are the benefits and special features of each tool. To my knowledge Tableau, MATLAB, BigML, SAS are some of the popular tools. You can enquire here to have a clear understanding of the tool you are going to choose.
Get Hands-On (The Practical Way of Learning)
Make sure you master all the practical components of your course when you enrol in data science training. Simply said, the theory is insufficient to gain a deeper understanding of your topic. You should concentrate on the real-world applications of what you learn throughout training sessions and classes. This will not only clarify the idea but also offer you a better understanding of how it actually operates. Clearing all of your concepts is the first stage before beginning the practical session. There is no shortage of experienced coaches that can instruct you in effective practise sessions. To obtain a better understanding, you may always get in touch with training facilities.
Also, check this Data Science Institute in Bangalore to start a career in Data Science.
Avoid These Mistakes During a Training Session
We hope everyone of you has a successful career in data science. Having said that, methodical learning is necessary to help pupils conserve time. During training, making errors or being negligent might result in a significant loss.
Keep yourself motivated at all the time
No fast pace of learning. Start slowly
Spend your time evenly for the project and practical
Do not grab everything at a time. Learn in piecemeal
No hardcore coding. Do not try coding at the beginning.
Google India
Microsoft
Abode
IBM
HP
DHL
Visa
Coca-Cola
Logitech
Facebook
Amazon
Spotify
Linkedin
Johnson and Johnson
PepsiCo
Twitter
Reddit
Slack
Motorola solutions
Uber
Dell
Oracle
Job Profile and Salary
Their compensation package is also thought to have a significant role in the rise in demand for data scientists. You may make up to 80 lakhs per year here. As an Advanced Analytics and Optimisation Consultant, Data Analyst, Data Manager, or Data Scientist, you can have the chance to showcase your abilities in a variety of businesses. You might contact a reputable Data science training centre for its study.
The Bottom Line
These are the benefits and importance of data science which attracts every ambitious person to become a data scientist and use his skill. The future of the data science field is bright and growing day by day.
Data Science Placement Success Story
Data Science Training Institutes in Other Locations
Agra
,
Ahmedabad
,
Amritsar
,
Anand
,
Anantapur
,
Bangalore
,
Bhopal
,
Bhubaneswar
,
Chengalpattu
,
Chennai
,
Cochin
,
Dehradun
,
Malaysia
,
Dombivli
,
Durgapur
,
Ernakulam
,
Erode
,
Gandhinagar
,
Ghaziabad
,
Gorakhpur
,
Gwalior
,
Hebbal
,
Hyderabad
,
Jabalpur
,
Jalandhar
,
Jammu
,
Jamshedpur
,
Jodhpur
,
Khammam
,
Kolhapur
,
Kothrud
,
Ludhiana
,
Madurai
,
Meerut
,
Mohali
,
Moradabad
,
Noida
,
Pimpri
,
Pondicherry
,
Pune
,
Rajkot
,
Ranchi
,
Rohtak
,
Roorkee
,
Rourkela
,
Shimla
,
Shimoga
,
Siliguri
,
Srinagar
,
Thane
,
Thiruvananthapuram
,
Tiruchchirappalli
,
Trichur
,
Udaipur
,
Yelahanka
,
Andhra Pradesh
,
Anna Nagar
,
Bhilai
,
Borivali
,
Calicut
,
Chandigarh
,
Chromepet
,
Coimbatore
,
Dilsukhnagar
,
ECIL
,
Faridabad
,
Greater Warangal
,
Guduvanchery
,
Guntur
,
Gurgaon
,
Guwahati
,
Hoodi
,
Indore
,
Jaipur
,
Kalaburagi
,
Kanpur
,
Kharadi
,
Kochi
,
Kolkata
,
Kompally
,
Lucknow
,
Mangalore
,
Mumbai
,
Mysore
,
Nagpur
,
Nashik
,
Navi Mumbai
,
Patna
,
Porur
,
Raipur
,
Salem
,
Surat
,
Thoraipakkam
,
Trichy
,
Uppal
,
Vadodara
,
Varanasi
,
Vijayawada
,
Vizag
,
Tirunelveli
,
Aurangabad
Data Analyst Courses in Other Locations
ECIL
,
Jaipur
,
Pune
,
Gurgaon
,
Salem
,
Surat
,
Agra
,
Ahmedabad
,
Amritsar
,
Anand
,
Anantapur
,
Andhra Pradesh
,
Anna Nagar
,
Aurangabad
,
Bhilai
,
Bhopal
,
Bhubaneswar
,
Borivali
,
Calicut
,
Cochin
,
Chengalpattu
,
Dehradun
,
Dombivli
,
Durgapur
,
Ernakulam
,
Erode
,
Gandhinagar
,
Ghaziabad
,
Gorakhpur
,
Guduvanchery
,
Gwalior
,
Hebbal
,
Hoodi
,
Indore
,
Jabalpur
,
Jaipur
,
Jalandhar
,
Jammu
,
Jamshedpur
,
Jodhpur
,
Kanpur
,
Khammam
,
Kochi
,
Kolhapur
,
Kolkata
,
Kothrud
,
Ludhiana
,
Madurai
,
Mangalore
,
Meerut
,
Mohali
,
Moradabad
,
Pimpri
,
Pondicherry
,
Porur
,
Rajkot
,
Ranchi
,
Rohtak
,
Roorkee
,
Rourkela
,
Shimla
,
Shimoga
,
Siliguri
,
Srinagar
,
Thoraipakkam
,
Tiruchirappalli
,
Tirunelveli
,
Trichur
,
Trichy
,
Udaipur
,
Vijayawada
,
Vizag
,
Warangal
,
Chennai
,
Coimbatore
,
Delhi
,
Dilsukhnagar
,
Hyderabad
,
Kalyan
,
Nagpur
,
Noida
,
Thane
,
Thiruvananthapuram
,
Uppal
,
Kompally
,
Bangalore
,
Chandigarh
,
Chromepet
,
Faridabad
,
Guntur
,
Guwahati
,
Kharadi
,
Lucknow
,
Mumbai
,
Mysore
,
Nashik
,
Navi Mumbai
,
Patna
,
Pune
,
Raipur
,
Vadodara
,
Varanasi
,
Yelahanka
Navigate to Address
360DigiTMG - Data Analytics, Data Science Course Training Hyderabad
2-56/2/19, 3rd floor, Vijaya Towers, near Meridian School, Ayyappa Society Rd, Madhapur, Hyderabad, Telangana 500081
099899 94319