Is IBM Data Science Course Free?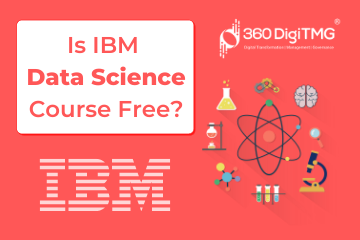 Every organisation is beginning to realise how important data scientists are. According to a recent projection from IBM, the need for data scientists would increase by 28% over the next two years. To analyse data and extract the necessary data from a big volume of data, data scientists are required. Because of this, data science is a very hot subject among students and middle-level professionals who want to make a good living. A variety of data science courses are accessible online for this purpose. You may enrol in online courses to enter this highly lucrative sector if you are driven and interested in it. Employers now seek for candidates who are specialists in data science-related fields, giving skills more weight than experience. You may learn about the many courses IBM offers in this page. Some courses are entirely free, while others need payment for certification. But if you take these courses, they will have a significant influence on your future or job in data science. If you're wondering if IBM offers free data science training, this article can assist.
Also, check this Data Science Institute in Bangalore to start a career in Data Science.
What is Data Science?

This course is offered by IBM that is three weeks long, 2-3 hours of study every week. The basic purpose of offering this course is to introduce data science to beginners. It will be proved useful if you want to learn data science initially. In this course, you will learn what data science means. You can take this course without any cost.

Data Science Methodology:

This course is offered by IBM that is three weeks long, 2-3 hours of study every week. It also states the methodology that is used in the data science environment. It teaches the students how to solve a particular problem by following an appropriate solution. It involves the following:

Data analysis steps
Steps to solving problems
Steps of practicing data science
Steps to build models

Learn the core concepts of Data Science Course video on YouTube:

IBM is offering this three-week course, which requires two to three hours of study every week. Additionally, it describes the data science environment's methodology. It teaches the pupils the proper steps to take in order to tackle a certain problem.

Tools of Data Science:

You may learn more about the technologies used in data science by taking this IBM course. It will explain how to use each tool and why we require them. You will gain knowledge of the features, shortcomings, and programming languages utilised by data science tools. Every tool may be examined using a tool testing approach. You must provide a practical notebook or a final project with documentation and a Jupyter notebook before the conclusion of the semester. This task will be completed using IBM data science experience, which is taken to evaluate your development and store it for the instruction of subsequent students. This course is free to take, however much as with data science methodology, you must pay a price to obtain an IBM certificate for a specific course.

Databases and SQL for Data Science with Python:

Looking forward to becoming a Data Scientist? Check out the Data Science Course and get certified today.

This course will teach you about SQL using python programming. The database is very important as almost every organization in the world stores its data in the database. SQL is a programming language of the database used to perform a different operation on data stored in the database. This course aims to teach you the relational database aspects to help you learn SQL. In this course, you will get a lot of experience while practically solving different projects. You will learn how you use SQL and Python for accessing the database. A plus point is that you don't need to know SQL and databases before starting this course. If you can take this course from Coursera and get certification in it, then there is a benefit for you that you will also get a badge of IBM digital after successfully taking and completing this course. Certification needs to pay, but the certificate will profit you in the field.

Data Analysis with Python:

The topic of data analysis using the Python programming language is covered in this course. Here, you can discover how to forecast the future of data using several statistical techniques.

Importation of datasets
Data cleansing
Manipulating data frames
Summarization of data
Learning regression models

Designing pipelines for data:

In this course, you'll learn how to build intelligent models by utilising a variety of machine learning techniques utilising top open-source libraries like pandas, scikit-learn, and Numpy. And by doing this, you'll be able to forecast a model's future with accuracy. If you complete this Coursera course and receive a certificate, you may be eligible to receive an IBM digital badge. Because it uses real data as examples, this course has the advantage of giving you experience tackling problems from the real world.

Earn yourself a promising career in data science by enrolling in the Data Science Classes in Pune offered by 360DigiTMG.

Data Visualization using Python:

This course is five weeks long, and you can do this course by giving 4 to 5 hours to it. This course will teach you the visualization methodology as one small picture can have a long story. This course tells you how to analyze large data sets and take just a small amount needed. In this course, you will learn how to use a particular visualization tool to extract the information from the dates under discussion. This course's main concern is to take a small picture whose definition is too short and then apply different python techniques to get useful insight from it for the people. Various python libraries are used in this case to visualize data, such as Seaborn and Matplotlib. You need to pay for certification.

Machine Learning using Python:

Through the use of the Python programming language, this course covers the fundamental ideas of machine learning.

Why use machine learning, and what are its applications?
Basic concepts of machine learning like structured and unstructured learning

Want to learn more about data science? Enroll in the Best Data Science courses in Chennai to do so.

You may learn a lot of new abilities that will help you land a decent career in the many disciplines of data science by investing a few hours every week.

IBM provides all the courses covered in this article at no cost, including with the certification itself. However, every course is quite important in the area. Therefore, even if you are a beginner, you must enrol in these courses if you believe that data science is where your future lies.
Data Science Placement Success Story
Data Science Training Institutes in Other Locations
Agra
,
Ahmedabad
,
Amritsar
,
Anand
,
Anantapur
,
Bangalore
,
Bhopal
,
Bhubaneswar
,
Chengalpattu
,
Chennai
,
Cochin
,
Dehradun
,
Malaysia
,
Dombivli
,
Durgapur
,
Ernakulam
,
Erode
,
Gandhinagar
,
Ghaziabad
,
Gorakhpur
,
Gwalior
,
Hebbal
,
Hyderabad
,
Jabalpur
,
Jalandhar
,
Jammu
,
Jamshedpur
,
Jodhpur
,
Khammam
,
Kolhapur
,
Kothrud
,
Ludhiana
,
Madurai
,
Meerut
,
Mohali
,
Moradabad
,
Noida
,
Pimpri
,
Pondicherry
,
Pune
,
Rajkot
,
Ranchi
,
Rohtak
,
Roorkee
,
Rourkela
,
Shimla
,
Shimoga
,
Siliguri
,
Srinagar
,
Thane
,
Thiruvananthapuram
,
Tiruchchirappalli
,
Trichur
,
Udaipur
,
Yelahanka
,
Andhra Pradesh
,
Anna Nagar
,
Bhilai
,
Borivali
,
Calicut
,
Chandigarh
,
Chromepet
,
Coimbatore
,
Dilsukhnagar
,
ECIL
,
Faridabad
,
Greater Warangal
,
Guduvanchery
,
Guntur
,
Gurgaon
,
Guwahati
,
Hoodi
,
Indore
,
Jaipur
,
Kalaburagi
,
Kanpur
,
Kharadi
,
Kochi
,
Kolkata
,
Kompally
,
Lucknow
,
Mangalore
,
Mumbai
,
Mysore
,
Nagpur
,
Nashik
,
Navi Mumbai
,
Patna
,
Porur
,
Raipur
,
Salem
,
Surat
,
Thoraipakkam
,
Trichy
,
Uppal
,
Vadodara
,
Varanasi
,
Vijayawada
,
Vizag
,
Tirunelveli
,
Aurangabad
Data Analyst Courses in Other Locations
ECIL
,
Jaipur
,
Pune
,
Gurgaon
,
Salem
,
Surat
,
Agra
,
Ahmedabad
,
Amritsar
,
Anand
,
Anantapur
,
Andhra Pradesh
,
Anna Nagar
,
Aurangabad
,
Bhilai
,
Bhopal
,
Bhubaneswar
,
Borivali
,
Calicut
,
Cochin
,
Chengalpattu
,
Dehradun
,
Dombivli
,
Durgapur
,
Ernakulam
,
Erode
,
Gandhinagar
,
Ghaziabad
,
Gorakhpur
,
Guduvanchery
,
Gwalior
,
Hebbal
,
Hoodi
,
Indore
,
Jabalpur
,
Jaipur
,
Jalandhar
,
Jammu
,
Jamshedpur
,
Jodhpur
,
Kanpur
,
Khammam
,
Kochi
,
Kolhapur
,
Kolkata
,
Kothrud
,
Ludhiana
,
Madurai
,
Mangalore
,
Meerut
,
Mohali
,
Moradabad
,
Pimpri
,
Pondicherry
,
Porur
,
Rajkot
,
Ranchi
,
Rohtak
,
Roorkee
,
Rourkela
,
Shimla
,
Shimoga
,
Siliguri
,
Srinagar
,
Thoraipakkam
,
Tiruchirappalli
,
Tirunelveli
,
Trichur
,
Trichy
,
Udaipur
,
Vijayawada
,
Vizag
,
Warangal
,
Chennai
,
Coimbatore
,
Delhi
,
Dilsukhnagar
,
Hyderabad
,
Kalyan
,
Nagpur
,
Noida
,
Thane
,
Thiruvananthapuram
,
Uppal
,
Kompally
,
Bangalore
,
Chandigarh
,
Chromepet
,
Faridabad
,
Guntur
,
Guwahati
,
Kharadi
,
Lucknow
,
Mumbai
,
Mysore
,
Nashik
,
Navi Mumbai
,
Patna
,
Pune
,
Raipur
,
Vadodara
,
Varanasi
,
Yelahanka
Navigate to Address
360DigiTMG - Data Analytics, Data Science Course Training Hyderabad
2-56/2/19, 3rd floor, Vijaya Towers, near Meridian School, Ayyappa Society Rd, Madhapur, Hyderabad, Telangana 500081
099899 94319