How Much Time Will it Take to Learn Data Science?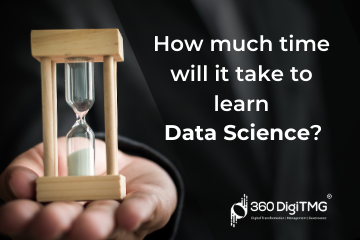 The majority of people are increasingly choosing data science as their preferred professional path. Due to the abundance of physical and online schools providing data science courses, learning the subject has become relatively simple. You have the option of taking paid courses or taking advantage of the many free courses offered on various data science websites. You might need to pay a price to become certified in a certain area, and that certification can help you land a decent data science job. Many data science abilities can be learned quickly or gradually over time. These courses are typically taken by data scientists because they don't take a lot of time. They broaden their knowledge and advance as subject-matter experts as a result. The amount of time it takes to study data science relies on your background knowledge. This post will outline how quickly you may become proficient in data science.
Want to learn more about data science? Enroll in the Best Data Science courses in Chennai to do so.
Firstly, if you are a newcomer in the field and have no knowledge of programming and statistics, you will take more time to learn the data science course.
Secondly, if you are a person who knows computer programming, having a degree in the field, and other skills needed to start a career in data, then you will be able to learn data science in less time than beginners.
Thirdly, if you are already working in the field where you are practically doing projects, then it will be easier for you to learn data science in a very short period.
Learn the core concepts of Data Science Course video on YouTube:
Are you looking to become a Data Scientist? Go through 360DigiTMG's PG Diploma in Data Science and Artificial Intelligence!.
Learn Data Science in 4 Weeks

On some websites, you may earn a certification in data science in as little as four weeks. Harvard University offers an online course called "data science ready" that teaches you the several essential ideas of data science, including usage, privacy, ethics, prediction analysis, and data collection methods. Therefore, this course will be most suited for you if your priority is to get employment in a small data science organisation because it doesn't take a long time to obtain the certification.

Learn Data Science in 3 Months

You may learn data science in about three months if you are dedicated and have an interest in the subject. Even if you are a newbie, you may study data science in three months if you believe that you are someone who can do the assignment in the allotted period.

There are several other online courses that may be taken at different times. However, it is more likely to be said that the amount of time relies on your educational background and industry understanding. Now, if you want to know that how much time you need to learn data science, then consider the following necessary points:

Become a Data Scientist with 360DigiTMG Data Science course in Hyderabad Get trained by the alumni from IIT, IIM, and ISB.

Also, check this Data Science Institute in Bangalore to start a career in Data Science.

Practical Performance

If you practise what you have studied more, you will learn data science more rapidly. You can work alone, with a team member, or with a group of people to complete several tasks that are offered online. You may track your progress in this way, which makes learning data science with assistance from practise simple.

Teamwork

Teamwork plays an important role in learning data science easily and quickly. For example, if you fail to do a project while working with a team. Some other members may have the solution to that project. So you can learn from your team that it takes less time than individually solving the problem.

Meetups

If you want to have a successful career in data science, you may go to meetings to master the subject. Meetups are gatherings where you may find various internships, projects, and opportunities to advance your data science skills.

Do Internships

If you attend meetups, then there are more chances to get a job for yourself. Doing internships is the most efficient way to check that what you have learned is learned or it goes over the head. Here you can get more chances to explore the core details of data science. And you can also get a good job permanently if you will do these internships well.

Be Patient

In our line of work, patience is a must. Take your time learning the parts that are unclear because it cannot be fully understood in one sitting. Give additional time in particular to learning programming languages like Python, SQL, and R. Take at least 7 to 8 months to master data science if you want to have a successful profession.

Choose Field of Interest and Master it

Don't try to learn the whole data science. Just choose a domain and then starts learning the deep concepts of that domain. Machine learning itself is a very deep domain. You can choose it and keep going on its path.

Active Blogging

It will be feasible to study data science more quickly if you read blogs linked to it. Use social networking sites like Instagram, Facebook, and LinkedIn to blog about various data science initiatives. Work on a variety of projects to quickly understand data science.

Interviews

Interviews are also important because you can learn many things in interviews. You get to know about different data science concepts that may be possible you have not learned earlier. So go for multiple interviews that will give you more knowledge. In this way, you can get a job that you have desired as the only purpose of everyone interested in learning data science is to make their career.

You will learn data science faster if you adhere to the aforementioned crucial measures while you are still learning. Your present expertise and degree will affect how long it will take you to study data science, therefore this article will undoubtedly be helpful. Good fortune!
Data Science Placement Success Story
Data Science Training Institutes in Other Locations
Agra
,
Ahmedabad
,
Amritsar
,
Anand
,
Anantapur
,
Bangalore
,
Bhopal
,
Bhubaneswar
,
Chengalpattu
,
Chennai
,
Cochin
,
Dehradun
,
Malaysia
,
Dombivli
,
Durgapur
,
Ernakulam
,
Erode
,
Gandhinagar
,
Ghaziabad
,
Gorakhpur
,
Gwalior
,
Hebbal
,
Hyderabad
,
Jabalpur
,
Jalandhar
,
Jammu
,
Jamshedpur
,
Jodhpur
,
Khammam
,
Kolhapur
,
Kothrud
,
Ludhiana
,
Madurai
,
Meerut
,
Mohali
,
Moradabad
,
Noida
,
Pimpri
,
Pondicherry
,
Pune
,
Rajkot
,
Ranchi
,
Rohtak
,
Roorkee
,
Rourkela
,
Shimla
,
Shimoga
,
Siliguri
,
Srinagar
,
Thane
,
Thiruvananthapuram
,
Tiruchchirappalli
,
Trichur
,
Udaipur
,
Yelahanka
,
Andhra Pradesh
,
Anna Nagar
,
Bhilai
,
Borivali
,
Calicut
,
Chandigarh
,
Chromepet
,
Coimbatore
,
Dilsukhnagar
,
ECIL
,
Faridabad
,
Greater Warangal
,
Guduvanchery
,
Guntur
,
Gurgaon
,
Guwahati
,
Hoodi
,
Indore
,
Jaipur
,
Kalaburagi
,
Kanpur
,
Kharadi
,
Kochi
,
Kolkata
,
Kompally
,
Lucknow
,
Mangalore
,
Mumbai
,
Mysore
,
Nagpur
,
Nashik
,
Navi Mumbai
,
Patna
,
Porur
,
Raipur
,
Salem
,
Surat
,
Thoraipakkam
,
Trichy
,
Uppal
,
Vadodara
,
Varanasi
,
Vijayawada
,
Vizag
,
Tirunelveli
,
Aurangabad
Data Analyst Courses in Other Locations
ECIL
,
Jaipur
,
Pune
,
Gurgaon
,
Salem
,
Surat
,
Agra
,
Ahmedabad
,
Amritsar
,
Anand
,
Anantapur
,
Andhra Pradesh
,
Anna Nagar
,
Aurangabad
,
Bhilai
,
Bhopal
,
Bhubaneswar
,
Borivali
,
Calicut
,
Cochin
,
Chengalpattu
,
Dehradun
,
Dombivli
,
Durgapur
,
Ernakulam
,
Erode
,
Gandhinagar
,
Ghaziabad
,
Gorakhpur
,
Guduvanchery
,
Gwalior
,
Hebbal
,
Hoodi
,
Indore
,
Jabalpur
,
Jaipur
,
Jalandhar
,
Jammu
,
Jamshedpur
,
Jodhpur
,
Kanpur
,
Khammam
,
Kochi
,
Kolhapur
,
Kolkata
,
Kothrud
,
Ludhiana
,
Madurai
,
Mangalore
,
Meerut
,
Mohali
,
Moradabad
,
Pimpri
,
Pondicherry
,
Porur
,
Rajkot
,
Ranchi
,
Rohtak
,
Roorkee
,
Rourkela
,
Shimla
,
Shimoga
,
Siliguri
,
Srinagar
,
Thoraipakkam
,
Tiruchirappalli
,
Tirunelveli
,
Trichur
,
Trichy
,
Udaipur
,
Vijayawada
,
Vizag
,
Warangal
,
Chennai
,
Coimbatore
,
Delhi
,
Dilsukhnagar
,
Hyderabad
,
Kalyan
,
Nagpur
,
Noida
,
Thane
,
Thiruvananthapuram
,
Uppal
,
Kompally
,
Bangalore
,
Chandigarh
,
Chromepet
,
Faridabad
,
Guntur
,
Guwahati
,
Kharadi
,
Lucknow
,
Mumbai
,
Mysore
,
Nashik
,
Navi Mumbai
,
Patna
,
Pune
,
Raipur
,
Vadodara
,
Varanasi
,
Yelahanka
Navigate to Address
360DigiTMG - Data Science Course, Data Scientist Course Training in Chennai
D.No: C1, No.3, 3rd Floor, State Highway 49A, 330, Rajiv Gandhi Salai, NJK Avenue, Thoraipakkam, Tamil Nadu 600097
1800-212-654-321