7 Useful Tips to Help You Improve at Data Science Courses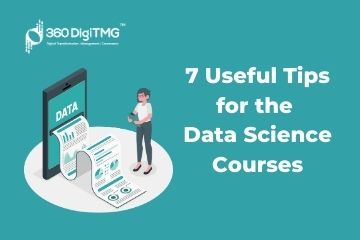 Data Science is a broad field that may seem intimidating at first, but by choosing the proper path, you may reap many rewards. Data approaches are used in data science to create models for commercial usage.
Want to learn more about data science? Enroll in the Best Data Science courses in Chennai to do so.
When a student begins taking Data Science classes, he has a lot of questions on his mind. R or Python: Which is the superior tool? Which methods should be prioritised? Do I have to learn how to code? How much statistical knowledge is required? These are just a few of the queries that this essay will address. We'll be providing you with 7 helpful hints to assist you succeed in Data Science courses.
Find a Perfect Role for You

Many possibilities are available for a job in the data science sector, including expertise in data visualisation, machine learning, data science, data engineering, and so on. You may select the ideal position by taking your hobbies, educational background, and professional experience into consideration. As an illustration, learning to become a Data Science Engineer is simpler for a software developer than learning to become an expert in machine learning.

Meet and talk with professionals from this industry and get knowledge about the duties and responsibilities of different roles.
Take guidance from experienced people. Clear your doubts. No one would say no to help a person in need.
Conclude the chosen role by comparing it with your interests and capabilities. Find what you are good at and choose a role that suits you.

Become a Data Scientist with 360DigiTMG Data Science course in Hyderabad Get trained by the alumni from IIT, IIM, and ISB.

Don't decide in a hurry. Study about the responsibilities of a role and then diligently prepare for it.

Are you looking to become a Data Scientist? Go through 360DigiTMG's PG Diploma in Data Science and Artificial Intelligence!.

Join a Course and Follow it

This entails not just familiarising yourself with your role's requirements but also with its duties. There are many study resources accessible, but you must study in a precise and organised manner. Finding study materials is not difficult, but making the effort is just as crucial. You will gain by enrolling in a course since you will have less material to prepare. You can enrol in an accreditation programme that will inform you about the advantages and disadvantages of the position. Clarifying your fundamental notions, raising your level, and developing yourself should be your key goals while enrolling in a course. Whether it is free or paid for makes little difference; what matters most is comprehending the information. Actively and diligently complete the course.

Join an accreditation program
Follow the structured courses, assignments, and studies of the course
Don't just watch videos, but do assignments too. This will help you to understand the concepts and give you a clarity of the career you are choosing.

Selecting the Right Tool/Language

In general, selecting the appropriate language or tool is challenging. For newcomers, it is the most challenging choice with lots of uncertainties. You may start your career in data science with any of the recognised tools or languages since, regardless of the language you pick, knowing the idea is crucial.

You can start with the simplest language
If you are not familiar with the coding team, use GUI based tools for now
After clarifying your concepts, you can go for coding languages
Also, check this Data Science Institute in Bangalore to start a career in Data Science.

Be a Part of a Peer Group

Being a part of a peer group can help you stay motivated and will aid in your job preparation. A new field may appear challenging when you're alone, but it gets simpler when you have a group on your side. The task feels easier to handle.

The most effective way to be in a peer group is to be with people you can physically meet and interact with.
You can also attend online platforms for effective discussions.
You can also join online courses and connect with the batch mates.

Study the Practical use of Theory

Learn the core concepts of Data Science Course video on YouTube:

In addition to enhancing your knowledge, learning practical application will offer you a stronger understanding of how to put the theory to use in the workplace. Learning practical skills is crucial since most employers favour employees with practical training over those with merely theoretical understanding. Additionally, it will aid in your comprehension of the ideas. Try to comprehend the assumptions made and how they assist in answering queries if you don't understand a mathematical approach or variable.

Finish all the assignments and exercises to clear your concepts.
Apply your learning to a few open data sets. This will enhance the level of your learning and help later.
Check your work with solutions by people who have experience in the field. They will be capable of giving you the right approach at a better speed.

Follow Correct Resources

Famous data scientists frequently publish their work online. Every day, educate yourself on data science and your line of work. Remain informed. Immerse yourself in all available sources of information. You can adhere to them to obtain reliable information. These scientists have blogs that are quite active and constantly update about their discoveries and the most recent developments in the area.

Study about Data Science every day
Stay updated about recent advancement.
Don't follow inadequate practices.
Follow influential Data Scientists.

Networking and Improving Communication Skills

Once you've decided what subject you want to work in, you may go to conferences, meetings in your area, and hackathons even if you don't know anything about them. You never know what could be useful to you or how. Attending such events offers you the opportunity to network and meet new individuals in the business. Building a strong relationship with them will be very beneficial for you as you advance in your profession.

Most people think that if they have enough technical knowledge, they can get by without having good communication skills. However, this is not actually the case. Have you ever heard of instances when the interviewer immediately thanks the applicant following their introduction? Try introducing your pals to one another to help with this part. You'll acquire confidence from this practise, and you can get better ideas from your peers. When working in a technological profession, communication skills are even more crucial. In order to effectively express yourself and support your argument, you must possess strong communication skills.

Networking keeps you up to date about what's happening in your field of interest.
It provides you with proper mentorship and guidance.
You can get tips for job hunting.
You can share your ideas and opinions with colleagues or friends to improve your communication skills.
Conclusion:
There is a huge need for Data Science professionals, and firms are investing heavily in the field right now. Today's economy is becoming more analytical, and businesses have been collecting data for a long time. Making the proper choice at the appropriate moment will advance your career and allow for significant progress. These helpful seven pointers might assist you in making wise selections and avoiding risky ones.
Data Science Placement Success Story
Data Science Training Institutes in Other Locations
Agra
,
Ahmedabad
,
Amritsar
,
Anand
,
Anantapur
,
Bangalore
,
Bhopal
,
Bhubaneswar
,
Chengalpattu
,
Chennai
,
Cochin
,
Dehradun
,
Malaysia
,
Dombivli
,
Durgapur
,
Ernakulam
,
Erode
,
Gandhinagar
,
Ghaziabad
,
Gorakhpur
,
Gwalior
,
Hebbal
,
Hyderabad
,
Jabalpur
,
Jalandhar
,
Jammu
,
Jamshedpur
,
Jodhpur
,
Khammam
,
Kolhapur
,
Kothrud
,
Ludhiana
,
Madurai
,
Meerut
,
Mohali
,
Moradabad
,
Noida
,
Pimpri
,
Pondicherry
,
Pune
,
Rajkot
,
Ranchi
,
Rohtak
,
Roorkee
,
Rourkela
,
Shimla
,
Shimoga
,
Siliguri
,
Srinagar
,
Thane
,
Thiruvananthapuram
,
Tiruchchirappalli
,
Trichur
,
Udaipur
,
Yelahanka
,
Andhra Pradesh
,
Anna Nagar
,
Bhilai
,
Borivali
,
Calicut
,
Chandigarh
,
Chromepet
,
Coimbatore
,
Dilsukhnagar
,
ECIL
,
Faridabad
,
Greater Warangal
,
Guduvanchery
,
Guntur
,
Gurgaon
,
Guwahati
,
Hoodi
,
Indore
,
Jaipur
,
Kalaburagi
,
Kanpur
,
Kharadi
,
Kochi
,
Kolkata
,
Kompally
,
Lucknow
,
Mangalore
,
Mumbai
,
Mysore
,
Nagpur
,
Nashik
,
Navi Mumbai
,
Patna
,
Porur
,
Raipur
,
Salem
,
Surat
,
Thoraipakkam
,
Trichy
,
Uppal
,
Vadodara
,
Varanasi
,
Vijayawada
,
Vizag
,
Tirunelveli
,
Aurangabad
Data Analyst Courses in Other Locations
ECIL
,
Jaipur
,
Pune
,
Gurgaon
,
Salem
,
Surat
,
Agra
,
Ahmedabad
,
Amritsar
,
Anand
,
Anantapur
,
Andhra Pradesh
,
Anna Nagar
,
Aurangabad
,
Bhilai
,
Bhopal
,
Bhubaneswar
,
Borivali
,
Calicut
,
Cochin
,
Chengalpattu
,
Dehradun
,
Dombivli
,
Durgapur
,
Ernakulam
,
Erode
,
Gandhinagar
,
Ghaziabad
,
Gorakhpur
,
Guduvanchery
,
Gwalior
,
Hebbal
,
Hoodi
,
Indore
,
Jabalpur
,
Jaipur
,
Jalandhar
,
Jammu
,
Jamshedpur
,
Jodhpur
,
Kanpur
,
Khammam
,
Kochi
,
Kolhapur
,
Kolkata
,
Kothrud
,
Ludhiana
,
Madurai
,
Mangalore
,
Meerut
,
Mohali
,
Moradabad
,
Pimpri
,
Pondicherry
,
Porur
,
Rajkot
,
Ranchi
,
Rohtak
,
Roorkee
,
Rourkela
,
Shimla
,
Shimoga
,
Siliguri
,
Srinagar
,
Thoraipakkam
,
Tiruchirappalli
,
Tirunelveli
,
Trichur
,
Trichy
,
Udaipur
,
Vijayawada
,
Vizag
,
Warangal
,
Chennai
,
Coimbatore
,
Delhi
,
Dilsukhnagar
,
Hyderabad
,
Kalyan
,
Nagpur
,
Noida
,
Thane
,
Thiruvananthapuram
,
Uppal
,
Kompally
,
Bangalore
,
Chandigarh
,
Chromepet
,
Faridabad
,
Guntur
,
Guwahati
,
Kharadi
,
Lucknow
,
Mumbai
,
Mysore
,
Nashik
,
Navi Mumbai
,
Patna
,
Pune
,
Raipur
,
Vadodara
,
Varanasi
,
Yelahanka
Navigate to Address
360DigiTMG - Data Science Course, Data Scientist Course Training in Chennai
D.No: C1, No.3, 3rd Floor, State Highway 49A, 330, Rajiv Gandhi Salai, NJK Avenue, Thoraipakkam, Tamil Nadu 600097
1800-212-654-321