Malaysia Becomes a Hub of Data Science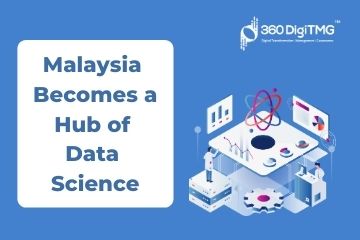 The field of data science is flourishing in Malaysia, as is widely known. Data has helped us create a civilization that is data-driven and relies on the raw data for the majority of its judgements as a result of the rising level of automation. Following investigation, this data are also utilised for making crucial and important company decisions. One of the top nations for the growth and study of data science is now Malaysia. It also boasts a large number of top colleges offering certification programmes, which draw both domestic and international students interested in studying data science. Additionally, it is receiving a lot of attention as a prospective career. The pupils have been inspired to learn more about it and its potential applications by this awareness. Additionally, a large number of Data Analytics businesses have emerged in Malaysia in recent years, increasing the employment of graduates from these programmes.
Also, check this Data Science Institute in Bangalore to start a career in Data Science.
Data Science Courses and Universities in Malaysia

There are several prestigious universities and institutions where it is desirable to pursue a degree. The curriculum is set out such that students get the most out of it. APU (Asia Pacific University of Technology and Innovation), Multimedia University, Heriot-Watt University, IIUM (International Islamic University), University of Malaya, Universiti Kebangsaan Malaysia (National University of Malaysia), Universiti Sains Malaysia, and many others are among the world's most prestigious universities. M. Sc. in Data Science and Analytics, M. Sc. in Data Science, MBIA (Master in Business Intelligence and Analytics), UG statistical Data Science, B. Sc. in Computer science with a specialisation in Data Science, and B. Sc. (Hons) with a specialisation in Data Analytics in the Computer science branch are the courses in data science that are offered.

Looking forward to becoming a Data Scientist? Check out the Data Science Course and get certified today.

These programs are structured to develop skills, technical knowledge, and computer system organization with Data Analytics.
It helps to explore new technologies coming on the market.
Data Science makes use of Artificial Intelligence, Machine Learning, algorithms, and statistics to study raw data and find trends and patterns hidden in it. These hidden trends help to predict the future, which affects the present major business decisions.
The course structure ensures that the students become well versed with Data Science.
Programming skills like Python or R are necessary to learn Data Science. Data structures like SQL and Oracle are also needed.
For learning, you should have a strong knowledge of Mathematics, Statistics, programming, and data structures.
These Universities also help to develop soft skills in students, which include leadership, teamwork, management, and organization.

Learn the core concepts of Data Science Course video on YouTube:

Awareness and Potential of Data and Information

Due to its growing application, popularity, and development potential, data science is widely known in Malaysia. Big Data analytics are in demand right now because banks, governments, and other organisations must manage and create a lot of data, including personal, financial, educational, and other data. Every industry has a need for analysts. We may draw the conclusion that, when produced and analysed properly, raw data has a lot of promise. Digital marketing, which includes expertise like Search Engine Optimisation, may greatly benefit from data science.

Earn yourself a promising career in data science by enrolling in the Data Science Classes in Pune offered by 360DigiTMG.

Data Analysts can be of great use when they get hold of personal data, they can analyze the need of customers, find attributes like profit and loss for a business.
It can also be harmful at times if used in the wrong way. But to make a balance and by relating it to social well being, it can be very helpful to people existing in society.
It can also be advantageous in seeking intuitions of behavioral changes, addiction, depression, or suicidal tendencies.
The sharing of big data, with government administration and other agencies, can boost a lot to extract from the huge potential of data.
It also helps to improve decision making with the help of techniques like Predictive Analysis, Data Mining, and Data Analytics.

Data Science Companies, their Effect on Employment

It should be highlighted that a lot of Data Analytics businesses have been established in Malaysia recently, which has boosted the number of students employed there. This might also be a major factor in Malaysia becoming a centre for data science. Indium Software, Finatext LTD., Strateq Group, and iCrest Sdn Bhd are a few of the businesses. These businesses are the ones who recruit recent grads with a knack for technology and data science. Additionally, businesses are in need of highly qualified and effective data scientists, analysts, and engineers. These businesses use data science to offer solutions for various business issues. The usage of business intelligence (BI) is also mentioned.

Many industrial and investment firms are located in places like Kuala Lumpur, an international, financial, and economic centre, and they utilise a lot of data every day for their operations. Data scientists are required wherever there is a demand for data.

If you are a qualified professional, there are many different fields of work in data science. You must have some experience through projects or internships in order to be considered for respectable positions.

While there are many career prospects in data science, it is also a difficult field to learn. You must thus be prepared to put in a lot of effort. It is difficult since it calls for several abilities.

To succeed in data science, you must have excellent programming, statistical, and communication abilities. However, because you get so many abilities, even if you don't end up becoming a data scientist, you may still apply to numerous jobs.

Even startups and small companies produce a huge amount of data that needs the guidance of Data Scientists and Data Analysts to make proper use of it.
To find a job in the Data Science industry, you just need a fast search on the marketplace for these jobs like Data Analysts and Data Scientists.
There are many job opportunities available outside Malaysia as well.
An efficient Data Scientist needs both business and technical skills to do his work accurately. He should have logical, statistical, and problem-solving skills.
The payments are higher for experienced Data Scientists.
If you don't have the experience, you can help in local startups and an even better option is to work with real open datasets.
To apply to companies that will hire you, you need to do some research on what is the work of the job profile you are planning to choose.
Firstly, understand your job and then gain and develop skills according to the job profile.
Want to learn more about data science? Enroll in the Best Data Science courses in Chennai to do so.
Conclusion
These are a few of the elements that have contributed to Malaysia being a centre for data science. Students may study there in a creative and innovative atmosphere. The power of data and information is also understood by people in Malaysia. They are also aware of the potential applications of this information for societal benefit. Additionally, there are many Data Science businesses that provide job openings to Malaysian young once they graduate and raise the employment rate.
Data Science Placement Success Story
Data Science Training Institutes in Other Locations
Agra
,
Ahmedabad
,
Amritsar
,
Anand
,
Anantapur
,
Bangalore
,
Bhopal
,
Bhubaneswar
,
Chengalpattu
,
Chennai
,
Cochin
,
Dehradun
,
Malaysia
,
Dombivli
,
Durgapur
,
Ernakulam
,
Erode
,
Gandhinagar
,
Ghaziabad
,
Gorakhpur
,
Gwalior
,
Hebbal
,
Hyderabad
,
Jabalpur
,
Jalandhar
,
Jammu
,
Jamshedpur
,
Jodhpur
,
Khammam
,
Kolhapur
,
Kothrud
,
Ludhiana
,
Madurai
,
Meerut
,
Mohali
,
Moradabad
,
Noida
,
Pimpri
,
Pondicherry
,
Pune
,
Rajkot
,
Ranchi
,
Rohtak
,
Roorkee
,
Rourkela
,
Shimla
,
Shimoga
,
Siliguri
,
Srinagar
,
Thane
,
Thiruvananthapuram
,
Tiruchchirappalli
,
Trichur
,
Udaipur
,
Yelahanka
,
Andhra Pradesh
,
Anna Nagar
,
Bhilai
,
Borivali
,
Calicut
,
Chandigarh
,
Chromepet
,
Coimbatore
,
Dilsukhnagar
,
ECIL
,
Faridabad
,
Greater Warangal
,
Guduvanchery
,
Guntur
,
Gurgaon
,
Guwahati
,
Hoodi
,
Indore
,
Jaipur
,
Kalaburagi
,
Kanpur
,
Kharadi
,
Kochi
,
Kolkata
,
Kompally
,
Lucknow
,
Mangalore
,
Mumbai
,
Mysore
,
Nagpur
,
Nashik
,
Navi Mumbai
,
Patna
,
Porur
,
Raipur
,
Salem
,
Surat
,
Thoraipakkam
,
Trichy
,
Uppal
,
Vadodara
,
Varanasi
,
Vijayawada
,
Vizag
,
Tirunelveli
,
Aurangabad
Data Analyst Courses in Other Locations
ECIL
,
Jaipur
,
Pune
,
Gurgaon
,
Salem
,
Surat
,
Agra
,
Ahmedabad
,
Amritsar
,
Anand
,
Anantapur
,
Andhra Pradesh
,
Anna Nagar
,
Aurangabad
,
Bhilai
,
Bhopal
,
Bhubaneswar
,
Borivali
,
Calicut
,
Cochin
,
Chengalpattu
,
Dehradun
,
Dombivli
,
Durgapur
,
Ernakulam
,
Erode
,
Gandhinagar
,
Ghaziabad
,
Gorakhpur
,
Guduvanchery
,
Gwalior
,
Hebbal
,
Hoodi
,
Indore
,
Jabalpur
,
Jaipur
,
Jalandhar
,
Jammu
,
Jamshedpur
,
Jodhpur
,
Kanpur
,
Khammam
,
Kochi
,
Kolhapur
,
Kolkata
,
Kothrud
,
Ludhiana
,
Madurai
,
Mangalore
,
Meerut
,
Mohali
,
Moradabad
,
Pimpri
,
Pondicherry
,
Porur
,
Rajkot
,
Ranchi
,
Rohtak
,
Roorkee
,
Rourkela
,
Shimla
,
Shimoga
,
Siliguri
,
Srinagar
,
Thoraipakkam
,
Tiruchirappalli
,
Tirunelveli
,
Trichur
,
Trichy
,
Udaipur
,
Vijayawada
,
Vizag
,
Warangal
,
Chennai
,
Coimbatore
,
Delhi
,
Dilsukhnagar
,
Hyderabad
,
Kalyan
,
Nagpur
,
Noida
,
Thane
,
Thiruvananthapuram
,
Uppal
,
Kompally
,
Bangalore
,
Chandigarh
,
Chromepet
,
Faridabad
,
Guntur
,
Guwahati
,
Kharadi
,
Lucknow
,
Mumbai
,
Mysore
,
Nashik
,
Navi Mumbai
,
Patna
,
Pune
,
Raipur
,
Vadodara
,
Varanasi
,
Yelahanka
Navigate to Address
360DigiTMG - Data Science, Data Scientist Course Training in Bangalore
No 23, 2nd Floor, 9th Main Rd, 22nd Cross Rd, 7th Sector, HSR Layout, Bengaluru, Karnataka 560102
1800-212-654-321