What are the Tools of Data Analysis?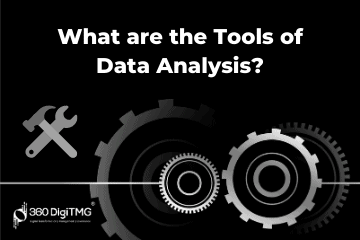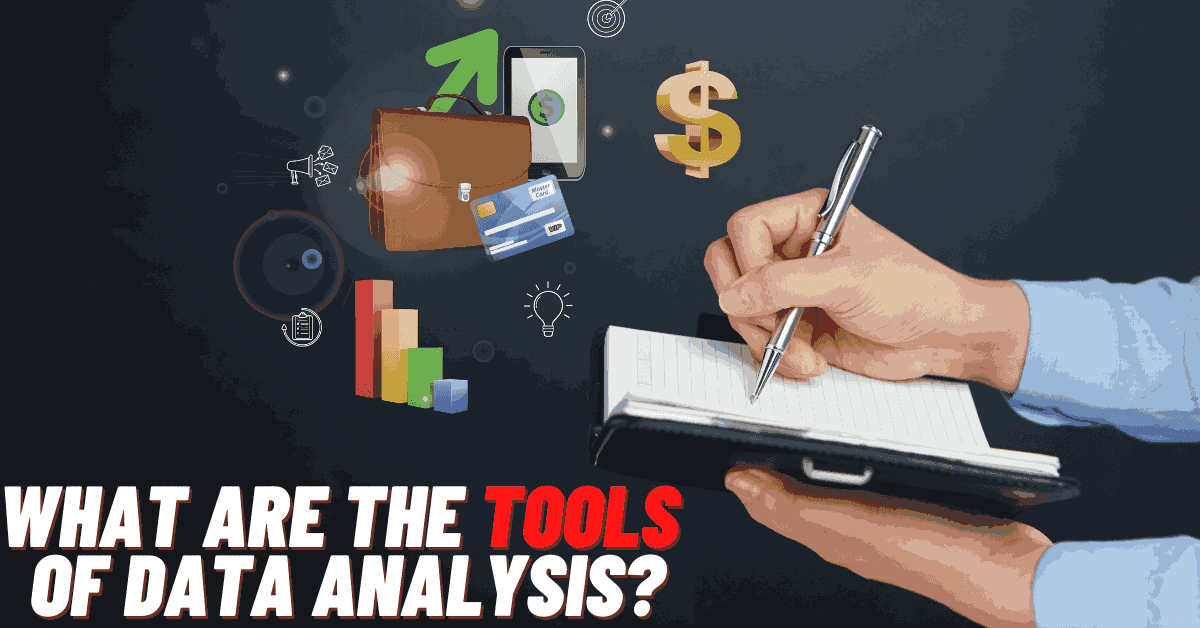 Image from pixabay
We've been hearing the word "Data" a lot for the last few years, and that's because a much larger portion of the data has been generated in the last two years than ever before (Not even in the whole of human history).
According to many studies and researches, 2.5 quintillion bytes of data are being produced every single day and this growing data has created around 8 million data science-related job opportunities in the US alone and 6 million more worldwide.
Data has now become an integral part of almost every business or company and it plays a crucial role in their future decisions making.
Learn the core concepts of Data Science Course video on Youtube:
The data volume shown above gives us an idea, but have you ever pondered how such a large amount of data is managed and processed to yield insightful information?
Data analysis is the process of converting unstructured, extremely complicated data into information that may be used to make better data-driven decisions.
Therefore, it is vital to learn about what data analysis is and what its various approaches are before going on to the primary issue.
Click here to explore 360DigiTMG.
What is Data Analysis?
Simply put, data analysis is a process that every organization uses to turn its raw and highly complex data into useful statistics, information, explanations and to make it presentable for rational decisions. Click here to learn Data Science Course
There is no doubt that data analysis is now a top-notch priority for every business and company, but to perform data analysis at the highest level possible and turn troves of data into usable information, some of the best tools are used to ensure the most accurate results.
But before we get into the details of these data analysis tools, let's quickly learn what are the main methods of data analysis?
What Are the Methods of Data Analysis?
There are many methods of data analysis but we will talk about only two main ones which are:
Qualitative Analysis

This technique, which relates to the procedures and processes, is utilised to obtain answers to queries like "why," "what," and "how." When analysing data, qualitative analysis is utilised to offer some level of comprehension, interpretation, or justification.

Such analysis is carried out through interviews and observations and includes texts, narratives, audio, and video representations as examples.

Quantitative Analysis

Quantitative analysis is slightly different from qualitative analysis which is measured in terms of numbers and is done through surveys and experiments.

The sole purpose of this analysis is to collect and test measurable and verifiable data such as market share, revenue, and wages so that we can examine the company's performance and customer behavior.
What is a Data Analysis Tool?
A data analyst or data science professional uses software or apps known as data analysis tools to process and modify data as well as to examine the connections and interactions between different data sets.
By lowering expenses and raising earnings, this technology aids businesses in making wiser, more knowledgeable business decisions.
What are the Advantages of Using Data Analysis Tools?
There are many benefits to using data analysis tools instead of traditional data processing methods that cannot handle heavy and complex data.
Personalization

Due to the high level of personalisation that consumers want in today's highly contemporary world, it is crucial to adjust a service or a product to the needs of a certain person. This is precisely where data analysis tools assist us in improving our data-based judgements.

ost reduction

It is difficult for every company to provide much better and improved products or services at an affordable price. So instead of wasting time on inappropriate sales and marketing activities, these tools help us to focus exclusively on relevant strategies to reduce costs.

Trend Expectations

The ability to foresee future customer wants is unquestionably a huge benefit of using analysis tools, and it is one of the most significant ones. And once we understand them, we can produce them before they begin to want such goods.
What are the Tools of Data Analysis?
By now you have a clear understanding of what data analysis is, what are the tools for data analysis and what are their benefits, now is the time to focus on the important part of our post.
There are many tools available in the market today to analyze data, but finding the right one is difficult for everyone.
To help you with this, we've compiled a comprehensive list of the best data analysis tools that are very popular and widely used today to analyze data more efficiently.
Let's dive in!
Talend

Talend, one of the first and most well-known solutions for data analysis on the market, uses its potent capabilities to streamline and automate big data integration.

It is an open-source Java application that allows for the creation of native code using a graphical wizard in addition to allowing for the collection and modification of data through preparation, integration, and cloud pipeline design.

Talend facilitates processing of millions of data records and is capable of taking on projects of any scale, which is a key characteristic.

Using this platform, any size of organisation may easily and swiftly handle each phase of the ETL process.

In addition, this tool offers hundreds of capabilities, including a data governance solution that is very useful in creating a data hub and can be delivered by anybody using a shared cloud platform with self-service access.

Tableau

No list can be complete without adding the Tableau to it. Due to its unparalleled simplicity, it is undoubtedly a very powerful analytics and data visualization tool.

There are many data visualization tools available on the market today, but the thing that makes Tableau different from them is that it doesn't require any kind of scripting to use.

It provides a drag and drops feature for the user's convenience so they can easily change, customize and rearrange the data visualization elements.

That's not all, many other features make Tableau a great tool for data analysis.

End-to-end analysis of every point
Very easy to understand and responsive user interface
Advanced features for data calculation
And much more.

Airtable

You cannot mix data analysis, data insights, and project management with any other product as versatile as Airtable.

More than 200,000 businesses utilise this cloud-based technology for a range of uses, including data analysis and data visualisation tasks.

One of the greatest tools on the market right now, it combines the best features of a spreadsheet with a database.

For newcomers, it offers a variety of built-in themes, such as lead management, application tracking, and bug tracking.

Power BI

Another great tool for analyzing data in Microsoft Power BI, which allows users to find patterns, trends, and insights from large/complex sets of data.

It also provides a drag-and-drop feature to easily create dashboards and reports and makes it easy for data analysts to import data from hundreds of sources.

It's a combination of many services such as AI, Excel integration, and a pre-built data connector, and anyone can get insights and share them quickly with the team.

Excel

Microsoft Excel is a well-known product that many of you are already familiar with because 750 million people use it worldwide.

Excel has been available for more than 35 years and is utilised by virtually all businesses, industries, and organisations.

Using Excel, one may filter and organise quantitative data using charts in addition to graphically representing data. For excellent data accuracy, it provides a large variety of formulae and filters.

Pivot tables, charts, and graphs that combine the gathered data are some more aspects of Excel that cannot be covered in this article due to its size.

Sequentum Enterprise

Web crawling is one of the most important parts of data analysis and requires advanced data extraction tools to perform this task accurately and correctly.

This is where Sequentum Enterprise helps us extract large-scale web data and enables us to monitor the quality of data extraction success, production failure, and legal compliance.

It provides complete control or visibility over the entire scraping operation that no other tool provides and users can also write scripts for more effective results.

KNIME

You may find business insights and create data science processes using the free, open-source analytics tool known as KNIME, which stands for Konstanz Information Miner.

With the support of scripting languages like R and Python, it enables us to readily import data from a number of sources, and it aids in the development of data science apps.

You don't need to be a specialist to analyse and model data using this tool because it is completely beginner-friendly.

RapidMiner

RapidMiner is another very popular tool that greatly assists in the process of data analysis and is used by more than 40,000 organizations to create quality predictive machine learning models from large amounts of data.

This tool is almost similar to KNIME and can easily handle tasks such as manipulation, analysis, and modeling.

It is considered an excellent tool for data processing, machine learning modeling, and deployment, and offers many features, including about 1,500 algorithms, data functions, and third-party machine learning libraries to support all your data mining projects.

MonkeyLearn

The last tool on our list of the top data analysis tools is MonkeyLearn. It is a platform that combines AI with no-code machine learning for complex data processing jobs.

The automated business workflow that this solution facilitates helps us to save several hours of manual data processing.

It is equipped with all the sophisticated tools required to analyse unstructured data in real time. Our ability to automatically analyse big stockpiles is made possible by its pre-trained, sophisticated model, which also supports automated business procedures. To find out more, click here. Bangalore Data Science Course

Another fantastic and crucial component of MonkeyLearn is the in-app data visualisation tool, which makes it simple and quick to find insights in text data.

10. R and Python

R and Python are the most sought after, free and open-source languages today that are widely used in the field of data analytics.

Both of these tools are very easy to use, flexible, and extremely accessible to code than any other programming language on the market today.

Because of these features and benefits, both tools become the first and foremost choice for any data science expert in data analysis.

R and Python are different from each other and play important roles in their respective fields.

R has more than 16,000 packages and is mostly used for data visualization, and research data analysis, and statistical computing. The following are some of the most useful R-packages that data analytics professionals use in data analysis.

Dplyr
Plotly
Ggplot2
Knitr
Tidyr
Shiny
Data.table

Python is for people who want open-source solutions and a straightforward coding process. It is mostly used for crawling, cleaning, modeling, building many new and interesting analysis algorithms, and is especially preferred for machine learning.

There are approximately 137,000 Python libraries available to facilitate the data science experience, the following are some of the most commonly used for data analysis.

Pandas
TensorFlow
Keras
NumPy
Matplotlib
SciPy
SciKit-Learn
Conclusion
In India, among other countries where software experts are employed, the discipline of data analytics is without a doubt the most in-demand.
While the correct data analysis tools assist data analysts or data science professionals in gaining insights from consumer data, they can then readily find trends and patterns for improved decision-making in the future.
These are only a few of the most well-known and often used tools, but there are actually thousands of more tools for data analysis on the market right now. Whether you want to perform basic or complex data analysis, the tools mentioned above are more than enough.
If you do not have sufficient proficiency with these tools, you may register in 360DigiTMG data science-related courses and, with the assistance of the faculty's qualified data scientists, become a specialist in each of them.
Click here to learn Data Science Course, Data Science Course in Hyderabad, Data Science Course in Bangalore
Data Science Placement Success Story
Data Science Training Institutes in Other Locations
Agra
,
Ahmedabad
,
Amritsar
,
Anand
,
Anantapur
,
Bangalore
,
Bhopal
,
Bhubaneswar
,
Chengalpattu
,
Chennai
,
Cochin
,
Dehradun
,
Malaysia
,
Dombivli
,
Durgapur
,
Ernakulam
,
Erode
,
Gandhinagar
,
Ghaziabad
,
Gorakhpur
,
Gwalior
,
Hebbal
,
Hyderabad
,
Jabalpur
,
Jalandhar
,
Jammu
,
Jamshedpur
,
Jodhpur
,
Khammam
,
Kolhapur
,
Kothrud
,
Ludhiana
,
Madurai
,
Meerut
,
Mohali
,
Moradabad
,
Noida
,
Pimpri
,
Pondicherry
,
Pune
,
Rajkot
,
Ranchi
,
Rohtak
,
Roorkee
,
Rourkela
,
Shimla
,
Shimoga
,
Siliguri
,
Srinagar
,
Thane
,
Thiruvananthapuram
,
Tiruchchirappalli
,
Trichur
,
Udaipur
,
Yelahanka
,
Andhra Pradesh
,
Anna Nagar
,
Bhilai
,
Borivali
,
Calicut
,
Chandigarh
,
Chromepet
,
Coimbatore
,
Dilsukhnagar
,
ECIL
,
Faridabad
,
Greater Warangal
,
Guduvanchery
,
Guntur
,
Gurgaon
,
Guwahati
,
Hoodi
,
Indore
,
Jaipur
,
Kalaburagi
,
Kanpur
,
Kharadi
,
Kochi
,
Kolkata
,
Kompally
,
Lucknow
,
Mangalore
,
Mumbai
,
Mysore
,
Nagpur
,
Nashik
,
Navi Mumbai
,
Patna
,
Porur
,
Raipur
,
Salem
,
Surat
,
Thoraipakkam
,
Trichy
,
Uppal
,
Vadodara
,
Varanasi
,
Vijayawada
,
Vizag
,
Tirunelveli
,
Aurangabad
Data Analyst Courses in Other Locations
ECIL, Jaipur, Pune, Gurgaon, Salem, Surat, Agra, Ahmedabad, Amritsar, Anand, Anantapur, Andhra Pradesh, Anna Nagar, Aurangabad, Bhilai, Bhopal, Bhubaneswar, Borivali, Calicut, Cochin, Chengalpattu , Dehradun, Dombivli, Durgapur, Ernakulam, Erode, Gandhinagar, Ghaziabad, Gorakhpur, Guduvanchery, Gwalior, Hebbal, Hoodi , Indore, Jabalpur, Jaipur, Jalandhar, Jammu, Jamshedpur, Jodhpur, Kanpur, Khammam, Kochi, Kolhapur, Kolkata, Kothrud, Ludhiana, Madurai, Mangalore, Meerut, Mohali, Moradabad, Pimpri, Pondicherry, Porur, Rajkot, Ranchi, Rohtak, Roorkee, Rourkela, Shimla, Shimoga, Siliguri, Srinagar, Thoraipakkam , Tiruchirappalli, Tirunelveli, Trichur, Trichy, Udaipur, Vijayawada, Vizag, Warangal, Chennai, Coimbatore, Delhi, Dilsukhnagar, Hyderabad, Kalyan, Nagpur, Noida, Thane, Thiruvananthapuram, Uppal, Kompally, Bangalore, Chandigarh, Chromepet, Faridabad, Guntur, Guwahati, Kharadi, Lucknow, Mumbai, Mysore, Nashik, Navi Mumbai, Patna, Pune, Raipur, Vadodara, Varanasi, Yelahanka
Navigate to Address
360DigiTMG - Data Science Course, Data Scientist Course Training in Chennai
D.No: C1, No.3, 3rd Floor, State Highway 49A, 330, Rajiv Gandhi Salai, NJK Avenue, Thoraipakkam, Tamil Nadu 600097
1800-212-654-321