Which Degree is Best for Data Science?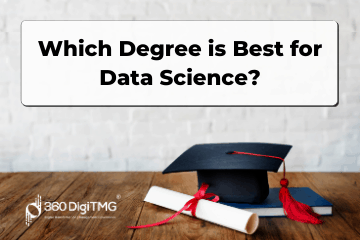 Data processing and storage are essential for the development of business organisations' business models. Data processing and storage used to be one of the key problems for commercial businesses.
Many efforts have been made over the past few years to solve these issues. Since the introduction of Hadoop and other key frameworks, the issue of scarcity has been resolved, and attention is now being paid to finding an efficient way to handle data.
One of the most popular subjects in business industries nowadays is data science. Due to its immeasurable advantages, it has evolved into a crucial requirement for charity organisations and corporate groups.
In order to expand their company and improve customer happiness, they are now attempting to apply data science principles to every aspect of the firm.
Data science will be essential to the development of future artificial intelligence applications. In actuality, technology is facilitating our lifestyle by providing ground-breaking insights.
It is expanding at a dizzying rate. The commercial world has already been revolutionised by it. The fans must comprehend what data science is and how it may help them.
By the conclusion of this essay, you should be able to grasp what data science is, why it matters, the abilities it requires, and what degree is best to pursue to become a data scientist.
Also, check this Data Science Institute in Bangalore to start a career in Data Science.
What is Data Science?
Data science is a field of study that deals with massive volumes of data using various tools, well-designed algorithms, and machine learning principles to extract meaningful information and discover hidden patterns. This extracted information is used for making some important business decisions later.
Data science also focuses on exploring and testingnew methods to use and analyze data. It is somewhat a confusing and complex field as it includes a plethora of expertise areas and disciplines to produce refined results.
The most prominent stages of the data science life cycle are capture, maintain, process, analyze, and communicate.
Looking forward to becoming a Data Scientist? Check out the Data Science Course and get certified today.
Term data scientists were coined in 2008 when the potential of skilled data professionals for collecting, storing, and analyzing tons of data was realized.
Since then, data scientists have become an integral need of every business association and nonprofit organization.
What do Data Scientists Do?
An effective data scientist must be skilled in advanced computing, visualizations, mathematics, and statistics as these are the skills that can help him in probing something new from the raw data.
Because of these learned skills and what a data scientist offers to a company, he is being considered very valuable.
Because of these learned skills and what a data scientist offers to a company, he is being considered very valuable.
Advanced computers, visualisation, mathematics, and statistics are necessary for a data scientist to be productive since they enable him to glean fresh insights from the raw data.
A data scientist is regarded as being particularly important because of his acquired talents and the benefits he provides to an organisation.
Earn yourself a promising career in data science by enrolling in the Data Science Classes in Pune offered by 360DigiTMG.
Significance of Data Science

The scope of the data science field can be realized from the fact that it has been termed as the hottest job of this century by Howard. The need for such data specialists is continuously increasing that could effectively store and analyze tons of data for probing something useful for the business corporations.

From government institutions to nonprofit associations to business associations there is a massive amount of raw information that needs to be captured, stored, processed, analyzed, and communicate understandably.

That's why they need for skilled and highly professional data scientists is not going to slow down in the coming days and even companies are not hesitating to pay the highest salary to them.

There are a plethora of reasons why pursuing data science as a career does matter nowadays. It helps in finding the actual cause of the problem by asking and looking for the answers to important questions.

A data scientist performs an exploratory study on the data using the latest techniques and Algorithms.

As of today, the focus on the internet is significantly increasing the need for data scientists. By looking at the current market situation, it can be easily said that a skilled data scientist would not be the one looking for employment chances as there are tons of opportunities waiting for him.
Why Getting an Educational Degree Is Important?
Although there is a huge demand for data scientists in today's world, it is important to realise that not everyone is a good fit for this profession.
Data collection, storage, analysis, and use methods and techniques have developed to the point that the average individual cannot comprehend them. This job choice should only be chosen by serious aficionados.
Having a solid educational foundation would be quite beneficial for obtaining any of the data science professions. Since the majority of data scientists have advanced degrees, it is advised that candidates at least get a Bachelor's degree in IT, mathematics, physics, artificial intelligence, or a closely related field.
Want to learn more about data science? Enroll in the Best Data Science courses in Chennai to do so.
Getting a degree in one of the aforementioned fields would offer you the abilities necessary for drawing insightful conclusions from unstructured data. It should be known that it would be difficult for someone to find employment in this profession without earning a higher education degree.
Organisations in the business world respect those who are either skilled or have a strong background in the necessary fields. Therefore, earning a degree in an analytical field is strongly advised.
Learn the core concepts of Data Science Course video on YouTube: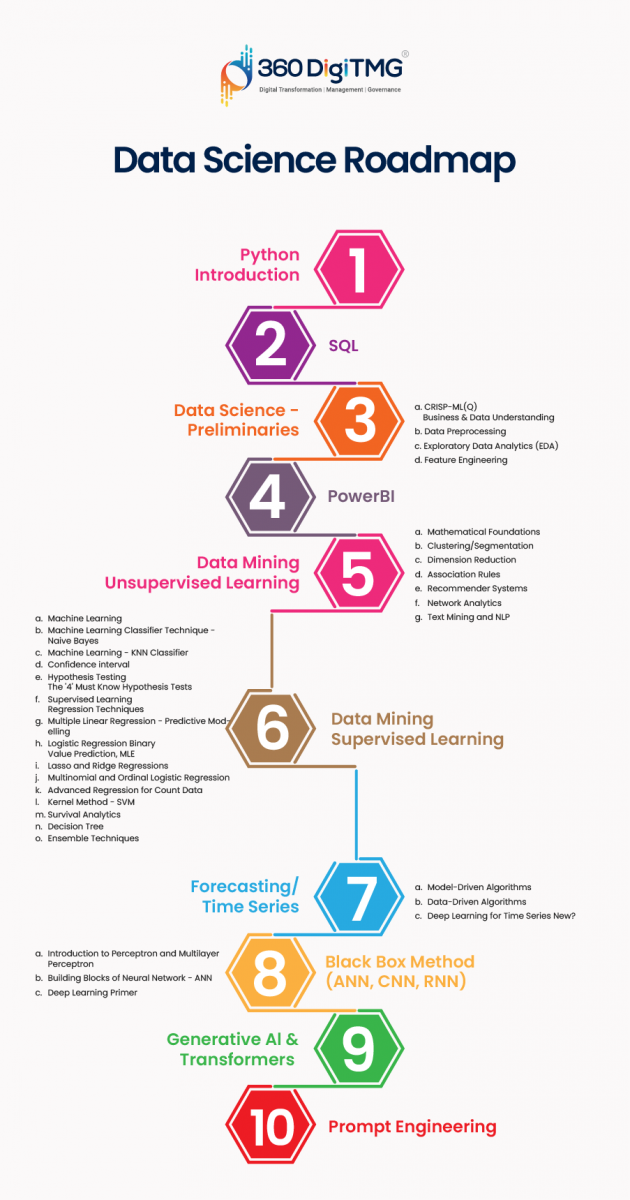 Prerequisites of Data Scientist Education

We have seen some online courses which mention that for becoming a data scientist, one needs to possess expert skills in several fields like database query languages, programming, machine learning, data civilization, etc. However, we would say that this is not true.

Getting skills is necessary but there are so many of them. Trying to learn so many different skills can discourage an individual.

That's why we would not suggest enrolling in several skills for becoming a data scientist. It must be carefully understood which skills a person should learn for becoming a data scientist and what he can learn over time.

According to our point of view, these are the prerequisites one should fulfill for starting his data scientist training.

Getting at least a Bachler's degree in any STEM degree. (as we have already mentioned that having a solid background in the analytical disciplines helps a lot)
Knowing the ABC of programming and SQL.
Getting familiarity with the basic concepts of Math and Statistics.
Having passion and strong determination.
Undertaking online education in the different special skills such as machine learning is also strongly recommended (it would be extremely beneficial later).
Gaining experience in the desired field by doing internships while studying.

Degrees in data science are offered by many such educational institutions, which is a great option. Pursuing this degree can help students learn crucial skills for handling and analysing large amounts of complicated data.

Several significant subdisciplines, including data analyst, data engineering, business intelligence, database management, data mining, data visualisation, etc., are available if this educational degree is deemed to be too broad.

However, we believe that earning a degree in data science is not all that exciting. The explanation behind this is that data science is a relatively young area of study.

The majority of universities do not provide it. Going for the other associated educational degrees is strongly advised due to the restricted possibilities accessible. These are the top academic degrees, in our opinion, that may prepare someone for a career in data science.

Physics

Physics is one of the best options one can choose for getting into data science. Currently, it is one of the most versatile educational programs that is offering a lot of opportunities for its learners.

It is known as the mother of all big data problems, so conducting experiments and extracting useful insights from it, this degree encourages students to improve their analytical skills.

Gaining a Master's or Ph.D. degree in physics would provide one solid foundation in analytical skills, programming skills, problem-solving, and mathematical skills which we would say are more than sufficient.

A physics degree makes learning these mentioned skills too much easier for its hard-working students. Because of the diversity offered by this educational degree, currently physicists are working in several different areas such as research and development, data analyst, military, academia, law, banking, finance, etc.

However, physics degree holders are strongly encouraged to learn at least the basics of programming and SQL. Combining the knowledge and analytical skills learned from physics along with the right tools can enable an individual to solve real-world problems by writing the algorithmsand usingthe data science techniques.

Mathematics/Statistics

Mathematics is a tremendously diverse discipline, similar to physics. Some people might find it strange that early data scientists were classified as statisticians.

A strong education in mathematics, particularly in the areas of calculus, linear algebra, and statistics, opens up career opportunities in fields like engineering, the health care industry, finance, etc.

We believe that a solid foundation in mathematics and statistics, together with a bachelor's or master's degree, is more than sufficient to give the most crucial skill set for data science and to aid in the creation of algorithms.

Since they are aware of their great analytical abilities, the majority of companies presently encourage holders of degrees in statistics and mathematics to apply for positions in data science.

An individual can examine and assess all raw data to derive usable information from it by having a solid understanding of statistics.

We would argue that in order to truly grasp data science, one must first acquire the analytical skills provided by statistics. It is suggested to develop solid statistical inferential and descriptive ideas.

Calculus and linear algebra should be studied carefully since they are essential components of mathematics.

Students in this subject, like those in physics, are urged to attend some programming lessons as gaining analytical abilities alone is insufficient.

Computer Science

Programming skills that are being taught by computer science and other related educational degrees are considered very important in data science.

Many data scientists have at least a bachelor's degree in CS which provides a very good foundation in problem-solving, coding, and programming skills.

Because of this degree, one is also able to participate in several machine learning and web development projects.

An individual can also easily understand much-needed high-level programming languages such as Python, R, and Scala.

According to our point of view, going for computer science is the safest option as it provides a significant amount of freedom and is highly sought after. It provides plenty of opportunities for earning.

Computer science is also strongly encouraged to improve their mathematics and statistical skills. A good combination of programming skills and analytical skills can make data science much easier for you.

Engineering

Electrical engineering, mechanical engineering, and industrial engineering are a few well-known engineering degrees because they provide the critical analytical abilities that are essential for data science.

Engineering students with analytical skills can pursue careers in data science since employers always favour engineers for data science positions. They should master the fundamentals of probability, coding, and programming, nevertheless.

Economics

We believe that a degree in economics or any other related area can serve as a pathway for individuals who are pursuing data science. This degree is mainly suitable for those individuals who are thinking to become data analysts.

It lacks mathematical rigor as compared to that of physics and mathematics. However, it can teach one enough business skills that are more than sufficient to solve the real-life problems and challenges offered in data science.

Economics students are advised to take some extra classes in mathematics, physics, and programming.
Conclusion
Data science is now flourishing, and it won't slow down in the near future either. Anyone who is passionate and motivated enough may excel as a data scientist and make a sizable income.
But picking the correct educational path can help him advance and pick up knowledge more quickly.
He will be able to learn the necessary programming and analytical abilities from a quality school. Following the appropriate educational path is therefore highly advised.
We have outlined the most important components of each reputable educational degree that can assist you in pursuing a career in data science in this post. We hope that this article has provided you with the information you were looking for.
Data Science Placement Success Story
Data Science Training Institutes in Other Locations
Agra
,
Ahmedabad
,
Amritsar
,
Anand
,
Anantapur
,
Bangalore
,
Bhopal
,
Bhubaneswar
,
Chengalpattu
,
Chennai
,
Cochin
,
Dehradun
,
Malaysia
,
Dombivli
,
Durgapur
,
Ernakulam
,
Erode
,
Gandhinagar
,
Ghaziabad
,
Gorakhpur
,
Gwalior
,
Hebbal
,
Hyderabad
,
Jabalpur
,
Jalandhar
,
Jammu
,
Jamshedpur
,
Jodhpur
,
Khammam
,
Kolhapur
,
Kothrud
,
Ludhiana
,
Madurai
,
Meerut
,
Mohali
,
Moradabad
,
Noida
,
Pimpri
,
Pondicherry
,
Pune
,
Rajkot
,
Ranchi
,
Rohtak
,
Roorkee
,
Rourkela
,
Shimla
,
Shimoga
,
Siliguri
,
Srinagar
,
Thane
,
Thiruvananthapuram
,
Tiruchchirappalli
,
Trichur
,
Udaipur
,
Yelahanka
,
Andhra Pradesh
,
Anna Nagar
,
Bhilai
,
Borivali
,
Calicut
,
Chandigarh
,
Chromepet
,
Coimbatore
,
Dilsukhnagar
,
ECIL
,
Faridabad
,
Greater Warangal
,
Guduvanchery
,
Guntur
,
Gurgaon
,
Guwahati
,
Hoodi
,
Indore
,
Jaipur
,
Kalaburagi
,
Kanpur
,
Kharadi
,
Kochi
,
Kolkata
,
Kompally
,
Lucknow
,
Mangalore
,
Mumbai
,
Mysore
,
Nagpur
,
Nashik
,
Navi Mumbai
,
Patna
,
Porur
,
Raipur
,
Salem
,
Surat
,
Thoraipakkam
,
Trichy
,
Uppal
,
Vadodara
,
Varanasi
,
Vijayawada
,
Vizag
,
Tirunelveli
,
Aurangabad
Data Analyst Courses in Other Locations
ECIL, Jaipur, Pune, Gurgaon, Salem, Surat, Agra, Ahmedabad, Amritsar, Anand, Anantapur, Andhra Pradesh, Anna Nagar, Aurangabad, Bhilai, Bhopal, Bhubaneswar, Borivali, Calicut, Cochin, Chengalpattu , Dehradun, Dombivli, Durgapur, Ernakulam, Erode, Gandhinagar, Ghaziabad, Gorakhpur, Guduvanchery, Gwalior, Hebbal, Hoodi , Indore, Jabalpur, Jaipur, Jalandhar, Jammu, Jamshedpur, Jodhpur, Kanpur, Khammam, Kochi, Kolhapur, Kolkata, Kothrud, Ludhiana, Madurai, Mangalore, Meerut, Mohali, Moradabad, Pimpri, Pondicherry, Porur, Rajkot, Ranchi, Rohtak, Roorkee, Rourkela, Shimla, Shimoga, Siliguri, Srinagar, Thoraipakkam , Tiruchirappalli, Tirunelveli, Trichur, Trichy, Udaipur, Vijayawada, Vizag, Warangal, Chennai, Coimbatore, Delhi, Dilsukhnagar, Hyderabad, Kalyan, Nagpur, Noida, Thane, Thiruvananthapuram, Uppal, Kompally, Bangalore, Chandigarh, Chromepet, Faridabad, Guntur, Guwahati, Kharadi, Lucknow, Mumbai, Mysore, Nashik, Navi Mumbai, Patna, Pune, Raipur, Vadodara, Varanasi, Yelahanka
Navigate to Address
360DigiTMG - Data Science, Data Scientist Course Training in Hyderabad
2-56/2/19, 3rd floor, Vijaya Towers, near Meridian School, Ayyappa Society Rd, Madhapur, Hyderabad, Telangana 500081
099899 94319