What is the Salary Package of Data Scientist in Malaysia?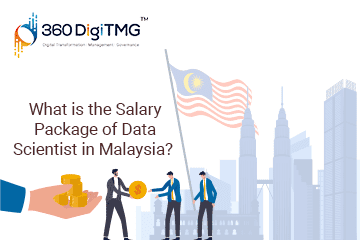 One of Southeast Asia's biggest economic and commercial hubs is Malaysia. It draws a lot of visitors each year who are drawn to see its well-known metropolis, Kuala Lumpur. A large amount of data is generated every day by the hundreds of banks, investment firms, startups, and business sectors that have been created as a result of the nation's expanding economy. Therefore, there is a big need for data scientists in this country right now. These data scientists receive substantial yearly wage packages. In Malaysia, a Data Scientist can expect to earn an annual income of RM 61,269.
Salary Package for Different Posts of Data Scientist in Malaysia

There are a variety of jobs available in Malaysia for a Data Scientist, working according to your interest. Their salary package varies according to the position you hold.

After specializing in Data Science, if you become a Data Analyst in Malaysia, you will be paid RM 4K to RM 81K.
The post of Data Executive comes with a package ranging from RM 4K to RM 54K.
Those who become a Software Engineer receive a salary of RM 8K to RM 99K.
Tricky, but easy once you understand the basics
If you become an IT Business Analyst, you will earn RM 24K to RM 127K.
By becoming a Project Engineer you can receive a salary of RM 8K to RM 74K.
The post of Mechanical Engineer offers you a salary of RM 5k to RM 109k.
If you become a Process Engineer, you will earn an income of RM 7k to RM 92k.
The job of a Civil Engineer allows you to earn RM 4K to RM 96k.
By becoming an Administrative Assistant, you will receive RM 1k to RM 40k.
The job of a Financial Analyst can earn you RM 27k to RM 89k.

Skills that Guarantee You Maximum Salary

Optimum Knowledge in PYTHON - Python is the most widely used programming language among data scientists today. It is a prerequisite for becoming a proficient data scientist. Python offers a wide variety of libraries and tools to manage big amounts of data. The language is easy to learn, has a straightforward syntax, and can be used with other programming languages. It is a versatile language that aids data scientists in handling data and solving challenging issues. Therefore, the employers want to be sure that you are fluent in Python before deciding whether or not to hire you. Your typical pay in Malaysia might be projected to be RM 58k if you possess this crucial ability.
Machine Learning - This is a cutting edge technology to help Data Scientists handle huge volumes of unorganized data through programmed computers. So, to have a bright career as a Data Scientist, one should have good knowledge about utilizing Machine Learning in extracting valuable information from data. Machine Learning will help the Data Scientist in Data Mining, Data slicing, Data visualization, and Predictive Analysis. By learning this skill, you will be eligible to earn RM 58k as a Data Scientist.
Data Analysis - Your job as a data scientist will be significantly impacted by your skill set in data analysis. A data scientist will frequently need to visualise huge data sets and interpret them using statistical analysis and data modelling. Descriptive statistics, exploratory data analysis, and confirmatory data analysis are a few examples of the various types of data analysis. A data scientist should be knowledgeable enough in these areas to develop original ideas for data modelling. They should be proficient in predictive analysis, which can increase a company's output. Data analysis often includes data integration. You may earn a pay package of RM 60,000 by picking up this vital talent.
Big Data Analytics - When data is very complex to be processed using traditional data analysis techniques, then the Data Scientists utilize the technique of Big data analytics. The database features large volume, velocity, and variety. This skill is used to deal with business informatics, genomics, spotting trends in business, and combating crimes to name a few. Having this skill can help you earn a salary package of RM 51k.
Programming in R - Similar to Python, R is a programming language that is extensively used for data analysis and statistical computation. Coding is a simple language to learn. It offers a number of beneficial packages, like readr, data.table, and sparkR, which are heavily utilised by data scientists to simplify data processing, manipulation, and visualisation. If you possess this talent, being a data scientist will pay you RM 69,634 year.
Microsoft Excel - If you aspire to become a Data Scientist in Malaysia, then you are supposed to have optimum knowledge in Microsoft Excel, as the application will help you to cluster the data using datasheets. It is an important skill you cannot ignore. It is very basic to learn about visualization of data using bars, pie charts, and histograms. Having this skill can contribute 12% to your salary.

Effect of Experience on Salary Package

Learn the core concepts of Data Science Course video on Youtube:

Your wage package in Malaysia will be heavily influenced by your experience. Your starting pay as a data scientist will be around RM 43,000. Your remuneration package as a data scientist with at least four years of experience will be RM 59,732. A pay package of RM 92,599 is what you can anticipate if you have between 5 and 9 years of experience in this industry. With experience comes a rise in pay. A pay package of RM 125,020 is available to you if you have 10 to 19 years of experience. So, if you work regularly, you may anticipate a strong and bright future as a data scientist.

Male-Female Ratio

In Malaysia, 76.9% of Data Scientists are males, and women Data Scientists are 23.1% according to a survey done by pay scale.

Salary Package for Data Scientists in Other Countries

According to a 2017 Kaggle poll, different countries have different pay packages for data scientists. The study discovered that the US, Australia, Canada, and Israel all pay their data scientists more money. In these nations, salaries are paid on an annual basis and vary from $1200k to $81k. The study also found that, at roughly $55k, wages are low in Poland, Ukraine, India, and Russia. According to the survey's findings, income increases have been noticeable in lower-paying industries during the last three years as well. New technologies like Big Data Analytics and Artificial Intelligence are gradually being embraced by these nations.

Job Opportunities for Data Scientist in Malaysia

The position of data scientist will be the most in-demand career in Malaysia in 2020, according to Business Insider, a well-known Malaysian website. Due to a shortage of qualified technologists in the area, several Data Scientist positions are available in the nation's expanding businesses. In Malaysia, there is a great need for data scientists to work in industries including finance, logistics, and real estate. It is definitely the ideal time to start this job if you believe you are motivated enough to gain the necessary abilities linked to data science. This profession necessitates ongoing education and keeping up with latest developments in data analysis tools and processes. Many profitable chances are available for you if you can master the fundamental data abilities.
Click here to learn Data Science Course, Data Science Course in Hyderabad, Data Science Course in Bangalore
Data Science Placement Success Story
Data Science Training Institutes in Other Locations
Agra
,
Ahmedabad
,
Amritsar
,
Anand
,
Anantapur
,
Bangalore
,
Bhopal
,
Bhubaneswar
,
Chengalpattu
,
Chennai
,
Cochin
,
Dehradun
,
Malaysia
,
Dombivli
,
Durgapur
,
Ernakulam
,
Erode
,
Gandhinagar
,
Ghaziabad
,
Gorakhpur
,
Gwalior
,
Hebbal
,
Hyderabad
,
Jabalpur
,
Jalandhar
,
Jammu
,
Jamshedpur
,
Jodhpur
,
Khammam
,
Kolhapur
,
Kothrud
,
Ludhiana
,
Madurai
,
Meerut
,
Mohali
,
Moradabad
,
Noida
,
Pimpri
,
Pondicherry
,
Pune
,
Rajkot
,
Ranchi
,
Rohtak
,
Roorkee
,
Rourkela
,
Shimla
,
Shimoga
,
Siliguri
,
Srinagar
,
Thane
,
Thiruvananthapuram
,
Tiruchchirappalli
,
Trichur
,
Udaipur
,
Yelahanka
,
Andhra Pradesh
,
Anna Nagar
,
Bhilai
,
Borivali
,
Calicut
,
Chandigarh
,
Chromepet
,
Coimbatore
,
Dilsukhnagar
,
ECIL
,
Faridabad
,
Greater Warangal
,
Guduvanchery
,
Guntur
,
Gurgaon
,
Guwahati
,
Hoodi
,
Indore
,
Jaipur
,
Kalaburagi
,
Kanpur
,
Kharadi
,
Kochi
,
Kolkata
,
Kompally
,
Lucknow
,
Mangalore
,
Mumbai
,
Mysore
,
Nagpur
,
Nashik
,
Navi Mumbai
,
Patna
,
Porur
,
Raipur
,
Salem
,
Surat
,
Thoraipakkam
,
Trichy
,
Uppal
,
Vadodara
,
Varanasi
,
Vijayawada
,
Vizag
,
Tirunelveli
,
Aurangabad
Data Analyst Courses in Other Locations
ECIL
,
Jaipur
,
Pune
,
Gurgaon
,
Salem
,
Surat
,
Agra
,
Ahmedabad
,
Amritsar
,
Anand
,
Anantapur
,
Andhra Pradesh
,
Anna Nagar
,
Aurangabad
,
Bhilai
,
Bhopal
,
Bhubaneswar
,
Borivali
,
Calicut
,
Cochin
,
Chengalpattu
,
Dehradun
,
Dombivli
,
Durgapur
,
Ernakulam
,
Erode
,
Gandhinagar
,
Ghaziabad
,
Gorakhpur
,
Guduvanchery
,
Gwalior
,
Hebbal
,
Hoodi
,
Indore
,
Jabalpur
,
Jaipur
,
Jalandhar
,
Jammu
,
Jamshedpur
,
Jodhpur
,
Kanpur
,
Khammam
,
Kochi
,
Kolhapur
,
Kolkata
,
Kothrud
,
Ludhiana
,
Madurai
,
Mangalore
,
Meerut
,
Mohali
,
Moradabad
,
Pimpri
,
Pondicherry
,
Porur
,
Rajkot
,
Ranchi
,
Rohtak
,
Roorkee
,
Rourkela
,
Shimla
,
Shimoga
,
Siliguri
,
Srinagar
,
Thoraipakkam
,
Tiruchirappalli
,
Tirunelveli
,
Trichur
,
Trichy
,
Udaipur
,
Vijayawada
,
Vizag
,
Warangal
,
Chennai
,
Coimbatore
,
Delhi
,
Dilsukhnagar
,
Hyderabad
,
Kalyan
,
Nagpur
,
Noida
,
Thane
,
Thiruvananthapuram
,
Uppal
,
Kompally
,
Bangalore
,
Chandigarh
,
Chromepet
,
Faridabad
,
Guntur
,
Guwahati
,
Kharadi
,
Lucknow
,
Mumbai
,
Mysore
,
Nashik
,
Navi Mumbai
,
Patna
,
Pune
,
Raipur
,
Vadodara
,
Varanasi
,
Yelahanka
Navigate to Address
360DigiTMG - Data Science, IR 4.0, AI, Machine Learning Training in Malaysia
Level 16, 1 Sentral, Jalan Stesen Sentral 5, Kuala Lumpur Sentral, 50470 Kuala Lumpur, Wilayah Persekutuan Kuala Lumpur, Malaysia
+60 19-383 1378