What is the Best Path to Become Data Scientist in Malaysia?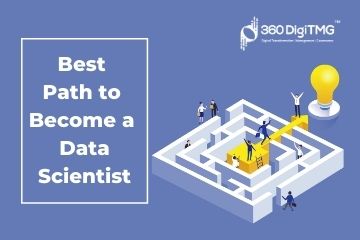 Some of the largest businesses and industries are located in Malaysia, and therefore Kuala Lumpur. Also protected are start-ups and small businesses. Regardless of their size, all of these organisations generate data. Data scientists handle this data carefully, since it is necessary. There are now an abundance of open Data Scientist positions that need to be filled by qualified Data Scientist experts.
If you have chosen to pursue a career in data science, you probably have some questions about how to get started on your path to becoming a data scientist. Everyone struggles with these issues, especially when they embark on a new endeavour. One's mind is always racing with inquiries regarding data scientist training, employment, resumes, etc. No predetermined path can guarantee that one will become a data scientist who works for everyone. Your individual choices and the best course for you to take to become a data scientist will determine that course. However, one's road to become a data scientist might involve certain parallels. You may use these methods to learn how to become a data scientist in Malaysia, where employment opportunities for data scientists are increasing everyday.
The steps are as follows:
Know if You Posses the Data Scientist Skills

Before you set forth on the journey to becoming a Data Scientist, you must make sure that you possess the relevant skills. You must ensure that you fulfill the Data Scientists' requirements. You must be able to deal with large amounts of data, possess the ability to deal with numbers, have a background in Statistics, Mathematics, Computer science and Machine Learning, have a strong sense of business acumen, etc

Along with these technical talents, you should also highlight certain soft skills. They include effective communication skills, an aptitude for both creative and analytical understanding, etc.

Check if you meet the criteria set for Data Scientist skills and requirements and
If you do not meet these criteria, then work on securing proficiency in them.

Dig Informaton about the Role of a Data Scientist

One cannot genuinely become a data scientist unless they have a clear idea of what a data scientist actually performs and what their work entails.

You need to research what a day in the life of a data scientist looks like. It will provide you with insight into what the work entails. It will offer you a head start and prior preparation.

It will assist you in adopting a realistic strategy on how to become a data scientist.

Thus, you must know about the role of a Data Scientist or in other words the job profile of a Data Scientist so that you can:

Adopt a pragmatic approach,
Prepare and pace yourself and
Get a head start.

Get a Certification Course or Data Scientist Degree or Data Scientist Training

When you learn pertinent information regarding the job of a data scientist, you may determine the talents you don't already possess and attempt to fill them. There are excellent institutions and training facilities in Malaysia that provide Data Scientist courses at reasonable prices in a variety of methods.

A Data Scientist degree (undergraduate or postgraduate)
Machine learning
Data Scientist training
A Data Scientist diploma
A Data Scientist certification course, etc.

You can choose the one which is best suited for you. You can keep the following factors in mind when you decide how to become a Data Scientist:

Recognition (International)
Data Scientist course duration
Data Scientist course delivery style
Salary after completing the Data Scientist course.

Keep these in mind and you will be able to reach on a decision that does not only suit you but also facilitates your career trajectory.

Familiarize yourself with Programming Possess

Your Data Science career path will be boosted several steps ahead if

Programming is Perhaps

The most important skill that a Data Scientist must you are well versed in Data Science programming languages as they form the basis of Data Science. The most popular Data Science programming languages that one must gain adeptness in are as follows:

Python,
Java and
C++ etc.

Data Science programming languages will aid in Machine Learning and building models that offer solutions without human interference.

Know What is Machine Learning

Along with data science programming languages, machine learning undoubtedly ranks at the top of the list of data scientist talents.

Beginners should concentrate on mastering the fundamentals. Additionally, if you are familiar with machine learning, you should concentrate on reinforcing ideas like SVM (Support Vector Machines), neural networks, linear regression, etc.

Learn the core concepts of Data Analytics Course video on Youtube:

As Machine Learning is a fundamental component of Data Science, and as such, will greatly aid you in your pursuit of your goal of becoming a Data Scientist, online programmes and certifications are a great way to learn and strengthen this discipline.

Do Not Just Learn, Show What You Learn

Providing evidence of your learning is one method to advance in your job as a data scientist. Nobody values pragmatism and proofs more than a data scientist, though.

As a result, you must complete certain tasks to demonstrate your effort and abilities in addition to merely studying. You will be able to demonstrate your skill competency and employability when looking for a career as a data scientist, providing businesses every incentive to recruit you.

After all, we love backing with solid proofs. Thus, projects are essential as they can:

Give you an edge over other competitors
Help you strengthen your portfolio
Increase your employability prospects
Give real evidence of your strengths and capabilities.

Create a CV, Portfolio

It is essential that you show up. Sometimes, the first impression endures till the very end. As a result, you must design a curriculum vita specifically for the Data Scientist position you are applying for.

A portfolio may enhance your resume and demonstrate your trustworthiness to potential employers. A portfolio would serve as a window into your abilities as a data scientist, including your drive, agility, and resourcefulness.

Thus, if you want to land up a job as a Data Scientist, then you must:

Start working on a CV and/or a resume,
Include a covering letter and
Work on a portfolio so that it can be used when you apply for a job.
You can take into account the aforementioned stages in addition to customising your professional path as a data scientist based on your choices. You may include these in your trip and they will undoubtedly help you get employment as a data scientist. Thus, with careful consideration and persistent work, the optimum path to becoming a Data Scientist may be easily identified.
Finally, more positions are springing up in non-technical businesses as well. So be careful while applying for employment.
. Remember, you can ask your employer questions with regards to:
Responsibilities of a Data Scientist in the organization,
Methodologies used for Data Science,
Tools used for Data Science,
Type of business and
Type of data generated.
Click here to learn Data Science Course, Data Science Course in Hyderabad, Data Science Course in Bangalore
Data Science Placement Success Story
Data Science Training Institutes in Other Locations
Agra
,
Ahmedabad
,
Amritsar
,
Anand
,
Anantapur
,
Bangalore
,
Bhopal
,
Bhubaneswar
,
Chengalpattu
,
Chennai
,
Cochin
,
Dehradun
,
Malaysia
,
Dombivli
,
Durgapur
,
Ernakulam
,
Erode
,
Gandhinagar
,
Ghaziabad
,
Gorakhpur
,
Gwalior
,
Hebbal
,
Hyderabad
,
Jabalpur
,
Jalandhar
,
Jammu
,
Jamshedpur
,
Jodhpur
,
Khammam
,
Kolhapur
,
Kothrud
,
Ludhiana
,
Madurai
,
Meerut
,
Mohali
,
Moradabad
,
Noida
,
Pimpri
,
Pondicherry
,
Pune
,
Rajkot
,
Ranchi
,
Rohtak
,
Roorkee
,
Rourkela
,
Shimla
,
Shimoga
,
Siliguri
,
Srinagar
,
Thane
,
Thiruvananthapuram
,
Tiruchchirappalli
,
Trichur
,
Udaipur
,
Yelahanka
,
Andhra Pradesh
,
Anna Nagar
,
Bhilai
,
Borivali
,
Calicut
,
Chandigarh
,
Chromepet
,
Coimbatore
,
Dilsukhnagar
,
ECIL
,
Faridabad
,
Greater Warangal
,
Guduvanchery
,
Guntur
,
Gurgaon
,
Guwahati
,
Hoodi
,
Indore
,
Jaipur
,
Kalaburagi
,
Kanpur
,
Kharadi
,
Kochi
,
Kolkata
,
Kompally
,
Lucknow
,
Mangalore
,
Mumbai
,
Mysore
,
Nagpur
,
Nashik
,
Navi Mumbai
,
Patna
,
Porur
,
Raipur
,
Salem
,
Surat
,
Thoraipakkam
,
Trichy
,
Uppal
,
Vadodara
,
Varanasi
,
Vijayawada
,
Visakhapatnam
,
Tirunelveli
,
Aurangabad
Data Analyst Courses in Other Locations
ECIL
,
Jaipur
,
Pune
,
Gurgaon
,
Salem
,
Surat
,
Agra
,
Ahmedabad
,
Amritsar
,
Anand
,
Anantapur
,
Andhra Pradesh
,
Anna Nagar
,
Aurangabad
,
Bhilai
,
Bhopal
,
Bhubaneswar
,
Borivali
,
Calicut
,
Cochin
,
Chengalpattu
,
Dehradun
,
Dombivli
,
Durgapur
,
Ernakulam
,
Erode
,
Gandhinagar
,
Ghaziabad
,
Gorakhpur
,
Guduvanchery
,
Gwalior
,
Hebbal
,
Hoodi
,
Indore
,
Jabalpur
,
Jaipur
,
Jalandhar
,
Jammu
,
Jamshedpur
,
Jodhpur
,
Kanpur
,
Khammam
,
Kochi
,
Kolhapur
,
Kolkata
,
Kothrud
,
Ludhiana
,
Madurai
,
Mangalore
,
Meerut
,
Mohali
,
Moradabad
,
Pimpri
,
Pondicherry
,
Porur
,
Rajkot
,
Ranchi
,
Rohtak
,
Roorkee
,
Rourkela
,
Shimla
,
Shimoga
,
Siliguri
,
Srinagar
,
Thoraipakkam
,
Tiruchirappalli
,
Tirunelveli
,
Trichur
,
Trichy
,
Udaipur
,
Vijayawada
,
Vizag
,
Warangal
,
Chennai
,
Coimbatore
,
Delhi
,
Dilsukhnagar
,
Hyderabad
,
Kalyan
,
Nagpur
,
Noida
,
Thane
,
Thiruvananthapuram
,
Uppal
,
Kompally
,
Bangalore
,
Chandigarh
,
Chromepet
,
Faridabad
,
Guntur
,
Guwahati
,
Kharadi
,
Lucknow
,
Mumbai
,
Mysore
,
Nashik
,
Navi Mumbai
,
Patna
,
Pune
,
Raipur
,
Vadodara
,
Varanasi
,
Yelahanka
Navigate to Address
360DigiTMG - Data Science, IR 4.0, AI, Machine Learning Training in Malaysia
Level 16, 1 Sentral, Jalan Stesen Sentral 5, Kuala Lumpur Sentral, 50470 Kuala Lumpur, Wilayah Persekutuan Kuala Lumpur, Malaysia
+60 19-383 1378