Best Guide to Turn Into a Successful Data Scientist in Malaysia?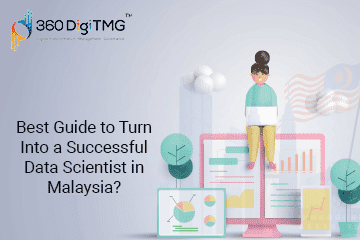 There are no restrictions on who can become a data scientist, but it is still necessary for a person to obtain a bachelor's degree in one of the data science fields and to possess the necessary knowledge and abilities. Data Scientists come from a variety of backgrounds and fields of study.
Due to the difficulty of data science, there is a shortage of specialists to satisfy the demand for data scientists, which prevents most organisations from fully utilising the data they already have to drive development.
You may easily work as a data scientist in Malaysia or anywhere else if you have the necessary programming knowledge and abilities in addition to your knowledge of math and statistics. A data scientist's job is to gather pertinent data, analyse it, and draw conclusions from it. This line of employment may assist in many different areas, such as helping firms or corporations flourish or academics come up with conclusions for their theories utilising the data from their study.
Learn the core concepts of Data Science Course video on Youtube:
What are the Criteria to Learn Data Science in Malaysia?
The topic of who should become a data scientist emerges after examining what a data scientist is. The fundamental need for becoming a data scientist is the desire to always learn new things.
Data Science is an emerging discipline, and because the amount of data in the world is growing at such a rapid rate, it is necessary to develop new tools and techniques for studying the data.
Even experienced data scientists acknowledge that they have plenty to learn and that there is always potential for growth. Other factors include your aptitude for spotting patterns in vast volumes of data and developing original solutions. Data Science is the ideal field for you if you can master Mathematics, Statistics, and some basic programming simultaneously at the same level as someone learning to become a data scientist.
Steps to Become a Data Scientist in Malaysia
To become a data scientist, one might take the following steps, which are listed below:
The best university for data science or data analytics should be chosen.
The requirement for being a data scientist is having an undergraduate degree, thus it's important to pick the school that will provide you the information you need in the subject. The Pre-University programme must be completed before you can enrol in a 3-year Data Science programme at one of the universities in Malaysia.
Since data science is a challenging field of study and you need to learn from the industry's top experts in order to gain a high level of skills and knowledge for your future career, it would be extremely beneficial for your future if you chose one of Malaysia's top universities to study any of the data science courses.
Studying at a reputable institution or university makes it easier for you to get work in reputable businesses and organisations, whether they are located in Malaysia or elsewhere in the world. Additionally, having access to top institutions will provide you the choice to select a school based on your preferences because there are so many possibilities available.
The requirements can include a specific area of study in data science, exposure to the actual economy, or even university accomplishments.
The importance of picking the correct institution to pursue data science increases as a result since it will determine the degree of employment you will eventually achieve and will establish the groundwork for your career in data science.
Completing your Data Science Degree
Most people who go for a degree in Data Science choose from the most common majors that are Computer science, Statistics, Mathematics, information technologies or even Data Science itself which only a select few colleges provide as a major.
During the UG degree, the students are made familiar with and taught various commonly used programming languages such as Python, R and Java and also they have to study Statistics and Applied maths to refresh their knowledge about the subjects.
Universities as well as training you in the relevant course help you make connections within the field of Data Science which can help you in the future, such as various big opportunities for internships and lectures and guidance sessions from the giants and the professionals in the Data Science industry. Although not a compulsory requirement, it is also important as well as necessary that you brush up your critical thinking skills, communication skills, leadership skills as well as get a good hold on your communication level in English.
Applying in the Data Science Industry for an Entry-level Position.
Many students must confront the enormous challenge of landing a suitable job as a data specialist after earning their degree.
However, due to the enormous disparity between the demand and supply of data professionals in Malaysia and on the international market, it is quite simple to enter an organisation for an entry-level role and subsequently advance to higher ranks provided you have the requisite skills and expertise.
Statistics indicate that there will be hundreds of thousands of job openings for Data Scientists and Big Data specialists worldwide in the future due to the enormous demand for these individuals.
In the near future, Malaysia alone hopes to produce 2,000 Data Scientists and around 20,000 other data professionals.
Job Description for a Data Scientist or Data Analyst in Malaysia
The actual work performed by Data Scientists follows a certain criteria so even if the job descriptions and positions vary from industry to industry there is some specific work that a Data Scientist has to perform which are given below:
The collection of a vast amount of data and making it ready for easy analysis.
Solving problems to come up with solutions for the growth of the organizations by using data analysis methodologies and tools.
The use of programming languages and programs for data analysis and collection.
Communicating the gathered insights with the company in a manner that they can comprehend by using presentation skills such as graphs etc.
Utilizing Predictive Analytics to model the future of the company to tackle future problems as well as meet any demands that may arise.
Conclusion:
By completing the above-mentioned steps, you may therefore become a data scientist and pursue your chosen career in the sector.
Due to the fast growing volume of data, there are a multitude of work opportunities for data scientists as long as organisations and enterprises sense a need.
Click here to learn Data Science Course, Data Science Course in Hyderabad, Data Science Course in Bangalore
Data Science Placement Success Story
Data Science Training Institutes in Other Locations
Agra
,
Ahmedabad
,
Amritsar
,
Anand
,
Anantapur
,
Bangalore
,
Bhopal
,
Bhubaneswar
,
Chengalpattu
,
Chennai
,
Cochin
,
Dehradun
,
Malaysia
,
Dombivli
,
Durgapur
,
Ernakulam
,
Erode
,
Gandhinagar
,
Ghaziabad
,
Gorakhpur
,
Gwalior
,
Hebbal
,
Hyderabad
,
Jabalpur
,
Jalandhar
,
Jammu
,
Jamshedpur
,
Jodhpur
,
Khammam
,
Kolhapur
,
Kothrud
,
Ludhiana
,
Madurai
,
Meerut
,
Mohali
,
Moradabad
,
Noida
,
Pimpri
,
Pondicherry
,
Pune
,
Rajkot
,
Ranchi
,
Rohtak
,
Roorkee
,
Rourkela
,
Shimla
,
Shimoga
,
Siliguri
,
Srinagar
,
Thane
,
Thiruvananthapuram
,
Tiruchchirappalli
,
Trichur
,
Udaipur
,
Yelahanka
,
Andhra Pradesh
,
Anna Nagar
,
Bhilai
,
Borivali
,
Calicut
,
Chandigarh
,
Chromepet
,
Coimbatore
,
Dilsukhnagar
,
ECIL
,
Faridabad
,
Greater Warangal
,
Guduvanchery
,
Guntur
,
Gurgaon
,
Guwahati
,
Hoodi
,
Indore
,
Jaipur
,
Kalaburagi
,
Kanpur
,
Kharadi
,
Kochi
,
Kolkata
,
Kompally
,
Lucknow
,
Mangalore
,
Mumbai
,
Mysore
,
Nagpur
,
Nashik
,
Navi Mumbai
,
Patna
,
Porur
,
Raipur
,
Salem
,
Surat
,
Thoraipakkam
,
Trichy
,
Uppal
,
Vadodara
,
Varanasi
,
Vijayawada
,
Vizag
,
Tirunelveli
,
Aurangabad
Data Analyst Courses in Other Locations
ECIL
,
Jaipur
,
Pune
,
Gurgaon
,
Salem
,
Surat
,
Agra
,
Ahmedabad
,
Amritsar
,
Anand
,
Anantapur
,
Andhra Pradesh
,
Anna Nagar
,
Aurangabad
,
Bhilai
,
Bhopal
,
Bhubaneswar
,
Borivali
,
Calicut
,
Cochin
,
Chengalpattu
,
Dehradun
,
Dombivli
,
Durgapur
,
Ernakulam
,
Erode
,
Gandhinagar
,
Ghaziabad
,
Gorakhpur
,
Guduvanchery
,
Gwalior
,
Hebbal
,
Hoodi
,
Indore
,
Jabalpur
,
Jaipur
,
Jalandhar
,
Jammu
,
Jamshedpur
,
Jodhpur
,
Kanpur
,
Khammam
,
Kochi
,
Kolhapur
,
Kolkata
,
Kothrud
,
Ludhiana
,
Madurai
,
Mangalore
,
Meerut
,
Mohali
,
Moradabad
,
Pimpri
,
Pondicherry
,
Porur
,
Rajkot
,
Ranchi
,
Rohtak
,
Roorkee
,
Rourkela
,
Shimla
,
Shimoga
,
Siliguri
,
Srinagar
,
Thoraipakkam
,
Tiruchirappalli
,
Tirunelveli
,
Trichur
,
Trichy
,
Udaipur
,
Vijayawada
,
Vizag
,
Warangal
,
Chennai
,
Coimbatore
,
Delhi
,
Dilsukhnagar
,
Hyderabad
,
Kalyan
,
Nagpur
,
Noida
,
Thane
,
Thiruvananthapuram
,
Uppal
,
Kompally
,
Bangalore
,
Chandigarh
,
Chromepet
,
Faridabad
,
Guntur
,
Guwahati
,
Kharadi
,
Lucknow
,
Mumbai
,
Mysore
,
Nashik
,
Navi Mumbai
,
Patna
,
Pune
,
Raipur
,
Vadodara
,
Varanasi
,
Yelahanka
Navigate to Address
360DigiTMG - Data Science, IR 4.0, AI, Machine Learning Training in Malaysia
Level 16, 1 Sentral, Jalan Stesen Sentral 5, Kuala Lumpur Sentral, 50470 Kuala Lumpur, Wilayah Persekutuan Kuala Lumpur, Malaysia
+60 19-383 1378