Data Science Course Institutes in Hyderabad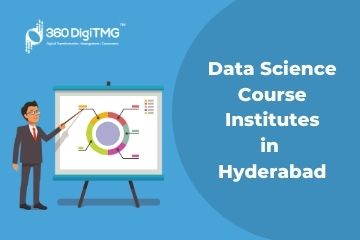 In the past few years, the market has shown a lot of interest in the knowledge stream known as "Data Science." Data Science institutes and professions have exploded in number. In Hyderabad, it is jokingly said that there is a data science training facility or analytics consulting company on every other street or lane. Although we may find the concept a little odd, Hyderabad's economy has greatly benefited from it. To get ready for occupations of the future, everyone is hurrying to master data science. There was a time when a strong and substantial employment role required hands-on knowledge with the Microsoft suite. The market's expectations, however, have significantly shifted over time. These days, it's expected that you have practical expertise using analytical tools and data capabilities to produce business intelligence.
Want to learn more about data science? Enroll in the Best Data Science courses in Chennai to do so.
Many colleges are currently developing a new curriculum that incorporates data skills into the course material and gets students ready for the job market of the future. But since 2013, professional institutions have made a significant contribution to the upskilling of human resources in the field of data science. These cutting-edge EdTech companies have left a lasting impression. The concentration of Data Science training centres, particularly in Hyderabad, has had a significant influence on the development of human capital. Hyderabad is home to a large number of institutions that provide Data Science professional training. Too many alternatives for the Data Science course damage candidates' capacity to make informed decisions, leaving them in a pickle.
De-cluttering information and selecting the top Data Science institute in Hyderabad are really challenging tasks. Aspirants are taken advantage of by promotional offers and discounts since India's data science industry has become very commoditized. Therefore, training institutions participate in numerous marketing initiatives and offer tempting incentives to draw in potential Data Science candidates. Accepting such offers reduces the value and rigour of the Data Science programme. Aspirants must carefully examine the institutes to prevent any confusion while making a selection about which Data Science institute to select that will provide the most comprehensive Data Science curriculum and prepare one as a complete 360 degrees rounded Data Scientist.
Are you looking to become a Data Scientist? Go through 360DigiTMG's PG Diploma in Data Science and Artificial Intelligence!.
A few factors that may help in decision making are listed below:
The vintage of the institute – Older the organization, more the experience it has in training and teaching people in the domain of Data Science.
Course Curriculum – Organisations in our day have upped the bar for what is expected of data scientists in terms of competencies. In the past, it was sufficient to have fundamental analytical abilities together with understanding of mathematics, statistics, commerce, and traditional machine learning. But during the past four years, demands for data scientists have increased dramatically. An ideal candidate for the position of data scientist would possess expertise in traditional deep learning, machine learning (neural network), cloud computing, data bases, implementation, and automation. The best option is to choose an institute that can live up to such a wide range of expectations.
Training Delivery – It is extremely important to attend demonstration sessions of the Data Science program to understand the coverage and quality of training delivery. It is extremely important to understand what is being taught, how is it taught, and how much depth are the concepts taught. Many aspirants in the past have reported, who have gone for big brands and lucrative discount offers, that the content and concepts are not being covered in depth. This will be a challenge in most of the places. We are a price-sensitive market, but we need to start valuing quality that comes at a rationalized cost.
Instructor Quality – Having practical, hands-on experience will matter, even while an academic background from an IIT or IIM is not a very crucial factor to understand the quality of the teacher. By providing real-world examples and insights from a variety of sectors, an accomplished teacher may make even the most dry topics and concepts engaging for students interested in data science. Therefore, it is crucial to know who the teachers are and, if necessary, arrange a meeting with them in order to have a better understanding.
Learning Management System (LMS) – It is extremely important to have a state-of-the-art LMS platform to record all the events and training sessions that a learner can refer to at his or her convenience to revise the concepts. Also, the LMS platform should be a user-friendly self-service desk that a Data Science aspirant can use to address any queries and doubts anytime during the working hours that are addressed by the Data Science training institute on time.
Continued Learning – A good Data Science training institute is always dedicated to the continued learning and success of Data Science aspirants. Hence, any institute that invests time in conducting webinars to enhance the knowledge of aspirants about new concepts and development is the one to go for.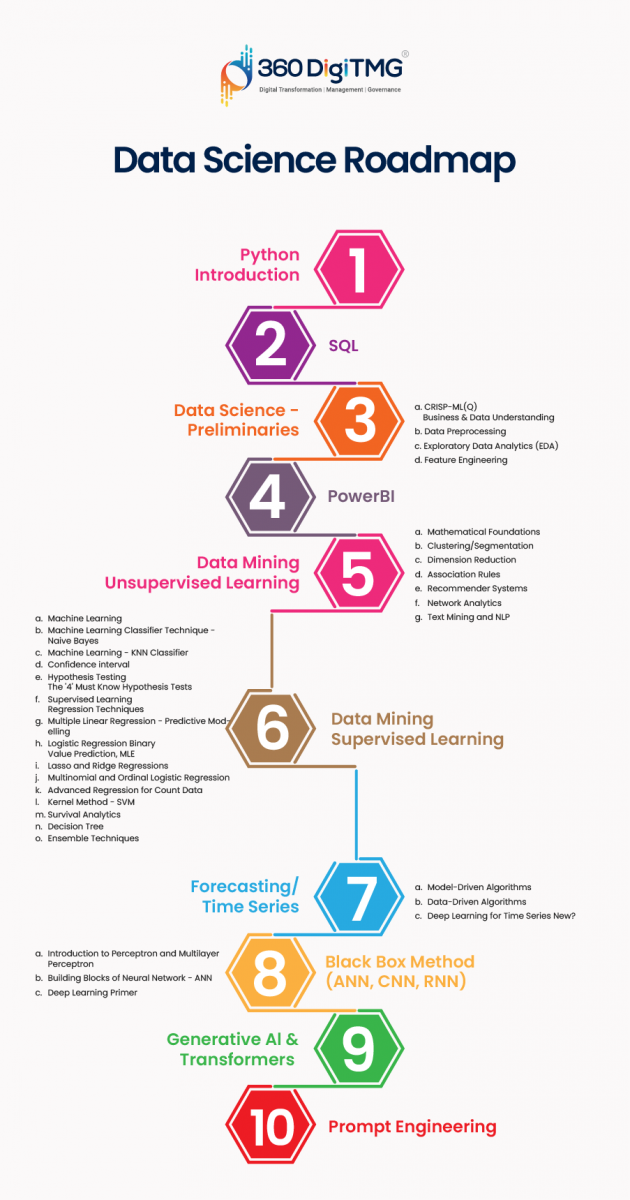 These are a few criteria on the basis of which a Data Science aspirant in India may choose the best Data Science training facility. However, Hyderabad-based institutions are the best and have produced incredibly optimistic outcomes in terms of training the future workforce. Simplilearn, Jigsaw Academy, and other major marquee names are present in this market, but 360DigiTMg stands apart. Aspirants from all across India have chosen it as the top data science training facility from which to master the subject. Based on the organic Google ratings and reviews that 360DigiTMG has accumulated over the years, a modest demonstration of the company's quality work is given below. It is one of India's leading institutions for training in data science.
Become a Data Scientist with 360DigiTMG Data Science course in Hyderabad Get trained by the alumni from IIT, IIM, and ISB.
Learn the core concepts of Data Science Course video on YouTube:
| Institute Name | Ratings | No. of Raters | Established In |
| --- | --- | --- | --- |
| 360DigiTMG | 4.8 | 1055 | 2013 |
| Imarticus Learning | 4.3 | 337 | 2012 |
| Simplilearn | 2.8 | 14 | 2010 |
| Jigsaw Academy | Jigsaw Academy | 126 | 2012 |
| Edvancer | 4.9 | 55 | 2013 |
| Analytics Path | 4.6 | 210 | 2017 |
| Social Prachar | 4.8 | 244 | 2014 |
Also, check this Data Science Institute in Bangalore to start a career in Data Science.
Data Science Placement Success Story
Data Science Training Institutes in Other Locations
Agra
,
Ahmedabad
,
Amritsar
,
Anand
,
Anantapur
,
Bangalore
,
Bhopal
,
Bhubaneswar
,
Chengalpattu
,
Chennai
,
Cochin
,
Dehradun
,
Malaysia
,
Dombivli
,
Durgapur
,
Ernakulam
,
Erode
,
Gandhinagar
,
Ghaziabad
,
Gorakhpur
,
Gwalior
,
Hebbal
,
Hyderabad
,
Jabalpur
,
Jalandhar
,
Jammu
,
Jamshedpur
,
Jodhpur
,
Khammam
,
Kolhapur
,
Kothrud
,
Ludhiana
,
Madurai
,
Meerut
,
Mohali
,
Moradabad
,
Noida
,
Pimpri
,
Pondicherry
,
Pune
,
Rajkot
,
Ranchi
,
Rohtak
,
Roorkee
,
Rourkela
,
Shimla
,
Shimoga
,
Siliguri
,
Srinagar
,
Thane
,
Thiruvananthapuram
,
Tiruchchirappalli
,
Trichur
,
Udaipur
,
Yelahanka
,
Andhra Pradesh
,
Anna Nagar
,
Bhilai
,
Borivali
,
Calicut
,
Chandigarh
,
Chromepet
,
Coimbatore
,
Dilsukhnagar
,
ECIL
,
Faridabad
,
Greater Warangal
,
Guduvanchery
,
Guntur
,
Gurgaon
,
Guwahati
,
Hoodi
,
Indore
,
Jaipur
,
Kalaburagi
,
Kanpur
,
Kharadi
,
Kochi
,
Kolkata
,
Kompally
,
Lucknow
,
Mangalore
,
Mumbai
,
Mysore
,
Nagpur
,
Nashik
,
Navi Mumbai
,
Patna
,
Porur
,
Raipur
,
Salem
,
Surat
,
Thoraipakkam
,
Trichy
,
Uppal
,
Vadodara
,
Varanasi
,
Vijayawada
,
Vizag
,
Tirunelveli
,
Aurangabad
Data Analyst Courses in Other Locations
ECIL
,
Jaipur
,
Pune
,
Gurgaon
,
Salem
,
Surat
,
Agra
,
Ahmedabad
,
Amritsar
,
Anand
,
Anantapur
,
Andhra Pradesh
,
Anna Nagar
,
Aurangabad
,
Bhilai
,
Bhopal
,
Bhubaneswar
,
Borivali
,
Calicut
,
Cochin
,
Chengalpattu
,
Dehradun
,
Dombivli
,
Durgapur
,
Ernakulam
,
Erode
,
Gandhinagar
,
Ghaziabad
,
Gorakhpur
,
Guduvanchery
,
Gwalior
,
Hebbal
,
Hoodi
,
Indore
,
Jabalpur
,
Jaipur
,
Jalandhar
,
Jammu
,
Jamshedpur
,
Jodhpur
,
Kanpur
,
Khammam
,
Kochi
,
Kolhapur
,
Kolkata
,
Kothrud
,
Ludhiana
,
Madurai
,
Mangalore
,
Meerut
,
Mohali
,
Moradabad
,
Pimpri
,
Pondicherry
,
Porur
,
Rajkot
,
Ranchi
,
Rohtak
,
Roorkee
,
Rourkela
,
Shimla
,
Shimoga
,
Siliguri
,
Srinagar
,
Thoraipakkam
,
Tiruchirappalli
,
Tirunelveli
,
Trichur
,
Trichy
,
Udaipur
,
Vijayawada
,
Vizag
,
Warangal
,
Chennai
,
Coimbatore
,
Delhi
,
Dilsukhnagar
,
Hyderabad
,
Kalyan
,
Nagpur
,
Noida
,
Thane
,
Thiruvananthapuram
,
Uppal
,
Kompally
,
Bangalore
,
Chandigarh
,
Chromepet
,
Faridabad
,
Guntur
,
Guwahati
,
Kharadi
,
Lucknow
,
Mumbai
,
Mysore
,
Nashik
,
Navi Mumbai
,
Patna
,
Pune
,
Raipur
,
Vadodara
,
Varanasi
,
Yelahanka
Navigate to Address
360DigiTMG - Data Analytics, Data Science Course Training Hyderabad
2-56/2/19, 3rd floor, Vijaya Towers, near Meridian School, Ayyappa Society Rd, Madhapur, Hyderabad, Telangana 500081
099899 94319