How to find and Choose the Best Data Science Courses in Malaysia?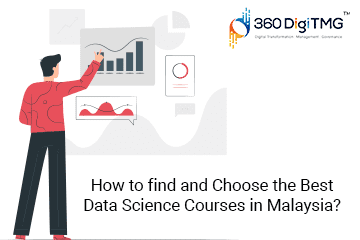 According to the Harvard Business Review, data science is one of the trendiest careers in the twenty-first century. It is due to the incredible growth spurts, which won't stop at any point in the near future. Every day, the industry creates numerous work chances and has a tendency of rising pay. This has contributed to its enormous popularity and increased awareness of it among those who previously had second thoughts about enrolling in a data science degree.
Also, check this Data Science Institute in Bangalore to start a career in Data Science.
The finest Data Science courses are being sought after by a growing number of people. This quest is particularly active in Malaysia, a nation with abundant mineral resources and biodiversity. Malaysia is destined to become a major economic force. It has a great deal of influence and has been actively promoting technical advancement as a prominent member of ASEAN. Many businesses view the nation as an excellent investment location since it is open to foreign investment. For efficiency and optimisation, all of these businesses, the healthcare industry, the transportation industry, and even the government would rely on data science specialists. In order to meet this need for Data Science specialists, one should look for the top Data Science programmes so that they may land important jobs in one of these industries. When searching for Data Science courses, there are a few things to keep in mind. If you consider these elements when making your selection, you will be able to select the top Data Science course.
Looking forward to becoming a Data Scientist? Check out the Data Science Course and get certified today.
Learning Schedule

You must be able to create a flexible study plan for the Data Science course you choose. It has to be self-paced so that you can keep up and study at your own pace and level. You shouldn't feel compelled to learn more than you can handle and, to be honest, more than you can understand. You must have a learning schedule that is adaptable to your needs, level of ability, and rate of learning.

Accommodative of different intellectual capabilities and
Flexible to be inclusive of needs and to avoid pressure.

Find Malaysian universities/colleges, online programmes, boot camps, diploma programmes, etc. that provide flexible course schedules. Decide after weighing the advantages.

In order to get the top Data Science course in Malaysia, the study schedule is a crucial consideration.

Earn yourself a promising career in data science by enrolling in the Data Science Classes in Pune offered by 360DigiTMG.

Learning Approach

The Data Science course that you choose must have a good learning approach that is inclusive of:

Practical Learning Approach

Therefore, be sure that the curriculum of the course you pick is given in an engaging and original manner. It shouldn't be a lecture, but that's not always the case. It must be participatory in the sense that there is a setting in which one may raise doubts, voice various ideas, and ask questions without fear of scorn.

Learn the core concepts of Data Science Course video on YouTube:

Additionally, the learning strategy should try to simulate real-world experience. It must be applicable, meaning there must be projects, internships, and other opportunities designed to provide students a glimpse and experience of the real business world. It should contain both theoretical information and practical advice.Thus, when you look for the best Data Science course in Malaysia, you must consider their course delivery style. For this, you can take some demo classes and/or check the reviews given online and by students of outgoing batches.

Course Structure

The course structure is likely the item on this list that is most crucial. You must confirm that the whole course content is being taught to you. Everything essential must be included, and the information must regularly be updated. It has to be up to date. The course should be well organised so that both the intellectual rigour and the degree of difficulty increase progressively. It should be simple to understand while still providing the pupils with a challenge to advance their skills.

Recently updated and revised,
Gradually progressive in terms of difficulty
Well-structured
Challenging
Inclusive of everything important and
Complete in every sense.

Thus, analyze the course structure carefully when you choose the Data Science course for yourself.

Recognized Credential

Your data science course must have legitimate credentials, or to put it another way, legitimate associations. Make sure the Data Science course offers a globally recognised certification, indicating that wherever you finish the course, your degree will be accepted globally. Your degree's worth, employability, and bankability all rise as a result.

It boosts your chances of finding work in the future by demonstrating to companies that you have received education and training in accordance with international standards.

Some of the perks that are offered are as follows:

Benefits And Perks

All of us love freebies and benefits. And we keep this expectation of perks even from the courses that we take. Thus, when you go about this search for choosing the right Data Science course, look for the perks that the course is offering. Some of the perks that are offered are as follows:

Tie-ups with a Foreign University
Practical skills development through projects
Placement support and guidance
Internships
Tie-ups with top-notch firms in Malaysia
Research opportunities
Exchange programs and
Conferences summits, etc.

Do not forget to include perks and benefits in your checklist for the best Data Science course.

Want to learn more about data science? Enroll in the Best Data Science courses in Chennai to do so.

Fees and other Eligibility Requirements

Your search for the top Data Science course will be mostly guided by the cost and eligibility conditions. You must determine whether you can afford to enrol in a certain course. If not, you'll need to consider other options.

GPA requirements
English proficiency
Proficiency in some technical skills and
VISA requirements, if you come from a foreign country, etc.

Career Options

Your Data Science course's employment prospects should be considered as a major decision element as well. It is crucial to assess the technical skills the course is equipping you with and the types of professions you can pursue in the future based on your level of expertise.

The programme you enrol in must provide you the necessary skills to enable you to change employment in the future with little difficulty.

The career options that are usually available after the completion of the course are:

Data Scientist
Data Analyst
Business Analyst
Data Engineers
Data Analyst Manager and
Business Analyst Manager, etc..

Therefore, when selecting a Data Science course for yourself, please consider the job alternatives that you will have at the end when the degree is completed.

It's not simple to pick the top Data Science course. To find the ideal and feasible fruit-bearing possibilities, extensive study is needed. When searching for the top Data Science courses, consider these elements carefully and keep them in mind. You'll undoubtedly discover the Data Science course that's ideal for you.
Data Science Placement Success Story
Data Science Training Institutes in Other Locations
Agra
,
Ahmedabad
,
Amritsar
,
Anand
,
Anantapur
,
Bangalore
,
Bhopal
,
Bhubaneswar
,
Chengalpattu
,
Chennai
,
Cochin
,
Dehradun
,
Malaysia
,
Dombivli
,
Durgapur
,
Ernakulam
,
Erode
,
Gandhinagar
,
Ghaziabad
,
Gorakhpur
,
Gwalior
,
Hebbal
,
Hyderabad
,
Jabalpur
,
Jalandhar
,
Jammu
,
Jamshedpur
,
Jodhpur
,
Khammam
,
Kolhapur
,
Kothrud
,
Ludhiana
,
Madurai
,
Meerut
,
Mohali
,
Moradabad
,
Noida
,
Pimpri
,
Pondicherry
,
Pune
,
Rajkot
,
Ranchi
,
Rohtak
,
Roorkee
,
Rourkela
,
Shimla
,
Shimoga
,
Siliguri
,
Srinagar
,
Thane
,
Thiruvananthapuram
,
Tiruchchirappalli
,
Trichur
,
Udaipur
,
Yelahanka
,
Andhra Pradesh
,
Anna Nagar
,
Bhilai
,
Borivali
,
Calicut
,
Chandigarh
,
Chromepet
,
Coimbatore
,
Dilsukhnagar
,
ECIL
,
Faridabad
,
Greater Warangal
,
Guduvanchery
,
Guntur
,
Gurgaon
,
Guwahati
,
Hoodi
,
Indore
,
Jaipur
,
Kalaburagi
,
Kanpur
,
Kharadi
,
Kochi
,
Kolkata
,
Kompally
,
Lucknow
,
Mangalore
,
Mumbai
,
Mysore
,
Nagpur
,
Nashik
,
Navi Mumbai
,
Patna
,
Porur
,
Raipur
,
Salem
,
Surat
,
Thoraipakkam
,
Trichy
,
Uppal
,
Vadodara
,
Varanasi
,
Vijayawada
,
Vizag
,
Tirunelveli
,
Aurangabad
Data Analyst Courses in Other Locations
ECIL
,
Jaipur
,
Pune
,
Gurgaon
,
Salem
,
Surat
,
Agra
,
Ahmedabad
,
Amritsar
,
Anand
,
Anantapur
,
Andhra Pradesh
,
Anna Nagar
,
Aurangabad
,
Bhilai
,
Bhopal
,
Bhubaneswar
,
Borivali
,
Calicut
,
Cochin
,
Chengalpattu
,
Dehradun
,
Dombivli
,
Durgapur
,
Ernakulam
,
Erode
,
Gandhinagar
,
Ghaziabad
,
Gorakhpur
,
Guduvanchery
,
Gwalior
,
Hebbal
,
Hoodi
,
Indore
,
Jabalpur
,
Jaipur
,
Jalandhar
,
Jammu
,
Jamshedpur
,
Jodhpur
,
Kanpur
,
Khammam
,
Kochi
,
Kolhapur
,
Kolkata
,
Kothrud
,
Ludhiana
,
Madurai
,
Mangalore
,
Meerut
,
Mohali
,
Moradabad
,
Pimpri
,
Pondicherry
,
Porur
,
Rajkot
,
Ranchi
,
Rohtak
,
Roorkee
,
Rourkela
,
Shimla
,
Shimoga
,
Siliguri
,
Srinagar
,
Thoraipakkam
,
Tiruchirappalli
,
Tirunelveli
,
Trichur
,
Trichy
,
Udaipur
,
Vijayawada
,
Vizag
,
Warangal
,
Chennai
,
Coimbatore
,
Delhi
,
Dilsukhnagar
,
Hyderabad
,
Kalyan
,
Nagpur
,
Noida
,
Thane
,
Thiruvananthapuram
,
Uppal
,
Kompally
,
Bangalore
,
Chandigarh
,
Chromepet
,
Faridabad
,
Guntur
,
Guwahati
,
Kharadi
,
Lucknow
,
Mumbai
,
Mysore
,
Nashik
,
Navi Mumbai
,
Patna
,
Pune
,
Raipur
,
Vadodara
,
Varanasi
,
Yelahanka
Navigate to Address
360DigiTMG - Data Science, IR 4.0, AI, Machine Learning Training in Malaysia
Level 16, 1 Sentral, Jalan Stesen Sentral 5, Kuala Lumpur Sentral, 50470 Kuala Lumpur, Wilayah Persekutuan Kuala Lumpur, Malaysia
+60 19-383 1378