Can A Data Scientist Appointed as A CEO?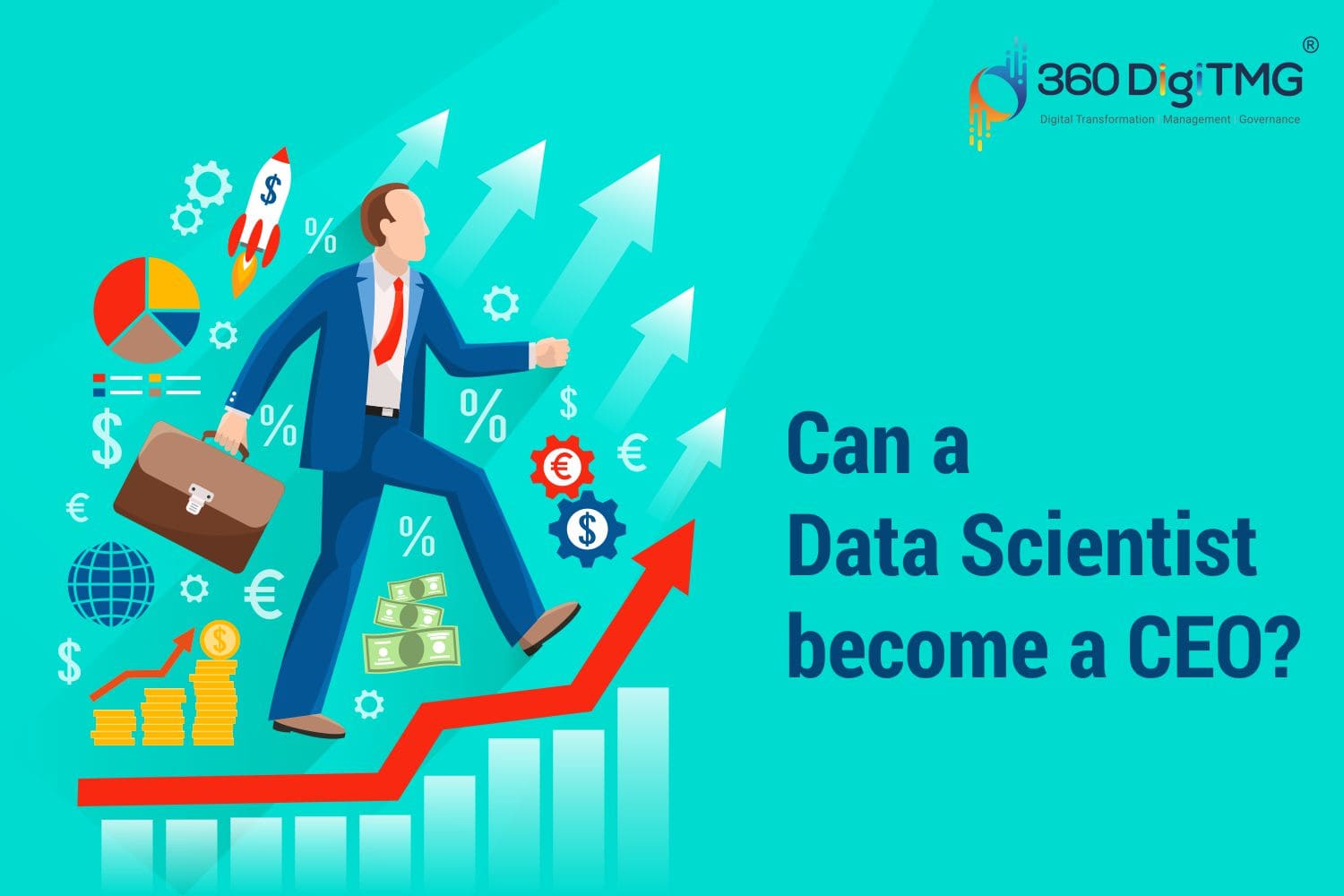 Sneak Peek:
Can data scientists be appointed as CEOs and promoted? That seems intriguing. The solution might lie in the fact that if a data scientist thinks, it would be simpler since they would be the ultimate boss and wouldn't have to respond to or answer to anybody else.
Primer:
Nowadays, the significance of Data Science has increased day by day. Everywhere you need data to boost your business. According to the current statistics, more than 97,000 open job opportunities for data technologists or data scientists are available in India in 2019. Therefore, as a skilled Data Scientist, you must acquire excellent growth potential in terms of job opportunities.
Click here to learn Data Science Course
However, given the current circumstances, businesses desperately need data scientists but are hesitant to hire them. When the time for hiring comes and they need to add new talent to their team, they search for a highly trained worker who is well versed in the most recent tools and technologies. They don't seek for additional credentials like management or communication abilities.
What kind of CEO do you believe a data scientist may be in the current oversaturated market?
Let's examine some instances of successful data scientists who rose to the position of company CEO.
Data Scientists Who transformed into Co-Founders/CEOs:
There are many data scientist co-founders today, so we should not be surprised to see data scientist CEOs in the future.
Andrew Ng (Coursera co-founder)
Sebastian Thrun (co-founder and CEO, Udacity)
Brad Peters (co-founder and CEO of Birst)
Gurjeet Singh (co-founder and the CEO of Ayasdi)
Shashi Upadhyay (co-founder and the CEO of Lattice Engines)
Thomas Thurston (CEO of Growth Science)
Clive Humby CACI
Jim Goodnight, the CEO of SAS (the world's leading business analytics software vendor)
Sri Satish Ambati: H2O.ai
What do you make of this circumstance, then? When you study these leaders, their positions, and their paths to success, it's simple to conclude that being a CEO and leading the most successful data start-ups is preferable to holding a lucrative position in a large corporation.
Learn the core concepts of Data Analytics Course video on Youtube:
Click here to explore 360DigiTMG.
Will Data Scientists Become CEOs of Tomorrow?
Several CEOs come into the category of data scientists. As you raise the organization chart, you require to spend less time doing what you love. You need more time making sure what others have and need for them to do what they love.
Data scientists may become CEOs without any obstacles, but they must first demonstrate their expertise in each area. However, they won't have enough time to do the duties of a data scientist since, in order to be an effective senior management, they must use their time and skills communicating with others. They are unable to carry out the work they are passionate about because they are not spending enough time connecting with facts, concepts, and ideas.
Click here learn Data Science Training in Hyderabad
What Skills Requires to Becomes a Successful CEO?
Strong communication skills
Setting the strategic vision for a company
Building deep relationships with coworkers
Understanding
Ability to learn from the past
Listening skills
Willingness to take calculated risks
Reading people and adapting to necessary management styles
Changing of Data Scientists into CEOs:
According to experts, it is preferable to hunt for a suitable person/partner with you effectively if you enjoy working in the data science sector and solving riddles with the aid of cardinality analysis and association algorithms. Startups result from this circumstance.
An organisation has a considerably higher chance of surviving, much alone succeeding, when a strong CEO teams up with a skilled data scientist, techie, or programmer. Additionally, they will be far more likely to spend more time doing the things they enjoy.
Look Into the Future:
To become a successful CEO, a data scientist must have strong management skills. Any board will look for many skills before choosing a CEO, which includes the ability to set a company's strategic vision.
Data scientists who want to become a CEO must build their career trajectory to improve their management, communication, and willingness to take calculated risks skills.
Still, people think that data scientists can't give their best at the CEO position, but within a decade, people will recognize data scientists as CEO. No barrier limits their flight to reach their destination.
Why Not Work As CDO Before The CEO
Chief Data Officer (CDO) is a significant job that offers possibilities to monitor higher position holders in a company and analyse their success story. It is another potent seat in the C-suite.
A large firm established a new trend and named the first CDO ever in 2002. Cathryne Clay Doss was appointed as the first Chief Data Officer by Capital One Financial Corporation, a huge business juggernaut. She has exceptional skills and is known as a pioneer in data science.
After three years, Yahoo took the same action and hired a CDO to gain significant strategic advantages for their business.
A COD's job is to weigh huge advantages, assess dangers, and come up with a better answer to the issue. Additionally, it is the most difficult. Additionally, it is the most difficult job at the top of the corporate ladder.
Becoming Data-Driven CEO
Research conducted in 2016 about CDOs professional degrees. The study shows that 68% of CDOs own business degrees. On the other hand, 44% of CODs hold technology-related degrees. This ratio has become changing, and now machine learning and AL gain a prominent place.
Because he has access to a variety of data sources, the CEO of a data-driven organisation may decide precisely what risks to take for the benefit of the business.
A data-driven CEO must work to acquire the necessary skill sets, cultures, and processes in order to succeed. On the other hand, companies all around the world are attempting to increase the benefits from effective data utilisation. There are several instances where a tiny business may grow into a massive behemoth just by using data analytics effectively.
A data-driven CEO must need to enhance their skills around the system and make their team. They should pool talented data analytics experts and ensure the right teams surround them.
Winning people's confidence, better communication skills, and effective strategy, help a data scientist become a successful CEO.
Data Science course in Bangalore
One of the top locations to offer a Data Science degree is Bangalore. In Bangalore, there are recognised institutions offering courses in data science. They teach their students multi-skills as well as the six ideas from the Data Science lifecycle as well as the many languages utilised in the field to comprehend the data. To fulfil your dream, you may locate the best Data Science course in Bangalore.
Click here to learn Data Science Course, Data Science Course in Hyderabad, Data Science Course in Bangalore
Data Science Placement Success Story
Data Science Training Institutes in Other Locations
Agra
,
Ahmedabad
,
Amritsar
,
Anand
,
Anantapur
,
Bangalore
,
Bhopal
,
Bhubaneswar
,
Chengalpattu
,
Chennai
,
Cochin
,
Dehradun
,
Malaysia
,
Dombivli
,
Durgapur
,
Ernakulam
,
Erode
,
Gandhinagar
,
Ghaziabad
,
Gorakhpur
,
Gwalior
,
Hebbal
,
Hyderabad
,
Jabalpur
,
Jalandhar
,
Jammu
,
Jamshedpur
,
Jodhpur
,
Khammam
,
Kolhapur
,
Kothrud
,
Ludhiana
,
Madurai
,
Meerut
,
Mohali
,
Moradabad
,
Noida
,
Pimpri
,
Pondicherry
,
Pune
,
Rajkot
,
Ranchi
,
Rohtak
,
Roorkee
,
Rourkela
,
Shimla
,
Shimoga
,
Siliguri
,
Srinagar
,
Thane
,
Thiruvananthapuram
,
Tiruchchirappalli
,
Trichur
,
Udaipur
,
Yelahanka
,
Andhra Pradesh
,
Anna Nagar
,
Bhilai
,
Borivali
,
Calicut
,
Chandigarh
,
Chromepet
,
Coimbatore
,
Dilsukhnagar
,
ECIL
,
Faridabad
,
Greater Warangal
,
Guduvanchery
,
Guntur
,
Gurgaon
,
Guwahati
,
Hoodi
,
Indore
,
Jaipur
,
Kalaburagi
,
Kanpur
,
Kharadi
,
Kochi
,
Kolkata
,
Kompally
,
Lucknow
,
Mangalore
,
Mumbai
,
Mysore
,
Nagpur
,
Nashik
,
Navi Mumbai
,
Patna
,
Porur
,
Raipur
,
Salem
,
Surat
,
Thoraipakkam
,
Trichy
,
Uppal
,
Vadodara
,
Varanasi
,
Vijayawada
,
Vizag
,
Tirunelveli
,
Aurangabad
Data Analyst Courses in Other Locations
ECIL
,
Jaipur
,
Pune
,
Gurgaon
,
Salem
,
Surat
,
Agra
,
Ahmedabad
,
Amritsar
,
Anand
,
Anantapur
,
Andhra Pradesh
,
Anna Nagar
,
Aurangabad
,
Bhilai
,
Bhopal
,
Bhubaneswar
,
Borivali
,
Calicut
,
Cochin
,
Chengalpattu
,
Dehradun
,
Dombivli
,
Durgapur
,
Ernakulam
,
Erode
,
Gandhinagar
,
Ghaziabad
,
Gorakhpur
,
Guduvanchery
,
Gwalior
,
Hebbal
,
Hoodi
,
Indore
,
Jabalpur
,
Jaipur
,
Jalandhar
,
Jammu
,
Jamshedpur
,
Jodhpur
,
Kanpur
,
Khammam
,
Kochi
,
Kolhapur
,
Kolkata
,
Kothrud
,
Ludhiana
,
Madurai
,
Mangalore
,
Meerut
,
Mohali
,
Moradabad
,
Pimpri
,
Pondicherry
,
Porur
,
Rajkot
,
Ranchi
,
Rohtak
,
Roorkee
,
Rourkela
,
Shimla
,
Shimoga
,
Siliguri
,
Srinagar
,
Thoraipakkam
,
Tiruchirappalli
,
Tirunelveli
,
Trichur
,
Trichy
,
Udaipur
,
Vijayawada
,
Vizag
,
Warangal
,
Chennai
,
Coimbatore
,
Delhi
,
Dilsukhnagar
,
Hyderabad
,
Kalyan
,
Nagpur
,
Noida
,
Thane
,
Thiruvananthapuram
,
Uppal
,
Kompally
,
Bangalore
,
Chandigarh
,
Chromepet
,
Faridabad
,
Guntur
,
Guwahati
,
Kharadi
,
Lucknow
,
Mumbai
,
Mysore
,
Nashik
,
Navi Mumbai
,
Patna
,
Pune
,
Raipur
,
Vadodara
,
Varanasi
,
Yelahanka
Navigate to Address
360DigiTMG - Data Science Course, Data Scientist Course Training in Chennai
D.No: C1, No.3, 3rd Floor, State Highway 49A, 330, Rajiv Gandhi Salai, NJK Avenue, Thoraipakkam, Tamil Nadu 600097
1800-212-654-321