Is Data Science a Dying Industry?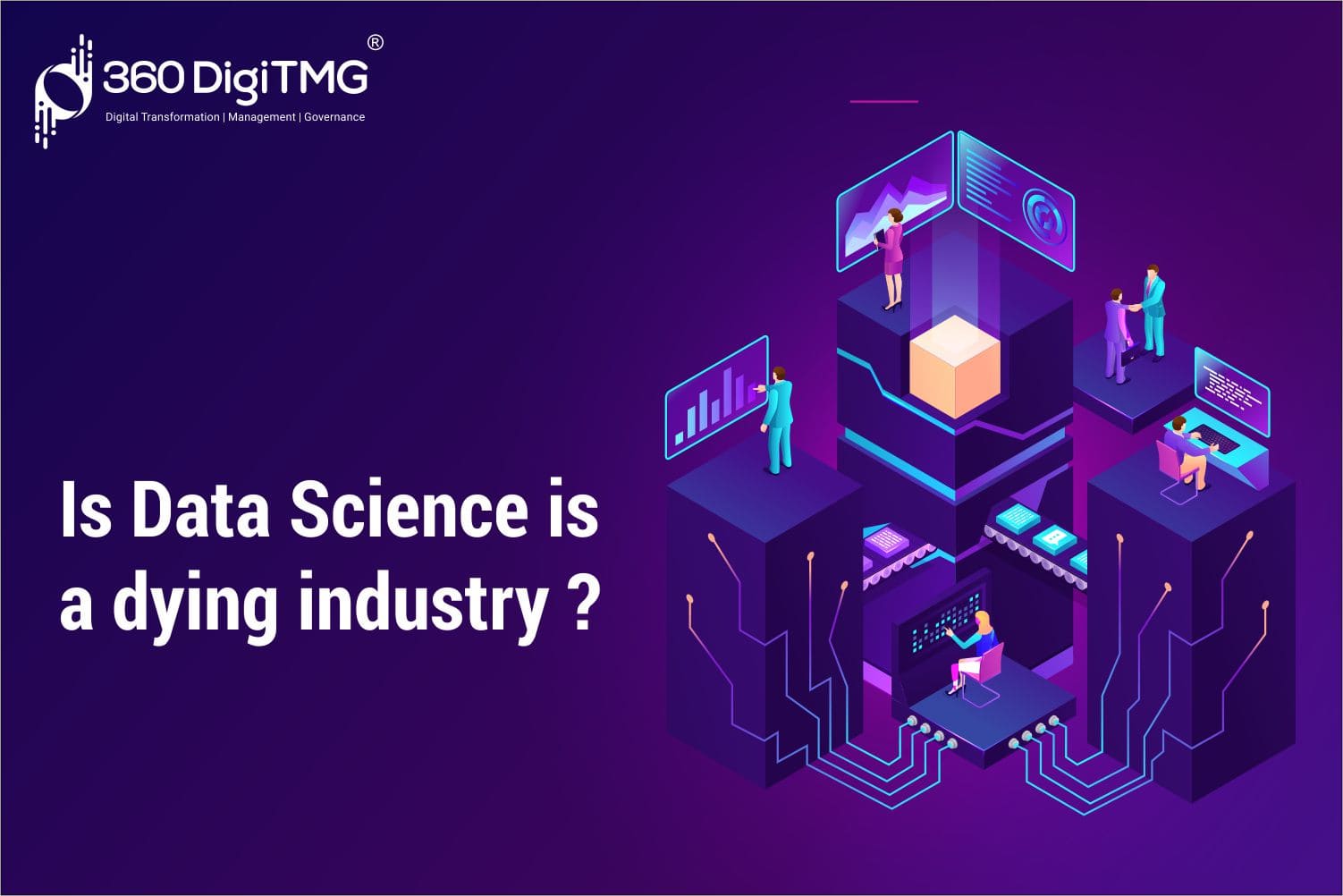 Starting On
Is the field of data science in decline? How do you feel? Long experience in this subject can help you comprehend the problem more fully. In 2012, the Harvard Business Review (HBR) predicted that data science will be the greatest field and the sexiest career of the century.
Business analytics was a talent that the Data Science sector went crazy about many years ago. The term "Data Scientist" is now growing online, and it is a position that appears to have a lot of potential.
In reality, two fields have undergone repeated name changes, which makes the job situation look a little perplexing.
One of the two disciplines has long served as a thriving niche for a very limited number of outstanding mathematicians, statisticians, or computer scientists who solve challenging, occasionally ad hoc data analysis issues and create intricate data-processing or mathematical software.
Sometimes a position would demand all of these, so a firm would recruit someone with the necessary qualifications and talents, but amazingly, it didn't have its name.
Want to learn more about data science? Enroll in the Best Data Science courses in Chennai to do so.
Learn the core concepts of Data Science Course video on YouTube:
Why We Need Data Scientist Everywhere:
In every field, we need specialism. The specialism created software like SAS and SPSS, well-known tools in the high-end data analysis world. It's the specialism that learned to predict buyer preferences in consumer buying patterns. The specialism creates weather forecasting systems, processes data from physics experiments, automates stock trading and forecasts elections, and predicts football games' outcomes.
Why Data Science is a Lucrative Field:
Do you anticipate that in the years to come, employment in the data science sector will continue to be in great demand? The growing market need, of course, makes data scientists necessary employees in every business, organisation, or workplace.
Nearly all data collection businesses are expanding rather than contracting. In the meanwhile, they want a data scientist who can manage, analyse, and glean insight from data for the decision-making process.
Companies decide what they actually need as technology advances across all industries. So, while the number of specialised or specialised professions has increased, the number of data scientists has decreased.
Watch how the data industry develops and operates.
Are you looking to become a Data Scientist? Go through 360DigiTMG's PG Diploma in Data Science and Artificial Intelligence!.
Big Organization's Backing and Support
Nowadays, almost all businesses have a place for data scientists to gather crucial information and data. They need data scientists to support the higher-level decisions to survive in a competitive, ambiguous world.
All small and big companies, organizations, and corporations need smart ways to analyze the data to prepare them for better competition. Those who don't understand the importance of data scientists in the rapidly changing technology world will soon go out-dated.
Various Job Niches and Profile:
Data scientists are needed everywhere and in every sort of organisation since the profession is expanding. A qualified individual might search for employment in a variety of fields, including energy, climatology, and sustainability.
Health and wellness
Finance
Natural Science
Biomedicines
Education
Electronics
Social media and social network analysis
High Paying Job:
Become a Data Scientist with 360DigiTMG Data Science course in Hyderabad Get trained by the alumni from IIT, IIM, and ISB.
Companies pay high wages to data scientists, and they are making big money as a result of the growing market demand for them and the scarcity of experienced workers. Since data science is a profitable sector, more individuals are drawn to it. Data scientists will increasingly be in demand as the field becomes more appealing in the future.
Less Competition:
The Data Science industry requires in-depth domain knowledge, highly technical data analysis skills, superb mathematical, statistical, computer programming and analytical abilities and professional expertise, awareness of and the ability to evaluate and apply cutting-edge developments in the field, such as (currently) machine learning.
Although people talk about the need for skilled workers but unfortunately they are in less number. So, researchers' predicted1 million data scientist jobs will be in demand.
Reasons Why People Think That the Data Industry is Dying:
The data business is, nevertheless, an area that is expanding; the balance between what we currently need as a field and what is expanding will determine why saturation happens.
Reason#1. Communication Gap between Technical and Non-Technical Staff
Non-technical managers in data fields interrupt the working process and don't understand the procedures. A lot of technically senior people are not professionally mature. The domain itself is immature. This means that universities are not offering a standard curriculum that makes sense to the industry.
Reason#2. Unsuitable Infrastructure for Data Scientists
Sometimes businesses employ workers and provide alluring pay and perks, but they lack the necessary infrastructure. People depart and consider choosing a different job for the future because they are unable to perform or offer their whole effort in this unfavourable environment.
Also, check this Data Science Institute in Bangalore to start a career in Data Science.
Reason#3 Uncertainty or Fear of Failure
An important factor is an uncertainty, but you can't do anything about it. You work hard to find out the solution but can't get the right answer.
What's unique about solving problems with data is that it can be done with a wide variety of tools, methods, and viewpoints.
Sometimes there are 100 ways to solve the same problem. Sometimes that are 100 correct answers for the same problem. Sometimes 100 different problems share the same answer.
Summing it up:
Don't pay attention to those who aren't even familiar with data science. When someone approaches data science from an engineering perspective, you can tell who they are.
Currently, businesses are employing a large number of data scientists. Most of them were performing data engineering, data analysis, and even ordinary programming since they had no idea what they were doing.
Simply put, businesses today are more knowledgeable about data science. They realise that employing a lot of data scientists without also hiring data engineers, machine learning engineers, and data analysts is a terrible investment, even though it isn't ideal.
They'll hire, say, three data scientists instead of the current ten, and maintain the seven headcounts that support them.
Naturally, the labour market's effect is that fewer employment for data scientists are being produced than in the past. The fact that these jobs never truly existed in the first place, however, does not mean that data science is disappearing.
Data Science Placement Success Story
Data Science Training Institutes in Other Locations
Agra
,
Ahmedabad
,
Amritsar
,
Anand
,
Anantapur
,
Bangalore
,
Bhopal
,
Bhubaneswar
,
Chengalpattu
,
Chennai
,
Cochin
,
Dehradun
,
Malaysia
,
Dombivli
,
Durgapur
,
Ernakulam
,
Erode
,
Gandhinagar
,
Ghaziabad
,
Gorakhpur
,
Gwalior
,
Hebbal
,
Hyderabad
,
Jabalpur
,
Jalandhar
,
Jammu
,
Jamshedpur
,
Jodhpur
,
Khammam
,
Kolhapur
,
Kothrud
,
Ludhiana
,
Madurai
,
Meerut
,
Mohali
,
Moradabad
,
Noida
,
Pimpri
,
Pondicherry
,
Pune
,
Rajkot
,
Ranchi
,
Rohtak
,
Roorkee
,
Rourkela
,
Shimla
,
Shimoga
,
Siliguri
,
Srinagar
,
Thane
,
Thiruvananthapuram
,
Tiruchchirappalli
,
Trichur
,
Udaipur
,
Yelahanka
,
Andhra Pradesh
,
Anna Nagar
,
Bhilai
,
Borivali
,
Calicut
,
Chandigarh
,
Chromepet
,
Coimbatore
,
Dilsukhnagar
,
ECIL
,
Faridabad
,
Greater Warangal
,
Guduvanchery
,
Guntur
,
Gurgaon
,
Guwahati
,
Hoodi
,
Indore
,
Jaipur
,
Kalaburagi
,
Kanpur
,
Kharadi
,
Kochi
,
Kolkata
,
Kompally
,
Lucknow
,
Mangalore
,
Mumbai
,
Mysore
,
Nagpur
,
Nashik
,
Navi Mumbai
,
Patna
,
Porur
,
Raipur
,
Salem
,
Surat
,
Thoraipakkam
,
Trichy
,
Uppal
,
Vadodara
,
Varanasi
,
Vijayawada
,
Vizag
,
Tirunelveli
,
Aurangabad
Data Analyst Courses in Other Locations
ECIL
,
Jaipur
,
Pune
,
Gurgaon
,
Salem
,
Surat
,
Agra
,
Ahmedabad
,
Amritsar
,
Anand
,
Anantapur
,
Andhra Pradesh
,
Anna Nagar
,
Aurangabad
,
Bhilai
,
Bhopal
,
Bhubaneswar
,
Borivali
,
Calicut
,
Cochin
,
Chengalpattu
,
Dehradun
,
Dombivli
,
Durgapur
,
Ernakulam
,
Erode
,
Gandhinagar
,
Ghaziabad
,
Gorakhpur
,
Guduvanchery
,
Gwalior
,
Hebbal
,
Hoodi
,
Indore
,
Jabalpur
,
Jaipur
,
Jalandhar
,
Jammu
,
Jamshedpur
,
Jodhpur
,
Kanpur
,
Khammam
,
Kochi
,
Kolhapur
,
Kolkata
,
Kothrud
,
Ludhiana
,
Madurai
,
Mangalore
,
Meerut
,
Mohali
,
Moradabad
,
Pimpri
,
Pondicherry
,
Porur
,
Rajkot
,
Ranchi
,
Rohtak
,
Roorkee
,
Rourkela
,
Shimla
,
Shimoga
,
Siliguri
,
Srinagar
,
Thoraipakkam
,
Tiruchirappalli
,
Tirunelveli
,
Trichur
,
Trichy
,
Udaipur
,
Vijayawada
,
Vizag
,
Warangal
,
Chennai
,
Coimbatore
,
Delhi
,
Dilsukhnagar
,
Hyderabad
,
Kalyan
,
Nagpur
,
Noida
,
Thane
,
Thiruvananthapuram
,
Uppal
,
Kompally
,
Bangalore
,
Chandigarh
,
Chromepet
,
Faridabad
,
Guntur
,
Guwahati
,
Kharadi
,
Lucknow
,
Mumbai
,
Mysore
,
Nashik
,
Navi Mumbai
,
Patna
,
Pune
,
Raipur
,
Vadodara
,
Varanasi
,
Yelahanka
Navigate to Address
360DigiTMG - Data Analytics, Data Science Course Training Hyderabad
2-56/2/19, 3rd floor, Vijaya Towers, near Meridian School, Ayyappa Society Rd, Madhapur, Hyderabad, Telangana 500081
099899 94319