Can I Learn Data Science in 3 Months?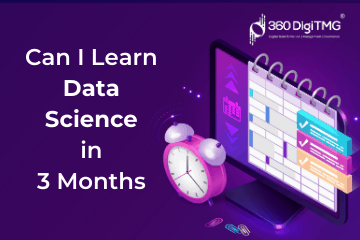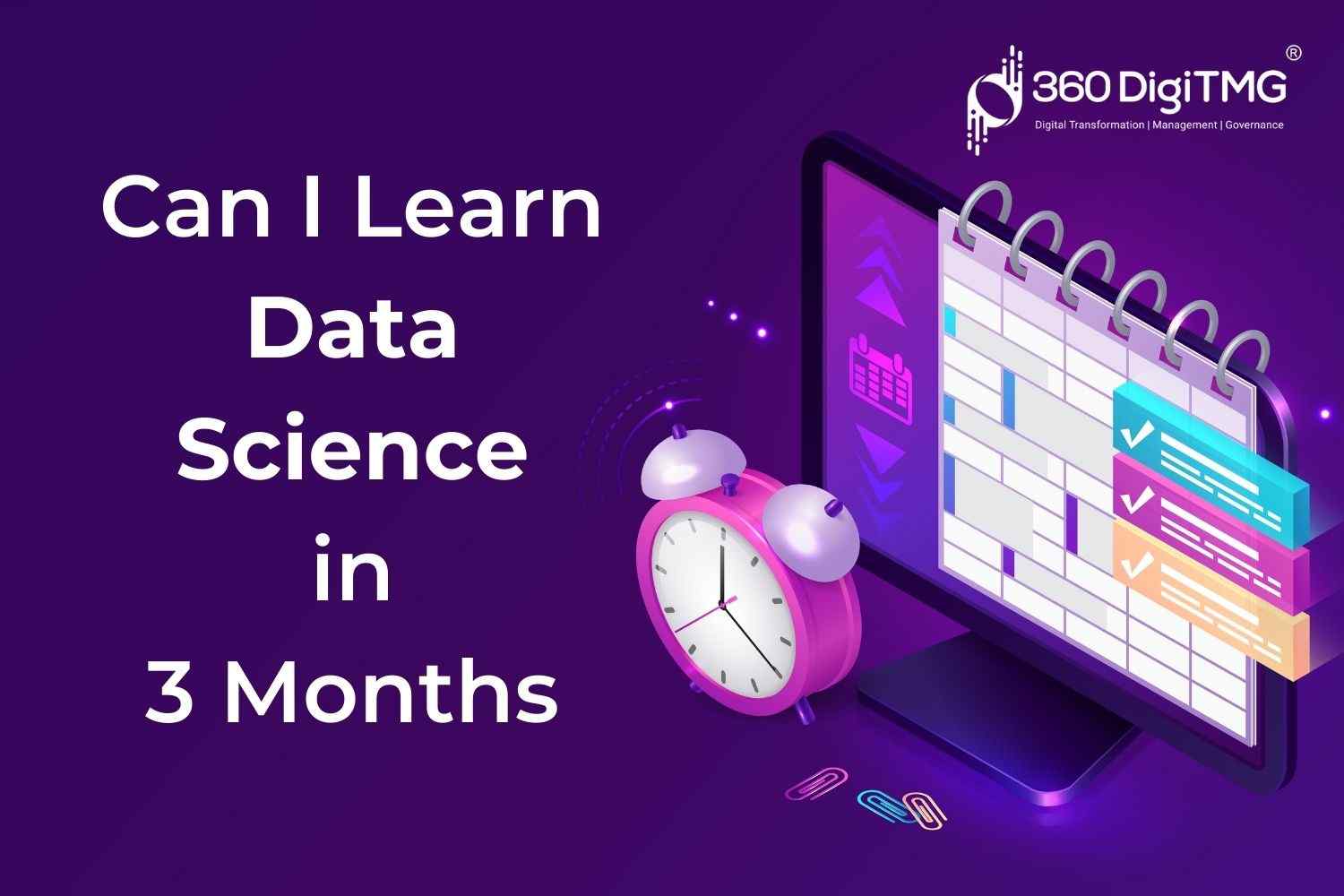 Data science is rising in popularity. In order to extract the necessary insights from a vast quantity of data, data scientists employ technologies that are applied to various sorts of procedures and algorithms. Both organised and unstructured data are possible. It employs a variety of scientific, statistical, and mathematical methodologies. This post will be more helpful for you if you want to study data science in just three months since it offers information on how to do it in depth. You will study data science more quickly and effectively if you are skilled in math, science, and statistics.
Also, check this Data Science Institute in Bangalore to start a career in Data Science.
What do you Need?
To start learning data science, you must have the following capabilities to get a positive result in 3 months:
You must have some technical knowledge like a degree in Stat. Math etc.
You also need to know about coding schemes and programming languages
You need to have work experience in the environment of data science
It would help if you had an idea that who databases store databases
The course of data science:
If you want to learn data science, you should know the syllabus of data science. Five divisions of data science are discussed below:
Looking forward to becoming a Data Scientist? Check out the Data Science Course and get certified today.
Learn the core concepts of Data Science Course video on YouTube:
Linear Algebra &Statistics:

This aspect of data science is crucial. Recall your lessons from algebra and statistics if you have, as these topics are used in both data science and machine learning.

Machine Learning:

The algorithms of machine learning have proved accurate in data analysis in the real-world environment..

Production Systems:

Understanding an organization's data processing cycle is what this is all about. Additionally, it will improve your data science abilities.

Panda, Numpy, and Matplotlib:

These are the programming languages that comprise codes and algorithms that you can also use for your projects.

Python:

Using your familiarity with Python programming, you will learn data science more rapidly in this course.
How to Learn Data Science in 3 Months?
A data science professional applies mathematical and statistical methods to data in order to conduct analysis. The most important individual in every organisation is the data scientist. You must be knowledgeable in the field of data science to succeed as a data scientist. If you follow the recommendations in this post, you can learn data science in three months.
Begin with data analysis
Get advanced in machine learning
End up with using the real-world tools recommended by data scientists
These resources are available for your project. You may learn more about these tools in this manner. You can learn data science in three months if you read this article and adhere to the guidelines it contains.
Earn yourself a promising career in data science by enrolling in the Data Science Classes in Pune offered by 360DigiTMG.
Want to learn more about data science? Enroll in the Best Data Science courses in Chennai to do so.
Begin with Data Analysis

To become a data scientist, you first need to become a data analyst. If your basics of data analysis are strong, then you can learn data science efficiently. Some institutes offer a degree in data science. First, to become a successful data analyst, you need to know the concepts of data analysis. You need to know the following concepts of data science

Statistics and Mathematics

This tool is mostly used by data scientists to acquire data analysis competence. Online lectures, articles, and videos may teach you about HIVE and PIG. As was already said, you need to be familiar with data analysis ideas in order to understand data science. You must thus be familiar with these technologies in order to learn data analysis.

Knowledge of Python

If you know Python as this is taught in the degree of computer science, you will be good at data analysis because Python is the basic language used by data scientists. So you must know Python. For learning Python, you can attend some online courses or listen to online lectures.

A simple Idea of HIVE

Data scientists mostly use this tool to get the expertise of data analysis. You can get knowledge of HIVE and PIG from online videos, articles, and lectures. As discussed earlier, to learn data science, you must know the concepts of data analysis. So you are required to have know-how about these tools as it's part of learning data analysis.

Data Gathering

To pursuance the knowledge of data analysis, you should have the skills that how data will be gathered. Use some types of techniques to gather data correctly. If data is not hoarded accurately, then you may fail to get the required result.

MS Excel

Simply assuming that this tool has a spreadsheet for data entry does not provide it any capability. You don't need to learn Python if your data sets are tiny. You may use Microsoft Excel to analyse your data.

Visualization of Data

This technique will be preferable if your data sets are too long. Using data visualization tools, you can get an idea and make or break the data sets. Acquire advanced skills in machine learning.

You should begin machine learning if, after the first month, you are proficient at data analysis. Machine learning makes use of artificial intelligence to obtain data and statistics. You must possess the following machine learning skills.

Fundamentals of computer
Skills in programming
Know-how of possibility and statistics
Skills of data calculation

Attending various online lectures and tutorials about machine learning and its facets can help you develop these abilities.

Tools of Data Science

In the third month, when you are good at data analysis and machine learning, you are ready to start using the tools of a real-world environment recommended by expert data scientists. Some most common tools are as follows:

Tableau:

The main purpose of this tool is to create data visualisations. With the help of this application, you may create graphs and charts that effectively convey data.

SAS:

It is a programming language tool named SAS. It is specifically used for the operations of statistics.

Gplot2:

This tool was created specifically for use with the R programming language. It offers sophisticated data visualisation capabilities.
Data Science Placement Success Story
Data Science Training Institutes in Other Locations
Agra
,
Ahmedabad
,
Amritsar
,
Anand
,
Anantapur
,
Bangalore
,
Bhopal
,
Bhubaneswar
,
Chengalpattu
,
Chennai
,
Cochin
,
Dehradun
,
Malaysia
,
Dombivli
,
Durgapur
,
Ernakulam
,
Erode
,
Gandhinagar
,
Ghaziabad
,
Gorakhpur
,
Gwalior
,
Hebbal
,
Hyderabad
,
Jabalpur
,
Jalandhar
,
Jammu
,
Jamshedpur
,
Jodhpur
,
Khammam
,
Kolhapur
,
Kothrud
,
Ludhiana
,
Madurai
,
Meerut
,
Mohali
,
Moradabad
,
Noida
,
Pimpri
,
Pondicherry
,
Pune
,
Rajkot
,
Ranchi
,
Rohtak
,
Roorkee
,
Rourkela
,
Shimla
,
Shimoga
,
Siliguri
,
Srinagar
,
Thane
,
Thiruvananthapuram
,
Tiruchchirappalli
,
Trichur
,
Udaipur
,
Yelahanka
,
Andhra Pradesh
,
Anna Nagar
,
Bhilai
,
Borivali
,
Calicut
,
Chandigarh
,
Chromepet
,
Coimbatore
,
Dilsukhnagar
,
ECIL
,
Faridabad
,
Greater Warangal
,
Guduvanchery
,
Guntur
,
Gurgaon
,
Guwahati
,
Hoodi
,
Indore
,
Jaipur
,
Kalaburagi
,
Kanpur
,
Kharadi
,
Kochi
,
Kolkata
,
Kompally
,
Lucknow
,
Mangalore
,
Mumbai
,
Mysore
,
Nagpur
,
Nashik
,
Navi Mumbai
,
Patna
,
Porur
,
Raipur
,
Salem
,
Surat
,
Thoraipakkam
,
Trichy
,
Uppal
,
Vadodara
,
Varanasi
,
Vijayawada
,
Vizag
,
Tirunelveli
,
Aurangabad
Data Analyst Courses in Other Locations
ECIL
,
Jaipur
,
Pune
,
Gurgaon
,
Salem
,
Surat
,
Agra
,
Ahmedabad
,
Amritsar
,
Anand
,
Anantapur
,
Andhra Pradesh
,
Anna Nagar
,
Aurangabad
,
Bhilai
,
Bhopal
,
Bhubaneswar
,
Borivali
,
Calicut
,
Cochin
,
Chengalpattu
,
Dehradun
,
Dombivli
,
Durgapur
,
Ernakulam
,
Erode
,
Gandhinagar
,
Ghaziabad
,
Gorakhpur
,
Guduvanchery
,
Gwalior
,
Hebbal
,
Hoodi
,
Indore
,
Jabalpur
,
Jaipur
,
Jalandhar
,
Jammu
,
Jamshedpur
,
Jodhpur
,
Kanpur
,
Khammam
,
Kochi
,
Kolhapur
,
Kolkata
,
Kothrud
,
Ludhiana
,
Madurai
,
Mangalore
,
Meerut
,
Mohali
,
Moradabad
,
Pimpri
,
Pondicherry
,
Porur
,
Rajkot
,
Ranchi
,
Rohtak
,
Roorkee
,
Rourkela
,
Shimla
,
Shimoga
,
Siliguri
,
Srinagar
,
Thoraipakkam
,
Tiruchirappalli
,
Tirunelveli
,
Trichur
,
Trichy
,
Udaipur
,
Vijayawada
,
Vizag
,
Warangal
,
Chennai
,
Coimbatore
,
Delhi
,
Dilsukhnagar
,
Hyderabad
,
Kalyan
,
Nagpur
,
Noida
,
Thane
,
Thiruvananthapuram
,
Uppal
,
Kompally
,
Bangalore
,
Chandigarh
,
Chromepet
,
Faridabad
,
Guntur
,
Guwahati
,
Kharadi
,
Lucknow
,
Mumbai
,
Mysore
,
Nashik
,
Navi Mumbai
,
Patna
,
Pune
,
Raipur
,
Vadodara
,
Varanasi
,
Yelahanka
Navigate to Address
360DigiTMG - Data Science Course, Data Scientist Course Training in Chennai
D.No: C1, No.3, 3rd Floor, State Highway 49A, 330, Rajiv Gandhi Salai, NJK Avenue, Thoraipakkam, Tamil Nadu 600097
1800-212-654-321