Can I Learn Data Science on my Own?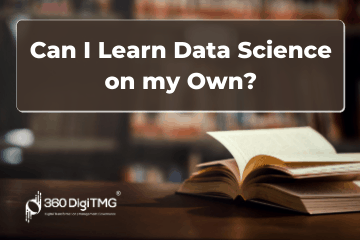 There are currently very few data scientists in the field with the necessary skill set. For data scientists, there have historically been a lot of job listings, but sadly, the applicants lack a lot of necessary abilities. Because there aren't enough qualified applicants, some positions have been empty. The current skill pool of data scientists and the demand for their services differ significantly. The lack of data scientists is partly caused by the fact that few training facilities are completely furnished with the cutting-edge equipment and technology needed for data science. So, using your own gadgets to experiment with data science is one approach to understand the subject. The student who is interested in learning data science may wonder, Can I Learn Data Science on My Own? In this post, we'll examine the evidence and a hypothetical situation to determine if it's possible to study data science on your own.
Want to learn more about data science? Enroll in the Best Data Science courses in Chennai to do so.
Data Scientists Who Learned on Their Own

Many people have learned data science by themselves and secured a successful position in high-ranked organizations such as Thomas Hapner and Abhishek Periwal. They learned data science by themselves. And if they can learn it, you can also learn data science by yourself without physically attending any class or data science teaching academy. Following are some of the steps that you should follow to learn data science on your own.

Learn the core concepts of Data Science Course video on YouTube:

Learn from Online Courses

The fact that there are so many online courses in data science might be seen as a gift for you. The best data scientists in the world provide knowledge about data science on hundreds of websites. The same course and architecture are covered by several websites that provide free data science study courses. Many websites provide data science education at a very low cost. The newest developments and technology in the industry have been made public by data science specialists. However, there are some drawbacks to taking courses online in addition to its benefits.

It can sometimes be difficult for you to choose the best option from a variety of choices available.
There will be no physical tutor available.
Less practical approach as it mostly contains theory.
It lacks guidance.

Are you looking to become a Data Scientist? Go through 360DigiTMG's PG Diploma in Data Science and Artificial Intelligence!.

Online Books

Online, there are a tonne of books on data science that are quite beneficial for those just starting out. By reading the data science books that have been released online, you may learn the fundamentals of data science. The best data science books are available online for reading. You may read Doing Data Science: Straight Talk from the Frontline as an example. You will learn practical information about programming, mathematics, and other topics from this book. If you prefer reading books for enjoyment, you should take this step to study data science independently. These books are easily accessible online. For more on learning data science topics, go to www.top10datasciencebooks.com. Additionally, you can refer to these books.

It can prove to be very time-consuming. Because most of the books are very lengthy that need time to read completely
You may feel alone by reading books because they require more attention than a person can give by reading alone.
It can be very difficult to tell yourself that at which point you should stop the process of reading a book.

Gain Experience Practically

The above-mentioned two procedures won't fully prepare you to learn data science on your own. Join some practical forums to showcase your work and receive comments from knowledgeable data scientists if you want to pursue a career in data science. You may compete with the forum's hundreds of new members in this way. You may learn more about the difficulties presented by real-world environments and datasets here. These forums offer a wealth of information since they address issues that have gained popularity throughout the world. Examples of some of the platforms with numerous projects and completions are Machine Hack and Kaggle.

It can be demoralizing for the aspirants if the challenge is very difficult to solve.
These forums cannot be said as perfect as some in the real world.
Sometimes it might be possible that the challenge does not match the problem you are facing.
If someone fails to win the competition, he might be entangled in some depression or anger issues.

Become a Data Scientist with 360DigiTMG Data Science course in Hyderabad Get trained by the alumni from IIT, IIM, and ISB.

Do Internships to Gain Experience

An internship is thought to be more relevant to the subject of data science in the actual world. It may provide you experience, and as a result, you may be able to find employment that is appropriate for your data science background. The expert data can teach you anything. You may benefit from widening your social network since it will help you get employment in the future. However, it's crucial to note that you won't be able to learn everything in this phase. You must be familiar with the abilities taught in various data science courses. It can be a first step towards getting your foot in the data science door. Maybe it won't be as helpful as you imagined. Like-

You can undoubtedly learn on your own, but there can still be certain mistakes that you overlook. If you are prepared to learn the fundamentals of data science on your own, you should select a programme with a career focus. It would be beneficial if you worked on initiatives that addressed issues in the actual world. To gain advice as you go, try to stay in touch with certain data science specialists. You may reduce your errors in this method. Therefore, the answer is yes in the end. Although you can study data science on your own, having a mentor will make the process more effective.

Also, check this Data Science Institute in Bangalore to start a career in Data Science.

It does not assure the aspirants that they will surely get a job after this
It can be a wastage of time if it does not match your skills
You may have a bad experience by spending a long time on an internship
Data Science Placement Success Story
Data Science Training Institutes in Other Locations
Agra
,
Ahmedabad
,
Amritsar
,
Anand
,
Anantapur
,
Bangalore
,
Bhopal
,
Bhubaneswar
,
Chengalpattu
,
Chennai
,
Cochin
,
Dehradun
,
Malaysia
,
Dombivli
,
Durgapur
,
Ernakulam
,
Erode
,
Gandhinagar
,
Ghaziabad
,
Gorakhpur
,
Gwalior
,
Hebbal
,
Hyderabad
,
Jabalpur
,
Jalandhar
,
Jammu
,
Jamshedpur
,
Jodhpur
,
Khammam
,
Kolhapur
,
Kothrud
,
Ludhiana
,
Madurai
,
Meerut
,
Mohali
,
Moradabad
,
Noida
,
Pimpri
,
Pondicherry
,
Pune
,
Rajkot
,
Ranchi
,
Rohtak
,
Roorkee
,
Rourkela
,
Shimla
,
Shimoga
,
Siliguri
,
Srinagar
,
Thane
,
Thiruvananthapuram
,
Tiruchchirappalli
,
Trichur
,
Udaipur
,
Yelahanka
,
Andhra Pradesh
,
Anna Nagar
,
Bhilai
,
Borivali
,
Calicut
,
Chandigarh
,
Chromepet
,
Coimbatore
,
Dilsukhnagar
,
ECIL
,
Faridabad
,
Greater Warangal
,
Guduvanchery
,
Guntur
,
Gurgaon
,
Guwahati
,
Hoodi
,
Indore
,
Jaipur
,
Kalaburagi
,
Kanpur
,
Kharadi
,
Kochi
,
Kolkata
,
Kompally
,
Lucknow
,
Mangalore
,
Mumbai
,
Mysore
,
Nagpur
,
Nashik
,
Navi Mumbai
,
Patna
,
Porur
,
Raipur
,
Salem
,
Surat
,
Thoraipakkam
,
Trichy
,
Uppal
,
Vadodara
,
Varanasi
,
Vijayawada
,
Vizag
,
Tirunelveli
,
Aurangabad
Data Analyst Courses in Other Locations
ECIL
,
Jaipur
,
Pune
,
Gurgaon
,
Salem
,
Surat
,
Agra
,
Ahmedabad
,
Amritsar
,
Anand
,
Anantapur
,
Andhra Pradesh
,
Anna Nagar
,
Aurangabad
,
Bhilai
,
Bhopal
,
Bhubaneswar
,
Borivali
,
Calicut
,
Cochin
,
Chengalpattu
,
Dehradun
,
Dombivli
,
Durgapur
,
Ernakulam
,
Erode
,
Gandhinagar
,
Ghaziabad
,
Gorakhpur
,
Guduvanchery
,
Gwalior
,
Hebbal
,
Hoodi
,
Indore
,
Jabalpur
,
Jaipur
,
Jalandhar
,
Jammu
,
Jamshedpur
,
Jodhpur
,
Kanpur
,
Khammam
,
Kochi
,
Kolhapur
,
Kolkata
,
Kothrud
,
Ludhiana
,
Madurai
,
Mangalore
,
Meerut
,
Mohali
,
Moradabad
,
Pimpri
,
Pondicherry
,
Porur
,
Rajkot
,
Ranchi
,
Rohtak
,
Roorkee
,
Rourkela
,
Shimla
,
Shimoga
,
Siliguri
,
Srinagar
,
Thoraipakkam
,
Tiruchirappalli
,
Tirunelveli
,
Trichur
,
Trichy
,
Udaipur
,
Vijayawada
,
Vizag
,
Warangal
,
Chennai
,
Coimbatore
,
Delhi
,
Dilsukhnagar
,
Hyderabad
,
Kalyan
,
Nagpur
,
Noida
,
Thane
,
Thiruvananthapuram
,
Uppal
,
Kompally
,
Bangalore
,
Chandigarh
,
Chromepet
,
Faridabad
,
Guntur
,
Guwahati
,
Kharadi
,
Lucknow
,
Mumbai
,
Mysore
,
Nashik
,
Navi Mumbai
,
Patna
,
Pune
,
Raipur
,
Vadodara
,
Varanasi
,
Yelahanka
Navigate to Address
360DigiTMG - Data Analytics, Data Science Course Training Hyderabad
2-56/2/19, 3rd floor, Vijaya Towers, near Meridian School, Ayyappa Society Rd, Madhapur, Hyderabad, Telangana 500081
099899 94319