Do Data Scientists Need to be Good at Math?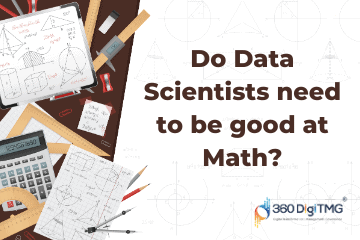 Image from Pixabay
Data science is currently the area and profession most wanted by students and professionals who need to further their careers. Numerous ideas, including mathematics, programming, and machine learning, are included in data science. You may learn how proficient in math you must be to become a data scientist in this post. Different algorithms are used by machine learning and data analysis to retrieve the necessary data. These algorithms are made up of logic and mathematical formulae. Thus, arithmetic is a necessary component of data science. Linear algebra, statistics, and calculus are the three core areas of data science that are most frequently employed in practically all data science-related activities. Additional areas include discrete mathematics, graph theory, and information theory, among others. However, statistics, linear algebra, and calculus are frequently employed.
Learn the core concepts of Data Analytics Course video on Youtube:
You may claim that math is the main pillar of data science now that you have read about all of its fundamental ideas. You must master mathematics if you want to become a successful data scientist. As you are aware, mathematics is crucial to practically every area, including data science. Mathematics assists you in finding solutions to a variety of difficulties in daily life, regardless of the type of organisation you work for. In conclusion, it is accurate to state that entering the profession of data science requires a strong foundation in mathematics. If you want to work in data science, start mastering fundamental mathematical ideas.
Do you Need to Have a Degree in Mathematics to be a Good Data Scientist?

No doubt, mathematics is an important part of data science. If you want to learn data science and have a shining future in the field, you need to know the math concepts that are used in data science. It does not mean that you must have a degree in mathematics. It would help if you kept the mathematics topics that are utilized in different branches of data science. If you are interested in becoming an expert in machine learning, you need to keep in mind that math is required for different aspects of machine learning. So, in data science, your degree does not matter more. The only thing that is considered is what and how you deal with data science. It's just important as you have learned many important topics at university during your degree. Just improve the skills of maths needed in data science. Click here to learn Data Science Course in Hyderabad

It would help if you commanded over the following subjects:

Statistics
Linear algebra
Calculus

Statistics

The most crucial assumption in data science is statistics since it gives us the skills and techniques to understand data deeply and obtain the right data. Investigating data statistics is crucial to data science. The majority of data scientists pick statistics as an elective in their bachelor's degree programme because it increases their chances of landing dream employment and a promising future. You are on the correct track if you have a degree in statistics and want to pursue a career in data science. Because most data science approaches are covered by statistics. For making crucial judgements, statistics are highly helpful. Using a distinct mathematical calculation, it can provide you with insightful information.Click here to explore 360DigiTMG.

Linear Algebra

If you are in data science and want to become a good data scientist, you also need to be good at linear algebra. Linear algebra is used in different algorithms of data science and its applications. Sometimes, people take linear algebra lightly and ignore this subject completely by saying it is very difficult to understand. That is a great mistake. Because linear algebra is behind all the algorithms of machine learning, you will not survive in the field of data science if you have no understanding of linear algebra. It is used in the loss function, regularization, covariance matrix, semantic analysis, and dimension reduction. It can say it's a token to enter into the field of machine learning as all the algorithms are based on linear algebra. It would help if you learned linear algebra deeply to become an expert data scientist.

Calculus

You can study this area of mathematics to find out how things are evolving. Calculus is essential for machine learning. When you were pursuing your bachelor's degree, you may have studied a lot of calculus principles. It deals with modelling them, determining a rate of change, and how the derivative works. There is good news for you if you are unfamiliar with its notions; you can quickly learn all of calculus' rules. In comparison to linear algebra, it is simpler. It is simple to learn and takes little time. But just because something is difficult does not make it any less significant. Calculus must be learned since it is essential to machine learning.

Applications of Mathematics:

All businesses need data scientist who understands their functioning properly. Understanding mathematics can give insight into why businesses need data scientists and how math is used in data science. Let's study some of the data science applications that are using mathematics. These are as follows:

Computer Visualization:

Linear algebra is employed in the representation and processing of images. Linear algebra is used to create the algorithms used in computer vision. Computer vision is being used in many sectors, including healthcare and agriculture.

Natural Language Processing:

Predictive analysis and unstructured learning are both done in this application using linear algebra. The most common applications are speech recognition, language translation, and sentiment analysis.

Selling and advertising:

Statistics are used realistically in company sales and marketing. It evaluates the product's effectiveness and worth based on some presumptions. It makes predictions about client attraction to a certain brand or product using the clustering and prediction analysis concepts.

Click here to learn Data Science Course, Data Science Course in Hyderabad, Data Science Course in Bangalore

Data Science Placement Success Story

Data Science Training Institutes in Other Locations

Agra

,

Ahmedabad

,

Amritsar

,

Anand

,

Anantapur

,

Bangalore

,

Bhopal

,

Bhubaneswar

,

Chengalpattu

,

Chennai

,

Cochin

,

Dehradun

,

Malaysia

,

Dombivli

,

Durgapur

,

Ernakulam

,

Erode

,

Gandhinagar

,

Ghaziabad

,

Gorakhpur

,

Gwalior

,

Hebbal

,

Hyderabad

,

Jabalpur

,

Jalandhar

,

Jammu

,

Jamshedpur

,

Jodhpur

,

Khammam

,

Kolhapur

,

Kothrud

,

Ludhiana

,

Madurai

,

Meerut

,

Mohali

,

Moradabad

,

Noida

,

Pimpri

,

Pondicherry

,

Pune

,

Rajkot

,

Ranchi

,

Rohtak

,

Roorkee

,

Rourkela

,

Shimla

,

Shimoga

,

Siliguri

,

Srinagar

,

Thane

,

Thiruvananthapuram

,

Tiruchchirappalli

,

Trichur

,

Udaipur

,

Yelahanka

,

Andhra Pradesh

,

Anna Nagar

,

Bhilai

,

Borivali

,

Calicut

,

Chandigarh

,

Chromepet

,

Coimbatore

,

Dilsukhnagar

,

ECIL

,

Faridabad

,

Greater Warangal

,

Guduvanchery

,

Guntur

,

Gurgaon

,

Guwahati

,

Hoodi

,

Indore

,

Jaipur

,

Kalaburagi

,

Kanpur

,

Kharadi

,

Kochi

,

Kolkata

,

Kompally

,

Lucknow

,

Mangalore

,

Mumbai

,

Mysore

,

Nagpur

,

Nashik

,

Navi Mumbai

,

Patna

,

Porur

,

Raipur

,

Salem

,

Surat

,

Thoraipakkam

,

Trichy

,

Uppal

,

Vadodara

,

Varanasi

,

Vijayawada

,

Vizag

,

Tirunelveli

,

Aurangabad

Data Analyst Courses in Other Locations

ECIL

,

Jaipur

,

Pune

,

Gurgaon

,

Salem

,

Surat

,

Agra

,

Ahmedabad

,

Amritsar

,

Anand

,

Anantapur

,

Andhra Pradesh

,

Anna Nagar

,

Aurangabad

,

Bhilai

,

Bhopal

,

Bhubaneswar

,

Borivali

,

Calicut

,

Cochin

,

Chengalpattu

,

Dehradun

,

Dombivli

,

Durgapur

,

Ernakulam

,

Erode

,

Gandhinagar

,

Ghaziabad

,

Gorakhpur

,

Guduvanchery

,

Gwalior

,

Hebbal

,

Hoodi

,

Indore

,

Jabalpur

,

Jaipur

,

Jalandhar

,

Jammu

,

Jamshedpur

,

Jodhpur

,

Kanpur

,

Khammam

,

Kochi

,

Kolhapur

,

Kolkata

,

Kothrud

,

Ludhiana

,

Madurai

,

Mangalore

,

Meerut

,

Mohali

,

Moradabad

,

Pimpri

,

Pondicherry

,

Porur

,

Rajkot

,

Ranchi

,

Rohtak

,

Roorkee

,

Rourkela

,

Shimla

,

Shimoga

,

Siliguri

,

Srinagar

,

Thoraipakkam

,

Tiruchirappalli

,

Tirunelveli

,

Trichur

,

Trichy

,

Udaipur

,

Vijayawada

,

Vizag

,

Warangal

,

Chennai

,

Coimbatore

,

Delhi

,

Dilsukhnagar

,

Hyderabad

,

Kalyan

,

Nagpur

,

Noida

,

Thane

,

Thiruvananthapuram

,

Uppal

,

Kompally

,

Bangalore

,

Chandigarh

,

Chromepet

,

Faridabad

,

Guntur

,

Guwahati

,

Kharadi

,

Lucknow

,

Mumbai

,

Mysore

,

Nashik

,

Navi Mumbai

,

Patna

,

Pune

,

Raipur

,

Vadodara

,

Varanasi

,

Yelahanka

Navigate to Address

360DigiTMG - Data Science, Data Scientist Course Training in Bangalore

No 23, 2nd Floor, 9th Main Rd, 22nd Cross Rd, 7th Sector, HSR Layout, Bengaluru, Karnataka 560102

1800-212-654-321