Home / Blog / Data Science / 5 Most Trustworthy Things About Data Science Course That You Need To Know
5 Most Trustworthy Things About Data Science Course That You Need To Know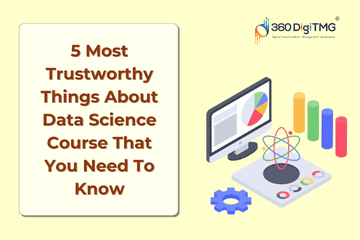 For newcomers, starting and maintaining a job in data science might be challenging due to the abundance of information accessible. You'll need the right instruction and a road plan if you want to become a professional data scientist. Data science courses are becoming more popular among engineering students as a means of career preparation. But it's not really that easy; it calls for a lot of information.
To educate students for professions in data science, several institutions offer Data Science courses. And over time, the number is just increasing. How can we decide whether the course is useful, though, is the conundrum. More professionals are enrolling in data science training programmes to understand the changes in the field and get knowledge to solve urgent problems.
Understanding the Data Science Scenario
According to Glassdoor, the top occupation is data science. Why is data science so crucial in the modern world? The enormous exponential growth in data is the key. The engine that powers industries are data. Big Data has transformed businesses and given them a competitive advantage. These businesses require specialists adept at handling, managing, analyzing, and comprehending data patterns. As an illustration, a business that wishes to increase sales revenue might hire a data scientist to evaluate performance and recommend growth.
Naturally, this necessitates the immediate hiring of more data scientists. Why, then, do you have to understand data science? The vast disparity between the supply and demand of data scientists is the cause of the problem. In this environment, there are more open roles than data scientists. Companies pay exorbitant sums for these roles due to the enormous demand. So that one can take advantage of this opportunity and further your career, one needs to understand data science.
Also, check this Data Science Institute in Bangalore to start a career in Data Science.
Why Should You Enroll in and Complete a Course?
Making a concerted effort to understand the position is the next logical step for you after selecting a role. This entails going above and beyond simply reviewing the job's criteria. Because there is such a strong need for data scientists, there are several studies and courses accessible to hold your hand and you can study everything you desire. Finding stuff to learn from isn't difficult, but if you don't put in the work, comprehending it could be.
Enrolling in an accreditation programme can help you navigate all the difficulties the role provides. What counts is whether the course teaches you the essentials and gets you to a point where you can succeed, not whether the course is free or not.
Every time you sign up for a course, engage in active learning. Follow up with the course's readings, assignments, and discussions. Only by finishing a course from start to finish can you obtain a more comprehensive understanding of the subject.
Looking forward to becoming a Data Scientist? Check out the Data Science Course and get certified today.
Five things to consider while choosing a data science course:
Before enrolling in a data science training course that can assist you in finding a program that is focused on helping you get a job, you should be aware of the following:
Learn the core concepts of Data Science Course video on YouTube:
⦁ You should network, but not for too long
Your primary attention should be on learning at first. However, when you start doing too much, you'll soon reach a point where you'll give up.
Once you get the feel of the sector, you can eventually attend industry events and conferences, well-liked meetings in your area, and participate in local hackathons, even if you don't know much about them. You never know when, where, or who will come to your aid!
When it comes to building a name for yourself in the data science field, a meetup is actually very helpful. You will meet people in your area who work actively in the sector, giving you networking possibilities and assisting you in progressing your career significantly.
A networking contact might:
⦁ Provide you with insider knowledge about events in your area of interest
⦁ Assist you in getting mentoring help
⦁ Assist you in your job search by providing immediate employment prospects or advice on finding a job through leads.
Earn yourself a promising career in data science by enrolling in the Data Science Classes in Pune offered by 360DigiTMG.
⦁ You must also require the necessary skills and knowledge for the job
Many people think that after earning their degree, they will definitely find a profitable employment. But this is only a myth. While getting a job will be extremely simple, a well-paying career will call for more than simply a degree. You must be able to exploit your skills to its fullest potential in order to receive a profitable employment offer. You should thus be familiar with all applications of data science and associated subjects.
Data scientists may become ready for some of the greatest and most sought-after jobs on the market if they possess the essential skills. Therefore, if you're thinking of doing a Data Science course, be extremely careful to choose a university that will provide you with the education you need to be successful in this field of employment.
⦁ Understand why you are enrolling in this course
People's dependence on technology is the most appropriate response to this query. Since machines perform many daily activities, we can't fathom life without them. In the modern world, we save our data online, which makes it easier for us to manage it better and retrieve it whenever we need it. In many ways, this facilitates our work. Data Science allows for the easy management of large amounts of data while eliminating the possibility of human mistakes. As a result, data science has opened up a wide range of opportunities, and the demand for data scientists will only grow. To guarantee your future, enrolling in a Data Science and Big Data analytics course would be prudent.
⦁ Do I have to be an expert programmer to study data science?
Data scientists must be able to programme, but you don't have to be an excellent programmer to succeed in the field. If you are familiar with the basics of object-oriented programming in languages like C, C++, or Java, learning data science programming languages like Python and R will be simpler. These core programming ideas should help a candidate progress in their desire to seek a career in data science because data science is all about creating efficient code to analyse vast amounts of data rather than becoming an expert programmer. ProjectPro provides basic sample data science and machine learning code examples so users may learn the principles of programming in Python before studying data science in Python through actual projects.
Want to learn more about data science? Enroll in the Best Data Science courses in Chennai to do so.
⦁ Achieve the next level by making sure your course will do so
The following primary stage is to further your goals once you have decided to pursue data science and have completed your preliminary research on the subject. Many types of Data Science courses include online, offline, full-time, and part-time programs. You must ensure that your goals for contributing to the field of data science and the resources the course may provide to help you reach those goals are compatible. The course in Data Science from 360digiTMG Academy is one of the few that starts from scratch and prepares you for a balanced career and personal growth, even though there are courses that offer specialization in a variety of aspects of data science. Make sure you conduct thorough research and select the Data Science curriculum appropriate for your objectives and aspirations.
Conclusion:
A targeted data science education is provided by 360digiTMG to assist professionals in becoming market-ready. 360digiTMG will provide you with dependable direction and devoted support while you finish your data science courses. Obtain a data scientist certification from a recognised university, where you will learn from the best academic teachers and business experts. The curriculum of these courses includes the most modern tools and technologies, including as Python, R, SQL, Tableau, Hadoop, Kafka, and Apache Spark. After completing the data science courses, you may use a variety of data science methodologies to data, analyse it, and interpret it to get insightful conclusions.
Data Science Placement Success Story
Data Science Training Institutes in Other Locations
Agra, Ahmedabad, Amritsar, Anand, Anantapur, Bangalore, Bhopal, Bhubaneswar, Chengalpattu, Chennai, Cochin, Dehradun, Malaysia, Dombivli, Durgapur, Ernakulam, Erode, Gandhinagar, Ghaziabad, Gorakhpur, Gwalior, Hebbal, Hyderabad, Jabalpur, Jalandhar, Jammu, Jamshedpur, Jodhpur, Khammam, Kolhapur, Kothrud, Ludhiana, Madurai, Meerut, Mohali, Moradabad, Noida, Pimpri, Pondicherry, Pune, Rajkot, Ranchi, Rohtak, Roorkee, Rourkela, Shimla, Shimoga, Siliguri, Srinagar, Thane, Thiruvananthapuram, Tiruchchirappalli, Trichur, Udaipur, Yelahanka, Andhra Pradesh, Anna Nagar, Bhilai, Borivali, Calicut, Chandigarh, Chromepet, Coimbatore, Dilsukhnagar, ECIL, Faridabad, Greater Warangal, Guduvanchery, Guntur, Gurgaon, Guwahati, Hoodi, Indore, Jaipur, Kalaburagi, Kanpur, Kharadi, Kochi, Kolkata, Kompally, Lucknow, Mangalore, Mumbai, Mysore, Nagpur, Nashik, Navi Mumbai, Patna, Porur, Raipur, Salem, Surat, Thoraipakkam, Trichy, Uppal, Vadodara, Varanasi, Vijayawada, Visakhapatnam, Tirunelveli, Aurangabad
Data Analyst Courses in Other Locations
ECIL, Jaipur, Pune, Gurgaon, Salem, Surat, Agra, Ahmedabad, Amritsar, Anand, Anantapur, Andhra Pradesh, Anna Nagar, Aurangabad, Bhilai, Bhopal, Bhubaneswar, Borivali, Calicut, Cochin, Chengalpattu , Dehradun, Dombivli, Durgapur, Ernakulam, Erode, Gandhinagar, Ghaziabad, Gorakhpur, Guduvanchery, Gwalior, Hebbal, Hoodi , Indore, Jabalpur, Jaipur, Jalandhar, Jammu, Jamshedpur, Jodhpur, Kanpur, Khammam, Kochi, Kolhapur, Kolkata, Kothrud, Ludhiana, Madurai, Mangalore, Meerut, Mohali, Moradabad, Pimpri, Pondicherry, Porur, Rajkot, Ranchi, Rohtak, Roorkee, Rourkela, Shimla, Shimoga, Siliguri, Srinagar, Thoraipakkam , Tiruchirappalli, Tirunelveli, Trichur, Trichy, Udaipur, Vijayawada, Vizag, Warangal, Chennai, Coimbatore, Delhi, Dilsukhnagar, Hyderabad, Kalyan, Nagpur, Noida, Thane, Thiruvananthapuram, Uppal, Kompally, Bangalore, Chandigarh, Chromepet, Faridabad, Guntur, Guwahati, Kharadi, Lucknow, Mumbai, Mysore, Nashik, Navi Mumbai, Patna, Pune, Raipur, Vadodara, Varanasi, Yelahanka
Navigate to Address
360DigiTMG - Data Science Course, Data Scientist Course Training in Chennai
D.No: C1, No.3, 3rd Floor, State Highway 49A, 330, Rajiv Gandhi Salai, NJK Avenue, Thoraipakkam, Tamil Nadu 600097
1800-212-654-321