Database Administrator Roles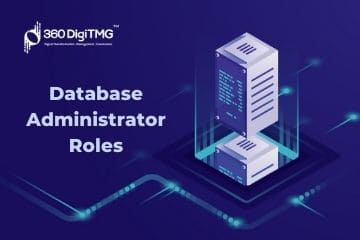 Human evolution has depended a great deal on communication. The development of communication from antiquity to the present day has been a really fascinating transformation. Every age developed its own distinct means of communication and information transfer. Knowledge transmission from one era to the next also advanced quite scientifically. However, throughout the course of human evolution, the concept of keeping information in order to communicate it has remained consistent. Early cave paintings are an illustration of how humans used to transmit knowledge and preserve information to facilitate communication and carry out significant activities. Modern database management systems and the technique of storing information through cave paintings may be contrasted. Both serve as data or information repositories, which led to the development of computers. As a result, the database concept predates the history of mankind.
Click here to learn Data Science in Hyderabad
Learn the core concepts of Data Science Course video on Youtube:
Let's first examine the database. A database management system (DBMS) controls a database, which is an organised collection of data. Systems for computing house databases. Multiple tables that are organised in rows and columns within a database enable effective data querying, processing, modification, updating, and organisation. Administrators with certification in database management are in charge of these databases. What is a database administrator (dba) in a database management system? What are a database administrator's responsibilities in a DBMS? and other related queries are all addressed in this article.These are the following types of databases:
Relational Database
Non-Relational Database
Object-oriented Database
OLTP Database
Graph Database
Data Warehouse
Distributed Database
Autonomous Database
Cloud Database
Document Database
Click here to explore 360DigiTMG.
The main duty of a database administrator is to ensure that the data is safe, accessible, and available.
Below is a brief of the job responsibilities of a database administrator (DBA):
DBA is required to install database software and configure the database server
DBA is responsible for the extraction of data from multiple sources, transform the data to requisite format, and load it to the main repository.
DBAs make reinforcement and recuperation plans and systems as per benchmarked industry best practices
DBA is expected to know about the shortcomings of database programming and the organization's general framework and work to limit dangers. No framework is 100 percent resistant to assaults, however, actualizing prescribed procedures can limit dangers. On account of a security breach, the DBA is expected to counsel review logs for signs of data compromise. Review trails are additionally significant when working with managed information
DBA designs the control and extent of data that can be accessed by individuals within an organization
DBA engages in active capacity planning depending on the growth velocity of the organization as it requires to add more headcounts that would result in increased usage levels. Hence, the DBA predicts for the future requirements proactively
DBA actively needs to monitor database performance on a regular basis. Hence, the DBA is expected to have practical knowledge of the latest monitoring tools to track and improve system performance
With the core skill to identify glitches in the system, DBA also has to have practical hands-on experience to tune the systems for optimum performance
DBA has to be a great team player by extending support software programmers and IT, project teams
DBA has to be available for on-call support
These are the basic skill sets that a DBA is required to possess. However, DBAs may be grouped into a number of different sorts of specialised tasks. The various specialist roles of a DBA are:
System DBA: Here the DBA focuses energy around system administration. The DBA is not invested in the implementation of applications and databases. The role requires the DBA to install new versions of DBMS, apply the latest patches, implement system parameter tuning, ensure DBMS works well with storage software and devices, and install any third part DBA tools if required.

Database Architect: A DB architect is exclusively responsible for developing and designing databases. The architect doesn't do any other job. Consistent information models are converted into actual database structures by the architect.

Data Warehouse Administrator: Data warehouses are deployed for performing in-depth data analysis. DBAs fundamental responsibility is to keep up and supervise the data warehouse environment. The data warehouse administrator has an in-depth mastery of the differences between databases that keep up data warehouse and OLTP. Experience with BI and query tools, specialized database design for data warehousing, knowledge of data warehousing technologies, ETL skills, etc., are necessary for Data warehouse administration.

Performance Analyst (PA): Performance analysts are only concerned with database applications' performance. Despite being a particular kind of task-oriented DBA, they are more prevalent than other types. When developing databases, it is essential to comprehend the finer points and intricacies of SQL code in order to evaluate the performance of databases. PAs possess the technical know-how to modify system and DBMS settings. In order to assist with necessary code modifications for performance, PAs communicate with application developers. A PA is a seasoned, highly trained, and multifaceted member of the DBA team.

Task-Oriented DBA (TODBA): In large corporation specialist DBAs are required whose primary responsibility is to focus on a specific task. Task-specific DBAs are generally found in large IT companies. The fundamental responsibility of TODBA is to make sure the retrieval of the institution's databases. Such expertise is generally required in very large corporations.

Application DBA (ADBA): Designing the database is the primary duty of the ADBA. Additionally, ADBA helps maintain and administer databases for specific applications. The DBA for the programme can create and troubleshoot complicated SQL. The application DBA will primarily focus on a collection of apps rather than the overall DBMS system and database environment, even if they should be capable of doing other DBA responsibilities like performance optimisation, database change management, etc.
Click here to learn Data Science Course, Data Science Course in Hyderabad, Data Science Course in Bangalore
Data Science Placement Success Story
Data Science Training Institutes in Other Locations
Agra
,
Ahmedabad
,
Amritsar
,
Anand
,
Anantapur
,
Bangalore
,
Bhopal
,
Bhubaneswar
,
Chengalpattu
,
Chennai
,
Cochin
,
Dehradun
,
Malaysia
,
Dombivli
,
Durgapur
,
Ernakulam
,
Erode
,
Gandhinagar
,
Ghaziabad
,
Gorakhpur
,
Gwalior
,
Hebbal
,
Hyderabad
,
Jabalpur
,
Jalandhar
,
Jammu
,
Jamshedpur
,
Jodhpur
,
Khammam
,
Kolhapur
,
Kothrud
,
Ludhiana
,
Madurai
,
Meerut
,
Mohali
,
Moradabad
,
Noida
,
Pimpri
,
Pondicherry
,
Pune
,
Rajkot
,
Ranchi
,
Rohtak
,
Roorkee
,
Rourkela
,
Shimla
,
Shimoga
,
Siliguri
,
Srinagar
,
Thane
,
Thiruvananthapuram
,
Tiruchchirappalli
,
Trichur
,
Udaipur
,
Yelahanka
,
Andhra Pradesh
,
Anna Nagar
,
Bhilai
,
Borivali
,
Calicut
,
Chandigarh
,
Chromepet
,
Coimbatore
,
Dilsukhnagar
,
ECIL
,
Faridabad
,
Greater Warangal
,
Guduvanchery
,
Guntur
,
Gurgaon
,
Guwahati
,
Hoodi
,
Indore
,
Jaipur
,
Kalaburagi
,
Kanpur
,
Kharadi
,
Kochi
,
Kolkata
,
Kompally
,
Lucknow
,
Mangalore
,
Mumbai
,
Mysore
,
Nagpur
,
Nashik
,
Navi Mumbai
,
Patna
,
Porur
,
Raipur
,
Salem
,
Surat
,
Thoraipakkam
,
Trichy
,
Uppal
,
Vadodara
,
Varanasi
,
Vijayawada
,
Vizag
,
Tirunelveli
,
Aurangabad
Data Analyst Courses in Other Locations
ECIL
,
Jaipur
,
Pune
,
Gurgaon
,
Salem
,
Surat
,
Agra
,
Ahmedabad
,
Amritsar
,
Anand
,
Anantapur
,
Andhra Pradesh
,
Anna Nagar
,
Aurangabad
,
Bhilai
,
Bhopal
,
Bhubaneswar
,
Borivali
,
Calicut
,
Cochin
,
Chengalpattu
,
Dehradun
,
Dombivli
,
Durgapur
,
Ernakulam
,
Erode
,
Gandhinagar
,
Ghaziabad
,
Gorakhpur
,
Guduvanchery
,
Gwalior
,
Hebbal
,
Hoodi
,
Indore
,
Jabalpur
,
Jaipur
,
Jalandhar
,
Jammu
,
Jamshedpur
,
Jodhpur
,
Kanpur
,
Khammam
,
Kochi
,
Kolhapur
,
Kolkata
,
Kothrud
,
Ludhiana
,
Madurai
,
Mangalore
,
Meerut
,
Mohali
,
Moradabad
,
Pimpri
,
Pondicherry
,
Porur
,
Rajkot
,
Ranchi
,
Rohtak
,
Roorkee
,
Rourkela
,
Shimla
,
Shimoga
,
Siliguri
,
Srinagar
,
Thoraipakkam
,
Tiruchirappalli
,
Tirunelveli
,
Trichur
,
Trichy
,
Udaipur
,
Vijayawada
,
Vizag
,
Warangal
,
Chennai
,
Coimbatore
,
Delhi
,
Dilsukhnagar
,
Hyderabad
,
Kalyan
,
Nagpur
,
Noida
,
Thane
,
Thiruvananthapuram
,
Uppal
,
Kompally
,
Bangalore
,
Chandigarh
,
Chromepet
,
Faridabad
,
Guntur
,
Guwahati
,
Kharadi
,
Lucknow
,
Mumbai
,
Mysore
,
Nashik
,
Navi Mumbai
,
Patna
,
Pune
,
Raipur
,
Vadodara
,
Varanasi
,
Yelahanka
Navigate to Address
360DigiTMG - Data Science Course, Data Scientist Course Training in Chennai
D.No: C1, No.3, 3rd Floor, State Highway 49A, 330, Rajiv Gandhi Salai, NJK Avenue, Thoraipakkam, Tamil Nadu 600097
1800-212-654-321