How do I Start to Study Data Science?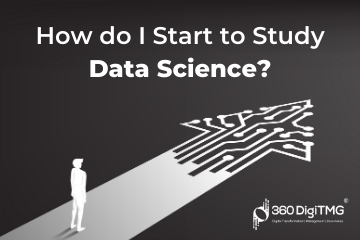 Data science is rising in popularity. Today, a data scientist may command a substantial pay just by virtue of their expertise. This article will serve as a wonderful starting point for your career in data science if you are interested in this vast topic but unsure of where to begin. There are several ways to study online, like watching lectures that have been recorded or enrolling in an online course. Even if you are a newbie and don't have any prior training in the area, this article will show you how to study data science fast and simply. Let's read about the best ways to get started learning data science.
Find out your field of interest
Get Python knowledge
Learn different aspects of Data Science
Take lectures on machine learning initially
Deeply learn machine learning
Check your learning by practice and revision
Also, check this Data Science Institute in Bangalore to start a career in Data Science.
Find out the Field of Interest

Which area of data science are you interested in studying? is the question at hand. You can be discouraged by certain people who claim that since you lack a degree in computer science, mathematics, statistics, or algebra, you have little chance of succeeding in the field of data science. It is incorrect since data scientists do not always require a master's degree in the relevant field if they are capable of learning. In general, data science is the study of posing problems and finding the best possible solution. If you are familiar with fundamental mathematics and programming languages, you may simply gather data on the issue at hand and then clean it up by analysing and optimising to reach the desired outcome by utilising certain machine learning techniques. Therefore, you are prepared if you have fundamental talents rather than required a master's degree.

Learn the core concepts of Data Science Course video on YouTube:

Get Python Knowledge

For starting learning data science, you need to get comfortable with the python programming language. It can be the best source for getting skills in data science. This language covers almost all work of data science as it is very famous in the industry. There are also some other programming languages, but most expert data scientists prefer Python. So don't waste your time thinking that which language you should. Just focus on learning Python only. In this step, you need to know about data types, functions, conditions, and loops, etc. You can learn Python by joining the online sites that offer courses in python learning.

Want to learn more about data science? Enroll in the Best Data Science courses in Chennai to do so.

Learn Different Aspects of Data Science

You should concentrate on understanding various data science topics including data analysis, data manipulation, and data visualisation after you have mastered Python. With the help of the panda's library, you may learn the tools for these elements. The tools needed to process data and subsequently apply various operations on it are available in this library. It offers a variety of approaches to a single problem from which you may pick the one that works best for your data collection. This will be a terrific endeavour to increase your data science productivity while you are dealing with data sets utilising Panda's library.

Looking forward to becoming a Data Scientist? Check out the Data Science Course and get certified today.

Take Lectures on Machine Learning

In this step, you should learn how you can use your knowledge of Python in Machine Learning. The scikit-learn library will be a great help for machine learning using Python. You can build machine learning models to get critical insight from the massive amount of data and create clean and accurate models by choosing the best tools. The library contains the tuning tools for models and easy documentation to understand the usage of different models. Machine learning is evolving day by day that's why it is complex to learn. The scikit- learn library provides videos on machine learning. After watching the videos, now you have a grip on the fundamentals of machine learning. After this, take an online course on machine learning with Python. Many websites offer machine learning courses using Python. So, use the most recommended.

Gain Expertise in Machine Learning

Even if you've completed a Python-based online course on machine learning, it doesn't guarantee you fully understand the subject. As was already said, machine learning is a necessary discipline. We must thus explore machine learning in depth. Although the scikit-learn package offers many machine learning capabilities, it cannot answer issues like which model will be appropriate for your data set, how to interpret your model's results, and several other similar ones. You must study machine learning to get experience if you wish to resolve these challenges. Now, without having a strong background in mathematics, you must understand the methods of regression and statistics. The most common and well-known machine learning models—linear and logistic regression—should be studied in lectures on machine learning algorithms. You may pick the best accurate model for your dataset by watching films that compare several models.

Check your Learning by Practice and Revision

Earn yourself a promising career in data science by enrolling in the Data Science Classes in Pune offered by 360DigiTMG.

This step can be the best option to check whether you remember what you have learned. You can practice your knowledge on your datasets or projects. You can read blogs and articles on a particular topic that you think you are not good at. You can have online courses and competitions that will increase your knowledge and earn money from it. Always keep this point in your mind that learning is going on because your journey has just started. You will learn at every stage where you can have open source or personal projects and competitions like Kaggle. To make a career in data science, you just need to start.

Remember that! You need to get your hands filthy if you want to become an expert in data science. It implies that you must fill out the field. Doing data science might be beneficial. Start using your foundational knowledge, then, to learn more deeply.
Data Science Placement Success Story
Data Science Training Institutes in Other Locations
Agra
,
Ahmedabad
,
Amritsar
,
Anand
,
Anantapur
,
Bangalore
,
Bhopal
,
Bhubaneswar
,
Chengalpattu
,
Chennai
,
Cochin
,
Dehradun
,
Malaysia
,
Dombivli
,
Durgapur
,
Ernakulam
,
Erode
,
Gandhinagar
,
Ghaziabad
,
Gorakhpur
,
Gwalior
,
Hebbal
,
Hyderabad
,
Jabalpur
,
Jalandhar
,
Jammu
,
Jamshedpur
,
Jodhpur
,
Khammam
,
Kolhapur
,
Kothrud
,
Ludhiana
,
Madurai
,
Meerut
,
Mohali
,
Moradabad
,
Noida
,
Pimpri
,
Pondicherry
,
Pune
,
Rajkot
,
Ranchi
,
Rohtak
,
Roorkee
,
Rourkela
,
Shimla
,
Shimoga
,
Siliguri
,
Srinagar
,
Thane
,
Thiruvananthapuram
,
Tiruchchirappalli
,
Trichur
,
Udaipur
,
Yelahanka
,
Andhra Pradesh
,
Anna Nagar
,
Bhilai
,
Borivali
,
Calicut
,
Chandigarh
,
Chromepet
,
Coimbatore
,
Dilsukhnagar
,
ECIL
,
Faridabad
,
Greater Warangal
,
Guduvanchery
,
Guntur
,
Gurgaon
,
Guwahati
,
Hoodi
,
Indore
,
Jaipur
,
Kalaburagi
,
Kanpur
,
Kharadi
,
Kochi
,
Kolkata
,
Kompally
,
Lucknow
,
Mangalore
,
Mumbai
,
Mysore
,
Nagpur
,
Nashik
,
Navi Mumbai
,
Patna
,
Porur
,
Raipur
,
Salem
,
Surat
,
Thoraipakkam
,
Trichy
,
Uppal
,
Vadodara
,
Varanasi
,
Vijayawada
,
Vizag
,
Tirunelveli
,
Aurangabad
Data Analyst Courses in Other Locations
ECIL
,
Jaipur
,
Pune
,
Gurgaon
,
Salem
,
Surat
,
Agra
,
Ahmedabad
,
Amritsar
,
Anand
,
Anantapur
,
Andhra Pradesh
,
Anna Nagar
,
Aurangabad
,
Bhilai
,
Bhopal
,
Bhubaneswar
,
Borivali
,
Calicut
,
Cochin
,
Chengalpattu
,
Dehradun
,
Dombivli
,
Durgapur
,
Ernakulam
,
Erode
,
Gandhinagar
,
Ghaziabad
,
Gorakhpur
,
Guduvanchery
,
Gwalior
,
Hebbal
,
Hoodi
,
Indore
,
Jabalpur
,
Jaipur
,
Jalandhar
,
Jammu
,
Jamshedpur
,
Jodhpur
,
Kanpur
,
Khammam
,
Kochi
,
Kolhapur
,
Kolkata
,
Kothrud
,
Ludhiana
,
Madurai
,
Mangalore
,
Meerut
,
Mohali
,
Moradabad
,
Pimpri
,
Pondicherry
,
Porur
,
Rajkot
,
Ranchi
,
Rohtak
,
Roorkee
,
Rourkela
,
Shimla
,
Shimoga
,
Siliguri
,
Srinagar
,
Thoraipakkam
,
Tiruchirappalli
,
Tirunelveli
,
Trichur
,
Trichy
,
Udaipur
,
Vijayawada
,
Vizag
,
Warangal
,
Chennai
,
Coimbatore
,
Delhi
,
Dilsukhnagar
,
Hyderabad
,
Kalyan
,
Nagpur
,
Noida
,
Thane
,
Thiruvananthapuram
,
Uppal
,
Kompally
,
Bangalore
,
Chandigarh
,
Chromepet
,
Faridabad
,
Guntur
,
Guwahati
,
Kharadi
,
Lucknow
,
Mumbai
,
Mysore
,
Nashik
,
Navi Mumbai
,
Patna
,
Pune
,
Raipur
,
Vadodara
,
Varanasi
,
Yelahanka
Navigate to Address
360DigiTMG - Data Science, IR 4.0, AI, Machine Learning Training in Malaysia
Level 16, 1 Sentral, Jalan Stesen Sentral 5, Kuala Lumpur Sentral, 50470 Kuala Lumpur, Wilayah Persekutuan Kuala Lumpur, Malaysia
+60 19-383 1378