Future of Data Science In USA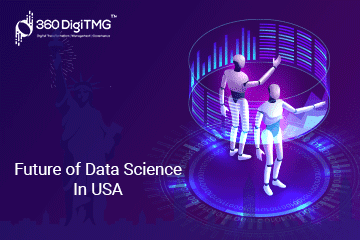 Data scientists have been regarded as a rarity for some time, and businesses have had difficulty securing them. According to Karl Hoods, Chief Digital and Data Officer of a Business, Energy, or Industrial Policy Department, as organisations have grown more conscious of the value and relevance of data, they have also quadrupled their requirement for the appropriate competence.
There will be a shortage of 250,000 data scientists in the US alone by 2024. One of the top data occupations in the world right now has also developed in the form of data scientists. It is challenging for an organisation to recognise the value of the growing amount of data produced by digitalization, IoT, or cognitive technologies.
Data scientists, data engineers, and business analysts are some of the most in-demand professions today. However, many current or aspiring workers do not require the whole skill set of employers. This is a serious issue, despite the fact that it is not brand-new.
We have collaborated with the Business-Higher Education Forum to explore the employment environment requiring knowledge, skills, and abilities in data science or analytics in order to assist you figure out what this entails for your own recruiting. The aforementioned data-driven forecasts or tactics can assist you in identifying your organization's finest pupils or identifying your talent requirements.
Those who do not upgrade their skill set may be at a considerable disadvantage given the constant development of data science. Without a question, one of the most in-demand job titles in today's workforce is "data scientist," yet competition for top professionals in this industry is strong.
For merely a data science specialist, the employment market has gone into overdrive, making the competition much tougher. The qualification of professionals is also credited by new online universities with certification programmes. Not to mention that because data science and big data analytics are the top talents in demand, businesses are looking to hire people with these capabilities. Regarding this, it has also been reported that it often takes 45 days to fill these positions, which is five days longer than it does for the typical US industry.
Want to learn more about data science? Enroll in the Best Data Science courses in Chennai to do so.
Data Science in USA
A simple definition says that data science is an accumulation for data, which is organized and analyzed in a way which will have an impact on companies. As per Google, a data scientist does have the ability to understand and interpret complex information, to make use of such a website's statistics and to support business decision-making.
Learn the core concepts of Data Science Course video on YouTube:
A data scientist job with the US IT industry has become a buzz worthy career. As most organizations have become more data-driven, this has driven a wider workforce and got skilled throughout this job role. That's pretty obnoxious to become a data professional that will expand job opportunities or give more opportunities for today's lucrative wage bundles.
Are you looking to become a Data Scientist? Go through 360DigiTMG's PG Diploma in Data Science and Artificial Intelligence!.
Data Science Over the Next Few Decades
Within the next ten years, data science is expected to advance more. Over 90% of the world's data is created in around 2 years, which is a startling statistic. It is impossible to fathom how much data will be produced during the next ten years. By 2020, the need for data scientists might increase by 28% alone in the United States. A growing number of sectors are eager for data, but they also need it to house highly skilled data scientists who can create consumer goods. According to the Labour Statistics Bureau, the United States will add 11.5 million new employments by 2026.
The phrase "data science" is more a primitive, unrefined one. This is a broad word with a variety of definitions. However, as time goes on, the data-science function becomes clearer. Data science will be given a clear notion to help its data scientists manage the corresponding tasks. The data sciences will see the creation of deeper professional paths. Additionally, a clearer set of rules and standards helps distinguish between straightforward data scientists and many other professionals.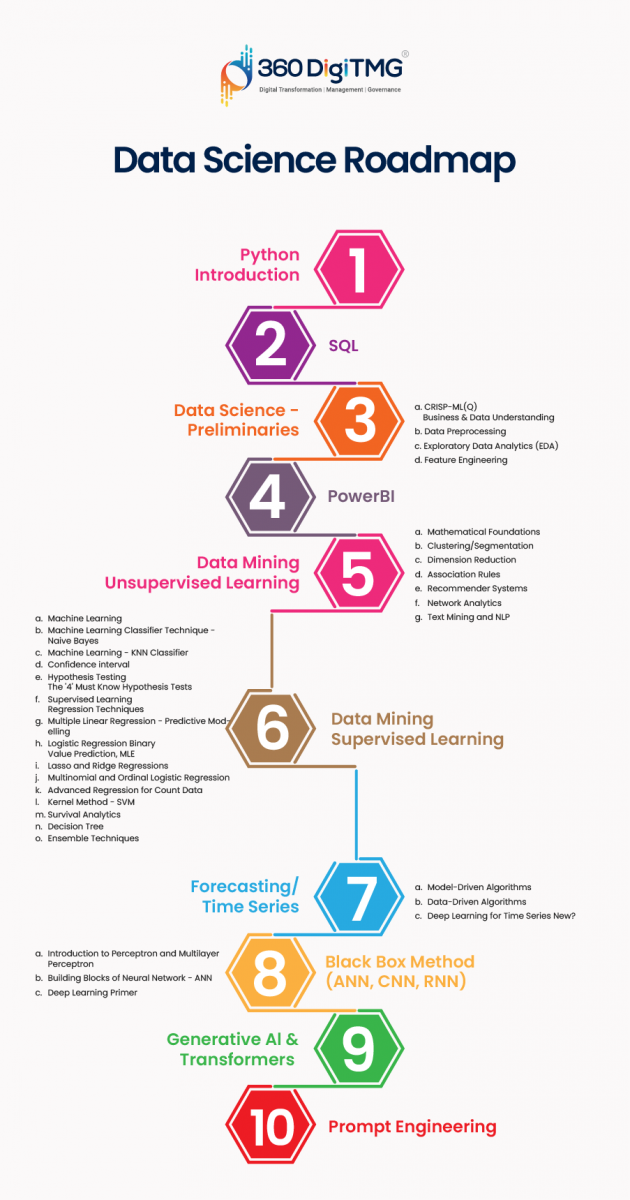 How Necessary Is Data Scientists To Know Their Field?
Caroline Carruthers, the former Network Rail or Lowell data leader, tells that even in future, "Data is still data, be it sitting in a retailer or charitable work. This is more important with employers to discover data scientists who can harness the endless curiosity coupled with such a logical and innovative mind, as well as a background in making a measurable impact on the business,
"She says. Mr. Hoods brings: "Domain experience becomes useful but can be learned." Recently, Michelle Wren, Head of Human Resources at Freedom Finance, used to have a necessity for such a data scientist with such a wide range of skills that included data, analytics or soft skills, without any need for domain skills.
"The usual time-period is 5 months for hiring in the significant selective manner to what the market is settling for". As such, the power is still within the hands of data scientists. There is a view with emerging technologies onto the horizon which data professionals may automate them from a job.
The Future Data Scientists - Being More Specialized
Berwick Associates Head of IT or digital leadership practise Matt Cockbill is not quite persuaded. However, the underlying concept will eventually generate, alter, or reform the ongoing need. Although more specialised employment options will emerge, the bubble surrounding data science and data technical abilities is not expected to completely break.
Even if technology will provide these professionals additional abilities, the positions won't disappear over the next few years. As Ms. Carruthers points out, this only suggests that the workforce's true level of data literacy might rise as more workers become aware of the practical applications of information.
As a result, the future of data scientists is so specialised that it can solve the crucial and complicated business ideals and difficulties that will help organisations progress forward.
Become a Data Scientist with 360DigiTMG Data Science course in Hyderabad Get trained by the alumni from IIT, IIM, and ISB.
Evolving Technology of Data Science
Here the career opportunity remains redundant, without up-skilling. In order to remain relevant throughout the industry, it is essential that professionals update themselves to new technologies. Throughout the coming decade, data science is evolving to provide an abundance of work opportunities. Because the supply is low, that is a good call of professionals seeking skills in this area.
Organizations are Still Facing a Challenge
Study conducted until 2018 65 percent of firms, according to Gemalto's Data Security Trust, were unable to structure and categorise the data they had acquired. 89% of respondents said they could easily examine the data even without a competitive advantage. Being an expert in data science, one may use the information gathered to help enterprises improve..
In-demand Skill-Set
Most data scientists possess an in-demand set of skills that the current industry requires today. To be particular, data science jobs have been increasing by 256 per cent since 2013. Skills like Machine Learning, R or Python programming, Adaptive Analytics, AI, or Data Visualization were the most prevalent skills employers are seeking from modern candidates.
Also, check this Data Science Institute in Bangalore to start a career in Data Science.
A Humongous Amount of Data
About 5 billion customers use the internet even on a daily basis, and by 2025, 6 billion people—or 75 percent of the world's population—are anticipated to do the same.
Data generation reached 33 zettabytes in 2018, while it is anticipated to reach 133 zettabytes by 2025. Data scientists are best positioned to effectively protect these businesses since data creation is only going to rise.
Advancement In Career Options
Data scientist has been found to become the most successful career for 2019 as per LinkedIn. The main reason for ranking this job role it's highest is attributable to the salary remuneration people were being granted, a $130,000 range. The research also predicts there will be high chances in being a data scientist and earning a promo which gives a career advancement rating of 9 from under 10.
Data science has been precisely already a fad job, and would not cease till the foreseeable future.
Data Science's Contribution to Future
Artificial intelligence, the Internet of Things, and deep learning are just a few of the cutting-edge technological concepts that make up data science. With advancements in both data science and technology, the influence of data science may have substantially grown. The importance of gathering data has been essential since it enables merchants to ascertain our purchasing patterns and then impact them. Consequently, it has enormous control thanks to its purchasing power.
The Bottom Line
So, all of this was regarding future Data Science Job Developments. We have seen how the future will be transformed by data science. We also addressed how the number of data Scientists roles will rise in the future through the USA. Hopefully, this article will give you a concise overview of trends of data science jobs for the future.
If in a short amount of time you want to be a data scientist then you have to check its Data Science Tutorial videos Series. You'll find a full set of topics which a data scientist has to read in their period of learning.
Data Science Placement Success Story
Data Science Training Institutes in Other Locations
Agra
,
Ahmedabad
,
Amritsar
,
Anand
,
Anantapur
,
Bangalore
,
Bhopal
,
Bhubaneswar
,
Chengalpattu
,
Chennai
,
Cochin
,
Dehradun
,
Malaysia
,
Dombivli
,
Durgapur
,
Ernakulam
,
Erode
,
Gandhinagar
,
Ghaziabad
,
Gorakhpur
,
Gwalior
,
Hebbal
,
Hyderabad
,
Jabalpur
,
Jalandhar
,
Jammu
,
Jamshedpur
,
Jodhpur
,
Khammam
,
Kolhapur
,
Kothrud
,
Ludhiana
,
Madurai
,
Meerut
,
Mohali
,
Moradabad
,
Noida
,
Pimpri
,
Pondicherry
,
Pune
,
Rajkot
,
Ranchi
,
Rohtak
,
Roorkee
,
Rourkela
,
Shimla
,
Shimoga
,
Siliguri
,
Srinagar
,
Thane
,
Thiruvananthapuram
,
Tiruchchirappalli
,
Trichur
,
Udaipur
,
Yelahanka
,
Andhra Pradesh
,
Anna Nagar
,
Bhilai
,
Borivali
,
Calicut
,
Chandigarh
,
Chromepet
,
Coimbatore
,
Dilsukhnagar
,
ECIL
,
Faridabad
,
Greater Warangal
,
Guduvanchery
,
Guntur
,
Gurgaon
,
Guwahati
,
Hoodi
,
Indore
,
Jaipur
,
Kalaburagi
,
Kanpur
,
Kharadi
,
Kochi
,
Kolkata
,
Kompally
,
Lucknow
,
Mangalore
,
Mumbai
,
Mysore
,
Nagpur
,
Nashik
,
Navi Mumbai
,
Patna
,
Porur
,
Raipur
,
Salem
,
Surat
,
Thoraipakkam
,
Trichy
,
Uppal
,
Vadodara
,
Varanasi
,
Vijayawada
,
Vizag
,
Tirunelveli
,
Aurangabad
Data Analyst Courses in Other Locations
ECIL
,
Jaipur
,
Pune
,
Gurgaon
,
Salem
,
Surat
,
Agra
,
Ahmedabad
,
Amritsar
,
Anand
,
Anantapur
,
Andhra Pradesh
,
Anna Nagar
,
Aurangabad
,
Bhilai
,
Bhopal
,
Bhubaneswar
,
Borivali
,
Calicut
,
Cochin
,
Chengalpattu
,
Dehradun
,
Dombivli
,
Durgapur
,
Ernakulam
,
Erode
,
Gandhinagar
,
Ghaziabad
,
Gorakhpur
,
Guduvanchery
,
Gwalior
,
Hebbal
,
Hoodi
,
Indore
,
Jabalpur
,
Jaipur
,
Jalandhar
,
Jammu
,
Jamshedpur
,
Jodhpur
,
Kanpur
,
Khammam
,
Kochi
,
Kolhapur
,
Kolkata
,
Kothrud
,
Ludhiana
,
Madurai
,
Mangalore
,
Meerut
,
Mohali
,
Moradabad
,
Pimpri
,
Pondicherry
,
Porur
,
Rajkot
,
Ranchi
,
Rohtak
,
Roorkee
,
Rourkela
,
Shimla
,
Shimoga
,
Siliguri
,
Srinagar
,
Thoraipakkam
,
Tiruchirappalli
,
Tirunelveli
,
Trichur
,
Trichy
,
Udaipur
,
Vijayawada
,
Vizag
,
Warangal
,
Chennai
,
Coimbatore
,
Delhi
,
Dilsukhnagar
,
Hyderabad
,
Kalyan
,
Nagpur
,
Noida
,
Thane
,
Thiruvananthapuram
,
Uppal
,
Kompally
,
Bangalore
,
Chandigarh
,
Chromepet
,
Faridabad
,
Guntur
,
Guwahati
,
Kharadi
,
Lucknow
,
Mumbai
,
Mysore
,
Nashik
,
Navi Mumbai
,
Patna
,
Pune
,
Raipur
,
Vadodara
,
Varanasi
,
Yelahanka
Navigate to Address
360DigiTMG - Data Science, Data Scientist Course Training in Bangalore
No 23, 2nd Floor, 9th Main Rd, 22nd Cross Rd, 7th Sector, HSR Layout, Bengaluru, Karnataka 560102
1800-212-654-321