Future of Data Science in India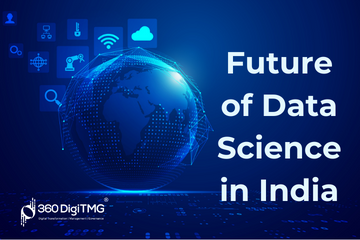 Students who receive an A or a 90 percentile would be guaranteed admission to a science institution and a career in either engineering or medicine. For many years now, this has been the fashion. When it came to choosing a job, both parents and students have been exceedingly cynical and attempted to be cautious. Simply earning a regular degree, landing a 9 to 5 job, entangling oneself in the boring routine, and collecting a decent salary are the goals. All of this comes at the expense of one's passion and drive.
Looking forward to becoming a Data Scientist? Check out the Data Science Course and get certified today.
The good news in this situation is that students are starting to follow less-trodden professional paths as a result of how circumstances are changing. Due to the unusual decisions that students have started to make, "DATA SCIENCE" is one such area of study that has suddenly gained attention. It is still unknown if this field would be successful in a developing nation like India.
What is Data Science?
Let us first get to understand the core of Data Science. We shall deal with the intricacies of data science later. In a layman's language, data science refers to that technique in which data at hand is used in an intelligent manner in order to deal and solve complex organizational hurdles. Data Science aims to bring together various fields of studies such as mathematics, statistics, information technology and of course artificial intelligence, which when used in unison contributes to the smooth and effective functioning of organizations at large.
Also, check this Data Science Institute in Bangalore to start a career in Data Science.
On a whole, data science makes use of both structured as well as unstructured data. Data science is closely associated with the concept of data mining. Overall, the principal purpose of this field is to extract as much information as possible and gain meaningful insights from both quantitative and qualitative data available with any organization.
Learn the core concepts of Data Science Course video on YouTube: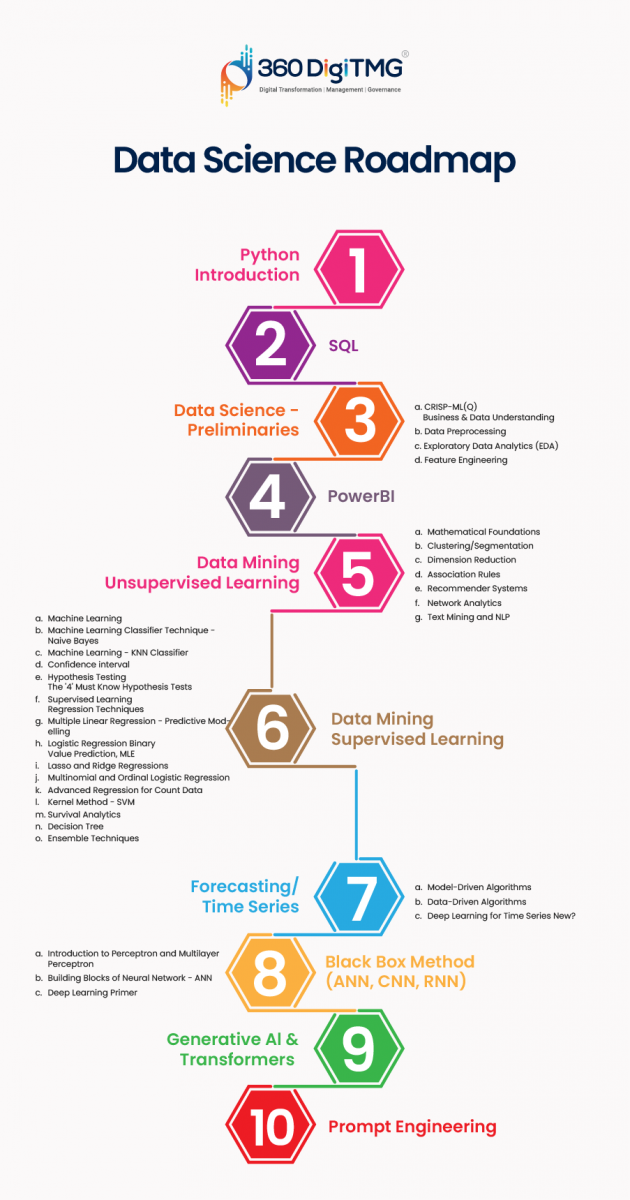 Do India based companies require Data Science Professionals?
Any person who enrols in a data science course qualifies to work as a data science professional. The subject of data science has become more popular in most western nations. India, though, is not behind. India makes substantial use of data scientists and data science to achieve organisational goals.
Companies established in India, large and small, view data scientists as an indispensable asset. Companies situated in India are beginning to realise how the results-driven mindset promoted by data analysts and scientists may assist them in assimilation of data, development of original strategies, and of course, the discovery of solutions to operational challenges that recur often.
However, the metrics of supply and demand now show a significant imbalance. There are far less skilled data scientists and analysts available to work in India. After seeing the enormous advantages of data science for managing physical, human, and financial resources inside the organisation, businesses have begun to create roles based on the discipline. But because there isn't enough experience in the industry, the majority of these posts have stayed empty.
There are therefore many companies in India that will be willing to accept all of this expertise if people chose to pursue a career in data science.
Earn yourself a promising career in data science by enrolling in the Data Science Classes in Pune offered by 360DigiTMG.
What Role do Data Science Professionals have to play in the future?
The future looks extremely competitive for organizations irrespective of the sector or industry that they form a part of. Moreover, the job profile of data scientists and analysts is going to be very challenging as well.
Primarily, data science professionals have to think ahead of time and stay prepared to face any kind of sudden challenges or unforeseen encounters that come in the way of the companies that they work for.
Such individuals will be expected to develop an absolutely friendly relationship with data of all kinds and keep the same at the tip of their fingers so that it can be utilized as and when such a demand arises.
Being well read is equally important and thus data science professionals will have to familiarize themselves with different kinds of surveys, forums and information baskets that can make or break their organization in the market.
Yet another dimension to the role of data scientists and analysts is to work on algorithms. If need be, such individuals would be required to develop full-proof data science tools, which can come handy in times of turmoil.
At times, such professionals would be required to step into the shoes of a visualizer and predict future trends so as to stay prepared for the years to come.
"Change is the only constant". Most firms have started making sense with this saying. Data Science experts understand this phenomenon very well. Thus, they strive constantly to bring about necessary tweaks, modifications and additions to the existing policies, strategies and the overall framework as such.
Would future promise satisfactory pay packages to India based Data Scientists?
We make the decision to labour continuously with the only purpose of achieving a respectable income from the career we select. The same kind of thinking also applies to data scientists.
Data scientists frequently wonder how they might land a position in an Indian firm and receive a nice salary.But it is abundantly obvious from statistics and related research that there is a very good likelihood that a data scientist will earn a sizable salary in the future.
Like any other profession, your experience and talent play a significant role in establishing the precise income you will receive. Additionally, forward-thinking businesses don't hesitate to reward competent data science personnel with incentives and profit sharing.
Becoming a Data Science Professional in India
To work as a data science professional in India, one needs to possess a specialized degree in the field of data science. Furthermore, an entry to the field of data science is possible by completing a Bachelor's degree in the said field. By deciding to get a Master's degree, climbing up the corporate ladder becomes further manageable.Overall, a good data science institute is this your first step to professional success.
You can enrol yourself to a college that offers data science courses by completing your initial education in branches of studies such as the likes of Mathematics, Statistics, Physics, Computer Science and Economics. This end will help you to gain theoretical knowledge about the many concepts that complete the field of data science.
Even though theory is important, having practical knowledge and cognitive skills becomes equally important to succeed as a data science professional. One needs to have expertise in the areas of logical reasoning, coding and problem solving. Likewise, the individual in question should be open to experimentation.
Role of Data Science in Various Industries
In a variety of industries, including IT, healthcare, education, power, and others, data science has emerged as a concept of utmost significance. Even the crucially essential subject of banking and finance, which is vital to India's economic growth, draws heavily from data science.
Data science will be used in the upcoming years to anticipate sales figures, work towards improved bottom lines, and of course maintain track of the market demand, which will in turn assist the management of the relevant organisation in making informed decisions and developing effective strategies.
Making the most of all the human resources working at various levels in the company will be made simpler by incorporating the various data science approaches and tools into the day-to-day operations of the organisation in question. At the same time, production will increase and task duplication will be greatly reduced.
If properly applied, data science will also aid in boosting the frequency and transparency of clear communication across both vertical and horizontal channels.
Data Science Placement Success Story
Data Science Training Institutes in Other Locations
Agra
,
Ahmedabad
,
Amritsar
,
Anand
,
Anantapur
,
Bangalore
,
Bhopal
,
Bhubaneswar
,
Chengalpattu
,
Chennai
,
Cochin
,
Dehradun
,
Malaysia
,
Dombivli
,
Durgapur
,
Ernakulam
,
Erode
,
Gandhinagar
,
Ghaziabad
,
Gorakhpur
,
Gwalior
,
Hebbal
,
Hyderabad
,
Jabalpur
,
Jalandhar
,
Jammu
,
Jamshedpur
,
Jodhpur
,
Khammam
,
Kolhapur
,
Kothrud
,
Ludhiana
,
Madurai
,
Meerut
,
Mohali
,
Moradabad
,
Noida
,
Pimpri
,
Pondicherry
,
Pune
,
Rajkot
,
Ranchi
,
Rohtak
,
Roorkee
,
Rourkela
,
Shimla
,
Shimoga
,
Siliguri
,
Srinagar
,
Thane
,
Thiruvananthapuram
,
Tiruchchirappalli
,
Trichur
,
Udaipur
,
Yelahanka
,
Andhra Pradesh
,
Anna Nagar
,
Bhilai
,
Borivali
,
Calicut
,
Chandigarh
,
Chromepet
,
Coimbatore
,
Dilsukhnagar
,
ECIL
,
Faridabad
,
Greater Warangal
,
Guduvanchery
,
Guntur
,
Gurgaon
,
Guwahati
,
Hoodi
,
Indore
,
Jaipur
,
Kalaburagi
,
Kanpur
,
Kharadi
,
Kochi
,
Kolkata
,
Kompally
,
Lucknow
,
Mangalore
,
Mumbai
,
Mysore
,
Nagpur
,
Nashik
,
Navi Mumbai
,
Patna
,
Porur
,
Raipur
,
Salem
,
Surat
,
Thoraipakkam
,
Trichy
,
Uppal
,
Vadodara
,
Varanasi
,
Vijayawada
,
Vizag
,
Tirunelveli
,
Aurangabad
Data Analyst Courses in Other Locations
ECIL
,
Jaipur
,
Pune
,
Gurgaon
,
Salem
,
Surat
,
Agra
,
Ahmedabad
,
Amritsar
,
Anand
,
Anantapur
,
Andhra Pradesh
,
Anna Nagar
,
Aurangabad
,
Bhilai
,
Bhopal
,
Bhubaneswar
,
Borivali
,
Calicut
,
Cochin
,
Chengalpattu
,
Dehradun
,
Dombivli
,
Durgapur
,
Ernakulam
,
Erode
,
Gandhinagar
,
Ghaziabad
,
Gorakhpur
,
Guduvanchery
,
Gwalior
,
Hebbal
,
Hoodi
,
Indore
,
Jabalpur
,
Jaipur
,
Jalandhar
,
Jammu
,
Jamshedpur
,
Jodhpur
,
Kanpur
,
Khammam
,
Kochi
,
Kolhapur
,
Kolkata
,
Kothrud
,
Ludhiana
,
Madurai
,
Mangalore
,
Meerut
,
Mohali
,
Moradabad
,
Pimpri
,
Pondicherry
,
Porur
,
Rajkot
,
Ranchi
,
Rohtak
,
Roorkee
,
Rourkela
,
Shimla
,
Shimoga
,
Siliguri
,
Srinagar
,
Thoraipakkam
,
Tiruchirappalli
,
Tirunelveli
,
Trichur
,
Trichy
,
Udaipur
,
Vijayawada
,
Vizag
,
Warangal
,
Chennai
,
Coimbatore
,
Delhi
,
Dilsukhnagar
,
Hyderabad
,
Kalyan
,
Nagpur
,
Noida
,
Thane
,
Thiruvananthapuram
,
Uppal
,
Kompally
,
Bangalore
,
Chandigarh
,
Chromepet
,
Faridabad
,
Guntur
,
Guwahati
,
Kharadi
,
Lucknow
,
Mumbai
,
Mysore
,
Nashik
,
Navi Mumbai
,
Patna
,
Pune
,
Raipur
,
Vadodara
,
Varanasi
,
Yelahanka
Navigate to Address
360DigiTMG - Data Analytics, Data Science Course Training Hyderabad
2-56/2/19, 3rd floor, Vijaya Towers, near Meridian School, Ayyappa Society Rd, Madhapur, Hyderabad, Telangana 500081
099899 94319