Are Data Science Courses the Most Trending Thing Now in Malaysia?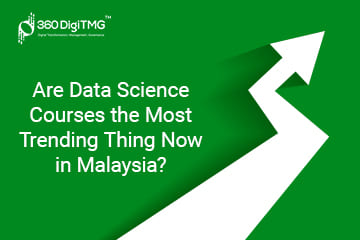 With its picturesque tourist attractions and flourishing industry, Malaysia is one of the most attractive nations on planet. Due to its membership in ASEAN, it is a desirable location for international investment. The country also possesses some of the most valuable resources, like petroleum, rubber, biodiversity, and so on. Furthermore, nobody is unaware of this place's resource wealth.
Want to learn more about data science? Enroll in the Best Data Science courses in Chennai to do so.
The entire globe has been affected by a digital wave where Big Data and Data Science have become popular debate topics. Business organisations are seeking for qualified data science specialists almost everywhere in the world, and Malaysia is no exception. What sets Malaysia apart is how dedicated the nation and its government are to advancing research and bringing together local and foreign professionals to advance data science.
It makes significant technological investments and turns out some of the top data science graduates and experts. It is not incorrect to claim that the nation will be a "dark horse" and eventually stand out as a centre of technical excellence and a desirable location for investments.
The reasons why data science courses are presently a trendy issue in Malaysia are explained in the paragraphs below.
Are you looking to become a Data Scientist? Go through 360DigiTMG's PG Diploma in Data Science and Artificial Intelligence!.
Huge Investment by MNC's Lead to Huge Demand For Data Science Professionals

As one of the most prestigious countries of the ASEAN, in spite of its size, this country has been a strong economic powerhouse. It enjoys great power within ASEAN and influences its economic and technological outlook on several of its policies. It has signed numerous FTA's, making it the preferred destination for foreign investment. This investment has led to an influx of multinational companies into the country, who are increasingly relying on data science to increase the productivity and efficiency of their businesses. Not only in Malaysia, but all over the world, a similar trend can be observed. This leads us to an obvious conclusion that data science professionals are definitely in high demand.

Become a Data Scientist with 360DigiTMG Data Science course in Hyderabad Get trained by the alumni from IIT, IIM, and ISB.

Also, given that the future is technology and innovation, more and more people are being drawn towards data science as a career option. Malaysia, home to 31.62 million people, is thus, seeing an increase in the number of people opting for data science as a career option. It is called the "sexiest" job for a reason. Thus, data science courses are definitely trending in Malaysia.

Salary of Data Science Professionals

As observed in the case of data science, money is a powerful motivation. A data scientist in Malaysia is thought to make an average income of around RM 60,817. The remuneration is further increased by on-the-job experience. A salary of more than 93K is earned with more than five years of experience, and it increases as you gain expertise in your industry. If you can demonstrate mastery of some in-demand abilities, you'll probably make a good living.

Thus, it is clear why so many people in Malaysia choose to enrol in data science courses.

Data Science Skills in Demand

To be a data scientist, one needs to show astuteness in certain skills. They are as follows:

Programming languages like R, Python
Machine learning
Mathematics
Good with software and computers,
Good communication skills

Learn the core concepts of Data Science Course video on YouTube:

These are a few of the abilities that are now in high demand in Malaysia. In Malaysia, more and more job profiles including and related to data science are emerging. since a result, the market is indicating a tendency of a significant rise in data science occupations, since many economic sectors rely on data science to improve their performance. In turn, mastery of these abilities will result in better compensation in major corporations. Furthermore, these abilities will benefit your career trajectory not just in Malaysia but also globally.

Also, check this Data Science Institute in Bangalore to start a career in Data Science.

Thus, it can be seen that data science courses are in high demand in Malaysia with people looking for fetching high profile jobs in Malaysia and in other parts of the world.

Data Science Courses Cost

Whether picking a certification course, graduate or postgraduate degree programme, or both, cost is a key deciding factor.

It does place restrictions and limitations. Malaysia provides some of the greatest data science and related education programmes at reduced prices without sacrificing quality. As a result, more and more people are being drawn to data science as a career path by the cost-effective choices. You can choose from a variety of price alternatives depending on your personal purchasing ability.

As a result, more people in Malaysia are wanting to enrol in or are currently enrolled in data science courses, demonstrating the field's appeal.

Internationally Recognized Certification Programmes

Further, despite the low cost of the education programs, these programs have not compromised on quality at all and are thus outstanding in every sense if and when compared with other data science courses in Malaysia.

Most certification courses and diplomas from reputed institutions bear internationally recognized certification, which makes it acceptable in any part of the world. Also, it eases the conversion process if you need to change jobs in the future, which are outside of the country, and saves from the trouble of having to take new tests and examinations and/or repeating the same course to prove your proficiency in the same.

Is it any wonder why data science courses are on the rise in Malaysia at the moment?

Goals and Aspirations of Malaysia as a Country

Malaysia is working hard to become a technology power so that it can compete with other developed nations' top economies. It is concentrated on using a target-oriented strategy and data-driven solutions to the complicated issues the nation is now facing. They are enlarging their horizons and boarding the digitalization train, which demonstrates this. The nation's ambitions and aspirations are therefore focused on technical and skill-based development and education initiatives. As a result, more and more individuals are enrolling in the Malaysian trend of data science courses.

In Malaysia, data science courses are undoubtedly popular. Its strategic location and prominent status within ASEAN make the nation vital from a variety of perspectives, notably from an economic standpoint. Multinational corporations from all over the world are drawn to Kuala Lumpur, the nation's capital. If we take into account the foreign investments and portfolio investment venues, it is often a profitable location. Additionally, each of these businesses is relying on programming, machine learning, and data science to improve their performance and efficiency. It has improved their ability to communicate with the populace, as seen by the position that Malaysia holds in the market. As a result, they are seeking data science specialists, which finally leads us to the conclusion that data science courses are becoming more and more well-liked.
References
360DigiTMG
Analytics India Mag
After School
Pay scale
Data Science Placement Success Story
Data Science Training Institutes in Other Locations
Agra
,
Ahmedabad
,
Amritsar
,
Anand
,
Anantapur
,
Bangalore
,
Bhopal
,
Bhubaneswar
,
Chengalpattu
,
Chennai
,
Cochin
,
Dehradun
,
Malaysia
,
Dombivli
,
Durgapur
,
Ernakulam
,
Erode
,
Gandhinagar
,
Ghaziabad
,
Gorakhpur
,
Gwalior
,
Hebbal
,
Hyderabad
,
Jabalpur
,
Jalandhar
,
Jammu
,
Jamshedpur
,
Jodhpur
,
Khammam
,
Kolhapur
,
Kothrud
,
Ludhiana
,
Madurai
,
Meerut
,
Mohali
,
Moradabad
,
Noida
,
Pimpri
,
Pondicherry
,
Pune
,
Rajkot
,
Ranchi
,
Rohtak
,
Roorkee
,
Rourkela
,
Shimla
,
Shimoga
,
Siliguri
,
Srinagar
,
Thane
,
Thiruvananthapuram
,
Tiruchchirappalli
,
Trichur
,
Udaipur
,
Yelahanka
,
Andhra Pradesh
,
Anna Nagar
,
Bhilai
,
Borivali
,
Calicut
,
Chandigarh
,
Chromepet
,
Coimbatore
,
Dilsukhnagar
,
ECIL
,
Faridabad
,
Greater Warangal
,
Guduvanchery
,
Guntur
,
Gurgaon
,
Guwahati
,
Hoodi
,
Indore
,
Jaipur
,
Kalaburagi
,
Kanpur
,
Kharadi
,
Kochi
,
Kolkata
,
Kompally
,
Lucknow
,
Mangalore
,
Mumbai
,
Mysore
,
Nagpur
,
Nashik
,
Navi Mumbai
,
Patna
,
Porur
,
Raipur
,
Salem
,
Surat
,
Thoraipakkam
,
Trichy
,
Uppal
,
Vadodara
,
Varanasi
,
Vijayawada
,
Vizag
,
Tirunelveli
,
Aurangabad
Data Analyst Courses in Other Locations
ECIL
,
Jaipur
,
Pune
,
Gurgaon
,
Salem
,
Surat
,
Agra
,
Ahmedabad
,
Amritsar
,
Anand
,
Anantapur
,
Andhra Pradesh
,
Anna Nagar
,
Aurangabad
,
Bhilai
,
Bhopal
,
Bhubaneswar
,
Borivali
,
Calicut
,
Cochin
,
Chengalpattu
,
Dehradun
,
Dombivli
,
Durgapur
,
Ernakulam
,
Erode
,
Gandhinagar
,
Ghaziabad
,
Gorakhpur
,
Guduvanchery
,
Gwalior
,
Hebbal
,
Hoodi
,
Indore
,
Jabalpur
,
Jaipur
,
Jalandhar
,
Jammu
,
Jamshedpur
,
Jodhpur
,
Kanpur
,
Khammam
,
Kochi
,
Kolhapur
,
Kolkata
,
Kothrud
,
Ludhiana
,
Madurai
,
Mangalore
,
Meerut
,
Mohali
,
Moradabad
,
Pimpri
,
Pondicherry
,
Porur
,
Rajkot
,
Ranchi
,
Rohtak
,
Roorkee
,
Rourkela
,
Shimla
,
Shimoga
,
Siliguri
,
Srinagar
,
Thoraipakkam
,
Tiruchirappalli
,
Tirunelveli
,
Trichur
,
Trichy
,
Udaipur
,
Vijayawada
,
Vizag
,
Warangal
,
Chennai
,
Coimbatore
,
Delhi
,
Dilsukhnagar
,
Hyderabad
,
Kalyan
,
Nagpur
,
Noida
,
Thane
,
Thiruvananthapuram
,
Uppal
,
Kompally
,
Bangalore
,
Chandigarh
,
Chromepet
,
Faridabad
,
Guntur
,
Guwahati
,
Kharadi
,
Lucknow
,
Mumbai
,
Mysore
,
Nashik
,
Navi Mumbai
,
Patna
,
Pune
,
Raipur
,
Vadodara
,
Varanasi
,
Yelahanka
Navigate to Address
360DigiTMG - Data Science, IR 4.0, AI, Machine Learning Training in Malaysia
Level 16, 1 Sentral, Jalan Stesen Sentral 5, Kuala Lumpur Sentral, 50470 Kuala Lumpur, Wilayah Persekutuan Kuala Lumpur, Malaysia
+60 19-383 1378