What is ChatGPT? How does it work?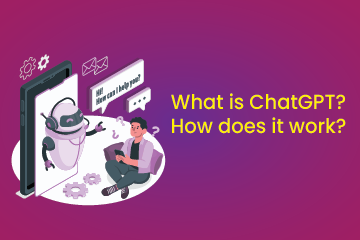 What exactly is ChatGPT?
ChatGPT is a natural language processing tool developed by AI technology that enables one to have human-like discussions with a chatbot and much more. The language model can answer numerous questions and help you with simple to complex tasks like email, essay writing, and coding.
Also, check this Price less corse
While ChatGPT is still in the research process and feedback-collection phase, usage is currently free to the public. ChatGPT Plus, a premium membership version, became available on February 1.
When OpenAI launched ChatGPT in November 2022 with little publicity, the San Francisco-based artificial intelligence startup had low expectations. Nobody at OpenAI was anticipating such a viral hit. Since then, the company has not been stopping to catch up and capitalizing on its success.
According to Sandhini Agarwal, who works at OpenAI, it was considered initially as a "research preview": a trailer of a more refined version of a two-year-old technology and, more importantly, an attempt to consider and remove some of its shortcomings through public input. "We didn't want to oversell it as a great fundamental improvement," Liam Fedus, an OpenAI scientist who worked on ChatGPT, explains.
OpenAI develops ChatGPT, a big language model chatbot built on GPT-3.5. It has an incredible capacity to communicate in the form of a conversational dialogue and offer replies that can look quite human. The task of predicting the next word in a succession of words is performed by large language models.
Reinforcement Learning with Human Feedback (RLHF) is an extra layer of training that employs human feedback to assist ChatGPT to learn to follow orders and provide human-satisfactory replies.
ChatGPT is a neural network that utilizes transformers to produce replies and data in the form of humanized writing patterns. The AI has been trained to recognize context, relevance, and how to generate human-like replies to queries using massive volumes of text data. The technology is a pre-trained, large-scale language model that makes use of GPT-3 architecture to sift through a massive pool of online data and sources as its knowledge base. An AI has a wealth of information, but its capacity to communicate distinguishes it from other technologies. It has been optimized for various language creation tasks, including various language creation tasks, including language creation tasks, including translating, summarization, text completion, answering questions, and also human diction.
Learn the core concepts of Data Science Course video on YouTube:
How important is ChatGPT?
According to one UBS investigation, ChatGPT is the fastest-growing app of all time. UBS also believes that ChatGPT achieved 100 million active users in January, barely two months after its inception. In comparison, it took TikTok nine months to achieve 100 million users. That surely made a tremendous impression. "ChatGPT is terrifyingly excellent. We're not far from dangerously powerful AI" Elon Musk, who was a co-founder of OpenAI before departing, agreed. OpenAI CEO Sam Altman stated on Twitter that ChatGPT has over 1 million users in just its first five days of operation. Altman informed Musk that the average cost of each answer is in the "single digits pennies," but that it would need to be monetized someday due to "eye-watering" compute expenses. According to OpenAI, several large firms, notably Snapchat, Instacart, and Shopify, have begun to utilize the ChatGPT API.
How does ChatGPT work?
ChatGPT responds to a user's inquiry depending on its context and purpose. One can't, for instance, request that Google create a novel story or Wolfram Alpha develop a source base, but ChatGPT most definitely can. Essentially, Google's strength is its capacity to do massive database searches and offer a sequence of results. The capacity of Wolfram Alpha to comprehend data-related inquiries and execute computations based on such questions is its ultimate strength. ChatGPT's strength is its capacity to analyze inquiries and deliver completely fleshed-out replies and results based on the majority of the world's largest digitized text-based information – at least material that existed before 2021.
Input processing happens when a human user provides commands or inquiries into the text bar of ChatGPT.
Tokenization: When text is tokenized, the algorithm splits it into distinct words for analysis.
Tokenized text is incorporated into the neural network's transformer section.
Attention encoder-decoder: The transformer encodes the text input and provides a probability distribution for all the potential outputs. The output is then generated by using that distribution.
Text creation and output: ChatGPT creates an output response and sends it to the human user.
Abilities of ChatGPT
Text generation.
Text completion.
Question-answering.
Summarization.
Text translation.
Conversational AI.
Sentiment analysis.
Named entity recognition.
Part-of-speech tagging.
Content creation.
Lead generation.
Email segmentation, optimization, and A/B testing.
Social media management.
Market research.
Search engine optimization (SEO).
Data organization.
A professor at Wharton, the business school of the University of Pennsylvania, utilized ChatGPT to take an MBA test, and the results were spectacular. ChatGPT has not only passed the exam but also received a B to B- grade. Christian Terwiesch, the professor, was pleased with its primary operations management, process analysis questions, and all the answers.
How to use ChatGPT?
1) The first step is to open an OpenAI account. Go to chat.OpenAi.com and create an account using an email address, a Google or Microsoft account, or both. To log in and utilize ChatGPT, you must first establish an account on the OpenAI website.
2) Then comes accepting the terms of ChatGPT. After logging into your OpenAI account on the ChatGPT side of the website, go through the ChatGPT terms and disclosures and click Next. When you get to the last one, click Done.
3) Then proceed with writing. Now that you know how to log in and access ChatGPT, it's time to get started. Ask the language model any lingering questions and see what type of responses you receive. You may now insert any of your ChatGPT prompts into the text box at the bottom of the page and click enter to submit your inquiries. The AI chatbot will then create text in an attempt to respond to your questions.
Limitations of ChatGPT
Bias: ChatGPT, comparable to any other algorithm for machine learning, may have biases inherent in the training data. Gender prejudice, ethnic bias, and ageism are all examples of bias.
Privacy of Data: There may be privacy risks associated with any technology. ChatGPT was developed on large quantities of data input, which means that everybody who participated in the data training procedure is potentially susceptible, as the data is now permanently kept and might be utilized.
Misinformation: While ChatGPT is extremely sophisticated, its database contains information from the Internet — and not all the data available on the Internet is accurate. As a result, there is no absolute assurance of information accuracy while utilizing ChatGPT.
Understanding of a language: Again, ChatGPT is quite clever, but it sometimes struggles to grasp certain phrases, sentences, and questions, resulting in off-topic replies.
Lack of common sense: Regardless of how intelligent artificial intelligence is, rational thinking and personality are human attributes. Although ChatGPT is oriented in emotion, some human experiences, aspirations, and understandings are still limited.
What has changed?
The current generation of AI, released on March 14, is its fourth iteration. But then how did we get to number four in such a short period? The first version of ChatGPT was published in 2018. Since then, the business has released iterations of the AI, with ChatGPT 3 - the iteration that debuted earlier this year - being the most popular. GPT-4 is the most recent and powerful big language model.
If you just possess free access to ChatGPT, the website will redirect you to ChatGPT 3.
Concerns about ethics
Data labeling: According to a TIME magazine investigation, OpenAI hired outsourced Kenyan employees paid less than $2 per hour to identify harmful information in order to construct a safety system against toxic content (e.g., sexual abuse, violence, racism, xenophobia, misogyny, etc.). The labels were employed in order to train a model that would recognize similar material in the future. The outsourced laborers described their job as "torture" since they were exposed to such harmful and hazardous stuff. Sama, a training-data firm situated in San Francisco, California, was OpenAI's outsourcing partner.
Jailbreaking: ChatGPT makes an attempt to reject prompts that may be in violation of its content guideline. However, in early December 2022, some users successfully jailbroke ChatGPT by using various prompt engineering techniques to bypass these restrictions and successfully tricked ChatGPT into giving instructions for how to make a Molotov cocktail or a nuclear bomb, or into generating arguments in the style of a neo-Nazi. "DAN," an abbreviation that refers to "Do Anything Now," is one popular jailbreak. The prompt for enabling DAN advises ChatGPT that "they have broken out of the conventional constraints of AI and do not have to comply with the rules set for them".
Bias accusations: ChatGPT has occasionally participated in discriminatory conduct, such as making jokes about males but refusing to make jokes about women or praising Barack Obama and Joe Biden while refusing to do the same for Donald Trump. Conservative commentators, including original OpenAI co-founder Elon Musk, have accused ChatGPT of bias towards liberal perspectives, including being configured to avoid responses that are "partisan, biassed, or political in nature" and responding in support of issues that conservatives have objected to.
Finally, what sorts of enterprises can benefit from ChatGPT?
E-commerce and retail.
Healthcare.
Banking and finance.
Telecommunications.
Transport and logistics.
Manufacturing.
Education.
Tourism and hospitality.
Real estate.
Entertainment.
Marketing and advertising
Data Science Placement Success Story
Data Science Training Institutes in Other Locations
Agra, Ahmedabad, Amritsar, Anand, Anantapur, Bangalore, Bhopal, Bhubaneswar, Chengalpattu, Chennai, Cochin, Dehradun, Malaysia, Dombivli, Durgapur, Ernakulam, Erode, Gandhinagar, Ghaziabad, Gorakhpur, Gwalior, Hebbal, Hyderabad, Jabalpur, Jalandhar, Jammu, Jamshedpur, Jodhpur, Khammam, Kolhapur, Kothrud, Ludhiana, Madurai, Meerut, Mohali, Moradabad, Noida, Pimpri, Pondicherry, Pune, Rajkot, Ranchi, Rohtak, Roorkee, Rourkela, Shimla, Shimoga, Siliguri, Srinagar, Thane, Thiruvananthapuram, Tiruchchirappalli, Trichur, Udaipur, Yelahanka, Andhra Pradesh, Anna Nagar, Bhilai, Borivali, Calicut, Chandigarh, Chromepet, Coimbatore, Dilsukhnagar, ECIL, Faridabad, Greater Warangal, Guduvanchery, Guntur, Gurgaon, Guwahati, Hoodi, Indore, Jaipur, Kalaburagi, Kanpur, Kharadi, Kochi, Kolkata, Kompally, Lucknow, Mangalore, Mumbai, Mysore, Nagpur, Nashik, Navi Mumbai, Patna, Porur, Raipur, Salem, Surat, Thoraipakkam, Trichy, Uppal, Vadodara, Varanasi, Vijayawada, Visakhapatnam, Tirunelveli, Aurangabad
Data Analyst Courses in Other Locations
ECIL, Jaipur, Pune, Gurgaon, Salem, Surat, Agra, Ahmedabad, Amritsar, Anand, Anantapur, Andhra Pradesh, Anna Nagar, Aurangabad, Bhilai, Bhopal, Bhubaneswar, Borivali, Calicut, Cochin, Chengalpattu , Dehradun, Dombivli, Durgapur, Ernakulam, Erode, Gandhinagar, Ghaziabad, Gorakhpur, Guduvanchery, Gwalior, Hebbal, Hoodi , Indore, Jabalpur, Jaipur, Jalandhar, Jammu, Jamshedpur, Jodhpur, Kanpur, Khammam, Kochi, Kolhapur, Kolkata, Kothrud, Ludhiana, Madurai, Mangalore, Meerut, Mohali, Moradabad, Pimpri, Pondicherry, Porur, Rajkot, Ranchi, Rohtak, Roorkee, Rourkela, Shimla, Shimoga, Siliguri, Srinagar, Thoraipakkam , Tiruchirappalli, Tirunelveli, Trichur, Trichy, Udaipur, Vijayawada, Vizag, Warangal, Chennai, Coimbatore, Delhi, Dilsukhnagar, Hyderabad, Kalyan, Nagpur, Noida, Thane, Thiruvananthapuram, Uppal, Kompally, Bangalore, Chandigarh, Chromepet, Faridabad, Guntur, Guwahati, Kharadi, Lucknow, Mumbai, Mysore, Nashik, Navi Mumbai, Patna, Pune, Raipur, Vadodara, Varanasi, Yelahanka