Course to Become Data Scientist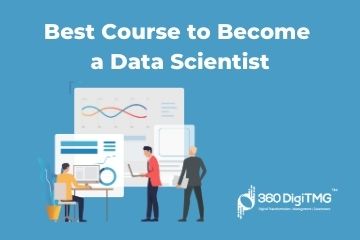 In terms of digitization, the 21st century has seen some of the biggest advancements ever achieved in human history. Everything in this time period has undergone a change, including the way we work and the activities we do. This includes information, how we handle it, and how we might benefit from it. Ever since the beginning of the twenty-first century, the word "data" has been popular.
And as a result of this buzz, data-related occupations are becoming increasingly well-known and well-liked.And because of this buzz, jobs related to the data have gained more and more recognition and popularity.
A data scientist is one person with such a career. Data Science has reportedly been named the sexiest job of the century by the Harvard Business Review. The following points clarify what precisely is a Data Science course.
To sum up, taking a course in data science is a fantastic way to learn about the details of being a data scientist. When you become a data scientist, you develop into so much more than just a data scientist. You develop into a storyteller, an Oracle programmer, a statistician, and so much more.
The need for Data Science experts will expand tenfold throughout the period in which we live. Take advantage of this fantastic chance. The course is designed in a way that lets you influence change and perhaps function as its leader. As a result, it revolutionises and should not only be done for financial gain. It is so much more than just its financial advantages.
Click here to explore 360DigiTMG.
Data Scientists

Data Scientists are extremely talented professionals who gather data, analyze, and process the data to find out the key insights and find solutions to problems that have not even cropped up as of yet. They know the business organization inside and out and thus, create data-driven model solutions.

Their job is an extremely tricky one as it involves complexities and multi-tasking. They have to look for problems when on the surface it might seem like there are none, find solutions to them which are viable. They do so while keeping in mind the goals and vision of the business organization they are working for.

Data Science Course

You might become an industry expert and establish a name for yourself by taking a Data Science course, which would teach you everything there is to know about the subject. Your understanding of topics like mathematics, computer science, etc. would be strengthened by taking a course on data science, which would also teach you other programming languages like R, Java, Python, etc. Additionally, you will gain proficiency in a number of Data Science-related subjects, including Data munging and Data purification.

Therefore, if you want to become a Data Science expert, you must take a course in the subject. It will cover a wide range of topics that will keep your interest high and give you the drive to do more. Simply said, it is a

Comprehensive course
Eclectic syllabus
The collocation of different subjects
Tricky, but easy once you understand the basics
A course that enables you to analyze large amounts of unstructured data and provide solutions that are cost-effective and resource-saving

Course Curruculum

A typical Data Science course would include a diverse range of topics derived from math, computer science, statistics, and other fields.

Some of the topics that would be covered in a Data Science course are as follows:

Introduction: A glance on the basics
Machine learning
Programming languages like Python, R,
Hadoop and Spark Developer,
Statistics,
SAS, etc.

Thus, it is an interesting course that is turning out to be extremely valuable.

Why Data Science?

There has never been a demand for data scientists as great as it is right now. Since then, the demand has been rising. There are many large businesses in practically every industry waiting for qualified Data Science experts to step into their shoes.

They are increasingly searching for Data Science experts to step into the gap, improve and optimise their performance.

Learn the core concepts of Data Science Course video on Youtube:

They value data science workers because they can extract value from chaotic and unstructured data. Additionally, they may make it simple to understand for those without a technical experience. The finest thing about them—and this merits recognition—is that they have the ability to spot issues before they ever arise and provide solutions. As a result, they lessen the likelihood of risks and losses. They have risen to a significant position in industries including transportation, healthcare, banking, and government because of this.

It's important to note that this career allows you to move industries. It enhances ability and skill and is incredibly adaptable and dynamic.

Thus, you must consider going for a course in Data Science because it is:

Very in demand at the moment,
Showing an increase in its importance at the moment,
A link between different organizations of the business firm
Is a connector between the technical and non-technical
A job profile for which need is felt in every sector of the economy
Flexible and dynamic
A career option that allows you to switch.

Who wouldn't want to pursue a course on Data Science?

Course Curruculum

This skill acts as an asset to your CV. It boosts up your employability and bankability. It equips you with and imbibes in you a range of skills that are technical as well as soft by nature.

Some of the technical skills that are attained after you have successfully aced this course are:

Programming: Python, Java, SQL,
Machine Learning,
Data Visualization: Tableau, Python, R Libraries,
Data munging,
Data Cleansing,
Data Manipulation,
Statistical concepts, linear regression,
Hadoop, etc.

Some of the soft skills that you gain after you have successfully mastered this course are:

Storytelling skills,
Predictive skills,
Communication skills,
Creative thinking,
Analytical thinking,
Problem-solving attitude, etc.

The Data Science course will be a gold star in your professional life.

Salaries

You will earn a respectable sum as pay and salary after completing the Data Science course, and these amounts will only rise as your expertise in the area rises given the trend of a tremendously in-demand job profile and a limited supply of skilled data professionals. Without these skilled Data Science workers, these businesses would not be able to survive the digitization tsunami. It is becoming a crucial role in commercial organisations. They will pay well in return because they recognise the value of skilled workers.

Money is a strong motivation, and as a result, many people are drawn to follow this career.

Who doesn't want to be well off? As a result, interest in Data Science courses is growing.

Key Responsibilities

The responsibilities of a Data Scientist are as follows:

Gather key insights from the heaps of unstructured data,
Revenue maximization,
Optimization of the business,
Improvement in the efficiency and productivity of the business as a whole
Furnish the organization with Machine Learning models
Risk mitigation
Problem identification,
Provide cost-effective solutions that conserve energy, resources, and time as well.
Click here to learn Data Science Course, Data Science Course in Hyderabad, Data Science Course in Bangalore
Data Science Placement Success Story
Data Science Training Institutes in Other Locations
Agra
,
Ahmedabad
,
Amritsar
,
Anand
,
Anantapur
,
Bangalore
,
Bhopal
,
Bhubaneswar
,
Chengalpattu
,
Chennai
,
Cochin
,
Dehradun
,
Malaysia
,
Dombivli
,
Durgapur
,
Ernakulam
,
Erode
,
Gandhinagar
,
Ghaziabad
,
Gorakhpur
,
Gwalior
,
Hebbal
,
Hyderabad
,
Jabalpur
,
Jalandhar
,
Jammu
,
Jamshedpur
,
Jodhpur
,
Khammam
,
Kolhapur
,
Kothrud
,
Ludhiana
,
Madurai
,
Meerut
,
Mohali
,
Moradabad
,
Noida
,
Pimpri
,
Pondicherry
,
Pune
,
Rajkot
,
Ranchi
,
Rohtak
,
Roorkee
,
Rourkela
,
Shimla
,
Shimoga
,
Siliguri
,
Srinagar
,
Thane
,
Thiruvananthapuram
,
Tiruchchirappalli
,
Trichur
,
Udaipur
,
Yelahanka
,
Andhra Pradesh
,
Anna Nagar
,
Bhilai
,
Borivali
,
Calicut
,
Chandigarh
,
Chromepet
,
Coimbatore
,
Dilsukhnagar
,
ECIL
,
Faridabad
,
Greater Warangal
,
Guduvanchery
,
Guntur
,
Gurgaon
,
Guwahati
,
Hoodi
,
Indore
,
Jaipur
,
Kalaburagi
,
Kanpur
,
Kharadi
,
Kochi
,
Kolkata
,
Kompally
,
Lucknow
,
Mangalore
,
Mumbai
,
Mysore
,
Nagpur
,
Nashik
,
Navi Mumbai
,
Patna
,
Porur
,
Raipur
,
Salem
,
Surat
,
Thoraipakkam
,
Trichy
,
Uppal
,
Vadodara
,
Varanasi
,
Vijayawada
,
Vizag
,
Tirunelveli
,
Aurangabad
Data Analyst Courses in Other Locations
ECIL
,
Jaipur
,
Pune
,
Gurgaon
,
Salem
,
Surat
,
Agra
,
Ahmedabad
,
Amritsar
,
Anand
,
Anantapur
,
Andhra Pradesh
,
Anna Nagar
,
Aurangabad
,
Bhilai
,
Bhopal
,
Bhubaneswar
,
Borivali
,
Calicut
,
Cochin
,
Chengalpattu
,
Dehradun
,
Dombivli
,
Durgapur
,
Ernakulam
,
Erode
,
Gandhinagar
,
Ghaziabad
,
Gorakhpur
,
Guduvanchery
,
Gwalior
,
Hebbal
,
Hoodi
,
Indore
,
Jabalpur
,
Jaipur
,
Jalandhar
,
Jammu
,
Jamshedpur
,
Jodhpur
,
Kanpur
,
Khammam
,
Kochi
,
Kolhapur
,
Kolkata
,
Kothrud
,
Ludhiana
,
Madurai
,
Mangalore
,
Meerut
,
Mohali
,
Moradabad
,
Pimpri
,
Pondicherry
,
Porur
,
Rajkot
,
Ranchi
,
Rohtak
,
Roorkee
,
Rourkela
,
Shimla
,
Shimoga
,
Siliguri
,
Srinagar
,
Thoraipakkam
,
Tiruchirappalli
,
Tirunelveli
,
Trichur
,
Trichy
,
Udaipur
,
Vijayawada
,
Vizag
,
Warangal
,
Chennai
,
Coimbatore
,
Delhi
,
Dilsukhnagar
,
Hyderabad
,
Kalyan
,
Nagpur
,
Noida
,
Thane
,
Thiruvananthapuram
,
Uppal
,
Kompally
,
Bangalore
,
Chandigarh
,
Chromepet
,
Faridabad
,
Guntur
,
Guwahati
,
Kharadi
,
Lucknow
,
Mumbai
,
Mysore
,
Nashik
,
Navi Mumbai
,
Patna
,
Pune
,
Raipur
,
Vadodara
,
Varanasi
,
Yelahanka
Navigate to Address
360DigiTMG - Data Analytics, Data Science Course Training Hyderabad
2-56/2/19, 3rd floor, Vijaya Towers, near Meridian School, Ayyappa Society Rd, Madhapur, Hyderabad, Telangana 500081
099899 94319