Is Data Science Good for Fresher's?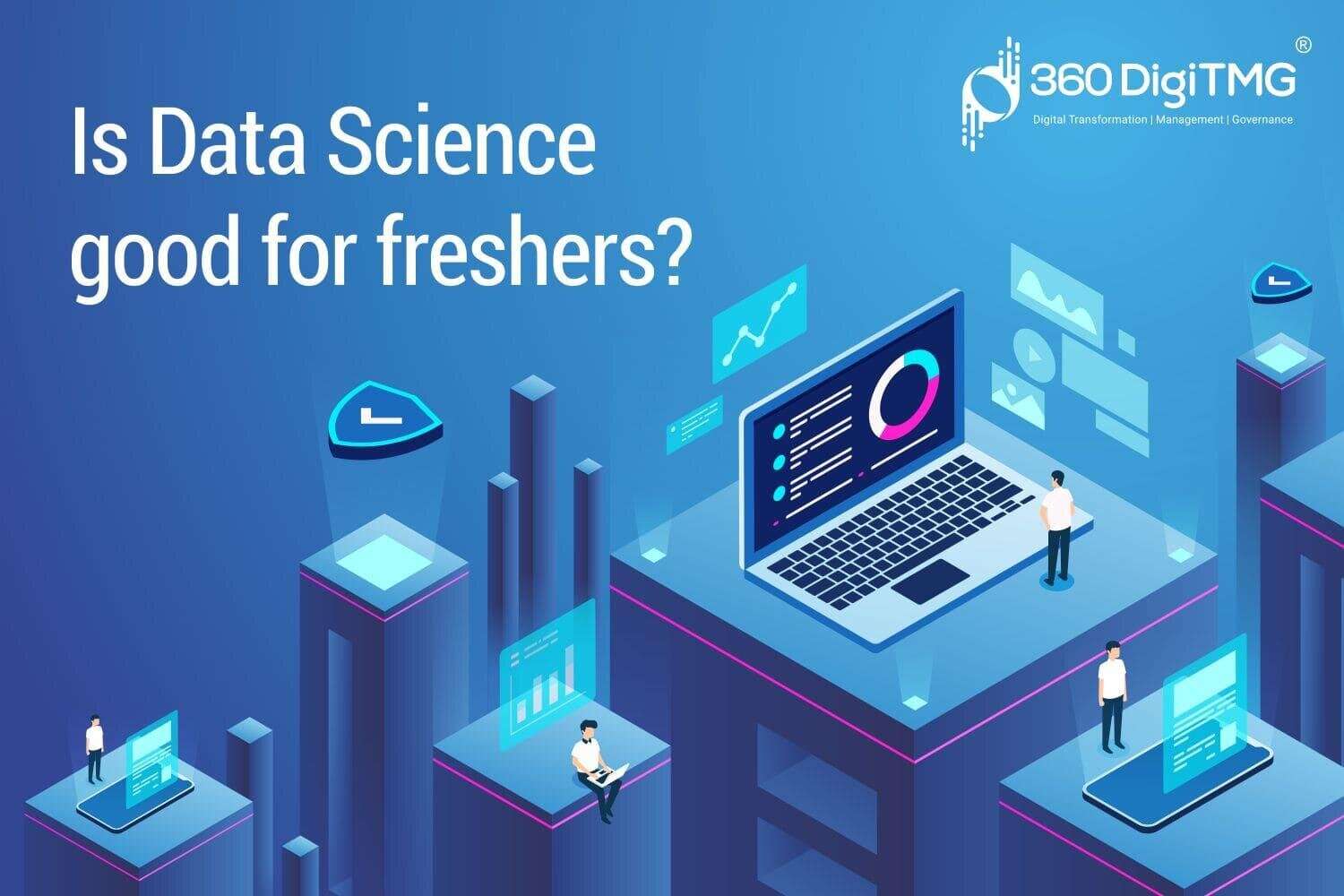 Data is abundant in today's technological world, but we don't always know which data is useful. For this reason, skilled specialists are needed in order to get insights. Data analysts are the name given to these specialists.
A data analyst's job is to prepare the goods, clients, or business objectives for decision-makers by processing them. They gather information to develop marketing strategies, customise items for their clients or consumers, and make substantial changes to the production process. You will constantly work with data, whether you are an entry-level data analyst or a senior-level analyst.
Want to learn more about data science? Enroll in the Best Data Science courses in Chennai to do so.
Entry-Level Data Analyst Jobs
If you have a bachelor's degree in data science and have a good GPA, you can easily get an entry-level job. If you have no specialization in data science but have a degree in a related field like mathematics, economics or statistics can also get an entry-level position.
Entry-level data scientist jobs require at least a bachelor's degree. It is advantageous if someone has a master's degree. People who have a technical background start job at an entry-level position such as operations analyst, statistical assistant, business support analyst, or others who provide job training.
Skills Required for Entry-Level Data Scientist Job
Basic understanding of Microsoft Excel

Microsoft Excel fundamentals are a need for entry-level employment. A Data Scientist's main responsibilities include categorising data and doing calculations. You will benefit if you are familiar with Excel.

Good knowledge of Statistics

One should have complete knowledge about distribution and statistics, which are important in data analysis. It will help if you had a good grip on descriptive and inferential statistics, tests and binomials, and experimental statistical design for data scientists of an entry-level.

A strong hand in Mathematics

Because data scientists use numbers to communicate, they should be familiar with a variety of mathematical procedures. An entry-level data scientist's responsibilities include converting verbal issues into mathematical expressions, becoming an expert in multivariable calculus, algebraic expressions, and other sorts of functions.

Familiarity with Machine Learning

The Foundation of Machine Learning depends on linear algebra and multivariable calculus, through which data professionals make exact predictions. One should learn three important types of machine learning.

Grasp on Programming Languages

Programming skills are crucial in the field of data science. Programming languages should be able to be used to interpret data by data scientists. Entry-level data scientists must to be proficient in at least one programming language. The more languages you know, the better. Data science employs a number of languages, including SQL, Python, R, C++, Java, MATLAB, and PHP.

Analytical skills

A Data Scientist must have analytical skills to deal with the data having numbers, facts, and figures. If you analyze the data properly, then it will become easy to find the conclusion.

Communication skills

Data scientists must convey things clearly since they must offer their results to non-technical workers and stakeholders. To effectively communicate complicated concepts, they need also be able to write and talk eloquently.

Attention to detail

A Data Scientist should make a precise data report, and make sure that their analysis is vigilant, which makes their conclusions correct.
Earn yourself a promising career in data science by enrolling in the Data Science Classes in Pune offered by 360DigiTMG.
Top 5 Entry-level Data Scientist jobs
Operation Scientist

Most enormous corporations employ operations analysts. They oversee the production and distribution of products, internal reporting systems, and the reorganisation of corporate processes. They may work in many industries and earn a range of wages.

Quantitative Scientist

Their job role is to study market statistics to develop quantitative models and analytical software. These scientists collaborate with mathematical professionals to improve trading protocols and maximize business profits.

IT System Analyst

To get a competitive edge in the IT industry, it is part of their work to build innovative technologies. Depending on their knowledge of data analytics, some analysts create new tools while others pay third parties to evaluate software.

Healthcare Data Analyst

They help doctors and scientists to find the solution to the problems they face daily. The demand for skilled health care data scientists is rising because these industries are producing massive amounts of data and they also set standards on how data should be processed and stored.

Data Scientist Consultant

They assist the corporation by giving information about a company. The intriguing aspect of this profession is that they may work remotely and for several companies.
Learn the core concepts of Data Science Course video on YouTube:
Fresher as a Data Scientist
For a Fresher, it's challenging to get his first job in any field. When it comes to data science, the question arises- Can a fresher become a Data Scientist? The answer is yes. Any fresher can become a Data Scientist the only need is to learn the tricks of the business and required skills. Freshers must need to know how they can grow in this field? And how to keep pace with others in this field?
If you want to continue your data science career as a fresher, you have to consider these aspects.
A Bachelor's Degree in Computer Science, Statistics, or Information Technology
A bachelor's diploma in statistics, computer science, or information technology is necessary to become a data scientist. Enrol in classes on database administration and project management as well. Additionally, you can speak with a career counsellor who can assist you in accomplishing your objective.
Looking forward to becoming a Data Scientist? Check out the Data Science Course and get certified today.
Participate in Data Scientist Internship Program
For a fresher, it is a little bit difficult to get a job as a data scientist. Work as an intern in any good organization and learn the skills required for the job. Due to the huge demand for a data scientist, there are many more opportunities for an internship. You can gain relevant experience by doing an internship, which will enhance your resume. You can also do online courses to learn a set of skills and new concepts.
A Master's Degree and Certification can Advance your Career
More work prospects and career opportunities are provided with a master's degree. Employers look for applicants that are enthusiastic about their professions, have creative ideas, and have a wide range of expertise. Exposure to the most recent software is provided through a master's degree.
Conclusion
The data science field is growing fast worldwide and is creating tons of job opportunities for all. The need is to perfect one's skills. So, learn the tips and tricks to be successful and keep your eyes on the latest data trends. Your dedication and commitment to this field will help you to rise.
Data Science Placement Success Story
Data Science Training Institutes in Other Locations
Agra
,
Ahmedabad
,
Amritsar
,
Anand
,
Anantapur
,
Bangalore
,
Bhopal
,
Bhubaneswar
,
Chengalpattu
,
Chennai
,
Cochin
,
Dehradun
,
Malaysia
,
Dombivli
,
Durgapur
,
Ernakulam
,
Erode
,
Gandhinagar
,
Ghaziabad
,
Gorakhpur
,
Gwalior
,
Hebbal
,
Hyderabad
,
Jabalpur
,
Jalandhar
,
Jammu
,
Jamshedpur
,
Jodhpur
,
Khammam
,
Kolhapur
,
Kothrud
,
Ludhiana
,
Madurai
,
Meerut
,
Mohali
,
Moradabad
,
Noida
,
Pimpri
,
Pondicherry
,
Pune
,
Rajkot
,
Ranchi
,
Rohtak
,
Roorkee
,
Rourkela
,
Shimla
,
Shimoga
,
Siliguri
,
Srinagar
,
Thane
,
Thiruvananthapuram
,
Tiruchchirappalli
,
Trichur
,
Udaipur
,
Yelahanka
,
Andhra Pradesh
,
Anna Nagar
,
Bhilai
,
Borivali
,
Calicut
,
Chandigarh
,
Chromepet
,
Coimbatore
,
Dilsukhnagar
,
ECIL
,
Faridabad
,
Greater Warangal
,
Guduvanchery
,
Guntur
,
Gurgaon
,
Guwahati
,
Hoodi
,
Indore
,
Jaipur
,
Kalaburagi
,
Kanpur
,
Kharadi
,
Kochi
,
Kolkata
,
Kompally
,
Lucknow
,
Mangalore
,
Mumbai
,
Mysore
,
Nagpur
,
Nashik
,
Navi Mumbai
,
Patna
,
Porur
,
Raipur
,
Salem
,
Surat
,
Thoraipakkam
,
Trichy
,
Uppal
,
Vadodara
,
Varanasi
,
Vijayawada
,
Vizag
,
Tirunelveli
,
Aurangabad
Data Analyst Courses in Other Locations
ECIL
,
Jaipur
,
Pune
,
Gurgaon
,
Salem
,
Surat
,
Agra
,
Ahmedabad
,
Amritsar
,
Anand
,
Anantapur
,
Andhra Pradesh
,
Anna Nagar
,
Aurangabad
,
Bhilai
,
Bhopal
,
Bhubaneswar
,
Borivali
,
Calicut
,
Cochin
,
Chengalpattu
,
Dehradun
,
Dombivli
,
Durgapur
,
Ernakulam
,
Erode
,
Gandhinagar
,
Ghaziabad
,
Gorakhpur
,
Guduvanchery
,
Gwalior
,
Hebbal
,
Hoodi
,
Indore
,
Jabalpur
,
Jaipur
,
Jalandhar
,
Jammu
,
Jamshedpur
,
Jodhpur
,
Kanpur
,
Khammam
,
Kochi
,
Kolhapur
,
Kolkata
,
Kothrud
,
Ludhiana
,
Madurai
,
Mangalore
,
Meerut
,
Mohali
,
Moradabad
,
Pimpri
,
Pondicherry
,
Porur
,
Rajkot
,
Ranchi
,
Rohtak
,
Roorkee
,
Rourkela
,
Shimla
,
Shimoga
,
Siliguri
,
Srinagar
,
Thoraipakkam
,
Tiruchirappalli
,
Tirunelveli
,
Trichur
,
Trichy
,
Udaipur
,
Vijayawada
,
Vizag
,
Warangal
,
Chennai
,
Coimbatore
,
Delhi
,
Dilsukhnagar
,
Hyderabad
,
Kalyan
,
Nagpur
,
Noida
,
Thane
,
Thiruvananthapuram
,
Uppal
,
Kompally
,
Bangalore
,
Chandigarh
,
Chromepet
,
Faridabad
,
Guntur
,
Guwahati
,
Kharadi
,
Lucknow
,
Mumbai
,
Mysore
,
Nashik
,
Navi Mumbai
,
Patna
,
Pune
,
Raipur
,
Vadodara
,
Varanasi
,
Yelahanka
Navigate to Address
360DigiTMG - Data Science, Data Scientist Course Training in Bangalore
No 23, 2nd Floor, 9th Main Rd, 22nd Cross Rd, 7th Sector, HSR Layout, Bengaluru, Karnataka 560102
1800-212-654-321