What is Data Science Course Eligibility in Hyderabad?
Hyderabad is the hot bowl of data science. In the past few years, Hyderabad has contributed towards the development and spread of data science domain has been immense. One of the many reasons is the work done by EdTech companies in this space who deliver job oriented professional data science training. 360DigiTMG is a top-notch EdTech professional training institute that has built expertise in training talent in the area of data science and artificial intelligence. Along with training they also provide internationally recognized certifications in collaboration with IBM, City & Guilds (UK), and UTM (Malaysia). 360DigiTMG provides data science training in Madhapur area of Hyderabad. It is only 20 minutes distance for aspirant looking for data science training in Gachibowli area and 12 minutes distance for data science course in Kuaktpally area.
Hey, but what is the eligibility for the data science course? This is a very good measure to take an informed decision. Most of the aspirants jump into doing a program basis factors such as the cheapest online data science degree or guaranteed data science jobs. Even before taking that plunge, one needs to at least look at data science course syllabus and evaluate carefully.
It has been strongly marketed and promoted that anyone can get into the data science field. This is true but an aspirant needs to understand what it takes to become a data scientist. Many times aspirants have their own version of eligibility in mind due to fancy-sounding terms such as technology, algorithm, machine learning, etc. that deters them from making a fair evaluation. Rather than getting bogged down by jargons, one needs to look deeper and understand better.
The best way of evaluating one's eligibility is to first list down one's objective. Why does one want to become a data scientist or even fancy the idea? With the answer to that question in place, one can then look for broader areas of coverage to learn data science fundamentals. The coverage aspect could consider factors such as time availability, the investment required, educational background, professional work experience, and course work. Let us take each of these factors and evaluate.
Time:
One can get into the data science field given that one is determined to commit and dedicate time every day for learning the data science fundamentals. Having said that, one also needs to decide whether one should do a full-time program through a university or one can go for short professional data science coaching. Time is of the essence and crucial for one's success. One can succeed through any mode depending on their convenience. However, in the past success stories have majorly emerged through professional training institutions as universities across the globe have just started offering the data science courses.
Investment:
We are a price-sensitive market and anything that sounds such as discount or cheapest has our attention. A data science aspirant should not fall for such gimmicks. One needs to ensure the quality that one derives from the course curriculum. Hence, one can go for short term or long-term courses depending on investment available that could be diverted to learn data science. Generally, the professional training institutes turn out to be extremely cost-effective, however, one needs to choose very cautiously.
Educational Background:
There is an interesting trend that has emerged. There is more and more demand for talent from social science and liberal arts backgrounds other than applied science and engineering. So right from liberal arts to engineering sciences, there is the place for everyone.
Professional Work Experience:
Previous work experience is highly valued in the field of data science. It is treated as domain expertise. Even an NGO activist can become a data scientist because he or she has a very good understanding of the social sector and data generated in the domain. So, when we develop AI solutions to curb human trafficking, such aspirants bring deep insights due to their domain expertise and add a lot of value because they also understand the modus operandi of such unlawful activities. This is just one scenario. Aspirants from fine arts backgrounds have the power to totally disrupt the way visualization can be done using data. They can make it more engaging, and easy to interpret for making critical decisions. Also, people from technology and other sectors bring in their set of expertise to design new data-driven solutions.
Course work:
Data Science is at the cross-section of statistics, mathematics, business, and computer science. Many aspirants freeze at the idea of statistics, mathematics, and coding. But not to worry. The level of concepts covered under statistics and mathematics is very basic and fundamental. Even aspirants from social science and liberal arts background can easily pick up the concepts. As far as coding is concerned, it is done using simple English language in open source tools such as R and Python. These are very user-friendly tools and extremely easy to learn. All the concepts taught work on these fundamental pillars
To summarize, the only eligibility to learn data science is a strong will, dedication, hard work, and lots of practice. That is the recipe to become a practical data scientist.
Click here to learn Data Science Course, Data Science Course in Hyderabad, Data Science Course in Bangalore
You may also like...
Data Science has become a leading field of study in recent times owing to its vast use in almost every industry in all parts of the world.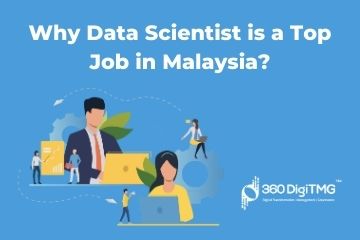 Data Scientists are one of the most sought-after jobs in Malaysia because they are high in demand and also offer enormous pay.
Most of the Data Scientists started their careers as data analysts or statisticians. But the beginning of the escalation in demand and evolution of big data led to the evolution of these roles as well.