Demand and Opportunities for Data Science in India - 2021
India is the second-highest country next to the US to have generated the demand to recruit about 50,000 Data Scientists for 2020 and 2021. The average salary for a Data Scientist with less than 1 year of experience is about 7 LPA in the Indian market. Even Startups are not shying away to offer a well-trained Data Scientist up to 5 LPA with zero real-time experience. Mid-Level - 3 to 5 years of experience will easily fetch a job for salary anywhere between 10 LPA – 14 LPA.
Data Science opportunities - Industry-wise
HealthCare – Industry alone will generate about 20,000 job openings.
Automotive- This Industry looks forward to creating at least 5000 Jobs by the end of 2020.
Software Development -The most pivotal which alone will create close to 1 lakh job opportunities.
There are about 2,50,000 plus E-Commerce companies Globally hence it is evident that there's a huge demand for Data Scientists as these companies analyze huge amounts of data every day.
Most sought out Indian MNCs with job openings in the field of Data Sciences which are ready to offer the average salary per annum is mentioned below:
Accenture: Rs 6.3 Lac per annum
Myntra: Rs 8 Lac per annum
Tata Consultancy Services: Rs 4.8 Lac per annum.
Capgemini: Rs 7 Lac per annum
IBM: Rs 4.7 Lac per annum
Current Job Openings on Data Sciences in India
As per Naukri.com India's no 1 Job Site – 25,000 plus openings. LinkedIn India – 14,000 Openings.
Few of the Top-Notch Data Scientists to get inspired from:
Dean Abbott: Co-founder and Chief Data Scientist at SmarterHQ
Sebastian Thrun: CEO of Udacity
Kenneth Cukier: Chief Data Editor at The Economist
John Elder: Founder of the Data mining consultancy Elder Research, Inc.
Andrew Ng: Founder and Chairman, Coursera
Top 10 Best Companies hiring Data Scientists 365 Days
Career options or Designations open for aspiring Data Scientists in India
Data Analyst
Data Architect
Applications Architect
Infrastructure Architect
Machine Learning Scientist
Enterprise Architect
Business Intelligence or BI Developer
Recent salaries update from Tech Companies for Data Scientists - June 2020
Ericson worldwide - salary range - INR 3.65 LPA - INR 32.75 LPA
Innoplexus - salary range – INR 6.60 LPA - INR 17.35 LPA
DXC Technology - salary range - INR 10.40 LPA - INR 12.90 LPA
Quantiphi - salary range - INR 7.40 LPA - INR 14.60 LPA
Tech Mahindra - salary range - INR 3.70 LPA - INR 15.5 LPA
CASHe - salary range - INR 9.90 LPA - INR 10.25LPA
Capgemini - salary range - INR 5.12 LPA - INR 14.80 LPA
Applied Data Science salary range - INR 6.20 LPA - INR 11.90LPA
Nielsen - salary range - INR 6 LPA - INR 12.40LPA
Below is the list of some renowned companies recruiting for Data Scientists - 2020
Click here to learn Data Science Course
Click here to learn Data Science Course, Data Science Course in Hyderabad, Data Science Course in Bangalore
You may also like...
Data Science has become a leading field of study in recent times owing to its vast use in almost every industry in all parts of the world.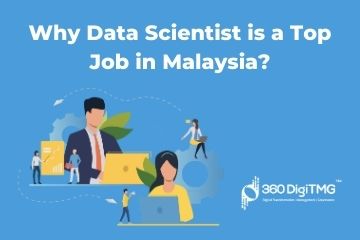 Data Scientists are one of the most sought-after jobs in Malaysia because they are high in demand and also offer enormous pay.
Most of the Data Scientists started their careers as data analysts or statisticians. But the beginning of the escalation in demand and evolution of big data led to the evolution of these roles as well.