Can I Learn Python in One Month?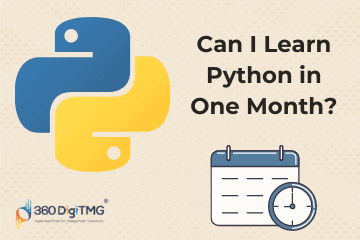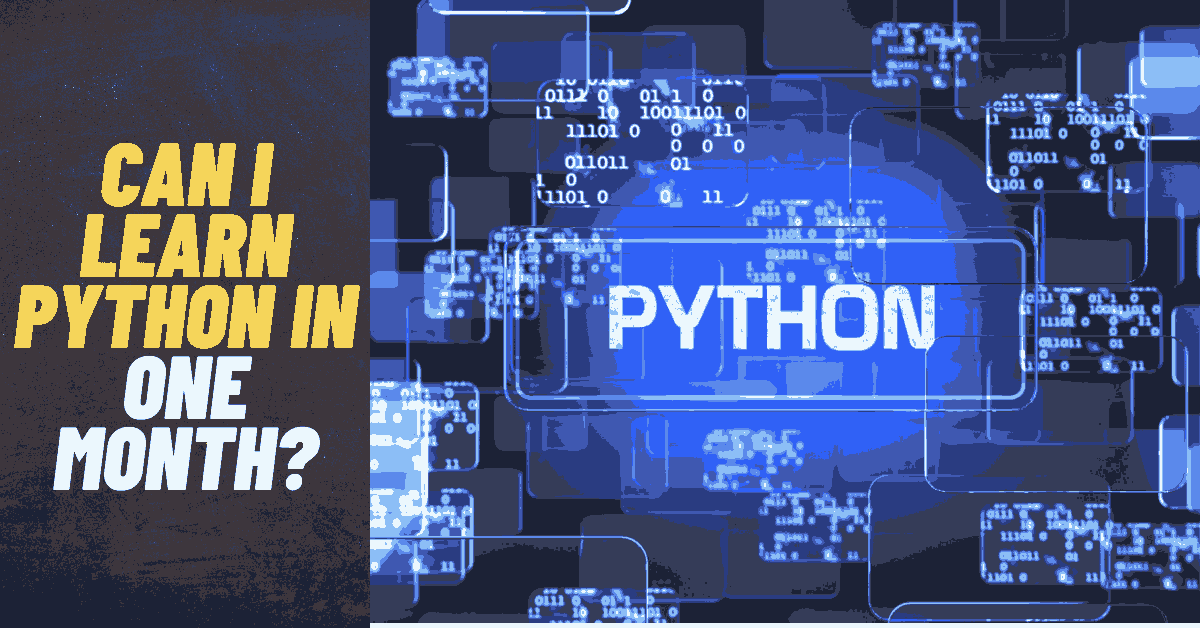 Image from Pixabay
Since a tremendous amount of data is available right now, businesses are in immense need of collecting and storing it.
Useful information that can be collected from this raw data with the help of data science techniques which can later be used in bringing innovations in the products and attracting the eyes of new potential customers.
Because of data science, it is possible for businesses to understand the interests of common individuals.
Business sectors have understood now that without hiring skilled data scientists, the rate of their development would not be enough to complete the modern-day challenges. Because of the data scientists, business sectors can understand what common individuals want.
SBy understanding the behavior and needs of common individuals, they can make the desired products and earn a significant amount of profit.
So, data science produces insights which businesses can utilize for making better decisions and design innovative products and services.
Thus, data science has become an essential need of every business association. The truth is that data scientist has become a highly desirable profession right now.
By the end of this article, one will be able to understand the scope of the data science field, its prerequisites, required skills, the importance of python, and how speedily one can learn python. This information can help you in deciding whether learning python is suitable for you or not.
So, without any further delay, let's follow this fantastic path of learning.
A Brief Introduction of Data Science

Data science is an interdisciplinary field that incorporates modern tools from multiple disciplines for producing useful information by assessing tons of raw data. These obtained useful results are mainly required by every business sector and nonprofit association.

Data science that started earlier with the basics of Statistics and computer techniques has evolved now to include many modern-day practices such as Machine learning, Artificial intelligence, the Internet of Things, and few others.

John Tukey was the first individual who introduced the concept of merging statistics and computers in 1962. Later in 1974, Peter Naur used the term data science as an alternative to computer science in his paper "Concise Survey of Computer Methods" repeatedly. However, data science was recognized as an independent discipline in 2001.

Today, it has practically universal applications in fields ranging from the biological sciences to scientific research, from the field of education to every corporate area. Every aspect of our lives is being impacted by this quickly developing field, which is altering the way we used to live.

Data scientists are now recognised as data science practitioners. Data scientists' primary goal is to gather, store, and evaluate vast amounts of data.

These data scientists work closely with the business stockholders to understand their aims and how they can help fulfill them. They design and develop statistical models, data modeling processes, and create algorithms for creating the data which business requires.

Some of the most common careers in data science are data analysts, data scientists, data engineers, business intelligence specialists, and data architects.

Scope of Data Science

One can readily see that the importance of this profession is not going to decline in the next years by reading some of the benefits and privileges that data science gives that we have previously discussed.

In practically every business, data science is providing a sizable number of career prospects.

Businesses have begun to realise that they cannot achieve their goals for growth without utilising contemporary data science techniques and recruiting a sufficient number of data scientists. In certain parts of the world, the position of data scientist has risen to the top of the pay scale.

Learn the core concepts of Data Analytics Course video on Youtube:

Indeed, the rapidly expanding discipline of data science has too much to offer for its devotees. The complexity and size of this area, however, make it unsuitable for everyone.

The development of several contemporary technologies and requirements for studying different subjects has made it somewhat more difficult for the average person. Therefore, not everyone should pursue a career in this profession.

Prerequisites of The Data Science

It should not be surprising that having a strong educational background in specific data science is not required for becoming a data scientist. Anyone with good analytical skills and a strong grip on programming can become a data scientist.

The prerequisites that are being demanded by this field can easily be categorized into three main categories that are

Educational
Technical
Nontechnical

One cannot guarantee success in this sector without at least a Bachelor's degree in data science. The intellectual gratification of study can be enhanced by earning a bachelor's degree, particularly in a quantitative topic like mathematics or physics.

With this degree, one would be able to develop the kind of skill set that would be useful in the area. Additionally, one develops the capacity to draw outtake-oriented insights from the raw data.

Additionally, one improves underdeveloped abilities in areas like programming, statistics, machine learning, etc. A person must also possess strong technical knowledge in areas like programming, coding, computer languages, analytical abilities, machine learning, and algorithms. One cannot be recognised as a professional data scientist without these technical skills.

One should be well-versed in non-technical abilities in addition to these academic and technical ones. It is crucial to have the soft skills necessary to communicate with corporate stakeholders and comprehend business demands.

Skills Must to Have

These are the core skills that every data scientist is required to possess.

Statistical skills
Machine learning
Computer Science
Programming
Data storytelling
Interpersonal skills
Analytical thinking
Business intuition
Critical thinking
Inquisitiveness

In this article, we will mainly focus on python that is a high-profile computer language, and what is required to master it.

Significant Programming Languages for Data Science

It is not necessary to become a committed advanced coder to succeed in data science. But knowing the fundamentals of coding and programming would be enough.

The basic purpose of programming languages is to carry out created algorithms. Among the most popular and extensively used computer languages are:

Python
R
Java
Scala
Julia
JavaScript
C/C++
SQL
MATLAB
SAS

Intro to Python

Python is a high-level programming language that is popular among people working in the field of data science.

Guido van Rossum deserves credit for developing this language between 1985 and 1990. Because of the numerous benefits it provides, Python continues to get a lot of attention. It is object-oriented, dynamic, and incredibly developer-friendly. It is also quite simple to use.

It is now regarded as the simplest and most straightforward computer language to comprehend.

As the necessity for adopting cutting-edge technologies like machine learning, deep learning, predictive analysis, and artificial intelligence grows, so does the demand for people who are proficient in Python. Programmers can interpret the supplied data easily because it generates a CSV output. Click here to learn Data Science in Hyderabad

Characteristics of Python

Some of the main characteristics of Python are given below

Easy to code
Free and Open Source
GUI Programming Support
Expressive Language
Cross-platform Language
Easy to Learn and Use
Interpreted Language
Extensible
Integrated
Large Standard Library
Dynamic Memory Allocation
Embeddable
Easy to maintain
Python is a Beginner's Language
Why Python is Preferred Over Other Programming Languages?
This challenge has been partially addressed by defining Python's attributes and features. Python's most endearing quality is that, when compared to all other high-level computer languages, it is the simplest and easiest to use.
Python is said to be the best programming language for a variety of circumstances that are specifically designed for it. Incorporating statistical codes into the production database and executing data analysis jobs that need integration with online tools are both extremely compatible with this data science tool.
Python is regarded as the ideal choice for implementing algorithms due to its full-fledged programming nature. Its foundations are on a number of packages like pandas, NumPy, and SciPy, which are designed primarily to offer amazing results for data analysis tasks. To meet the requirement for better visuals, there is a Python library called matplotlib.
Since Python is simple to use and has a fantastic library available, it is preferred by the majority of data scientists. Additionally, it can deliver the necessary computing sophistication and capability.
It is used in a variety of applications, from data science to creating online apps, aside from being straightforward and simple to use. You may also type complicated programmes in a short amount of time. Click here to learn Data Science Course
How to Learn Python in One Month

Finding the answer to how can I learn python in one month is necessary. One should be very meticulous while deciding the education mode, and institution.

There are many trusted online resources such as Netacad, Datacamp, and Codeacademy that are many offering to teach python in a very affordable price range.

Other than these educational institutions, you can also look for some other organizations too which might be more suitable for you.

Beginner Tips for Learning Python in One Month

Python is the simplest programming language, thus learning it in a month is not that difficult.

To grasp this programming language, one must be strong-willed and dedicated, nevertheless.

Some people aren't sure if they'll be able to master this computer language in the required amount of time or not. Such men ought to know that they can achieve nothing in life without having unwavering resolve.

Here are the beginner tips which one should follow for mastering this programming language.

Start from the basics
Understand what area is most interesting for you
Find a friendly IDE
Find required resources with the help of online resources to follow
Practice coding every day and Try taking online quizzes
Interact with the other skilled individuals of this field
Start with working on smaller projects
Think about contributing to open source
Discuss it with someone else
Take sufficient breaks
Indulge in pair programming
Slowly move towards the complex projects

Python's Major Libraries to Cover in a Month

For those who are familiar with the fundamentals of programming, Python may be learned and mastered in a month since it is easier and simpler. But one should be clear about his objectives—what he wants to become—and persistent in pursuing them.

I would also add that for those people who are unfamiliar with the fundamentals of programming and coding, learning Python might be hard. For some people, it can be quite difficult to stay motivated when times are tough. They should, however, concentrate primarily on their objectives and strategies for achieving them. Such people might need more time, but they shouldn't quit up.

Python is a vast ocean of libraries that's why one can't master all of them in one month. However, learning some major libraries according to his selected area is strongly encouraged. Major Python libraries which an individual should cover in a month are

These are the Python major libraries that one should cover in one month since they are easy to understand are being practically used in different areas of data science such as data mining, data processing, and modeling, data visualization, and machine learning, etc.

Alternate Career Options for Python Learners

Python students have a wide range of employment alternatives outside of data science that they may select from and pursue while earning a respectable income. The following is a list of the top professions:

Web developer
Lead software engineer
Machine learning engineer
Data analyst
Python developer
Product manager
Educating python
Financial advisor
Data journalist
Final Thoughts
A lucrative career in data science is made more likely by learning Python, but there are other fields as well. One can launch a career as a web developer, lead software engineer, machine learning engineer, data analyst, and many other roles after learning Python.
If one is committed and already familiar with the fundamentals of programming and coding, they can pick up Python in just one month.
Wish you the best of luck in this regard. Hopefully, we have satisfied all of your related queries.
Have a nice day!
Click here to learn Data Science Course, Data Science Course in Hyderabad, Data Science Course in Bangalore
Data Science Placement Success Story
Data Science Training Institutes in Other Locations
Agra
,
Ahmedabad
,
Amritsar
,
Anand
,
Anantapur
,
Bangalore
,
Bhopal
,
Bhubaneswar
,
Chengalpattu
,
Chennai
,
Cochin
,
Dehradun
,
Malaysia
,
Dombivli
,
Durgapur
,
Ernakulam
,
Erode
,
Gandhinagar
,
Ghaziabad
,
Gorakhpur
,
Gwalior
,
Hebbal
,
Hyderabad
,
Jabalpur
,
Jalandhar
,
Jammu
,
Jamshedpur
,
Jodhpur
,
Khammam
,
Kolhapur
,
Kothrud
,
Ludhiana
,
Madurai
,
Meerut
,
Mohali
,
Moradabad
,
Noida
,
Pimpri
,
Pondicherry
,
Pune
,
Rajkot
,
Ranchi
,
Rohtak
,
Roorkee
,
Rourkela
,
Shimla
,
Shimoga
,
Siliguri
,
Srinagar
,
Thane
,
Thiruvananthapuram
,
Tiruchchirappalli
,
Trichur
,
Udaipur
,
Yelahanka
,
Andhra Pradesh
,
Anna Nagar
,
Bhilai
,
Borivali
,
Calicut
,
Chandigarh
,
Chromepet
,
Coimbatore
,
Dilsukhnagar
,
ECIL
,
Faridabad
,
Greater Warangal
,
Guduvanchery
,
Guntur
,
Gurgaon
,
Guwahati
,
Hoodi
,
Indore
,
Jaipur
,
Kalaburagi
,
Kanpur
,
Kharadi
,
Kochi
,
Kolkata
,
Kompally
,
Lucknow
,
Mangalore
,
Mumbai
,
Mysore
,
Nagpur
,
Nashik
,
Navi Mumbai
,
Patna
,
Porur
,
Raipur
,
Salem
,
Surat
,
Thoraipakkam
,
Trichy
,
Uppal
,
Vadodara
,
Varanasi
,
Vijayawada
,
Vizag
,
Tirunelveli
,
Aurangabad
Data Analyst Courses in Other Locations
ECIL
,
Jaipur
,
Pune
,
Gurgaon
,
Salem
,
Surat
,
Agra
,
Ahmedabad
,
Amritsar
,
Anand
,
Anantapur
,
Andhra Pradesh
,
Anna Nagar
,
Aurangabad
,
Bhilai
,
Bhopal
,
Bhubaneswar
,
Borivali
,
Calicut
,
Cochin
,
Chengalpattu
,
Dehradun
,
Dombivli
,
Durgapur
,
Ernakulam
,
Erode
,
Gandhinagar
,
Ghaziabad
,
Gorakhpur
,
Guduvanchery
,
Gwalior
,
Hebbal
,
Hoodi
,
Indore
,
Jabalpur
,
Jaipur
,
Jalandhar
,
Jammu
,
Jamshedpur
,
Jodhpur
,
Kanpur
,
Khammam
,
Kochi
,
Kolhapur
,
Kolkata
,
Kothrud
,
Ludhiana
,
Madurai
,
Mangalore
,
Meerut
,
Mohali
,
Moradabad
,
Pimpri
,
Pondicherry
,
Porur
,
Rajkot
,
Ranchi
,
Rohtak
,
Roorkee
,
Rourkela
,
Shimla
,
Shimoga
,
Siliguri
,
Srinagar
,
Thoraipakkam
,
Tiruchirappalli
,
Tirunelveli
,
Trichur
,
Trichy
,
Udaipur
,
Vijayawada
,
Vizag
,
Warangal
,
Chennai
,
Coimbatore
,
Delhi
,
Dilsukhnagar
,
Hyderabad
,
Kalyan
,
Nagpur
,
Noida
,
Thane
,
Thiruvananthapuram
,
Uppal
,
Kompally
,
Bangalore
,
Chandigarh
,
Chromepet
,
Faridabad
,
Guntur
,
Guwahati
,
Kharadi
,
Lucknow
,
Mumbai
,
Mysore
,
Nashik
,
Navi Mumbai
,
Patna
,
Pune
,
Raipur
,
Vadodara
,
Varanasi
,
Yelahanka
Navigate to Address
360DigiTMG - Data Analytics, Data Science Course Training Hyderabad
2-56/2/19, 3rd floor, Vijaya Towers, near Meridian School, Ayyappa Society Rd, Madhapur, Hyderabad, Telangana 500081
099899 94319