Home / Blog / Data Science / Learn How You Can Get Real Life Experience In Data Science To Get Career-ready
Learn How You Can Get Real Life Experience In Data Science To Get Career-ready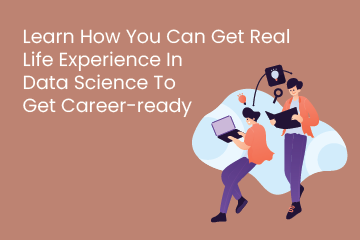 The subject of data science currently offers some of the most lucrative career options. Because of the incredible technological improvements, the world has recently become increasingly dependent on it. The practice of data science comprises the extraction of organized or unstructured data from a vast amount of data using a variety of scientific methodologies, algorithms, and techniques. But, of course, you can only anticipate learning new skills if you locate a suitable job or project.
Are you looking to become a Data Science expert? Go through 360DigiTMG's Advance Data Science Course!
Data science resembles driving a lot. One must work in the industry to get practical knowledge and experience with the actual professional issues of data science to comprehend it fully. However, it becomes easier for newcomers to gain practical experience after landing a position in the field.
Even getting an entry-level position might be challenging for inexperienced data scientists due to the strict requirements for candidates to have prior data science experience. Thus, to stand out from the competition, it is crucial for newcomers, recent graduates, and professionals wishing to transition into data science to obtain real, hands-on experience in the field.
Before applying for a job, beginners might use the following strategies to gain real-world data science experience:
Looking forward to becoming a Data Scientist? Check out the Data Science Course and get certified today.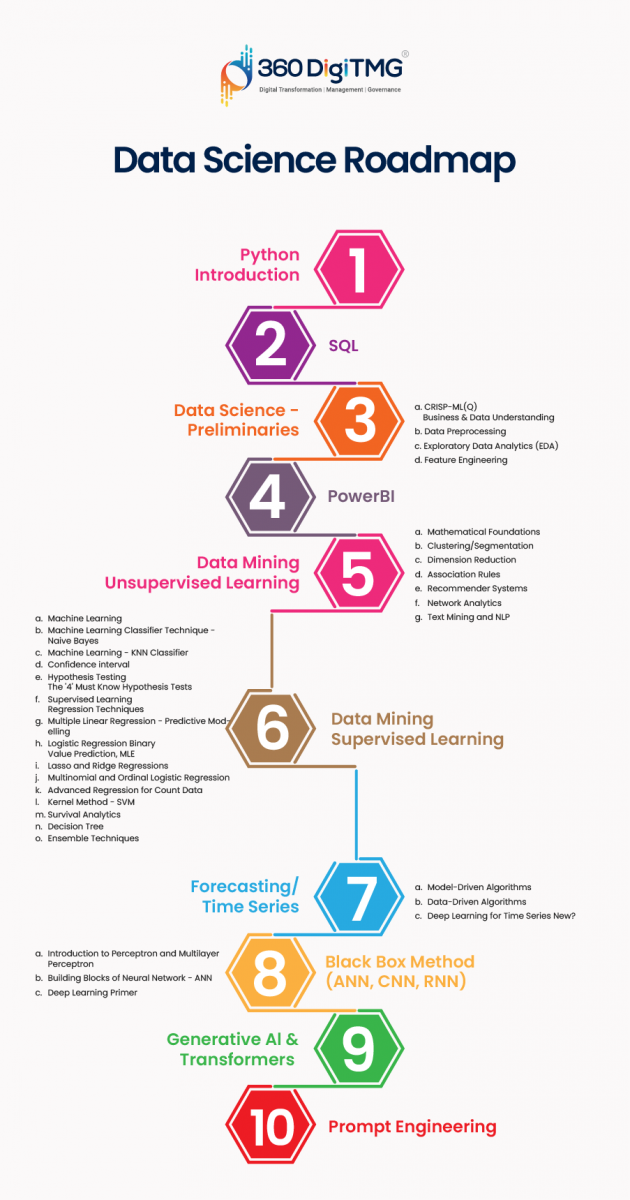 Why is Data Science the Career in Highest Demand?
Making sense of messy data is the core goal of data science. Companies need numerous individuals with the ability to derive insights from the enormous data collected because we produce a lot of data daily.
Due to this, employment in data science is currently among the highest paying in the business and in high demand.
An abundance of data: Organizations worldwide need help managing the vast volumes of data at their disposal, and managing future datasets that will grow exponentially larger presents an even more significant issue.
Lack of talent: Finding a skilled person in data science can take time and effort. It isn't easy to obtain individuals skilled at comprehending and utilizing data to promote commercial benefits. The need for data analysts and scientists is like an unstoppable torrent of water, but the supply is a trickle. According to McKinsey's research from 2021, there is a lack of more than 190,000 data science workers in the United States alone. Since that time, the demand has multiplied.
Wide-ranging and extensive skill set needed: Working in data science takes far more than knowing how to code or program. It would help if you were skilled at using tools like Spark, Hadoop, and NoSQL. It would help if you also had solid programming, statistical modeling, and machine learning training. Finding someone with all these skills takes a lot of work.
Professionals without any prior knowledge of related topics are ineligible to enter: For professionals or students without a background in computer science, engineering, mathematics/statistics, or general science, entry is all but forbidden. Data science is an interdisciplinary field that necessitates knowledge in one of the disciplines above.
Attractive salary: There's no denying it! Pay is simply excellent! However, so is the work required to be a data science practitioner at your company.
Earn yourself a promising career in Data Science and AI by enrolling in Advanced Program for Data Science and AI Course in Hyderabad offered by 360DigiTMG.
Become a Data Scientist with 360DigiTMG Data Science course in Hyderabad Get trained by the alumni from IIT, IIM, and ISB.
Learn the core concepts of Data Science Course video on YouTube:
Data science: Why Is It Important?
The most effective tool available to organizations today is data. It can both direct and have an impact on decision-making while also telling an engaging story. Based on the appropriate facts, one may now make quick business decisions. To remain relevant, every corporation needs to be in the data business today, regardless of the industry. According to research, data-driven businesses are more likely to be profitable and keep customers. Here are a few ways that data can assist a company in expanding and being future-proof:
Businesses may develop and implement strategies to keep one step ahead of the competition by utilizing the appropriate data.
Leaders may make data-driven decisions to address business issues using trends and data insights.
Combining experiments and analytics can result in recommendations for business growth and expansion.
Companies have a high chance to develop a long-lasting competitive edge by analyzing their existing data strategy methodology.
By examining data sets and projected patterns, leaders can also promote business improvement and reassess the organization's needs.
Are you looking to become a Data Scientist? Go through 360DigiTMG's PG Diploma in Data Science and Artificial Intelligence!.
How to Get the Real Life Experience in Data Science?
Working on projects involving various industries, goods, and services is a great way to develop experience. You might approach businesses that engage in contract staffing for this. Working with such companies would give your CV rich experience.
Remember that to perform the work, and you must possess the necessary skills. Plan to become an expert in a particular skill to distinguish oneself as a qualified candidate. You can experiment with A/B testing, explanatory, regression, classification models, SQL databases, python programming, etc. When you have mastered a talent, search for Indian IT employment firms currently seeking data scientists.
Start with Small:

Finding a full-time job can be challenging for new data scientists; starting an internship or freelancing is an excellent way to get practical experience. In addition, the COVID-19 pandemic has fundamentally changed the gig economy, and many businesses are now eager to recruit independent contractors and interns to provide data science expertise for specific projects. Therefore, by interacting with various teams inside the organization, freelancing would help them strengthen their technical talents and communication skills.

These newcomers will have the opportunity to work on real-world business issues that businesses are facing through freelancing and internships, pushing them to develop workable solutions in the real world. As a result, they will gain more experience and better prepare for the workplace. Freelancers can handle multiple projects at once, forcing them to work with various datasets and enhancing their multitasking abilities. However, sometimes it might be challenging to market oneself effectively enough to land a freelance job. As a result, there are popular portals to look for freelance data science jobs, including, to name a few, Data Science Central, Toptal, and Upwork. Beginners and amateurs can practice with various data science professions through freelancing and internships, and these opportunities can highlight them to future employers.

Create a Portfolio of your Own Projects:

Having an impressive and appealing portfolio is essential for standing out in data science. Of course, it takes work to create a portfolio that will appeal to a hiring manager, but it's a requirement for anyone looking to launch a career in data.

Start small when building your portfolio if this is your first time. It is significantly more productive to finish a lot of tiny tasks quickly than attempting to take on a big project all at once.

Start by doing simple tasks like gathering and organizing a chaotic dataset, exploring it, and applying what you learn to predict the future or identify issues. If you set out to solve a data problem (a crucial component of a data professional's job), consider developing your own machine-learning model. Then, to show off your skills, document your work, provide the code you used, and produce insightful visualizations.

You can perform these kinds of activities on websites, but you should allow yourself to do them. While the website activities are helpful, you'll surely want to highlight your own data projects on your portfolio if you want to impress potential employers.

Building a solid portfolio will inspire you to look into new possibilities, polish your skills, and acquire confidence. Use GitHub as a personal data science billboard to showcase your portfolio. Have a recent CV and resume that detail any ongoing projects you have worked on. Being active on LinkedIn is also a brilliant idea. Share your data science experience with others and keep it updated with your latest successes, accolades, and completed projects.

By going above and beyond, you'll show a hiring manager that you're enthusiastic about the industry, highly motivated to learn, and up to the task.

Obtain a Mentorship:

Obtaining a mentorship might be advantageous for novice data scientists to gain practical experience in the real world. A thorough mentoring program can offer one-on-one consultations so the data scientists can get advice from subject matter experts. A competent mentor will also provide all the practical advice needed for a newcomer to succeed in this cutthroat industry. In addition, having a mentor is a way to gain access to the data science community, allowing you to connect with experts and possible employers in the field.

Along with enhancing skill sets, the mentor's knowledge will help obtain pertinent comments on the personal development of the protégé. As a result, they become quickly industry ready. They can also get jobs and work experience from these mentors, which will help these newbies advance faster in their careers. These industry leaders also possess practical AI and data science tools and approaches, which will introduce mentees to the pertinent skill sets needed to succeed in the workplace.

Contribute yourself as a Data Scientist:

It will come as a shock to you to learn that there are numerous NGOs out there that work on various data science initiatives for social purposes. Of course, they enlist volunteers to keep expenses minimal while providing a helpful service. You can research these organizations and volunteer your services. Working as a volunteer will count as a charitable act. Additionally, it will assist you in honing your teamwork abilities. Overall, it is a beautiful improvement to your resume.

Finding a well-paying job oneself may be challenging in a rapidly expanding but competitive market. As a result, you should strive to create a solid portfolio that gives you the appearance of being multifaceted. It could take some time. However, if you can commit enough time to it, you'll be able to gain enough practical experience for yourself. Your resume will undoubtedly be considered for job possibilities by any of the top recruitment agencies in India.

Gain Practical SQL Experience: SQL Database Coding:

The preferred language for creating, administering, and designing relational databases is SQL. Regardless of the approach, you used to learn SQL, it is advised to start easy by learning simple queries before moving on to more complicated ones.

You will enhance your ability to master complex SQL topics by receiving practical training in foundational fundamentals. Installing a free, open-source database would make creating and executing basic queries easier. Participate actively in the creation of web pages, the programming of dynamic pages using SQL, the creation of apps, file maintenance, and backups.

Create data pipelines from scratch; respond to SQL questions on LeetCode or Hackerrank to gain practical SQL knowledge. These websites typically contain forums and suggestions for remedies. You will learn more effectively as a result of this. Above all else, paying attention to case studies will prepare you to handle real-world issues like a data science expert.

Develop your Teaching Skills:

Teaching people about the principles of data science will help you fill up any knowledge gaps. In addition to helping others and earning practical experience, sharing your knowledge will help you stand out to hiring managers.

You can demonstrate your knowledge by outlining tasks you've finished or problems you've fixed in videos or on a blog. However, the experience encompasses more than just mastering technical skills when applying for data science jobs. Demonstrating that you are a strong communicator and a voracious student will decrease your chances of being rejected.

With all of these considerations in mind, it's crucial to note that "professional work experience" is unlikely to appear in your life; you'll need to seek it out. The most important thing is gaining experience, even if that means trying a few different paths and engaging in trial and error. Hiring managers are searching for candidates who can demonstrate their skills through real-world data science experience. They are not primarily concerned with where you obtained this experience or how much you were paid.

Participating in Open-Source Projects:

Participating in open-source projects is another approach for beginners to obtain practical data science knowledge. However, being a part of the open-source community can be intimidating at first because data scientists are expected to contribute code or solutions to ongoing projects. The person's coding and technical skills will be improved, though, and they will gain experience working on projects with a team, which would necessitate regular communication.

Data scientists can contribute to society by working on open-source projects and giving code to help millions of others construct their projects. Working with numerous data science libraries, such as Pandas, NumPy, Scikit-Learn, and the open-source distributed version control system, Git, is also necessary for open-source projects. Working on these projects will therefore familiarise newcomers with various data science facets. Amateurs who participate in open-source projects will also become a part of a community where they may connect with people who share their interests, improving the practical experience.
Want to learn more about data science? Enroll in the Best Data Science courses in Chennai to do so.
Conclusion:
Look at the 360digiTMG Data Science Certification Program if you are a new or experienced professional wishing to begin your career in data science. You will study everything that is required to know about data science in this comprehensive course, including ten real-world projects and an internationally recognized diploma. Not only will you comprehend the ideas, but you'll also be able to develop a solid portfolio rich in real-world experience.
Data Science Placement Success Story
Data Science Placement Success Story
Data Science Training Institutes in Other Locations
Agra, Ahmedabad, Amritsar, Anand, Anantapur, Bangalore, Bhopal, Bhubaneswar, Chengalpattu, Chennai, Cochin, Dehradun, Malaysia, Dombivli, Durgapur, Ernakulam, Erode, Gandhinagar, Ghaziabad, Gorakhpur, Gwalior, Hebbal, Hyderabad, Jabalpur, Jalandhar, Jammu, Jamshedpur, Jodhpur, Khammam, Kolhapur, Kothrud, Ludhiana, Madurai, Meerut, Mohali, Moradabad, Noida, Pimpri, Pondicherry, Pune, Rajkot, Ranchi, Rohtak, Roorkee, Rourkela, Shimla, Shimoga, Siliguri, Srinagar, Thane, Thiruvananthapuram, Tiruchchirappalli, Trichur, Udaipur, Yelahanka, Andhra Pradesh, Anna Nagar, Bhilai, Borivali, Calicut, Chandigarh, Chromepet, Coimbatore, Dilsukhnagar, ECIL, Faridabad, Greater Warangal, Guduvanchery, Guntur, Gurgaon, Guwahati, Hoodi, Indore, Jaipur, Kalaburagi, Kanpur, Kharadi, Kochi, Kolkata, Kompally, Lucknow, Mangalore, Mumbai, Mysore, Nagpur, Nashik, Navi Mumbai, Patna, Porur, Raipur, Salem, Surat, Thoraipakkam, Trichy, Uppal, Vadodara, Varanasi, Vijayawada, Visakhapatnam, Tirunelveli, Aurangabad
Data Analyst Courses in Other Locations
ECIL, Jaipur, Pune, Gurgaon, Salem, Surat, Agra, Ahmedabad, Amritsar, Anand, Anantapur, Andhra Pradesh, Anna Nagar, Aurangabad, Bhilai, Bhopal, Bhubaneswar, Borivali, Calicut, Cochin, Chengalpattu , Dehradun, Dombivli, Durgapur, Ernakulam, Erode, Gandhinagar, Ghaziabad, Gorakhpur, Guduvanchery, Gwalior, Hebbal, Hoodi , Indore, Jabalpur, Jaipur, Jalandhar, Jammu, Jamshedpur, Jodhpur, Kanpur, Khammam, Kochi, Kolhapur, Kolkata, Kothrud, Ludhiana, Madurai, Mangalore, Meerut, Mohali, Moradabad, Pimpri, Pondicherry, Porur, Rajkot, Ranchi, Rohtak, Roorkee, Rourkela, Shimla, Shimoga, Siliguri, Srinagar, Thoraipakkam , Tiruchirappalli, Tirunelveli, Trichur, Trichy, Udaipur, Vijayawada, Vizag, Warangal, Chennai, Coimbatore, Delhi, Dilsukhnagar, Hyderabad, Kalyan, Nagpur, Noida, Thane, Thiruvananthapuram, Uppal, Kompally, Bangalore, Chandigarh, Chromepet, Faridabad, Guntur, Guwahati, Kharadi, Lucknow, Mumbai, Mysore, Nashik, Navi Mumbai, Patna, Pune, Raipur, Vadodara, Varanasi, Yelahanka
Navigate to Address
360DigiTMG - Data Analytics, Data Science Course Training in Chennai
D.No: C1, No.3, 3rd Floor, State Highway 49A, 330, Rajiv Gandhi Salai, NJK Avenue, Thoraipakkam, Tamil Nadu 600097
1800-212-654-321