Insurance Analytics and Its Applications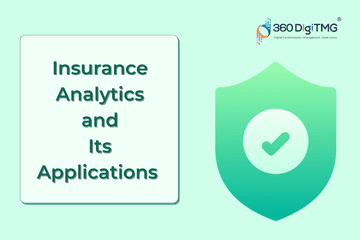 For better health and wellbeing, many of us opt for different insurance schemes related to health, life, property, casualty, etc. It may be any scenario, either in business or in our personal lives, we must look into the situations that may threaten or enable our life and success. Recently the world has passed through a phase, where everybody was threatened for life by Covid-19 and we were eagerly waiting for vaccines. These thoughts would lead us to insurance and this makes the insurance industry enormous. If we analyze data in India related to the insurance industry, more than 50 insurance companies are actively working, of which, around 20 are specified in the life insurance business. Based on the Indian Brand Equity Foundation, the market value of the insurance industry has increased from US$ 2.85 billion in 2020 to US$ 2.77 billion in 2021. In the general and health insurance market sectors, there was a hike of 1.28%, from FY20 to FY21. There is huge manpower including agents (individual and corporate), brokers, surveyors, and third-party administrators working in the insurance industry. If we look into the economics of Life Insurance of Corporation, India, which has the major stake in the life insurer sector, in the financial year 2020-21, it reported a first-year premium of ` 7,794.48 crores (17.57% growth) on 30,90,673 Policies (-0.19% growth) was collected through 2,28,121 Agents. To handle this kind of data, to manage the process of collection, analysis, and extraction of useful insights is where the role of insurance data analytics comes into the picture.
Insurance analytics aims to mine the data and find relevant insights, which are used to effectively handle risks and offer the best insurance policies to customers. Multiple proposals for insurance contracts will be provided by companies, agents, managers, and professionals, where each of them proposes a cost reduction and tries to optimize customer relationship practices. Predictive analytics is a part of insurance analytics, creating consistent reports towards insurance models. Many insurance analytics tools are being developed to support agents and companies. These tools support tracking expenses, safeguarding steady financial operations and liquidity, and sales, marketing, operations, or customer support. We are noticing a wide range of applications towards insurance analytics in the insurance industry, from predictive analytics, customer and claims analytics, marketing, sales, and, in essence, across all areas of an organization. So, Insurance can be said to be a data-driven industry, where we have many players in the competition and each one of these companies has a mine of data, but, this should be converted into useful insights, and then it could be mined. Current studies say that 86% of insurance companies are working on Insurance data analytics mechanisms for optimum predictions of big data reports.
Image Courtesy: damcogroup.com
One of the applications of insurance analytics is insurance risk analytics. For any insurance company's success, risk management has an important role. The huge volumes of data involves in insurance companies, will be processed by insurers for developing high or low-level risk profiles to evaluate the values of policies to be offered. This data mining involves advanced statistics and analytical processes have an impact, which in turn serves as tools to decide the risk levels of a policy. Insurance claims analysis is another application of insurance analytics, where quite a lot of factors are to be considered in hand and to be analyzed. When claims are being processed, we look for different metrics such as the average cost per claim, frequency, claims ratio, or time to settle a claim. These details provide users a complete view of how much should be paid out, what kind of claims' loss likelihood is present, and where are irregularities in the overall business activity. Many analytics software or tools are being developed based on the concepts of insurance data analytics for conducting claims analysis in the modern insurance industry. Here each stage of the process is being automated to avoid human errors in calculations and claims supervised more meticulously and effectively.
Insurance analytics provides complete analytics on consumer analytics. This application of insurance analytics gives us the ability to analyze, and find customer retention and loyalty towards the company and based on analysis allows us to predict the behavior and launch special offers. The analysis not only stops with the analysis of customer telephonic conversations or emails but evaluating customer satisfaction levels. With the help of various analytical tools being generated, the insurance customer analytics connects many factors to keep up with customer satisfaction. In all kinds of insurance policies available in different sectors, health insurance analytics will be seen as a significant application of insurance analytics. The Healthcare sector involved insurance policies, which is an insurance product that covers the medical and surgical expenses of an insured individual. Using health insurance the expenses that occurred due to illness or accidents or medical tests of the insured individual directly will be reimbursed by the insurer. Thus, it has various factors to consider and it is a data-driven process, and analytics could ease the process of management and monitoring of insurance policies involved with health issues. Insurance analytics also help in developing customized health insurance plans for patients that have issues with chronic diseases. For optimizing analytical processes in this sector and managing claims, many automation tools are being developed with the support of insurance data analytics.
Learn the core concepts of Data Science Course video on Youtube:
Predictive analytics is a part of insurance analytics and based on its applications, it has a special place in the insurance industry data analytics. With predictive analysis, there are many applications involved such as insurance pricing policies, risk management, predicting future behaviors, churn prevention, marketing activities, and sales, and forecasting models, which indeed are attractive changes happening in the industry. Companies are using data and insurance analytics to calculate predictions on sales revenue and estimation of resources to achieve their financial goals. There are also factors such as pricing of insurance policies and product design being optimized using predictive analytics. Insurance data analysts are now able to accurately predict the risks and price and could develop a flow chart monitoring the claim history in different businesses, such as the property insurance sector, construction costs, or weather patterns. Data analytics tools are now developed using insurance data analysis techniques known as predictive analytics tools, which could support a better understanding of insurers' behavior. The insurance companies are in process of data collection from customer support telephonic conversations (telematics), agent and customer interactions, smart homes data specifically in property insurance policies, and even social media data to better understand and manage their connections, claims, and finances. Using IoT devices it is estimated that approximately 10 MB of data is being collected by the insurance companies and this data will be increasing and should be analyzed.
When it is being discussed about predictive analysis, the other advantage could be identifying the customers at risk of cancellation. These cancellations would require special attention where it is a must to understand the reason for their dissatisfaction and try to resolve and convince customers. Predicting this data in hand would keep companies acting fast and reach out to these customers to resolve the issue. Another area of interest is where predictive analytics has an important role in identifying the risk of fraud. Based on several reports due to insurance fraud the companies in USA and Canada lost approximately more than $80 billion in recent years. By applying predictive analytics, it is possible to either prevent the fraud before it happens or it gives us time to take remedial measures. Prioritization of certain claims, and using insurance data analytics could bring faster and personalized services is important to save time, money, and resources and these methods could always have a positive impact on customer satisfaction. Keeping up with brand loyalty also matters for insurance companies and they could keep track of loyal customers' data to show them the best offers that could be designed for them. This can also help in modifications of their products as per insights they get from the data. Claims in insurance industries that unexpectedly become high-cost losses are called Outlier claims and predictive analytics helps in identifying outlier claims. Having advanced knowledge of these claims could support insurers in avoiding potential losses or related complications.
The application of Machine Learning and Artificial Intelligence techniques are being used by insurance companies for transforming the claims processes and identifying potential markets. Insurance data analytics could reveal the insights and patterns from data collected based on demographics and social media, which could ultimately provide behavior patterns and characteristics, helping in targeting the market. Using a chatbot, which is a software application based on text mining and NLP techniques and deep learning concepts is also a part of insurance data analytics. Many companies are updating their websites with these applications for providing personalized and quick support to their customers.
As data is a most valuable asset in insurance companies, insurance analytics provides huge opportunities in upscaling business. With the huge data analysis in the pipeline, all these companies must focus on methods to cut down the processing of this data to increase the potentiality of delivering claims and avoiding fraud. However, it should be noted that making the most of your data is only possible with excellent data management and modeling capabilities. There should be a strategic plan to analyze data without any wastage and this should support building the best customer profiles. Thus, we believe Insurance analytics has a greater role to play in the coming days and complete insurance would depend on these analytical techniques.
Click here to learn Data Science Course, Data Science Course in Hyderabad, Data Science Course in Bangalore
Data Science Placement Success Story
Other Domain Analytics in our 360DigiTMG
Political Analytics, Transit Analytics, Forest Analytics, Wild Analytics, Agriculture Analytics, Army Analytics, E-commerce Analytics, Energy and Resource Analytics, Hospital Analytics, Healthcare Analytics, Hospitality Analytics, Oil and Gas Analytics, Regulatory Analytics, Security Analytics, Trade Analytics, Railway Analytics, Defense Analytics, Education Analytics, Accounting Analytics, Fraud Analytics, Legal and Law Analytics, Banking Analytics, Insurance Analytics, Life Science Analytics, Pharma Analytics, Aviation Analytics, Retail Analytics, Cyber Security Analytics, Supply Chain Analytics, Marketing Analytics
Data Science Training Institutes in Other Locations
Agra, Ahmedabad, Amritsar, Anand, Anantapur, Bangalore, Bhopal, Bhubaneswar, Chengalpattu, Chennai, Cochin, Dehradun, Malaysia, Dombivli, Durgapur, Ernakulam, Erode, Gandhinagar, Ghaziabad, Gorakhpur, Gwalior, Hebbal, Hyderabad, Jabalpur, Jalandhar, Jammu, Jamshedpur, Jodhpur, Khammam, Kolhapur, Kothrud, Ludhiana, Madurai, Meerut, Mohali, Moradabad, Noida, Pimpri, Pondicherry, Pune, Rajkot, Ranchi, Rohtak, Roorkee, Rourkela, Shimla, Shimoga, Siliguri, Srinagar, Thane, Thiruvananthapuram, Tiruchchirappalli, Trichur, Udaipur, Yelahanka, Andhra Pradesh, Anna Nagar, Bhilai, Borivali, Calicut, Chandigarh, Chromepet, Coimbatore, Dilsukhnagar, ECIL, Faridabad, Greater Warangal, Guduvanchery, Guntur, Gurgaon, Guwahati, Hoodi, Indore, Jaipur, Kalaburagi, Kanpur, Kharadi, Kochi, Kolkata, Kompally, Lucknow, Mangalore, Mumbai, Mysore, Nagpur, Nashik, Navi Mumbai, Patna, Porur, Raipur, Salem, Surat, Thoraipakkam, Trichy, Uppal, Vadodara, Varanasi, Vijayawada, Visakhapatnam, Tirunelveli, Aurangabad
Data Analyst Courses in Other Locations
ECIL, Jaipur, Pune, Gurgaon, Salem, Surat, Agra, Ahmedabad, Amritsar, Anand, Anantapur, Andhra Pradesh, Anna Nagar, Aurangabad, Bhilai, Bhopal, Bhubaneswar, Borivali, Calicut, Cochin, Chengalpattu , Dehradun, Dombivli, Durgapur, Ernakulam, Erode, Gandhinagar, Ghaziabad, Gorakhpur, Guduvanchery, Gwalior, Hebbal, Hoodi , Indore, Jabalpur, Jaipur, Jalandhar, Jammu, Jamshedpur, Jodhpur, Kanpur, Khammam, Kochi, Kolhapur, Kolkata, Kothrud, Ludhiana, Madurai, Mangalore, Meerut, Mohali, Moradabad, Pimpri, Pondicherry, Porur, Rajkot, Ranchi, Rohtak, Roorkee, Rourkela, Shimla, Shimoga, Siliguri, Srinagar, Thoraipakkam , Tiruchirappalli, Tirunelveli, Trichur, Trichy, Udaipur, Vijayawada, Vizag, Warangal, Chennai, Coimbatore, Delhi, Dilsukhnagar, Hyderabad, Kalyan, Nagpur, Noida, Thane, Thiruvananthapuram, Uppal, Kompally, Bangalore, Chandigarh, Chromepet, Faridabad, Guntur, Guwahati, Kharadi, Lucknow, Mumbai, Mysore, Nashik, Navi Mumbai, Patna, Pune, Raipur, Vadodara, Varanasi, Yelahanka
Navigate to Address
360DigiTMG - Data Analytics, Data Science Course Training Hyderabad
2-56/2/19, 3rd floor, Vijaya Towers, near Meridian School, Ayyappa Society Rd, Madhapur, Hyderabad, Telangana 500081
099899 94319